How to apply mascara on your bottom lashes – and should you do it every time?
Top makeup artists explain all about mascara on bottom lashes, from the effect on your eyes to application tips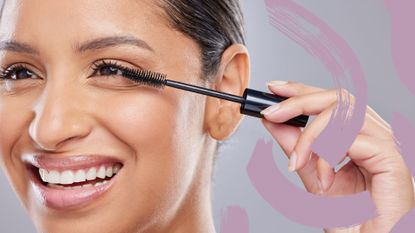 (Image credit: Future/Getty images)
To apply mascara on bottom lashes or not to apply mascara on bottom lashes? That is the question that we're guessing has brought you here. Coating your top lashes is a no-brainer, but considering your lower lashes may have given you pause for thought.
Applying the best mascara to your top lashes is generally considered to be a bit easier than the bottom lashes because, due to their smaller size, doing so to the latter can be a bit fiddly. Getting to grips with how to apply mascara is of course important, but you may also be wondering if you actually need to apply it to your bottom lashes every time.
To help you decide what's best for you, we tapped into the expertise of the industry's top makeup artists to break down the effect of mascara on bottom lashes, as well as bring you some failsafe application tips.
Mascara on bottom lashes, explained
Should you put mascara on bottom eyelashes?
There are no hard or fast rules with makeup; it's all about self-expression and wearing what makes you look and feel your best. But applying mascara to your bottom lashes is a nice finishing touch to an eye look, as well as having an eye-opening effect.
However, it's not a must if you aren't sure it's right for you. "While it can enhance the overall look of your eye makeup, it's not a necessary step for every makeup look as it can become time-consuming," says makeup artist Joy Adenuga, founder of ByJoyadenuga.
Does mascara on the bottom lashes make eyes look bigger?
The short answer is that yes, adding a little mascara to your lower lashes can really open up the eyes and make them pop. As Jen Oliver, editorial PRO artist for Bobbi Brown puts it: "Using mascara on the bottom lashes creates a more rounded, doe-eyed shape that gives the illusion of bigger eyes." However, if smudging is a real problem, weigh up whether mascara vs eyeliner is better for the job of creating this doe-eyed look - careful use of neutral-toned liner can have a similar effect, minus the smudge-potential.
What is the best way to apply mascara on lower lashes?
This will depend on the look you're trying to achieve, but generally, you want to add a nice amount of definition here. "The most flattering way to apply mascara to your bottom lashes is to focus on the root of the lashes, which creates definition," says Oliver. "Applying mascara all the way to the tips of the bottom lashes can give a spidery effect, which can drag the eye shape down. You always want your top lashes to be longer than your bottom lashes for the most eye-opening effect!"
Adenuga suggests trying a dedicated bottom lash mascara for even easier application. "These are often smaller brushes that are easier to control," she explains. "This will help prevent smudging and clumping, which can make your eyes appear smaller and less defined.
"To apply mascara to your bottom lashes, start by holding the wand vertically and gently sweeping the brush along your lashes from root to tip," she continues. "Avoid applying too much product, as this can lead to clumping and smudging. Instead, focus on building up the length and volume gradually, using small, controlled strokes."
Our beauty editor recommends...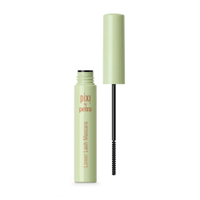 Pixi Lower Lash Mascara | RRP: $11/£11
If you want to take up Adenuga's mascara tips and buy a bottom lash mascara, this Pixi formula is exactly that, with an ultra-fine skinny mascara brush that gives you super precise application.
How do I stop my bottom lash mascara from smudging?
If you are prone to smudging due to your skin being naturally oily, for example, you could get on well with one of the best tubing mascaras. These smudge-resistant formulas coat the lashes in 'tubes' that stay in place until they are soaked off with warm water at the end of the day (so it goes without saying that you need one of the best waterproof mascaras if you're planning on swimming).
Makeup artist and podcast host Rose Gallagher has a failsafe tip for those who struggle with mascara 'printing' or 'blobbing' on your lower lids when applying it to bottom lashes: "Tilt your head forwards [before applying] because that will take your lashes further away from your face on the bottom. This means you can get right in there and do the zig-zag application method, but you're less likely to get any printing on your face."
If you are now a regular mascara wearer, we wholeheartedly recommend adding a little mascara to your lower lashes to finish off your signature look – and with our makeup artists' pro tips, you'll now be well-equipped to nail application every single time.
Lucy is a UK-based beauty journalist who has written for the likes of Marie Claire, Cosmopolitan, OK!, Women's Health and more, as well as contributing to woman&home. Her work covers everything from expert skin and haircare tips to the latest product launches and the show-stopping beauty looks spotted backstage at London Fashion Week. During her career she's interviewed some seriously famous faces, from Little Mix to Drag Race royalty The Vivienne, as well as chatting to the industry's leading hairdressers, dermatologists and make-up artists.