How to get shiny hair: 10 tips for luxe, glossy locks no matter your hair type
Get glossy with these expert tips on how to get shiny hair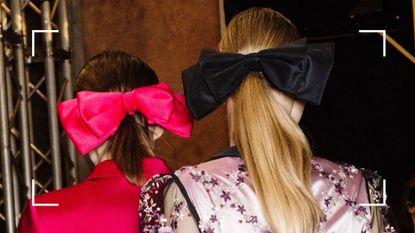 (Image credit: Getty Images)
Want to know how to get shiny hair? If your hair is looking dull, lackluster, or generally a bit 'meh,' follow this advice from the experts and glossy locks are yours for the taking.
Last year, glass skin was the trend sweeping social media but this year, it's glass hair. Ultra-shiny, mirror-like manes that you can almost see your reflection in. But, how do you achieve glossy locks when daily heat styling, pollution and coloring can leaving hair parched and straw-like? Because let's face it, even the best hair dryer can cause some damage!
Whether you're transitioning to gray hair or you're a die-hard (no pun intended) regular with your colorist, damaged and dull hair can really dampen your confidence. But the secret for how to get shiny hair is only a scroll away...
How to get shiny hair: your complete guide
To find the answer to your dull hair woes, we asked the experts what they swear by, whether it's worth going DIY with at-home treatments like rice water for hair, and which products to stock up on in order to get that glass hair look.
1. Get a squeaky clean scalp
If you've ever been told that washing your hair every day is a terrible idea, you're not alone. This rumour has been circling the beauty industry for years and it's probably down to colorists advising against daily hair washing to preserve color. But looking after your scalp and keeping it clean is essential for healthy, shiny hair.
"This is an old myth," says Trichologist for Nioxin, Mark Blake. "You can wash your hair as often as you want with a good quality shampoo. Remember scalp health is directly linked to hair heath so we need to keep our scalp scrupulously clean."
A focus on scalp care has meant a surge in scalp scrubs and scalp serums on the beauty shelves but don't overdo it with products. The key to healthy, shiny hair is to balance the scalp rather than disrupt the skin barrier and cause things like dandruff or excessive oiliness.
If you feel like your scalp is causing the issue, regularly applying a balancing scalp serum should soon sort out any problems.
Our beauty writer recommends...
Kérastase Spécifique Divalent and Potentialiste Scalp Defence Serum
Great for all hair types, this scalp serum is all about rebalancing a problem scalp. Enriched with vitamin C and probiotics, this leave-in treatment feels lovely and refreshing on the scalp and works to address issues causing your hair to be dull and lackluster.
Kérastase Spécifique Potentialiste Hair & Scalp Serum at Kérastase (opens in new tab)
2. Use an apple cider vinegar rinse once a month
If you style your hair everyday, without a wash in between, build-up from styling products can leave hair looking dull and limp rather than bouncy and shiny. Regularly using hairsprays, smoothing creams and the same shampoo and conditioner can result in hair that's coated in product, weighing it down and taking its natural shine away. The way to combat this is making time for a monthly apple cider vinegar rinse. Whether it's raw apple cider vinegar or with a dedicated product, an ACV rinse is sure to leave hair sparkling.
Trichologist Simone Thomas recommends combining ACV and lemon juice every so often to really get the hair clean. "This combo balances your hair's pH level whilst excess oil is also controlled, and sebum production is equalized. All you need to do is squeeze the juice from one whole lemon and mix it with ¼ cup of Apple Cider Vinegar," she says. "Once mixed apply this to your hair and scalp and wrap your hair in a hair towel and leave it on for twenty minutes. Then rinse with cold water."
Commonly used in the Curly Girl Method too, the way this technique works is due to ACV's naturally exfoliating properties. It's rich in AHA's (alpha hydroxy acids) which work to exfoliate the scalp and the hair shaft, removing any product build up while keeping hair soft. After all, we exfoliate our face to look more glowing so, why not our hair and scalp?
Our beauty writer recommends...
R+Co Acid Wash Apple Cider Vinegar Cleansing Rinse
Rich in moisturizing fatty acids and exfoliating ACV, this rinse is perfect for days when your hair is feeling drab. Shampoo as normal, then apply from root to tip and leave on for a few minutes before washing out. Hello glossy, mirror-like shine.
R+Co Acid Wash Apple Cider Vinegar Cleansing Rinse at Space NK (opens in new tab)
3. Try a bonding treatment
A magnified strand of hair looks a little bit like a snake. The 'scales' or cuticles of the hair should lie flat to each other, leaving the hair strand smooth and shiny but when your hair is frazzled or damaged and looking dull, it's typically because the scales have been disrupted and the proteins that form your hair have been affected.
However, bonding treatments are here to save the day. All bonding treatments are a little different - and it's worth investigating at-home keratin treatments too - but a common ingredient between the technologies is amino acids. Amino acids are the building blocks of proteins and a key ingredient in how to get shiny hair. This is because they work to nourish and strengthen the hair from the inside out, resulting in shinier, smoother and overall, more beautiful hair.
If you're hunting for a great bonding treatment, look no further than Olaplex. This cult favorite hair treatment is loved by hair stylists the world over. Most scalps only need a treatment weekly to every other week, the brand recommends (opens in new tab). "I love Olaplex!" says Samantha. "Use in wet hair to maximize that shine."
Our beauty writer recommends...
Olaplex No.3 Hair Perfector
Any hair type that isn't producing dazzling shine should try this. Use it like a treatment mask and apply to damp hair from root to tip, then leave it for a minimum of ten minutes before rinsing out. It will give hair a new lease of life and take your locks from less than lustrous to outright fabulous.
4. Limit heat styling
"The main thing we are doing to our hair that is stopping it from looking good is heat styling," says Antony Rawlings, Creative Director at Lockonego for Redken. "Improper heat styling is the number one cause of damage." And where there is damage, there's dullness.
If you really want to focus on getting the shiniest hair possible, air drying your hair and avoiding hot tools is going to give you the results that no product can.
Your hair is at its most vulnerable when wet, and scrubbing it dry with a towel, blasting it with a hairdryer and using straighteners or curlers zaps the natural moisture to a degree that wouldn't naturally happen if you'd air dried instead. So, try and keep your heat styling to a minimum. 300-380 degrees will work on most hair types, with thicker hair only needing slightly higher on occasion. You may even want to try the tights hack - wrap damp hair around a pair of old (but clean!) tights before you go to bed and you'll wake up with soft curls. The nylon in tights is really gentle on hair and actually gives great shine without damage!
Our expert Samantha actually suggests swapping your normal bath towel for an old T-shirt to minimize damage even more, "Give up towel drying your hair after washing as this rough rubbing of the hair can cause serious damage and make hair look dull. Instead grab an old t-shirt and gently squeeze the excess water before styling."
5. Swap to a silk pillowcase
"Did you know that switching to one of the best silk pillowcases is probably one of the most under-utilized and best hair tricks there is?" says Simone. "Making this switch will not only give you the best hair ever, but it is also better for your skin!"
Unlike cotton pillowcases, silk pillowcases don't absorb moisture from your hair and are far less likely to cause split ends. The best silk accessories are designed to save your hair from needless damage and enhance its natural beauty—not leave you with bedhead overnight!
Our beauty writer recommends...
This Is Silk Snow White Silk Pillowcase at This Is Silk (opens in new tab)
6. Get regular trims
Are your ends looking a little frayed and straw-like? When your hair gets too long the shaft of the hair can split from the bottom up. This results in hair that looks messy, dry and dull. While there's no magic cure if you're wondering how to fix and prevent split ends, a regular cut every 6-12 weeks will keep hair smooth and healthy.
"Make sure you have regular haircuts to get rid of any split ends," says Samantha. "Making sure split ends are kept at bay is a great way of stopping hair looking frizzy and dull. It sounds simple but it's amazing how many of us are not in a regular habit of getting trims."
If you do fall short of you salon visits though, a split end treatment can temporarily mask the problem. Though, it's worth bearing in mind that no split end serum will 'fix' split ends as once they've split, they can't be repaired.
Our beauty writer recommends...
Oribe Split End Seal at Cult Beauty (opens in new tab)
7. Use a shine spray
The secret sauce for creating unbeatable shine? A shine spray to coat the hair in a spritz of humidity proof liquid sunshine.
"Colour WOW has an amazing product called Dream Coat which is my go-to for creating mirror shine hair. Spritz it though your tresses after washing and blow dry in with a bristle brush for shine that lasts for days," says Samantha.
Not only is this Samantha's favorite product and go-to for how to get shiny hair, A-List hairstylist Chris Appleton, who works with the likes of J.Lo and Kim Kardashian is also a huge fan, calling it "foolproof" for eliminating frizz and inducing shine.
Our beauty writer recommends...
8. Use a boar-bristle brush
Treat your tresses to the luxury of a boar-bristled brush and it'll transform your styling experience.
Boar-bristle brushes are designed to give just the right amount of tension on the hair so you can effectively detangle and style, while flattening the cuticle. And flattened cuticles mean more shine.
Aside from heat styling, brushing your hair is one of the most damage inducing things you can do to the hair but using a boar-bristle brush will minimise this damage and actually smooth the hair shaft.
Our beauty writer recommends...
9. Rinse in cold water
Dull hair can simply be a case of not rinsing out your shampoo and conditioner effectively.
Although it seems like leaving conditioner in the hair would give more shine, it actually does the exact opposite. "Only apply conditioner to the lengths and ends of your hair," says Simone. "Once fully rinsed, give your hair a blast of cold water to seal the cuticle."
This blast of cold water gives hair a natural shine that no product can. Plus, if you're not a morning person, it might give you a little wake-up call!
10. Take a hair supplement
Beauty starts from the inside out and if your hair is looking dull, you may be lacking vital nutrients that your hair needs to be shiny and healthy. Our bodies are great indicators of something going on inside and our hair is no different.
To really see a change in the health of your hair, it's important to be consistent with a daily supplement. Taking one with ingredients like biotin will ensure that your hair gets everything it needs to thrive.
"Part of the Vitamin B complex, Biotin promotes the growth and repair of skin, hair and nails," explains Simone. "Regular use of these high-strength supplements helps support healthy hair growth."
Our beauty writer recommends...
Simone Thomas Biotin Brilliance at Simone Thomas (opens in new tab)
What stops hair from being shiny?
"There are so many factors that can cause hair to appear dull, from lack of moisture, hard water, product build-up, and pollution to hormonal changes, diet and even stress," says Samantha Cusick, celebrity hairstylist and founder of luxury hair salons Samantha Cusick London. Luckily, there are things you can do to boost your hair's shine, as shown in our seven top tips for how to get shiny hair above.
woman&home thanks Samantha Cusick (opens in new tab) and Simone Thomas (opens in new tab) for their time and expertise.
Emma North is a Beauty Writer who works for digital titles including woman&home, Woman, Woman's Weekly, Woman's Own, Chat and GoodtoKnow. Emma's career in beauty journalism began with internships at publications including Vogue, Elle, The Telegraph and Glamour. She was then taken under the wing of Funmi Fetto, Contributing Beauty Editor at Vogue where Emma assisted with Funmi's debut beauty book, Palette.