How to get chlorine out of hair: banish dryness and green tones with 5 easy techniques
Wondering how to get chlorine out of hair? With these trichologist-approved tricks it's easier than you think!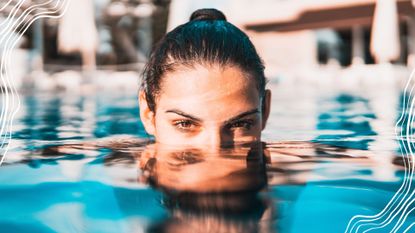 (Image credit: Future/Getty images)
woman&home newsletter
Sign up to our free daily email for the latest royal and entertainment news, interesting opinion, expert advice on styling and beauty trends, and no-nonsense guides to the health and wellness questions you want answered.
Thank you for signing up to Woman & Home. You will receive a verification email shortly.
There was a problem. Please refresh the page and try again.
You're wondering how to get chlorine out of hair, which means you've probably spent time submerged in a pool of some sort – be it laps in your local leisure center or lazing on a lilo in the sun.
However fabulously (or routinely) you collected said chlorine in your strands, the outcome is the same – a dry texture, split ends, uncomfortable scalp, and that classic 'just back from holiday' pondwater-green hue. This tends to affect blondes, gray hair colors and highlights primarily, but nobody's immune to the side-effects of a nice time splashing around.
"Chlorine is part of the bleaching family and will alter the hair chemically," explains Anabel Kingsley, Consultant Trichologist at Philip Kingsley, "Chlorinated water can be drying, and due to it's copper content, may turn blond hair green." And color isn't the only consequence. "Chlorine has disinfectant properties, which strip the natural oils from your hair, leaving it dry, brittle, and dull – which can lead to split ends or hair loss in some cases," says Hannah Gaboardi, trichologist and Viviscal ambassador.
Yikes. But we're not here to put you off your 7am Swimfit class – we've got solutions. Doctor-approved solutions, no less. This is how to get chlorine out of hair easily and effectively so your 'do can enjoy the pool life as much as you.
How to get chlorine out of hair
1. Create a barrier
Stop me if you've heard this one before: prevention is much, much, much better than cure. It's eminently easier to stop hair damage in its tracks than it is to fix it after the fact, and putting a physical blocker between your hair and the water will do the trick.
"The most important thing is to make sure you have a barrier between the scalp, your hair, and chlorine, which can damage both," advises Dr Neera Nathan, of NN Health Consultancy LLC. If you have sensitive skin this is particularly important as Dr Nathan warns that, "Chlorine can cause irritant dermatitis to the scalp or the skin," and advises wearing a swimming cap to ras your best option. Otherwise, try "products that can coat the scalp and hair and act as a protective layer."
Our beauty editor recommends...
2. Soak it first
This is part two of step one, in truth. For those of us who lack the forethought (or baggage allowance) to bring a specific barrier product poolside, there's another school of thought on how to get chorine out of hair that's more of a 'fight fire with fire' situation.
"For those lucky enough to be splashing around in a pool, I'd recommend rinsing hair with water beforehand as this will help to coat the strands and protect from the chlorine." advises leading hairstylist Neil Moodie. Simply put, already-wet hair can't absorb as much damaging clorinated water. Filtered or bottled drinking water would be ideal, or just get your head under the poolside shower.
3. Rinse immediately
After you've dipped, swam or splashed around, it's no surprise that every single expert advises getting the chrorine out of your hair, stat. Ideally, by washing, but if that's not possible give it another douse in plain old H2O. "If you're on holiday, I normally recommend avoiding wetting your hair in the pool," admits Gaboardi, "but if you do, rinse it immediately after."
Pre-wash products designed to remove product build-up and residue from the effects of hair water on hair are also a good shout at this point. Many of these serums and sprays can be applied straight onto the hair and scalp and simply rinsed out with water, taking mineral deposits with them. This is easy to achieve under any old water source, even if you aren't able to have a full shampoo and rinse.
Our beauty editor recommends...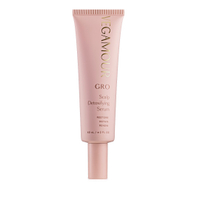 Vegamour Gro Scalp Detoxifying Serum | RRP: $38/£34
Designed to shift build-up and create a protective layer, this clever serum contains antioxidant-packed baobab and marula oils plus nourishing omega 6 and 9 fatty acids. Massage it in, leave for five minutes then rinse with water for a clarified, comfy hair and scalp.
4. Wash more than once
If you have access to shampoo and a proper shower, do as the packaging suggests (or certainly used to) and lather, rinse, repeat. "It is important to shampoo twice to ensure all chlorine is washed out of your hair and use a more moisturizing post-shampoo conditioner than usual," advises Kingsley.
The best shampoo and conditioner for the job will be mild enough to work right into the scalp, too. "I recommend cleansing the scalp and hair with a gentle, anti-inflammatory shampoo and a conditioner that leaves a protective layer on the hair shaft to help prevent damage," says Dr Nathan. And how often should you wash your hair on a swim-heavy trip? According to Dr Nathan, "repeat anytime the hair is exposed to chlorine."
If you've heard rumors about certain DIY option and are wondering does baking soda take chlorine out of hair? It can certainly help shift deposits. Try mixing a tablespoon into about 200ml water and then using it instead of shampoo. It'll feel a little strange and won't have the caring properties of actual shampoo, so follow up with a very nourishing conditioner or one of the best hair masks.
Our beauty editor recommends...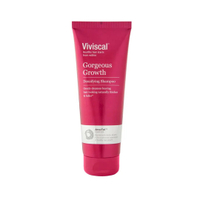 Viviscal Densifying Shampoo | $9.99/£9.99
Super nourishing with growth-encouraging vitamins including all-important biotin for hair. This is Gaorbadi's top post-swim wash, as it "protects your hair from damaging agents."
5. Neutralize green hues
Have you heard the old advice on how to get chlorine out of hair with tomato ketchup? A bottle of Heinz's finest certainly won't clarify your hair or condition it. But according to Kingsley, there could be something in it for your color. "The idea of using tomato ketchup isn't necessarily a myth, as red and green are opposites on the color spectrum, so the tomato neutralizes the yellow brassy tones," she explains. "Just be warned – it doesn't always work!"
If the ship has sailed on steps 1-4 and your hair has taken on a mossy tinge, it's worth a try, as is another household staple according to Moodie. "Chlorine can send blonde hair a little khaki-colored, so mix 12 aspirin into warm water and rinse through your hair after shampooing. Applying tomato ketchup and rinsing is also a good solution for this problem." We'd advise leaving it on for 10 minutes, then rinsing your hair and surroundings meticulously, lest your shower tiles start to look a bit Bates Motel.
Sign up to our free daily email for the latest royal and entertainment news, interesting opinion, expert advice on styling and beauty trends, and no-nonsense guides to the health and wellness questions you want answered.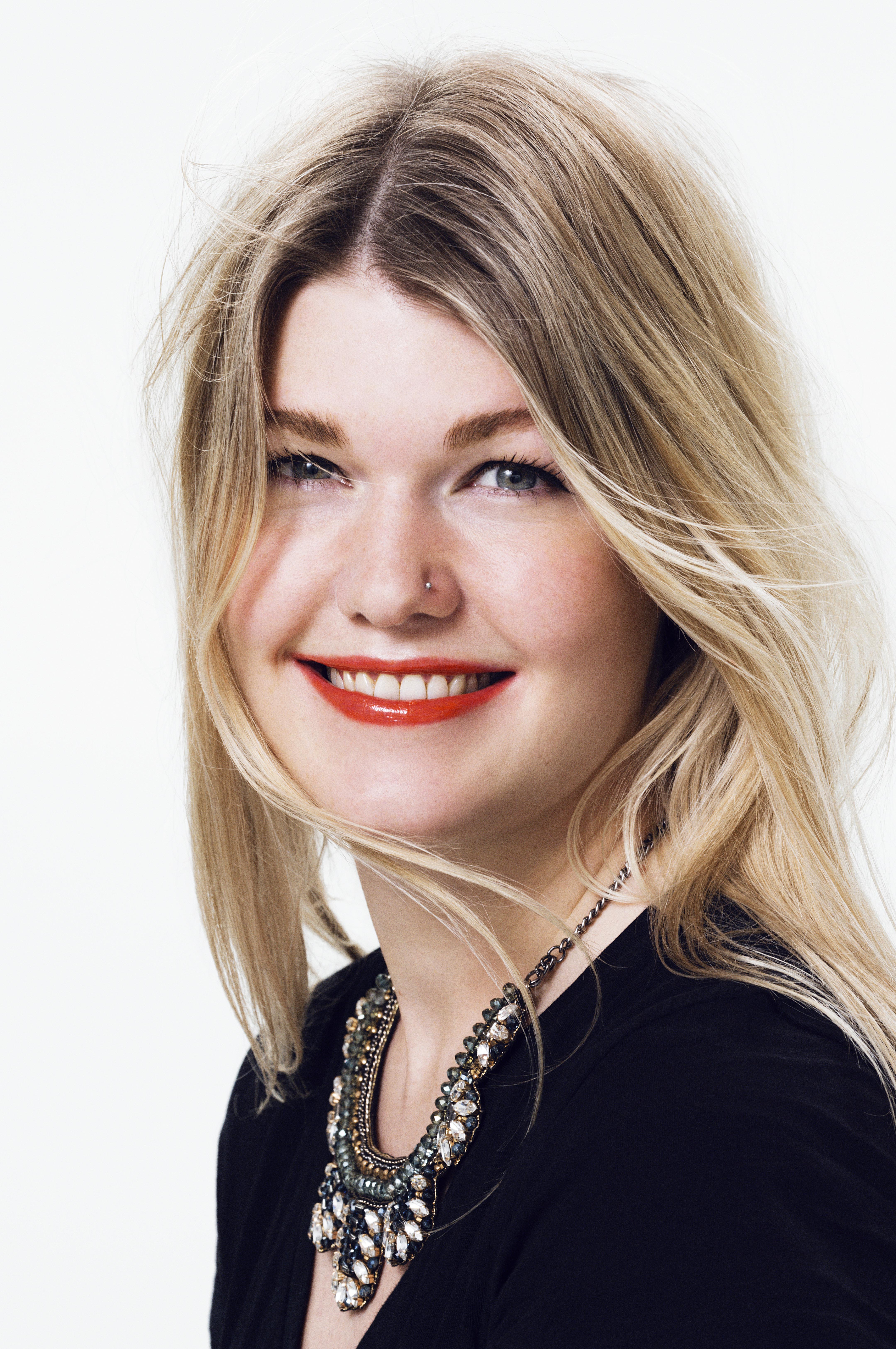 Beauty Editor, womanandhome.com
As woman&home's Beauty Channel Editor, Fiona Mckim has tried more products than she's had hot dinners and nothing makes her happier than raving about brilliant finds on womanandhome.com or her instagram grid (@fionamckim if you like hair experiments and cute shih-tzus). Fiona joined woman&home as Assistant Beauty Editor in 2013 under industry legend Jo GB, who taught her everything she needed to know (learn about ingredients and employ extreme cynicism). She has since covered every corner of the industry, from interviewing dermatologists and celebrities to reporting backstage at Fashion Week and judging the w&h Beauty Awards.