Biotin for hair growth – how to use this buzzy ingredient for strong, healthy hair
A trichologist explains the benefits of biotin for hair and why it's in every growth-boosting supplement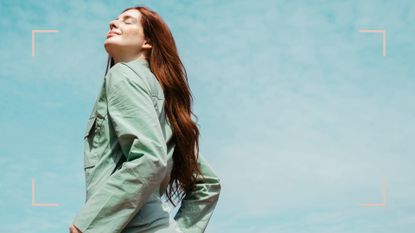 (Image credit: Future/Getty images)
woman&home newsletter
Sign up to our free daily email for the latest royal and entertainment news, interesting opinion, expert advice on styling and beauty trends, and no-nonsense guides to the health and wellness questions you want answered.
Thank you for signing up to Woman & Home. You will receive a verification email shortly.
There was a problem. Please refresh the page and try again.
It's a buzz-worthy ingredient, but what are the benefits of biotin for hair? Touted for its ability to strengthen and lengthen locks, biotin plays a starring role in most (if not, all) hair growth supplements. And while these products often get rave reviews, we want to know if there's any real science behind the claims. Is biotin the secret to stronger, longer, and healthier hair?
If you're searching for ways to make your hair grow faster, it's likely you've come across biotin. Not only is it a staple in hair, nail, and skin supplements, but biotin can also be found in many of the best shampoos and conditioners, and best hair masks around.
Much like scalp oil for hair growth, biotin for hair has been embraced by a new generation and is trending on social media, so clearly, it's considered a mane-changer by some. So we've asked the experts to break down everything you need to know about biotin for hair – from what it is to the best ways to use it for healthy, strong growth.
Biotin for hair, by the experts
What is biotin?
"Biotin, also known as vitamin H and vitamin B7, is an essential nutrient that helps the body metabolize fats and carbohydrates," explains Anabel Kingsley, consultant trichologist and Phillip Kingsley brand president. "It also aids in the breakdown and use of amino acids (proteins) – the substance that forms the bulk of your strands."
Like all B vitamins, Biotin is water-soluble – meaning the body doesn't store it and thus, according to Kingsley, it should be consumed every day. "You can find it in many foods such as egg yolks, almonds, milk, sweet potato, and salmon," she adds.
Can biotin help hair growth?
Several supplement brands claim that increased biotin intake can encourage hair growth and help with hair thinning. But if you look at the research, the evidence supporting this link is limited. "There's no proven evidence to suggest that supplementing biotin alone promotes hair growth," says Belle Cannan, co-founder of Salon Sloane and ambassador for Hair Rituals by Sisley.
With that said, both experts agree that biotin does play a part in the overall health of your hair. "It can help to strengthen and improve the integrity of growing hairs," says Kingsley. "And by strengthening growing hairs, they're less likely to fall out – meaning hair looks healthier and thicker," adds Cannan. Some research suggests that, much like trying rice water for hair treatments, biotin can bolster shine, too.
Biotin is not just beneficial for the hair, either. "Many people notice improvements to their nails when taking biotin – slightly before they notice changes to their hair," says Kingsley.
Is it good to take biotin every day?
"Biotin deficiencies are relatively uncommon," explains Kingsley. And most people can get enough biotin by eating a healthy, balanced and nutritious diet. "Taking biotin can be helpful, however, if you have a low-protein diet as it helps the body to utilize the proteins you ingest," continues Kingsley.
If you're experiencing hair thinning or shedding, it's best to consult an expert who can help to identify the cause of hair loss and advise on the best course of treatment, whether that's a daily dose of biotin for hair via supplement, or something else. They will also be able to test for a biotin deficiency, along with other nutritional deficiencies.
How to use biotin for hair
As we've mentioned, biotin is commonplace in hair growth supplements. And while there's limited evidence to say that biotin can promote hair re-growth or that it's an effective treatment for hair loss – it does promote stronger, shinier strands. But before you go ahead and take a new supplement, it's never a bad idea to consult your GP.
"Biotin rarely causes adverse side effects," says Kingsley, "and as it's water-soluble, any excess is excreted in your urine," Kingsley notes that some people, however, do find it may cause initial breaking out of their skin. "Taking biotin within 48 hours of having a blood test may also falsely skew thyroid readings," warns Kingsley, "so you should stop taking it beforehand."
Supplements aside, biotin can also be found in topical hair products like shampoo where it's often combined with other nourishing ingredients to create a hair health-boosting cocktail.
Our beauty team's top hair products with biotin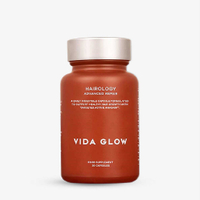 Vida Glow Advanced Repair Hairology Capsules | RRP: $48/£45
Designed to strengthen strands, these daily capsules contain biotin alongside zinc, anagain, and selenium to protect hair from oxidative stress and support healthy hair follicles. In clinical trials, 71% of participants perceived an improvement in overall hair condition.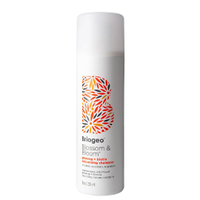 Briogeo Blossom & Bloom Ginseng + Biotin Hair Thickening + Volumizing Shampoo | RRP: $28/£24
98% natural, this sulfate-free shampoo is laced with ginger and ginseng to clean the scalp as well as biotin and vitamin b5 to strengthen and thicken hair. Hair looks happier and healthier with continued use.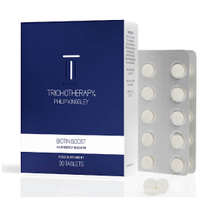 Philip Kingsley Biotin Boost Hair Nutrition Formula | RRP: £30
Developed by expert trichologists, these Biotin Boost supplements are designed to boost the resilience of hair with a cocktail of strand-savvy ingredients – including biotin, zinc and vitamin b12. They're especially beneficial for those on a low-protein diet.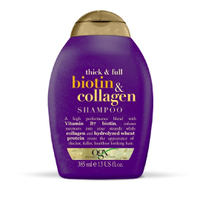 OGX Thick & Full + Biotin & Collagen Shampoo | RRP: $9/£6.99
Brimming with powerhouse ingredients, this rich shampoo plumps up and strengthens strands – thanks to biotin, collagen and wheat proteins. Hair is left smooth and hydrated. Just note that it is heavily scented – which means it may not be suitable for sensitive scalps.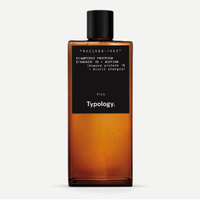 Typology Volumising Shampoo Almond Protein 1% + Biotin | RRP: $20.60/£15.10
After a shampoo that cleanses and strengthens strands without weighing them down? Turn your head to this 95% naturally derived formula from Typology. Coating the hair fibers in almond protein and biotin, this shampoo volumizes the hair while soothing the scalp with its lightweight texture.
Sign up to our free daily email for the latest royal and entertainment news, interesting opinion, expert advice on styling and beauty trends, and no-nonsense guides to the health and wellness questions you want answered.
Emma Stoddart is a freelance beauty journalist and self-confessed skincare aficionado with over five years' industry experience. Emma has worked for some of the UK's top women's titles including Net-A-Porter, Stylist and Grazia. Her experience spans online and print as well as producing editorial shoots with some of the industry's biggest artists, including Val Garland. Asides from working with them behind the scenes, she's also had the chance to interview the likes of Patrick Ta, Pat McGrath, and Sam McKnight for all their insider tips and tricks.