Experts reveals the leading causes of hair loss - and why you may have experienced it in lockdown
Your hair may have been under extra stress during the pandemic...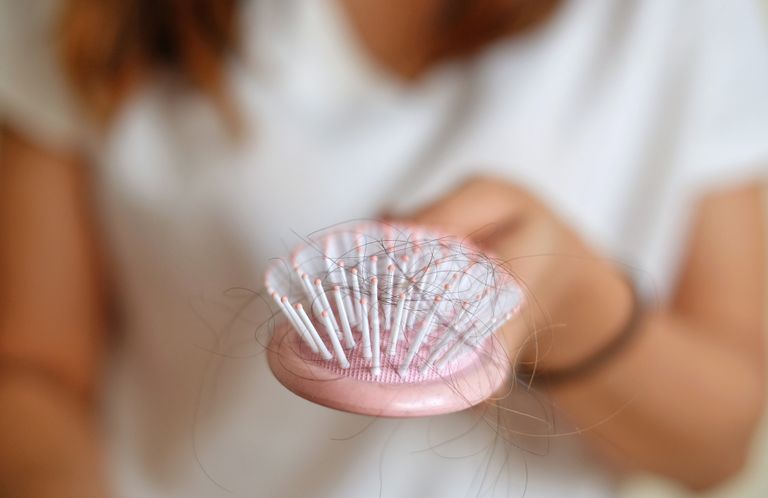 (Image credit: Getty Images/EyeEm)
Hair loss at any age can be distressing, and getting to the root of the cause can be easier said than done as there are a myriad of reasons why your tresses may not be as full as they once were.
In fact, recent research commissioned by leading hair supplement provider Viviscal revealed that there was confusion amongst those surveyed as to the real reason for behind their hair loss.
50 per cent of women over 25 revealed that hormones – including pregnancy, menopause andpolycystic ovary syndrome (PCOS) – had contributed to their hair loss or thinning, while 27 per cent of women felt that diet was a key factor in their loss or thinning.And for lots of women, stress and anxiety can also be a trigger.
But also, many women have also reported that during the coronavirus lockdown, they have experienced more noticeable hair loss than ever.
So why has it been happening?
Why has lockdown caused an increase in hair loss for some women?
Dr Aragona Giuseppe, GP and medical advisor at Prescription Doctor saysthat a number of factors may have affected your hair during lockdown, and increased hair loss.
She said, "Lockdown and the uncertainty that came with being stuck in the house will have caused a lot of stress on many people which is most likely the main cause of any shedding or hair loss.
MORE:Bob hairstyles: 15 inspirational updates on the bob to take to the salon
"Some stress sufferers also develop the habit of playing with their hair, or even pulling it out completely, as a coping mechanism. This is called trichotillomania and this will remove hair or weaken it as well. Plus, stress can cause problems with appetite, and if you aren't consuming enough vitamins and minerals your hair will become weak and fall out more readily.
"Those who smoke regularly will have most likely increased their dailyamount whilst in lockdown due to boredom or stress, and this may in turn also have increased shedding andmay be the main cause of any considerable hair-loss."
And our more relaxed hair habits during lockdown may have contributed too.
"Whilst in lockdown many people may have become lazy with their hair routine, putting it in a bun most days, which can also cause tension on the scalp and follicles," she said.
Eva Proudman MIT IAT, from the Institute of Trichologists, also told w&h that if you have been ill with coronavirus, you may have seen hair loss.
She said, "If you have been ill or had COVID-19 symptoms - especially a high fever - it can cause an increase in hair shedding. The shedding will most probably be a temporary issue and although you won't permanently lose any hair, it can be very frightening to experience and is stressful to see.
With the lockdown, we've all been inside a lot more too - which could be contributing to hair loss for some of us.
Eva explained, "Being inside doesn't cause more hair loss, but what it does do is restrict access to sunlight and the intake of Vitamin D. The hair follicle has a vitamin D receptor which in simple terms stimulates hair growth, so if your Vitamin D is low or deficient the hair can shed excessively.
"Being outdoors and exercising can really help to lift your mood and ease your stress levels, again an indirect effect of being indoors but a really important factor as stress can impact excessive hair shedding."
It comes after the news that some people are opting for this 'extreme' haircut following lockdown -while this is the themost hygienic haircut to opt for after lockdown, according to a hairdressing pro.
Other causes of hair loss
Dr Martin Wade, Consultant Dermatologist at The London Skin and Hair Clinic, has given his expert opinion on the top 5 leading causes of hair loss (in no particular order).
1. Seasonal shedding
As days get shorter it's thought that the pineal gland – which secretes melatonin and according to this research paper 'has long been known to modulate hair growth' - in the brain gets less light stimulation. This has a consequence as the process by which the pineal grand secretes melatonin is dictated by light.
2. Ageing
Androgenetic Alopecia is one of the most common forms of hair loss for both men and women, and is also referred to as female or male pattern hair loss. Each time the hair follicle goes through the hair cycle it reduces in size, resulting in a smaller hair shaft. Over time the hair shaft becomes so small that it no longer protrudes above the level of the skin in the scalp.
MORE:What colour should I dye my hair? A simple guide to pinpointing the most flattering hair shades for you
3. Post pregnancy
After a woman gives birth there is a massive dip in female hormones, and a much milder effect can occur when women stop taking the oral contraceptive pill. This sharp change in oestrogen and progesterone levels – both of which play a vital role in promoting hair growth – can lead to hair loss.
4. Menopause
As with the above when a woman goes through the menopause she will go through a gradual – yet progressive – decline in female hormones.
5. Diet
This is complex area but, essentially, if the body is not getting the key nutrients it needs for healthy hair growth – including vitamin A, B and C and minerals such as calcium and magnesium, according to this study – or if the body goes into shutdown mode from a lack of calories due to a restrictive diet or dramatic weight loss over a short period of time, this could upset the body's internal metabolism. A recent UCLA study showed that hair follicle stem cells have their own unique metabolism.
Products to help with hair loss
Watermans GrowMe Shampoo, £13.25
This Watermans shampoo (and the matching GrowMe conditioner) have been bestsellers for years, and for good reason. The products help to strengthen your your hair follicles to promote hair regrowth, and improve scalp circulation, to allow your hair to grow thick and healthy. Suitable for almost all hair types, its an easy way to take care of your hair and prevent hair loss during your daily shower.
SHOP NOW: Watermans Grow Me Shampoo, £13.25, Amazon
Vitabiotics Perfectil Plus Hair, £12.95
These multivitamins containiotin, selenium and zinc, all of which contribute to the maintenance of normal hair. They provide support for normal hair growth, with many customers reviewing the product explaining that they saw noticeable improvements in any hair loss after taking them.
SHOP NOW: Vitabiotics Perfectil Plus Hair, £12.95, Amazon
AvedaInvati Advanced Scalp Revitalizer, £47
This handy Aveda spray goes straight onto your roots and scalp, in order to help reduce hair loss due to breakage. The natural ingredients work to thicken your hair, remove build up that can clog pores on your scalp, and help support your hair's natural keratin, to improve the condition of your hair and prevent it from falling out. Use once daily for best results.
SHOP NOW:AvedaInvati Advanced Scalp Revitalizer, £47, LookFantastic
Will you be picking up any of these products?
Miriam is a regular contributor to womanandhome.com, with specialisms in all things health and wellness. She has worked with the brand for over five years now, and previously worked on the women's lifestyle magazines Woman and Woman's Own.