Can you really make your hair grow faster? The experts weigh in
The truth about whether you can actually make your hair grow faster—plus expert tips and tricks for healthy growth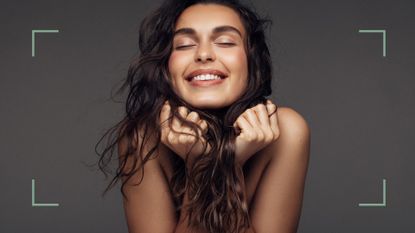 (Image credit: Getty)
woman&home newsletter
Sign up to our free daily email for the latest royal and entertainment news, interesting opinion, expert advice on styling and beauty trends, and no-nonsense guides to the health and wellness questions you want answered.
Thank you for signing up to Woman & Home. You will receive a verification email shortly.
There was a problem. Please refresh the page and try again.
On a mission to make your hair grow faster? Welcome to the club. Long hair, like glowing skin, ranks high on many of our beauty wish lists. But while radiant skin feels somewhat attainable (with the right treatments and products), boosting hair growth feels more like mission impossible.
According to The American Academy of Dermatology, hair grows half an inch per month on average, which totals to six inches per year. However, "the rate at which hair grows, and the length to which it will grow, is genetically determined," says Anabel Kingsley, consultant trichologist and brand president at Philip Kingsley.
"There's nothing you can do to speed up this rate," she continues, "although, it's very common for hair not to grow as well as it's capable of." Everything from nutrient deficiencies to high stress levels and lack of hair care can negatively affect the growth of your strands and lead to hair thinning. Here, the experts break down how to boost your hair's ability to grow faster for stronger, longer locks.
How to make your hair grow faster
"Our hair is a non-essential tissue, meaning we can live without it, so the body will always prioritize the health of our organs before supplying nutrients to the scalp," says Stephanie Sey, trichologist and afro hair specialist. As a result, it's very reactive to both internal and external stressors. "To get longer hair, you need to look after it," continues Sey—which means feeding your hair with nutrients like biotin for hair, protecting it from pollutants, and treating it with the best hair products (more on those later)
Does scalp health make your hair grow faster?
"Hair growth is reliant on scalp health," says Kingsley, "after all, your scalp is your hair's support system." To get your scalp in tip-top shape, the experts recommend frequent hair washing using one of the best shampoo and conditioners for your hair type. "Leave no more than three days between shampoos—your scalp is simply an extension of the skin on your forehead and benefits from similar care to the skin on your face," advises Kingsley.
As well as regular shampooing, Dr Sharon Wong, consultant dermatologist, and scalp expert, recommends "incorporating exfoliating acids into your haircare regime to remove dead skin cells, excess oil, and product build-up." By unclogging the hair follicles and encouraging cell turnover, "this provides a healthy environment for the emerging hair fiber." You can find exfoliating acids in many of the best scalp treatments, from masks to scrubs and serums.
How to encourage healthy hair growth
As well as locking down a good scalp care routine, the experts assure us that there are several ways to optimize your hair's ability to grow faster. Here, Kingsley breaks down the key factors:
Take care of your scalp: "A healthy scalp promotes healthy hair growth—and an irritated/flaky scalp can actually cause hair loss. Cleanse regularly, tone daily, and use a targeted scalp mask once a week to address any concerns." Many women also swear by the scalp health benefits of using scalp oil for hair growth, too.
Eat a balanced diet: "Because hair is not an essential tissue, it is the last part of you to receive nutrients and the first to be withheld from. This means any nutritional deficiency, even a small one, can negatively impact your hair—long before it affects your general health. Eating enough protein, complex carbohydrates and iron-rich foods is essential for hair to grow long and strong."
Be gentle: "Unlike your skin, your strands don't regenerate themselves if they are damaged, nicked, or scratched. So, be careful when you style, brush, detangle, shampoo, and towel dry hair."
Reduce breakage: "Sometimes your hair is unable to grow simply because it's breaking off at the ends. Avoid overbrushing your hair and keep your use of even the best hair straighteners to a minimum. To strengthen strands, apply one of the best hair masks weekly."
Manage stress levels: "Stress can wreak havoc on your hair growth cycle. Stress raises androgen (male hormone) levels which can worsen or trigger female pattern hair loss. Androgens can also increase your scalp's sebum production—leading to flaking, itching and hair fall. As well as this, stress can make it harder for your body to absorb nutrients, which has a knock-on effect on your strands." The solution? Kingsley recommends yoga, Pilates, swimming, and brisk walks to reduce stress— "find what works best for you."
Take supplements: "A supplement can boost hair growth if you're losing hair due to a nutritional factor. Those containing protein and biotin can bolster strength, too. If, however, your hair loss is unrelated to diet, supplements are not going to fix it."
If you're concerned about the rate of your hair growth, speak to your GP for advice. They will be able to help identify the cause so you can address it. "Even subtle changes to your general health, such as borderline thyroid imbalances, can impact your hair growth cycle," says Kingsley. "I suggest asking your doctor for yearly blood tests to make sure there isn't something underlying that may be stalling your hair growth."
Can our environment impact hair growth?
The short answer is yes. "Emerging evidence supports that environmental factors can influence the health of the scalp's skin and in turn, impact hair growth," says Wong. "Air pollution, environmental toxins and UV damage can all increase oxidative stress which can cause damage to the hair follicles."
To protect your scalp and hair from environmental stressors, and create the best conditions to make your hair grow faster, try to keep hair out of direct sunlight (or use hair SPF) and ensure you're shampooing daily or every other day to remove pollutants.
The best products to promote healthy hair growth
---
woman&home thanks Anabel Kingsley, Dr Sharon Wong and Stephanie Sey for their time and expertise.
Sign up to our free daily email for the latest royal and entertainment news, interesting opinion, expert advice on styling and beauty trends, and no-nonsense guides to the health and wellness questions you want answered.
Emma Stoddart is a freelance beauty journalist and self-confessed skincare aficionado with over five years' industry experience. Emma has worked for some of the UK's top women's titles including Net-A-Porter, Stylist and Grazia. Her experience spans online and print as well as producing editorial shoots with some of the industry's biggest artists, including Val Garland. Asides from working with them behind the scenes, she's also had the chance to interview the likes of Patrick Ta, Pat McGrath, and Sam McKnight for all their insider tips and tricks.