How often should you wash your hair? Pro stylists settle the debate
How often should you wash your hair for ungreasy roots and soft lengths? Clue: It's a very fine balance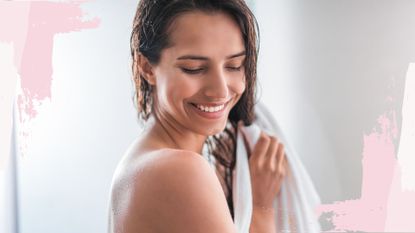 (Image credit: Future/Getty images)
Some questions have neat, definitive answers, but how often should you wash your hair is not one of them. The answer to this age-old beauty query rests on a multitude of factors, from hair type and styling habits to lifestyle and even the area you live in.
And that's probably why so many of us get the calculation wrong. It's all very well having the best shampoo and conditioner for your hair type, but if you're asking how often should you wash your hair and getting a 'how long is a piece of string' type-of response, your chances of success are diminished.
That's where we can help. While your personal circumstances will decide your hair-washing fate, we can offer a solid set of guidelines. Clear easy-to-follow instructions from the mouths of professional hair experts, no less, that'll help you finesse the optimum wash cycle for you and your 'do.
How often should you wash your hair?
This isn't a one size fits all situation. Rather, it varies by hair type, explains expert stylist and owner of Salon 64, Ricky Walters (opens in new tab). "Those with thick, dry, dehydrated hair should only be washing around once a week. For those with fine hair lacking volume, a light shampoo every other day should be all that's needed." Essentially, it's a balancing act with the natural oils in your hair, as over-washing can strip them but under-washing can overload your scalp. If your hair sits in the middle, in terms of thickness and natural hydration, then your answer will lie in the middle of those two frequencies.
As well as hair type, think about your lifestyle. Perhaps you love a sweaty spin class or have an active job, live in a polluted city, or by the sea and regularly wild swim. How often should you wash your hair if any of the above apply? A little more often than if they didn't. The crucial thing is to pay attention to what your hair is telling you. Trial and error is your greatest teacher, check in with how your feels after one, two, or three days without washing. "More often than not clients wash their hair out of habit rather than if the hair truly needs it or not," says Walters.
Is it unhealthy to wash your hair everyday?
It can be, yes. "It's definitely not advised to wash your hair every day," says Celebrity hairdresser Jay Birmingham. "Washing your hair too much can disrupt your scalp's natural balance. This can lead to it feeling sensitive and inflamed. You can also cause your hair to feel dry and a little brittle on the ends if you overwash it."
If you have an incredibly oily scalp or can't bear the feeling of unwashed hair, even for one day, switch to a sulfate-free shampoo. Not because the answer to is sulfate bad for your hair is a resounding yes, but because sulfates are ultra-efficient at dissolving oil, which you really don't want to be doing every day.
Does washing your hair less make it healthier?
If you tend towards over-washing then yes, washing less can be beneficial. "Over washing the wrong hair type can make life extremely difficult. Fine hair will become flat, static, fly away, and struggle to hold a blow-dry or style," explains Walters, "thicker dry hair will become unmanageable, dryer, frizzy and untameable."
However, there is also such a thing as washing too little, which isn't advisable for scalp care or for anyone trying to master how to get rid of dandruff. It's all about finding the sweet spot. "You need to get the balance right. You don't want to wash your hair every day but you don't want to avoid washing it either. Find what works for you," says Birmingham, who recommends two to three times a week as a sensible starting point.
How can I cut down on hair washing?
Washing less can be an adjustment if you're used to the feeling of fresh hair. "You need to train your hair. In the beginning, you will need to go with it and accept that your hair will be a little greasy," says Birmingham, who advises that applying your best dry shampoo before bed will work wonders. "Apply it to the roots and gently work it in with your fingertips. Then leave overnight and wake up in the morning to refreshed hair."
On wash days, Birmingham recommends double shampooing, "You can really clarify your scalp and remove any build up of styling products. It helps to go longer between washes if your scalp is super clean." Shampoo choice counts too, explains Walters. "Oily hair requires a volume or shine range, there's no need to add moisture, which tends to be heavier. The golden rule for hair that is prone to grease is strictly no conditioner anywhere near the roots."
Finally, when styling unwashed hair, hair up styles and ponytail hairstyles will simultaneously disguise oil and stick around longer because of it. If you miss the styling options offered by a bouncy blow dry, "dry styling is another great way of refreshing your hair without washing. You can use a curling iron or wand on day-old hair to just refresh and fine-tune the style," says Walters. Many of the best hair straightener brushes are designed with refreshing day-two hair in mind, which should help you stick with your shiny-new, less frequent wash routine.
Beauty Editor, womanandhome.com
As woman&home's Beauty Channel Editor, Fiona Mckim has tried more products than she's had hot dinners and nothing makes her happier than raving about brilliant finds on womanandhome.com or her instagram grid (@fionamckim if you like hair experiments and cute shih-tzus). Fiona joined woman&home as Assistant Beauty Editor in 2013 under industry legend Jo GB, who taught her everything she needed to know (learn about ingredients and employ extreme cynicism). She has since covered every corner of the industry, from interviewing dermatologists and celebrities to reporting backstage at Fashion Week and judging the w&h Beauty Awards.