Is sulfate bad for your hair? The experts weigh in
Is sulfate bad for your hair? Pro stylists and trichologists settle the sulfate debate once and for all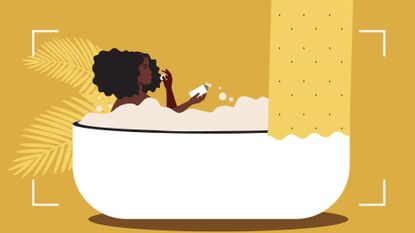 (Image credit: Future/Getty images)
woman&home newsletter
Sign up to our free daily email for the latest royal and entertainment news, interesting opinion, expert advice on styling and beauty trends, and no-nonsense guides to the health and wellness questions you want answered.
Thank you for signing up to . You will receive a verification email shortly.
There was a problem. Please refresh the page and try again.
"Is sulfate bad for your hair?" is one of the most frequently asked questions in the realm of haircare. Receiving a bad rap in recent years, sulfates have come under fire for being a) synthetic and b) harsh on our hair and scalp. But is there any truth behind these claims and do sulfate-free shampoos really reign supreme?
It's complicated, explains renowned London hairdresser Michael Van Clarke. "The sulfates story has been blown up by an army of keyboard warriors who haven't looked deeply into the science. As an effective detergent, sulfates can be both good and bad—depending on your hair and skin type," he continues.
Intrigued? If scalp care is a concern and you're considering making the switch to one of the best shampoo and conditioners that are sulfate-free, look no further. We've asked the experts to shed light on this controversial ingredient and demystify the science behind sulfates once and for all.
Is sulfate bad for your hair?
As many brands hop on the sulfate-free bandwagon, launching natural, gentle, and so-called 'clean beauty' shampoos, consumers have grown wary of this haircare ingredient. But is sulfate bad for your hair? According to Anabel Kingsley, consultant trichologist and brand president at Philip Kingsley, "unless you have a sensitivity or allergy to sulfates, there is no need to avoid shampoos containing them."
Although sulfates get bad press, the experts assure us that they are effective cleansing agents. When used in shampoo, sulfates can remove oil, dirt, product build-up and pollution from the scalp and hair. They're also easily rinsed out with water which means no leftover residue.
The downside? They can be too good at their job, meaning "sulfates not only strip the hair of grime but can also strip the hair of natural oils, causing scalp irritation in some cases," says Cannon.
According to Van Clarke, it's important to consider the type of surfactant and your hair type. "Strong surfactants are effective on very oily or greasy hair that's laden with styling products," he says. "While milder surfactants will limit the fade on color-treated hair and will be gentler on sensitive or sore scalps."
What are sulfates?
Time for a science recap. "Sulfates are a group of surfactants (aka cleansing agents) that effectively dissolve grime and dirt," explains Van Clarke. They are responsible for that rich lather you get from many shampoos— "and most shampoos will be comprised of 5-10% surfactant to clean and foam."
"As well as being found in shampoos and soaps, you can also find sulfates in the best toothpaste, bath bombs, and washing up liquid," says Dr Kemi Fab, junior doctor and skincare expert, who adds that, "they're produced from ingredients such as petroleum and plant oils."
As with weighing up almost any ingredient, e.g. AHA vs BHA, it's worth bearing in mind that there are several different types of sulfates. "The most common are sodium lauryl sulfate (SLS) and sodium laureth sulfate (SLES)," says Belle Cannon, co-founder of Salon Sloane and ambassador for Hair Rituals by Sisley.
Types of sulfates
Van Clarke breaks down the four main types of surfactants that are commonly used in cosmetics, including shampoo. He notes that, "all four can be derived from coconut oil via a refining process or they can be produced synthetically."
Sodium Lauryl Sulfate (SLS): "Can be seen either as the harshest or most effective degreaser that creates a lot of foam. It also has the smallest molecular structure."
Sodium Laureth Sulfate (SLES): "Is a much gentler cleanser and has a larger molecular structure."
Ammonium Lauryl Sulfate (ALS): "Is gentler still and has the larger, more complex molecule which is harder for outer skin layers to absorb so is far less likely to irritate sensitive skin."
Sodium Lauroyl Methyl Isethionate (SLMI): "Derived from coconut oil, this is sulfate-free and considered one of the mildest surfactants on the market."
Who should use sulfate-free shampoo?
"If you're happily using products containing sulfates, continue using them," says Van Clarke. "If, however, you experience scalp irritation, explore options with gentler sulfates or sulfate-free shampoos may be worthwhile," he adds.
An advocate of sulfate-free shampoo, Cannon says that "they are often crafted with essential oils that lift grime and residue gently while aiding moisture retention so your hair is softer, and your scalp is happier." Oh, and if you're searching for the best shampoo for colored hair, opting for a sulfate-free option is a good idea as Cannon confirms, "sulfates strip your hair color—making it fade faster."
To summarise, if you have dry, damaged hair, sensitive skin or want to avoid color fading fast—go for mild sulfate-free products instead. But if your hair is very oily and/or sulfates work well for you and your 'do, feel free to continue using them.
Our favorite sulfate-free shampoos
---
---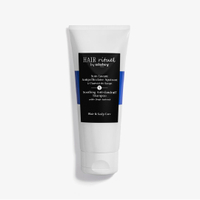 (opens in new tab)
Sisley Soothing Anti-Dandruff Shampoo | RRP: $78/£60
Unhappy scalp? Tackle dandruff head on with this ultra-luxe sulfate-free shampoo that's loaded with soothing plant extracts, strengthening pro-vitamin b5 and cotton proteins to rebuild the hair's protein structure. Expect a happier scalp and healthier hair in a matter of weeks.
---
---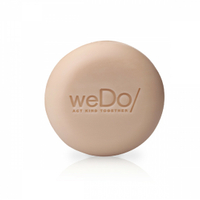 (opens in new tab)
weDo/ Professional No Plastic Shampoo Bar | RRP: £14.95 (UK only)
Prefer bar to bottle? Give this sulfate-free solid shampoo from weDo/ Professional a whirl. The beauty bar lifts dirt, impurities, and product build-up with a cocktail of natural ingredients like red clay. Massage it through your hair from root to tip, before rinsing.
---
---
woman&home thanks Anabel Kingsley (opens in new tab), Michael Van Clarke (opens in new tab), Dr Kemi Fab (opens in new tab) and Belle Cannon (opens in new tab), for their time and expertise
Emma Stoddart is a freelance beauty journalist and self-confessed skincare aficionado with over five years' industry experience. Emma has worked for some of the UK's top women's titles including Net-A-Porter, Stylist and Grazia. Her experience spans online and print as well as producing editorial shoots with some of the industry's biggest artists, including Val Garland. Asides from working with them behind the scenes, she's also had the chance to interview the likes of Patrick Ta, Pat McGrath, and Sam McKnight for all their insider tips and tricks.