Best shampoo for colored hair—picks to keep your hue salon-fresh
The best shampoo for colored hair as chosen by experts and salons to protect your locks from damage and brassiness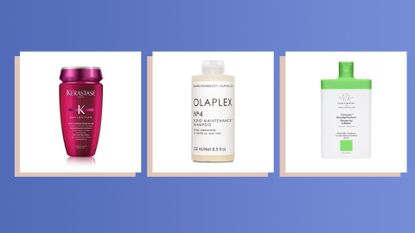 (Image credit: Future)
The best shampoo for colored hair will stave away damage and brassiness, and encourage shine like no other. The picks on our list are expert and salon-approved, so your hair is in safe hands.
The only thing worse than enduring a colorist's chair for hours on end is having your new on-trend hair color fade after just a few washes thanks to stripping shampoo and the effects of hard water on hair. Enter, the best shampoo for colored hair: formulas that prolong and enhance color, vibrance and shine; repair damage, or subtly tone hair against brassiness or too much warmth.
It's no easy feat to keep your newly-minted color from fading or brassing out, since the main culprit of color fade is something we face literally almost every day: water.
How to choose the best shampoo for colored hair
Why you can trust Woman & Home Our expert reviewers spend hours testing and comparing products and services so you can choose the best for you. Find out more about how we test.
Salon advice says we should also only be using the likes of purple shampoo once a week at most—so what is the best shampoo for colored hair and what should we look out for when picking one?
"It really is going to depend on the type of hair color application that was chosen," says Renée Valerie, TIGI US Technical Education Director.
"If your hair was pre-lightened and a brighter shade deposited on top, I would recommend limiting the amount of times you shampoo so as not to rinse the color out, since the hair is porous and naturally wants to release the color. Instead, I would try and incorporate the best dry shampoo available into your routine for the days you aren't washing,"
There are a few things to look out for when vetting your trusted ingredients list to see if a shampoo is indeed color-safe:
Alcohol: There's a reason those subscribing to the Curly Girl Method are alcohol-averse: It can dry hair out. Oftentimes formulated as ethanol or isopropanol, these are the forms of alcohol in shampoos that can be stripping or over-drying—two things you don't want to do to hair that's already vulnerable from being color-processed. This can lead to more breakage or damage.
Sulfates: Sulfates such as sodium lauryl sulfate (SLS), sodium laureth sulfate (SLES), and ammonium laureth sulfate, are surfactants, a.k.a. detergents, that help deep-clean hair of dirt, oil, and build-up. They usually foam and lather generously, which isn't harmful in and of itself, but is an action that can leach more pigment out of the hair shaft than intended. Sulfate-free shampoos don't lather as much and instead cleanse typically without that "squeaky clean" feeling, which keeps more pigment intact.
Hydrating and smoothing agents: More often than not, colored hair is porous hair, which means it's susceptible to absorbing moisture from the atmosphere (as in, humidity), which makes the shaft swell up irregularly. The result? You guessed it: frizzy hair. A normal hair cuticle has layers that lay down flat and smooth, akin to perfect shingles on a roof. Processed or damaged hair has jagged, lifted cuticles that need the help of a smoothing agent to minimize the look and feel of frizz. Ingredients like coconut oil, Argan oil, sunflower oil, and marula oil are helpful to have in a color-safe shampoo, as they help hydrate and smooth down any frizz.
The best shampoo for colored hair, according to our experts
1. Kerastase Bain Chromatique Riche Shampoo
Best overall shampoo for colored hair
Specifications
RRP: $31/£18
Target concerns: Color-treated or highlighted hair
Ingredient call-outs: Zinc gluconate, linseed oil, rice bran oil, vitamin E
Reasons to buy
+
Sulfate-free
+
UV filters
+
Left hair soft and shiny with minimal to no tangles
+
Pleasant, premium, creamy scent
It's hard to assign a ticks-all-boxes badge of honor to a shampoo, since they usually each fall into distinct categories, but this critic and fan fave from Kérastase is as close as it gets to being a master of all trades.
A few washes of Bain Chromatique Riche after a crucial back-to-bronde session was all it took for us to get completely won over by how soft, shiny, and just undoubtedly premium our strands felt. That fresh salon-caliber scent wasn't something to complain about either, and our hair felt moisturized even during the shampoo rinse itself—and anyone who's ever had to rinse their hair immediately after a recent color process will find this a rare and thrilling concept indeed.
Pre-conditioner, the tangle factor was very minimal on our long, straight hair, and we love how it also offered UV filters in addition to its color-protective properties for added protection against the elements (more impetus for us to use before an upcoming beach trip). Linseed oil definitely did its job bringing out the subtleties in our balayage hair hue—not all shampoos can enhance the dimension between a base color and hair highlights with precision, especially with darker shades like brown and auburn, but this did the trick without any brassiness.
Our verdict: Sure, it sits on the more premium side of the shampoo spectrum at just over $30 a pop, but the peace of mind we got from a color-enhancing formula that also made our hair feel healthier than it was pre-dye job? Priceless. Bite the bullet, folks.
2. SACHAJUAN Colour Protect Shampoo
Best shampoo for colored hair for volume
Specifications
RRP: $31/£12
Target concerns: Color-treated hair
Ingredient call-outs: Ocean Silk Technology, antioxidants, less wash active ingredients, microemulsion technology
Reasons to buy
+
Satisfying lather
+
Color is vibrant even after several washes
+
Hair is noticeably fuller and "fluffier"
+
Gender-neutral, even slightly more masculine "aquatic" scent
Reasons to avoid
-
Not sulfate-free
-
A bit drying, especially without conditioner
With freshly colored hair, the focus can sometimes be on shine, smoothening, or damage protection, and volume usually ends up being the least of our worries. This Swedish-helmed award-winner touts microemulsion technology that rinses off the deepest set dirt and grime while protecting color, even during a fancy lather—and boy, does it lather!
If you're a fan of a squeaky-clean rinse and aren't put off by sulfates, this is for you. If you're also a fan of more masculine-leaning fragrances that have an expensive patchouli/ozone/aquatic note, you'll love this too.
We tried spacing out the uses of the shampoo since we felt it did leave our strands feeling on the drier side—especially without conditioner. No frayed or split ends though (thanks, Ocean Silk Technology!), which is always welcome.
In terms of color, our highlights were popping and super-shiny, and a quick rinse with a conditioning hair mask kept any tangles at bay, so we were willing to forgive on that front.
Our verdict: It definitely offered a clean color vibrancy and a fullness we haven't enjoyed with any other color-safe shampoos, so this is one that those bogged down by hair thinning or finer strands should look out for. Our tip? Get it with its matching conditioner for the full moisturized experience.
3. Nexxus Color Assure Shampoo
Best drugstore shampoo for colored hair
Specifications
RRP: $14.99/£9
Target concerns: Color-treated hair
Ingredient call-outs: PROTEINFUSION blend, elastin protein, quinoa
Reasons to buy
+
Silicone- and sulfate-free
+
Satisfying lather even for sulfate-free formula
+
Color retention is impressive
+
Moisturized yet nicely cleansed feel
+
Tangles are easy to comb through
+
Lovely scent
Reasons to avoid
-
Can feel a bit greasy after prolonged use
If it weren't for the ingredients list stating so in on the bottle, you'd be hard pressed to think this was a silicone- and sulfate-free formula; that's how convincingly sudsy Nexxus Color Assure is.
Drugstore shampoos for colored hair rarely delight, so the moment we were faced with a silky-smooth rinse—surrounded with a sweet, mild whiff of a rose/vanilla/berry scent—we knew we had something on our hands.
It's not lost on us that the formula, too, is a protein shampoo. For the uninitiated, this means it helps replenish any protein lost in the hair strand during the coloring process (not unlike "spackling"), which then helps re-smoothen the cuticle.
Our verdict: Too much protein can make hair feel hard and limp but this one gets the balance just right. Before we even reach for the conditioner we already know it's going to be a good, soft, smooth hair day.
4. Drunk Elephant Cocomino Glossing Shampoo
Best shampoo for colored hair for shine
Specifications
RRP: $25/£21
Target concerns: Color-treated hair, dry and damaged hair
Ingredient call-outs: Sacha inchi seed oil, panthenol, marula oil, Argan oil, sweet almond oil blend, coconut amino acid blend
Reasons to buy
+
Sulfate-, silicone-, essential oil-, dye-, and drying alcohol-free
+
Cruelty-free and supports the International Elephant Foundation
+
No added fragrance
+
Delightfully clean almond scent
+
Moisturizes without weighdown
+
Tangles are easy to comb through
+
Low-foam yet satisfying rinse
+
Visible shine and softness
Reasons to avoid
-
Pricier
-
Can feel greasy after prolonged use
A collaboration with celebrity hairstylist Chris McMillan (he's blessed the tresses of everyone from Jen Aniston to J.Lo to Taylor Swift), this product has a higher-end formula that also touts scalp care as it shields from color fade. How? A niche blend of oils that melt away years of scalp buildup for a revitalizing rinse that doesn't feel tight or dry at all.
We love Cocomino's lovely scent and light, creamy formula. It also adds a noticeable bounce to hair, unusual for something so hydrating (we see you and appreciate you, marula and Argan oil).
Our verdict: Despite being both sulfate- and silicone-free, this shampoo for colored hait has a low yet satisfying lather and imparts shine and color vibrancy to rival the best in the field.
5. Olaplex No. 4 Bond Maintenance Shampoo
Best shampoo for colored hair for damage repair
Specifications
RRP: $28/£26
Target concerns: Color-treated hair, damaged hair
Ingredient call-outs: Bis-Aminopropyl Diglycol Dimaleate
Reasons to buy
+
Sulfate-free
+
Paraben-, phosphate-, phthalate-, nut- and cruelty-free; vegan
+
Great for damaged, porous, and frizzy hair
+
Refreshing citrus scent
Reasons to avoid
-
Some say hair feels greasy after repeated use
A top-of-mind pick in the realm of reparative shampoos, Olaplex paved the way for many a colorista's foray into the world of at-home color care. Formulas like their world-famous No. 3 Hair Perfector Treatment assured us there was life immediately after bleaching, but it's mostly due to their daily maintenance products like this, their No. 4 Bond Maintenance Shampoo, that a lot of us live to dye another day.
If No. 3 was their first-aid approach to severely damaged, processed hair, rescuing it from the brink of destruction, No. 4 is a slightly dialed back version. Their daily vitamin supplement re-links broken bonds and repairs hair from everyday microdamage—split ends, breakage, and frizz.
Our verdict: Our locks felt noticeably smoother even before conditioning, and felt stronger and brimming with integrity during a bouncy blow-dry session.
6. TIGI Copyright Custom Care Colour Shampoo
Best shampoo for colored hair for color retention
Specifications
RRP: $15/£18
Target concerns: Color-treated hair, processed hair, damaged hair
Ingredient call-outs: Colour Care Complex (organic coconut oil, 18 MEA lipids, keratin)
Reasons to buy
+
Sulfate-free
+
Straightforward formula protects color and moisturizes simultaneously
+
Unique velvety scent
+
Reasonably priced
Reasons to avoid
-
Some users with fine hair report a bit of flatness after use
The best shampoo for colored hair comes from renowned color professionals and this product is just that.
Free of sulfates, it still offers up an impressive lather with a musky, floral fragrance (not cloying, we promise) that rinses off without any greasy after-feel. The long-term results are what impress, however, as our dye jobs retained integrity and vibrancy, and without any trace of yellowing.
When followed up with the matching conditioner, we ended up with shiny, bouncy locks that still retained a healthy amount of volume at the root, though some users did report some limpness, particularly after prolonged use.
Our hair color retained its brightness and has not taken on any brassy tone in two weeks of usage, all the while feeling soft and naturally healthy without a dry end in sight.
Our verdict: All in all, we love this formula for hair that's also on the drier side, as the keratin and coconut oil do provide a much-needed shot of nourishment that definitely pays off.
What causes color washout?
It isn't actually the type of shampoo or hair wash you use that causes your color to washout—it's water.
"When your hair is porous, it is more likely to release tone in the hair," says Renée Valerie from TIGI US. "This can even happen from just water alone, so it's always good to ask your stylist what they recommend for your particular color service, especially if you have changed your color recently."
"Try to avoid a clarifying or detoxifying shampoo if you've recently had a pastel or vibrant tone, as these may speed up the release of color on more porous hair types," Renée cautions as well.
Unless washing your hair is totally off the agenda (unlikely), expect that your hue will never look as crisp as the day you leave your color appointment - but that's okay. Overall, your hair health is much more important that its hue.
---
woman&home thanks Renée Valerie of TIGI for her time and expertise.
Sign up to our free daily email for the latest royal and entertainment news, interesting opinion, expert advice on styling and beauty trends, and no-nonsense guides to the health and wellness questions you want answered.
A lifelong creative writer and beautyphile, Eunice Lucero-Lee graduated from De La Salle University in 2002 and was hired a year later to front all beauty coverage for Pink Magazine. A beauty, astrology, and pop culture obsessive and insider for over 18 years, Eunice is an internationally published editor (and now certified astrologer) whose work has been featured in publications such as Cosmopolitan, Esquire, and The Numinous, among many others.