Why your hair feels greasier during the pandemic
Spoiler: you're not imagining it.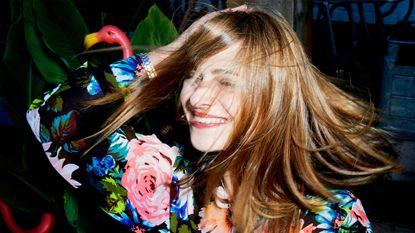 (Image credit: Tara Moore/Getty Images)
While maskne has stolen the limelight during the pandemic, greasy hair has also become an irksome, albeit less talked about, issue. So why exactly would our hair be more oily right now?
It's no new theory that washing our hair more often, and, as a result, blasting it more often with our hairdryer, will result in less happy tresses.
Getting to the root of the problem - quite literally- means examining several possibilities. "First, it's important to recognise that your scalp is simply an extension of the skin on your face," says Anabel Kingsley, trichology at London's Philip Kingsley Clinic. So stress can impact it the same way, heightening your fight or flight response and elevating cortisol levels, which can cause skin to pump out more oil.
If you've then been washing your hair more to counteract this greasiness, you may be caught in a vicious cycle. Most shampoos contain sulphates, which foam up and can over cleanse . Your scalp may well have called time on this behaviour and has started overproducing oil to make up for the constant stripping.
More from womanandhome.com:
Best mascara (opens in new tab): lengthen, define, and volumize your lashes with our favorite formulas
Best eye cream (opens in new tab): our favorite formulas for every skin type
Best foundation (opens in new tab): our favorite formulas for all skin types
Conversely, you may not be washing your hair as frequently during lockdown. The hair at the back of the head has a tendency to get oilier as this is the area we rest on the pillow when we sleep and it therefore becomes hotter and sweatier.
Our environment can have a big impact too, even if we're just sitting at home.as indoor pollution - dust, cleaning materials and left over particles from cooking- is also an issue.
"Pollution affects the hair and scalp in a similar way to the skin on our face," says Kingsley. "They can become dirty and pollution also increases the likelihood of scalp problems, such as flaking and itching, as well as the formation of pimples."
Finally, those of us who haven't seen their colorist for months will empathise will this. Dying your hair - in particular, using bleach to lift it - leads to drier roots and less oily overall texture. Right now exposed roots are the least of our worries if we haven't swapped to at-home hair colour (opens in new tab) or mastered how to dye your own hair (opens in new tab). Oily, dark roots speak of a whole new level of social anxiety but on the flipside, it also means that your hair is going through an awkward stage while in recovery. Which is surely pure upside, no?
Fiona Embleton is a beauty writer who is now Acting Beauty Editor at Stylist. She is obsessed with Isabel Marant and cats.