Is blue gray hair the unexpected color trend of summer '23? The experts say yes
We asked a colorist to break down the blue gray hair trend: what it is, who suits it and how to achieve it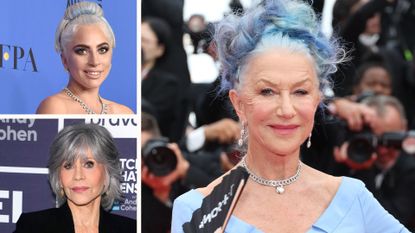 (Image credit: Future/Getty images)
Would you believe us if we told you that blue is one of the most flattering color trends for gray hair?
One particular celebrity has us falling unexpectedly head-over-heels for this 2023 hair trend – Dame Helen Mirren. The actor swapped her signature platinum blond locks for the most incredible mermaid blue-toned hair, stepping out at the 76th Cannes Film Festival wearing not just one blue shade, but an entire sea of ocean-inspired hues.
Helen has often used her hair as a statement-maker; never shying away from a vibrant choice. When it comes to blue hair, it turns out she's is bang on trend, too. With vibrant colors (think Barbie pink and soft peach) set to be some of the top summer 2023 hair color trends, there's never been a better time to go for it.
Still not convinced? Subtle, icy shades are an option too. And if you're transitioning to gray hair and want to experiment with bright shades or cooler tones, you're the ideal candidate for this look. Here's everything you need to know about blue gray hair, straight from a color pro.
Blue gray hair, explained by the pros
Why is blue gray hair trending?
Three words: Dame Helen Mirren. After seeing her step out at the 2023 Cannes International Film Festival, we were reminded how incredible blue tones can look on naturally white or graying hair. That aside, this cool hue is enjoying a modern resurgence thanks to a general shift toward enhancing gray rather than covering it.
"Embracing your gray hair color has always been somewhat of a bold statement, even today. It can show high levels of confidence," says José Domene, senior colorist at Salon64. Adding in a blue tone adds extra interest and playfulness to natural silver, which can take hair confidence up a notch. "Blue is a bold choice of hair color, once you are happy to embrace the gray you pretty much can pull off anything," Domene adds.
Another reason blue tones are set to be popular is, of course, Disney's upcoming The Little Mermaid remake, which has us all swooning over deep sea-inspired beauty. Whilst Ariel's hair might be copper, tastemakers are taking note of rich underwater blue tones, which we are seeing across 2023 nail trends, as well as hair and fashion.
Who can wear blue hair?
Anyone! And that's precisely the point. This look can be as subtle or as statement as you want it to be. "Gray is the perfect canvas for cool tones, like blue, purples, denim gray, and lavenders, which all look awesome over gray hair," explains Domene. If vibrant tones are far too bold for you, take note from Jane Fonda who has a very subtle blue wash through her naturally light hair.
We're firmly in the 'you can do anything you want to when it comes to beauty' camp. However, we also understand that you probably want to find the most flattering shade. A thorough consultation with a color pro can help you decide as they'll take into consideration things like your skin tone and eye color. However, the good news is that blue suits everyone. "These colors are flattering on most complexions, I would go for a pastel version if you have a cool complexion and go really bold if you have a warmer complexion," Domene adds.
How to achieve blue gray hair
We always recommend visiting a professional for hair changes, but it can be fun to experiment at home, too. If you're naturally gray, good news! Bold dyes take really well to lightly-colored hair.
Try a temporary dye first, that way if you want to make tweaks to the tone, you can after just a few washes. "You can play with many options once your hair is gray, my advice is always to go for semi-permanent colors or color masks for one-off occasions," Domene says.
To keep the color feeling fresh and vibrant, Domene advises you "always use color-safe home care." And to really make the color pop, spritz in some shine spray or oil at the end of styling to bring out the various tones.
Our contributing beauty editor recommends...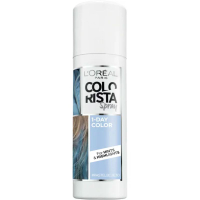 L'Oréal Paris Colorista 1 day spray in Pastel Blue | RRP: $19.99 / £10
This exact product was used to achieve Helen's blue. The handy spray gives instant color and then washes right out with your regular shampoo, so is ideal if you want to test blue gray hair before going permanent or just have a one-off vibrant day.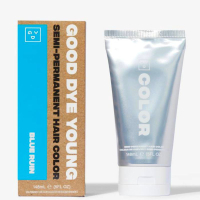 Good Dye Young Semi-Permanent Hair Color | RRP: $20.75 / £16
For the most vibrant of hues, this mask soaks into hair, deposits pigment impressively well, and doesn't instantly fade, as a lot of bright dyes do. What's more, using a dye-mask means your hair gets a deep conditioning treatment while it transforms - a win-win!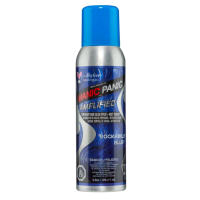 Manic Panic Amplified Temporary Colour Hair Spray | RRP: $12.99 / £11.95
This is perfect for creating patterns or streaks through the hair, then when you've had enough, wash it as normal and it'll come out. It's important to note that gray hair can take color more quickly so it might take more than one wash to completely get rid of temporary dye.
Our favorite blue gray hair inspiration
1. Dame Helen Mirren
The blue gray hair that launched this trend into the stratosphere. Taking a look at this style from the back shows just how many different shades of blue Helen has through her hair, from periwinkle to baby blue.
2. Jane Fonda
A bit intimidated by bright blues? Take inspiration from Jane Fonda's extremely subtle blue tint to her gray crop. You can achieve this using a diluted blue shampoo for brown hair, which takes away the yellow tones from gray hair, giving it an icy finish.
3. Kelis
Kelis' turquoise blue look feels fun, summery and would be perfect as an all-over shade or with just a few streaks added throughout light hair.
4. Lady Gaga
You can't talk about blue gray hair without throwing it back to Lady Gaga's iconic 2019 Golden Globes blue hair look. This pretty icy pastel shade is as wearable as blue gets - think like Lady Gaga and play around with shades, placement and style to create something truly unique.
5. Juliette Lewis
Juliette Lewis is a style risk taker and we love this vibrant cobalt blue. This shows what's possible with an all-over color, which tends to allow for a glossier finish and deeper, more saturated hue than sprays.
6. Nicole Richie
For those who prefer darker shades, Nicole shows us how it's done in teal. This shade would look even more vibrant in gray hair than brunette, but it's a gorgeous color if you want to move away from pastels.
Tori is a freelance beauty and health journalist who has written for titles including Allure, Glamour, Elle, Refinery29, and Brides, as well as contributing to woman&home.

A qualified nail tech with a passion for writing about the latest manicure trends and techniques, Tori has also covered the latest beauty innovations, interviewed countless celebrities and brand founders, and explored issues relating to women's health.