The best vegan shampoo and conditioner for every hair type and budget
Our tried and tested pick of the best vegan shampoo and conditioner, which are kind to the planet and your hair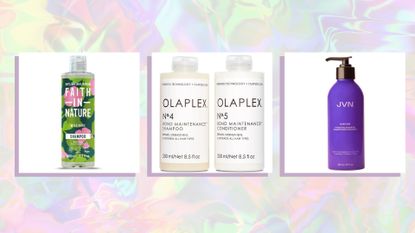 (Image credit: Future/Faith in Nature/Olaplex/JVN)
woman&home newsletter
Sign up to our free daily email for the latest royal and entertainment news, interesting opinion, expert advice on styling and beauty trends, and no-nonsense guides to the health and wellness questions you want answered.
Thank you for signing up to . You will receive a verification email shortly.
There was a problem. Please refresh the page and try again.
The best vegan shampoo and conditioner should be full of natural, ethically sourced ingredients, while still nourishing your hair and making it smell and feel great. However, opting for vegan hair care can be expensive and shopping for it confusing, especially when you consider that cruelty-free doesn't always mean vegan.
Happily, these days there are lots of brands to choose from that offer sustainable, vegan hair care alternatives that are just as satisfying to use as any of the best shampoos and conditioners. Lesley Drummond (opens in new tab), Senior Stylist at John Frieda Aldford Street, confirms that "a good vegan shampoo and conditioner will give you the same high-performance care as non-vegan hair care" – and the products don't need to break the bank, either.
When buying a vegan shampoo and conditioner, you should always check what's in the product, to ensure that there are no animal-derived ingredients and that the brand confirms this product is vegan (some brands may not be 100% vegan, but still offer vegan hair care) As veganism and sustainability are so intertwined, many of the best vegan shampoos and conditioners will come in recyclable packaging as an added bonus. "As a sustainability advocate, it's important that the packaging and ingredients are responsibly sourced and made", agrees Demi Colleen (opens in new tab), sustainable beauty influencer. Whether you're looking to switch up your hair care routine long-term, or just dipping into vegan hair products, this is our rundown of the best of the best.
How we tested the best vegan shampoo and conditioner
Why you can trust Woman & Home Our expert reviewers spend hours testing and comparing products and services so you can choose the best for you. Find out more about how we test.
Depending on your hair type, the properties you're looking for in a vegan shampoo and conditioner are likely to differ. However, there are a few essentials I paid attention to when testing these products, including scent and ingredients; how hydrating they felt to use; and how my hair looked, felt, and smelled the day I washed it and the next.
It's worth noting that my hair is partly colored, fairly thick, sits somewhere between wavy and curly, and I definitely don't get it cut as often as I should (meaning I have a fair few split ends). I also only ever let my hair air dry, so no heat was used on it after washing and conditioning with these products. These are the best of the best from dozens I tested, all of which are made from natural ingredients and have been certified as vegan products.
The best vegan shampoo and conditioner, chosen by our beauty team
1. Green People Neroli & Marshmallow Shampoo and Conditioner
Best vegan shampoo and conditioner for wavy hair
Specifications
RRP: £14-£16/$17-$19
Hair type: Curly/tangled
Recyclable packaging?: Yes
Reasons to buy
+
Natural but fresh scent
+
Gives hair extra volume
+
Makes colored hair stand out
Reasons to avoid
-
Not the best for very damaged hair
Green People is known for their no-frills packaging and branding, dedication to natural ingredients, and refreshing, welcoming scents. I tested the moisturizing shampoo and conditioner, which contain aloe vera, chamomile oil, and orange oil. Both are formulated with 82%-90% organic ingredients, and undeniably smelled great when I applied them, with a fresh, fruity scent that was really lovely to apply.
My hair naturally falls between wavy and curly, and where it sits on that spectrum depends on the products I use and whether or not I fall asleep with wet hair, which never ends well. These products gave my hair a natural bounce and a lot of volume. However, if you have damaged hair, I would suggest a shampoo and conditioner combo that's a little more nourishing. My hair was soft after using the products, but my ends did still feel a little dry to the touch. On the plus side, my colored blond hair was almost as vibrant as when I use one of the best purple shampoos, looking vibrant and not at all brassy.
2. Faith in Nature Wild Rose shampoo and Dragonfruit conditioner
Best inexpensive vegan shampoo and conditioner
Specifications
RRP: £6.69/$8.28
Hair type: Any
Recyclable packaging?: Yes, plus refillable bottles available
Reasons to buy
+
Smells great
+
Super affordable
+
Makes hair feel thick and voluminous
Reasons to avoid
-
The strong smell could be too potent for some
Faith in Nature is one of the most well-known vegan beauty brands, and one of their biggest plus points is how low their prices are for such high-quality products. This shampoo and conditioner come in large bottles that look great in your shower caddy, and use a heavenly blend of natural ingredients that smell amazing. I couldn't get enough of the sweet rose scent and strong, citrussy dragonfruit, which made my bathroom smell fresh. Just be aware that these scents are potent, so if you prefer your products on the neutral side, these may not be for you.
The shampoo lathered perfectly before the thick conditioner worked its magic as I left it in for a few minutes – as soon as I washed out the product I could feel just how much softer my damaged ends were. The fruity scent stayed in my hair all day, and it definitely gave me some extra volume, with my hair curling into loose ringlets and feeling super thick. I would definitely recommend Faith in Nature for those who don't want to spend too much on their hair care. All of their packaging is recyclable and you can buy in bulk, so you could refill your original shampoo and conditioner from a larger bottle and never have to buy (or throw away) a new one again.
3. The Body Shop Ginger shampoo and conditioner
Best vegan shampoo and conditioner for dry hair
Specifications
RRP: £9/$11.17
Hair type: Weak hair and dry, flaky scalps
Recyclable packaging?: Yes, except for the lid
Reasons to buy
+
Very gentle
+
Lathers lots
+
A small amount goes a long way
Reasons to avoid
-
Ginger scent is very strong
The Body Shop has loads of vegan shampoos and conditioners and this Ginger range is their best-seller, with one sold every six seconds. While I don't have a flaky scalp, it is sensitive (childhood hair-brushing sessions with my mom would always result in tears) This aims to soothe dry, itchy, and sensitive scalps with ingredients like ginger essential oil, white willow, and vegan keratin silk protein. If you're looking for one of the best scalp treatments, this could be for you – the gentle formula was soothing on my scalp and didn't feel harsh at all, despite the zingy scent.
When I used the shampoo, the first thing I noticed was just how much it lathers. A little really does go a long way, and this was probably the soapiest consistency I experienced across all the shampoos I tested. The second thing that hit me was the potency of the ginger scent – which could be a turnoff if you're iffy about products omitting an odor that's distinctly 'edible'. The conditioner smelled similar but felt a little waxy when poured into my hand. If you don't mind this double-whammy of intense ginger following you around, you'll be rewarded by just how soft your hair feels. My ends were much less straw-like, and the fluffy feeling of my hair had me smoothing my hands over it all day.
4. JVN Nurture Hydrating shampoo and conditioner
Best vegan shampoo and conditioner for frizzy hair
Specifications
RRP: £18/$21
Hair type: All hair types
Recyclable packaging?: Yes
Reasons to buy
+
Salon-feel product that banishes frizz
+
Great for colored hair
+
Silicone and sulfate free
JVN Nourishing shampoo does smell quite chemical compared to the natural and floral scents of products like Green People and Body Shop – but it is true to the salon nature of the product. This is the shampoo and conditioner combo that made my hair feel the sleekest and shiniest, banishing any frizziness, making this a great product to use if you like to style your hair into a blowout. However, I do prefer a bit more thickness to my locks, and this seemed to make my hair feel less volumized.
The real highlight is the conditioner – it genuinely feels as soft as silk, and I could feel it nourishing my damaged ends as I applied it. If you're looking for a gentle conditioner that will smooth your strands I couldn't recommend this more. The next day, my mid-to-end lengths felt soft and hydrated, but the very top of my scalp did feel a little itchy and not quite as soft. Bonus tip: I often use conditioner in place of shaving cream, which I find to be a little harsh on my sensitive skin. I used this to shave in the shower and suffered zero razor bumps, itchiness, or dryness.
5. Aveda Botanical Repair shampoo and conditioner
Best vegan shampoo and conditioner for damaged hair
Specifications
RRP: £12-£31.50/$14.86-$39
Hair type: Damaged, colored hair
Recyclable packaging?: Yes
Reasons to buy
+
Nourishing and hydrating
+
Repairs weak hair and damaged ends
+
Smells lovely
Reasons to avoid
-
Not great for sensitive scalps
Aveda is well-known for its vegan, cruelty-free yet intensely repairing hair products, and the Botanical Repair range is the perfect antidote for damaged hair. Ingredients include avocado and green tea, and these definitely do what they say on the tin, with my hair feeling super-silky on both wash day and the next one.
The scent of the shampoo and conditioner (rose and ylang-ylang) was less potent than some others on this list, which will be a plus for those who don't like hair care to smell too intense. After 36 hours, my hair didn't smell fresh at all – as opposed to after, say, the Malin+Goetz duo, which omitted a fragrance every time I flicked my hair for a couple of days. While my colored, not-particularly-nourished hair definitely felt more hydrated and my split ends were much more manageable after using Aveda, I'd suggest something a little more gentle – the Body Shop Ginger range, for example - if you have a particularly sensitive scalp or dandruff.
6. Noughty Wave Hello vegan shampoo and conditioner
Best vegan shampoo and conditioner for curly hair
Specifications
RRP: £6.99/$8.67
Hair type: Curly and wavy
Recyclable packaging?: Yes
Reasons to buy
+
Defines curls and waves
+
Cost-effective
+
Gives hair bounce and volume
Reasons to avoid
-
Scent is a little synthetic
Finding the best vegan shampoo and conditioner for curly hair comes with its own challenges, explains Colleen, "I have to be careful when picking hair care products, due to the fragile nature of my coils," adding she opts for products "with specifically hydrating ingredients" and avoids silicone, alcohol, sulfates and mineral oils. Luckily. Noughty's Wave Hello range is a 10/10, from the eye-catching tubes to the vitamin-rich formula and soft, shiny post-wash feel. If you're wondering is sulfate bad for your hair and looking for an alternative, this is free from parabens, silicones, and sulfate, replacing these with a coconut-derived lathering ingredient called sodium lauroyl methyl isethionate.
While the shampoo and conditioner are full of natural ingredients such as sea kelp, avocado oil, Irish moss, and sea fennel, I did find the scent a little clinical. However, both the products were lightweight, the shampoo successfully lathered up and the conditioner comfortably worked through the ends of my hair. I would usually add some curl-defining serum on wash days or hair oil on non-wash days to smooth down my flyaways and split ends. I didn't find either of these steps necessary after washing with this range, making this the perfect routine for anyone with a curly hairstyle.
7. Malin + Goetz Peppermint Shampoo and Cilantro Conditioner
Best vegan shampoo and conditioner with a natural scent
Specifications
RRP: £19-£22/$23.55-$27.27
Hair type: All hair types
Recyclable packaging?: Yes
Reasons to buy
+
Refreshing scent with staying power
+
Unique, nourishing ingredients
+
Thickens and strengthens hair
I love Malin+Goetz's simple branding and good-size bottles, but I admit I was a little hesitant about the scents – cilantro and peppermint? It all sounded a little edible and not in a good way. But as soon as I popped open the shampoo, I realized how misguided my trepidation was. The zesty scent of the peppermint was energizing rather than aggressively minty, and the cilantro offered a toned-down, almost floral smell that was really natural. This earthy aroma clung to my hair until its next wash, even after being engulfed by cooking smells in my small flat.
It's not just the scent that made me want to use Malin+Goetz again – my hair felt thicker after washing with the shampoo and conditioner, and my waves were defined and soft. While this is one of the more expensive options on this list, I would definitely recommend it for a lightweight shampoo and conditioner that'll leave hair feeling softer (thanks to ingredients such as shea butter and fatty acids) and your shower smelling minty-fresh.
8. We Are Concentrate No Added Water shampoo and conditioner
Best waterless vegan shampoo and conditioner
Specifications
RRP: £14/$17.33
Hair type: All hair types
Recyclable packaging?: Yes
Reasons to buy
+
No added water means it's super-sustainable
+
Handy small tube for traveling
+
Unique scent
Reasons to avoid
-
Thick paste texture may be off-putting to some
We Are Concentrate takes the sustainable beauty routine a step further by not using any extra water in the production of their shampoo and conditioner. If you've never used waterless shampoo before, you might be shocked when you squeeze the tube and find an almost toothpaste-like paste in your hands; the idea is that your already-wet hair will provide the perfect base to create a lather. The formula is also sulfate and silicone free, with 88% natural ingredients. These include guava, aloe vera, papaya, coconut, and vanilla, giving it a simple, sweet smell that wasn't overpowering
Maybe due to the fact that I tested this in the bath, not under the steady stream of the shower, I didn't find the paste-to-lather process quite as simple as promised. It's true that you only need a small amount for your hair, but if you're looking for a hydrating feel I'd recommend easier-to-lather options, such as The Body Shop or Lush. As I am wont to do, I used the conditioner as an alternative to shaving cream and it worked perfectly, due to the thicker consistency. If you're intrigued by waterless hair care, this should be your go-to, as long as you go in knowing that a suds-filled experience this is not.
9. Lush Jason and the Argan Oil shampoo bar and Big conditioner bar
Best vegan shampoo and conditioner for traveling
Specifications
RRP: £9/$11.14
Hair type: All hair types
Recyclable packaging?: No packaging - bars wash away to nothing
Reasons to buy
+
Most sustainable option
+
Comforting, sweet scent
+
The bars last for ages
Reasons to avoid
-
Bars remain sticky after use
If you're anything like me, the smell of Lush products will transport you to the days when the brand's bath bombs were a gifting essential; of sauntering into stores for a free hand massage from a highly enthusiastic member of staff. Lush was one of the first brands to really pioneer cruelty-free beauty, and Jason and the Argan Oil is probably their most well-known shampoo bar. It is not only ethically made but has the added bonus of being sustainable, as there's no packaging to get rid of each time you finish the product.
The rose scent of the shampoo is reminiscent of Turkish Delight, and while the Big conditioner isn't quite as potent, it's still recognizably Lush-like. Like all the best shampoo bars, this lathers on the scalp with a circular rubbing motion, but how to use the Big conditioner bar is less clear. If you have short hair such as a box bob, using it will be a skill to hone, for medium or long hair, swish it over one shoulder so it's all bunched together and rub the bar from mid-lengths to ends. I did notice some blue residue in my hair, but luckily this washed out with ease. The next day my hair felt noticeably thick, and while this isn't the most nourishing duo you'll ever try, my hair looked hydrated and smelled great. You will have to source something to keep the bars in between washes – if you leave them wet on the side of your bath, they will deposit some very brightly colored stickiness over time.
10. Olaplex No.4 & No.5
Best vegan shampoo and conditioner for colored hair
Specifications
RRP: £28/$34.57
Hair types: All hair types
Recyclable packaging?: Yes
Reasons to buy
+
Makes colored blond hair look vibrant and bright
+
Repairs bonds in the hair
+
Makes hair feel silky soft
Reasons to avoid
-
Some feel it's a little greasy
There's a reason why Olaplex is widely considered one of the best shampoos for colored hair, making its way from every colorist's salon toolkit to our shower caddies due to its intensely hydrating and smoothing properties. While No.3 Hair Perfector, the once-a-week treatment is one of the best hair masks for damaged hair, No.4 and No.5 Bond Maintenance shampoo and conditioner are less intensive, but still effective treatments for more frequent use.
It's safe to say my weathered, balayage with money-piece-colored hair looked far more vibrant after this than any other vegan shampoo and conditioner I tried out. My ends felt less brittle as soon as they started to dry, and while some find Olaplex products a little greasy, I loved how nourished and soft my hair felt afterward. However, I found that silky soft didn't actually equal sleek when it came to Olaplex. I also wouldn't use this shampoo and conditioner every time I wash my hair, as it did feel a little too intensive to be applied so regularly. But if you're looking for one of the best bond builders for hair and don't mind paying that little bit extra for the cult Olaplex experience, it's a no-brainer.
Hannah is the UK Shopping Writer for woman&home. As a shopping writer, Hannah has written on everything from period pants to wine subscriptions, and is especially interested in sustainable alternatives to well-known products, as well as books and homeware accessories.
Before she joined the team at woman&home Hannah headed up the social media accounts for Wonderland in 2019, where she was also a Contributing Editor for the magazine's sister titles. During the COVID-19 pandemic, Hannah also explored evolving shopping trends at New York Magazine's The Strategist UK, researching everything from face masks to status candles and even pens.