The 9 best suitcases and checked luggage for travel in 2022
Discover the best suitcases and checked luggage cases for travel in 2022, as chosen by well-traveled shopping writer Siobhan after hours of testing (and lots of packing)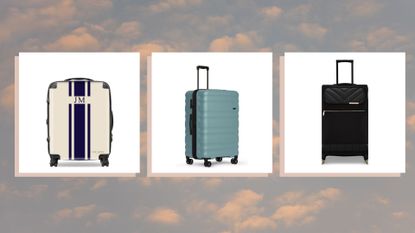 (Image credit: Lily and Bean, Antler, Ted Baker)
The best suitcases may not guarantee your flight will leave on time or that the sun will shine every day you're away, but having one will make traveling significantly easier.
Whether you regularly fly for business or spend two weeks in the sun with family each year, the right bag ensures your personal items are well protected during the journey and you won't struggle to lug it through airports and on trains and buses. While it's tempting to choose the cheapest bag you can find, if you only use it once or twice a year, the best suitcases for travel should last for years to come so it can be worth investing a little more.
They should also be sturdy enough to withstand rough handling at airports, have wheels and handles that operate smoothly and useful pockets to make packing for vacation even easier. The bag's weight is crucial so you can make the most of any luggage allowance and maneuver the suitcase easily. The best suitcases for international travel will also be brightly colored or patterned to help you spot them on the baggage carousel, and a built-in lock can provide extra reassurance that your possessions will stay secure.
We put a range of bags to the test to help you decide on the best suitcase for travel in 2022.
How we picked the best suitcases
Why you can trust Woman & Home Our expert reviewers spend hours testing and comparing products and services so you can choose the best for you. Find out more about how we test.
We tested every suitcase to find the best for every holiday. We packed each suitcase with the average items we would need for a week's holiday and brought each one on a variety of trips, including long-haul flights and train rides across London. Every suitcase was assessed using the following criteria:
Weight and volume – how much baggage allowance did the suitcase use up and was there still plenty of room to pack everything we needed?
Maneuverability – we checked how easy it was to pull or carry each suitcase, even when it was full. This included lifting it upstairs and pulling it along uneven pavements and around corners in airports and stations.
Usability – did the suitcase have any features that helped us to pack and travel more easily such as extra pockets, a lock, or an expanding zip?
Durability – is the suitcase built to last? Could it be easily scratched or torn and will the zip stay intact even after you've squeezed in extra souvenirs?
The best suitcases for travel to buy in 2022
1. Antler Clifton large
Best suitcase overall
Specifications
RRP: £229 / $276
Dimensions: H80 x W51 x D34cm
Weight: 5kg
Capacity: 121 litres – 132 liters
Number of wheels: 4
Reasons to buy
+
Huge capacity that extends to 132 liters
+
TSA-approved lock
+
Very smooth wheels
+
Comfortable handle
Reasons to avoid
-
Too big for shorter trips
-
Light-colored interior could mark easily
I have used an Antler Clifton carry-on suitcase for years on countless flights and adore its pastel-colored polycarbonate shell, neatly divided interior and jet-set good looks.
The Large version in the range has all the same features and more, making it an excellent choice if only a super-sized suitcase will do. It even extends a further 11 liters if you hit the shops on holiday or just can't leave home without your travel hairdryer and a full set of hair and holiday skincare products. A couple could easily manage with just one of these for a whole week which means it's good value for money, given its size as you'll only need to buy one (and pay to check one in, if you're trying to get the best deals on flights). Inside, the clever pockets mean packing stays organized, though it's possible the beige interior could become marked over time, and the large clear pocket is particularly handy for toiletries that can leak during a journey. The suitcase is an absolute dream to pull along too, with four wheels that work smoothly on uneven ground and a textured rubber handle that was the most comfortable we tested.
The case is super-stylish too and available in five colors including the go-with-anything Mineral we tried. The textured color-fast exterior means any scratches stay the same color to stop them from looking obvious. It's not the easiest to store between trips but does come with a dust bag to keep it clean, and the cabin and medium-sized versions fit neatly inside if you splurge on the whole luggage set. We think it's the best suitcase for international travel money can buy.
2. Tripp Teal Escape Medium 4 Wheel Expandable Suitcase
Best budget suitcase
Specifications
RRP: £59.50 / $72
Dimensions: H67 x W45 x D28 – 31cm
Weight: 3.3kg
Capacity: 66 - 72 liters
Number of wheels: 4
Reasons to buy
+
TSA-approved lock
+
One of the most affordable suitcases on this list
+
Expandable for extra packing space
+
Very light when empty
Reasons to avoid
-
Limited compartments inside
-
Bulges if overpacked
-
Single spinner wheels are a little flimsy
Save your holiday budget to spend on the best European city breaks and choose this well-priced case that looks just as good as one twice the price. Available in five colors, we tested the cheery teal which would be easy to spot on a baggage carousel and doesn't skimp on features including a TSA-approved lock and a top and side grab handle.
It's made of a lightweight, ridged polypropylene, which didn't mark at all during our travels, though is very flexible so does bulge if you cram too much in. Organized packers might prefer extra compartments inside as there's only one net divider, but an extra zip extends the suitcase by another six liters if you really can't resist that extra pair of comfortable flats or designer heels.
However, be aware that the best suitcases for international travel tend to have sturdy double wheels and this case only has single spinner wheels. We still found these responsive and easy to steer when we were using all four on fairly smooth floors, but they felt a little flimsier when we used just two on cobblestones and particularly uneven pavements.
3. Away The Large
Best suitcase for bonus extras
Specifications
RRP: £335 / $404
Dimensions: H73.6 x W52cm x D31.7cm
Weight: 5.3kg
Capacity: 99.2 liters
Number of wheels: 4
Reasons to buy
+
TSA-approved lock
+
Extra laundry bag for dirty clothing
+
Comes with a scuff eraser and leather luggage tag
+
Looks stylish and can be personalized
Reasons to avoid
-
Doesn't expand for extra packing
-
Handle could feel uncomfortable when the bag was heavy
I couldn't wait to take this great-looking large suitcase away on holiday. The Asphalt grey color we tested was smart enough for business travel but also comes in nine other tasteful shades including navy and lavender which can be coordinated with one of Away's best weekend bags for women. It has a TSA-approved lock, four swiveling wheels that glide over even the bumpiest pavements and an extending handle (but this has no padding so did feel uncomfortable when the bag was very full). The double polycarbonate hard shell protects prized possessions well, though it is quite rigid and doesn't expand so you won't be able to splurge on souvenirs if you over-pack. If you do like a little extra room, choose the Antler Clifton Large instead.
It's the inside that makes this one of the best suitcases for travel on the market though. It has an interior compression pad with straps to help squeeze in as much as possible, a large net pocket, and a nifty hidden, water-resistant laundry bag. We used this when we needed to pack a wet swimsuit following a last-minute swim before our flight and everything else in our bag arrived home perfectly dry. There's even a leather luggage tag and a thoughtful eraser sponge to deal with inevitable scuffs and keep this top-notch suitcase looking its best.
4. Quiksilver Reach 100L – Large Wheeled Suitcase
Best soft suitcase
Specifications
RRP: £160 / $193
Dimensions: H80 x W41 x D31cm
Weight: 3.5kg
Capacity: 100 liters
Number of wheels: 2
Reasons to buy
+
Made from recycled material
+
Useful compression straps
+
Very strong zip
Reasons to avoid
-
No lock
-
Not the smoothest to steer round corners
-
Easier to squash contents without a hard shell
While a hard shell bag may help protect your possessions, they're not necessarily the best suitcase for everyone as they're difficult to store between trips and can't be squashed into smaller spaces when traveling. This large Quiksilver bag is somewhere between a duffel bag and a hard suitcase, with two skate wheels, a firm molded base, extremely sturdy zip and a retractable telescopic handle, so you won't need to carry everything on your back.
However, the front of the bag is a soft polyester made from recycled plastic bottles that feels more like a rucksack. It's thick and rugged so we still didn't worry that the case would get damaged but did need to be more cautious packing anything breakable. The two compartments inside are handy for separating clean and dirty clothes but the strong compression straps are this bag's most useful feature so it takes up less room overall if not full. We think it would be perfect for coach trips when space is tight but we also hoisted it into a train's overhead luggage rack where we would struggle to fit a hard-shell suitcase. If you're planning a straightforward fly and flop instead, you may prefer the Lily and Bean Design Your Own Luggage - Medium for a similar price. Our only complaint is having two wheels instead of four meant we couldn't steer round corners at speed and the bag did sometimes tip forwards when fully packed.
5. Lily and Bean Design Your Own Luggage - Medium
Best personalised suitcase
Specifications
RRP: £155 / $187
Dimensions: H68cm x W45cm x D26cm
Weight: 4.1kg
Capacity: 91 liters
Number of wheels : 4
Reasons to buy
+
Impressive capacity for the size
+
Unbeatable personalization options
+
TSA-approved lock
+
Surprisingly flexible upper shell
Reasons to avoid
-
Easily scratched
-
No padding on extendable handle
There's almost no limit to the color combinations available for this suitcase, so you can guarantee you won't spot another at the airport. The bag is available in 17 colors, but you also choose one of 22 colors for both the outer stripe, inner stripe and center stripe so it's totally customisable. You can then add up to three initials to really make this suitcase your own and I found the case attracted admiring comments every time I used it. As many personalized suitcases work out considerably more expensive than ones bought straight off the shelf, this one is decent value for money too.
It's not a case of style over substance either. Inside, there are two net dividers with pockets and we were really surprised by how much we could cram in. The lightweight polycarbonate shell is flexible too so we squeezed in several extra items, even when the case seemed like it was already full. The swivel wheels worked smoothly on all but the most uneven ground and extra carrying handles on the top and side made it easy to carry this case up stairs or lift it off the baggage carousel. Its clear outer shell does scratch easily though and ours came back with several marks after its first long-haul flight.
6. Samsonite Proxis Spinner (4 wheels) - Medium
Best lightweight suitcase
Specifications
RRP: £389 / $470
Dimensions: H69 x W48 x D29cm
Weight: 2.7kg
Capacity: 85 liters
Number of wheels: 4
Reasons to buy
+
Very light to maximize luggage allowance
+
Exterior material prevents scratching
+
TSA-approved lock
+
Integrated ID tag
+
Extremely strong handle
Reasons to avoid
-
Two distinct interior compartments make it difficult to pack bulky items
-
Doesn't expand
-
Expensive compared to other suitcases in this list
If you want to make the most out of a limited luggage allowance, choosing a lightweight suitcase is the best way. It's also far easier to drag on public transport without breaking into a sweat. However, lightweight bags can often be flimsy and become difficult to pull when fully packed.
This Samsonite suitcase solves all these problems. It's made from Roxkin, a multi-layered material developed by Samsonite that is strong, super-light and bounces back into shape. I tested its claims by over-packing the suitcase until the shell domed and even sitting on the bag to close it and it still looked as good as new afterwards. Even the extra-large 81cm version of this case weighs a measly 3.5kg, while it was still scratch-free after being dragged roughly on and off trains.
Being light doesn't mean the case skimps on details either. It has a TSA-approved lock, a clever integrated ID tag, extremely responsive wheels and an impressive double tube handle that made even the heaviest load easy to pull. These details all come with a steep price tag to match, so if you want to cut costs on a lightweight suitcase, go for the Tripp Teal Escape Medium 4 Wheel Expandable Suitcase instead.
There are two distinct compartments inside but it doesn't have an expandable zip so it's not the best choice for packing bulky items but it's still one of the best suitcases for travel we've tried. A great reason to book one of the world's best luxury hotels and show it off.
7. Ted Baker Albany Eco Medium 4 Wheel Trolley Suitcase
Best suitcase for business travel
Specifications
RRP: £324.99 / $393
Dimensions: H69 x W43 x D32cm
Weight: 4.1kg
Capacity: 68 – 76 liters
Number of wheels: 4
Reasons to buy
+
Looks very stylish
+
Made using recycled material
+
Compression straps to prevent creasing
+
TSA-approved lock
Reasons to avoid
-
No internal dividers
-
Soft material rather than hard shell
Ever wondered how to get upgraded to business class? Turn up with luggage this swish and airport staff might simply usher you into the premium queue. This soft trolley case is not cheap but is easily one of the most eye-catching bags we tested, made from recycled plastic bottles with branded zips in pale gold, a distinctive Ted Baker logo plate, quilted front pocket and best of all, chic gold hubcaps on each wheel. Pair with one of the best designer bags to complete the stylish look.
This case has some really clever details to make travelling easier too. There's an ingenious hidden handle on the base of the case to help with lifting, a large expandable front pocket I stuffed a last-minute coat in and a built-in name and address tag. Though there are no distinct compartments inside, but there are pockets on the side and lid to stash smaller items and toiletries. We particularly liked the wide compression straps which prevent clothes from moving and creasing during the journey and would be a godsend to minimise ironing on a business trip.
8. Bric's BY Ulisse Expandable Medium Trolley
Best expandable suitcase
Specifications
RRP: £179 / $216
Dimensions: H65 x W43 x D26cm
Weight: 3.7kg
Capacity: 68 – 75 liters
Number of wheels: 4
Reasons to buy
+
Exceptionally smooth wheels
+
Expands for extra space
+
Robust outer shell
+
Easily accessible TSA-approved lock
Reasons to avoid
-
Case is very low to the ground
-
No extra give in hard shell
If you're planning a UK weekend getaway, extra shopping space is non-negotiable. Many of the best suitcases we tested offer expanded capacity in a front pocket or flexible outer shell, but this Bric's case has an extra zip to create an additional 4cm depth all over the bag. That doesn't sound like much but is more than enough for a decent shopping splurge.
Even at extended capacity, the case still feels quite compact and we never struggled to pull it even when it was full. The telescopic handle is sturdier than most at this price point and there's also a hidden luggage tag, dust bag for storage, removable laundry bag inside and zipped divider. We particularly liked the fact the lock is at the top of the bag rather than at the side as with nearly all other cases, so we could easily unzip it if we needed. However, though the double spinner wheels are extremely smooth, the case is quite low to the ground so it's worth being extra careful on uneven or sloped pavements.
9. Herschel Trade Luggage Medium
Best medium suitcase
Specifications
RRP: £260 / $314
Dimensions: H74.6 x W40.6 x D30 cm
Weight: 3.9kg
Capacity: 70 liters
Number of wheels: 4
Reasons to buy
+
TSA-approved lock
+
Very hardwearing and scuff-resistant
Reasons to avoid
-
Wheels are not embedded
-
No flexibility in tough outer shell for extra items
No need to worry about your luggage emerging on the airport carousel looking scratched and battered with this super-durable Herschel suitcase. The bag's tough, molded exterior could withstand even the roughest baggage handling while the strong, oversized zip isn't likely to burst even if you cram in clothes at the last minute. The extra-thick telescopic handle takes the strain when the case is fully packed too, so you won't arrive on holiday with shoulder pains. However, though the wheels are strong, we would have preferred them to be embedded in the shell to prevent the risk of them becoming damaged during travel.
Inside, the striped liner adds an unexpected stylish touch and a mesh divider means you can separate clean and dirty laundry. There is no separate pocket for toiletries though so we'd recommend packing them in a wipe-clean bag just in case your sunscreen explodes.
How to choose the best suitcase for you
Here's what to consider to find the right bag to bring on your holiday:
Size - Do you always jet off for two weeks and include your children's clothes in the bag alongside your own? Or are you more likely to need a suitcase for short business trips? Think about the traveling you do so you don't end up with a suitcase far too small or large for your needs.
Weight - If you often pack heavier items including changes of shoes or sports gear, or like the freedom to shop in your destination, check the weight of the empty suitcase before buying. Choose a lightweight option to make the most out of any baggage allowance. This is also worth bearing in mind if you have any shoulder or back problems, or if you fly regularly and want to make journeys as easy as possible.
Interior pockets - Think about whether you prefer to throw everything inside at the last minute, or like an ordered suitcase with everything in its place. Some suitcases come with interior dividers which are useful for separating clean and dirty clothes but do take up space and make it difficult to pack bulky items. Useful additions include compression straps to help squeeze more luggage in, and wipe-clean pockets to keep toiletries safe.
Color - A smart black suitcase may go with everything, but will be less easy to spot on a baggage carousel amongst 200 other black suitcases. Consider a brighter color or pattern or some form of personalization so you can spot it from afar - and minimize the chance of anyone else taking your bag by mistake. If you'd still rather stick with a black bag, think about adding a bright tag or ribbon instead.
What type of suitcase is best for international travel?
While it's a matter of personal choice whether you prefer hard or soft shell bags, hard suitcases are best for international travel as they offer a little more protection for your possessions inside. However, if you plan to move to more than one destination or will be travelling off-road, a rucksack or softer bag that fits into every space may be more suitable. It's also worthwhile looking for a bag with a TSA-approved lock and paying attention to the weight of the suitcase when empty so you can maximize baggage allowance. Just remember that if you choose a large suitcase, it's worthwhile double checking individual airline restrictions first so you're not landed with an oversized baggage fee.
Are hard or soft suitcases better?
It's generally presumed that hard suitcases face up to the rigors of baggage handlers better. However, I've seen hard shell suitcases badly dented on flights, yet traveled with a soft suitcase for years without incurring any damage. Hard suitcases offer a little more protection for items inside and tend to be heavier than soft cases unless you choose carefully. Hard suitcases are also harder to store between trips and don't always expand to accommodate any impulse holiday shopping. But it's really down to personal preference at the end of the day and any of the best suitcases above would serve you well for years to come.
Freelance travel, shopping and lifestyle writer
Siobhan Grogan is a freelance travel, shopping and lifestyle writer. She began her career at NME interviewing everyone from Paul McCartney to Amy Winehouse and has since written reviews and features for Mail on Sunday, Telegraph, Glamour, Red, Harper's Bazaar, Cosmopolitan, Independent and Grazia.
She writes product reviews and shopping guides on everything from food and wine to fashion and beauty and in her spare time – fortunately – loves food, wine, fashion and beauty. A travel obsessive, she's also a mum of two and loves nothing more than dragging her children everywhere from Glastonbury to Greece at every possible opportunity.