Unique luxury: 8 of the absolute best hotels in the world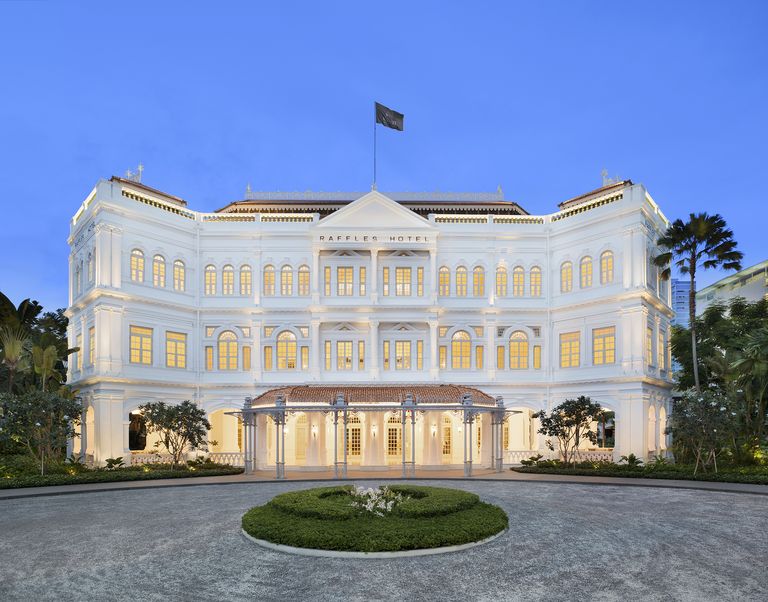 (Image credit: TOOTEN)
No idea where you want to go next? Let us help you decide. We've picked out the most unique, absolute best hotels in the world.
From historic properties to ultra-luxury spas and unusual architecture, we've got it covered.
Forget all images of laminated brochures and warehouses full of vacuum cleaners. This is not the Argos you know. This spectacular hotel is in the heart of Cappadocia, a gorgeous region of Turkey famous for its unusual geological formations, and encompasses historic caves, tunnels and 2,000-year-old ruins.
Its terrace overlooks the curious landscape, there's homemade wine which uses grapes grown in their own vineyards, and rooms are incredibly atmospheric with all manner of nooks and crannies and, in some cases, cave pools. Find more information here.
More like this: This boutique hotel has been named the best in Europe
Few hotels claim such worldwide fame as The Raffles. This Singapore icon – famous for its cocktail, the Singapore Sling – reopened in 2019 after a two-year renovation. It's now back to its former glory, with a few extra modern bells and whistles.
Rooms and suites have been given a contemporary facelift, while there are new shops in the arcade and a Michelin-starred chef in the restaurant. General Manager Christian Westbeld said: "It is our wish and desire that our guests will continue to create treasured memories at the hotel, while rediscovering what makes it so special – the distinctive architecture, heritage and legendary service." Find more information here.
The Blue Lagoon in Iceland isn't a natural wonder, but the hot, mineral-rich waters that feed this man-made hole in the ground are. The Retreat is the perfect place to base yourself in Iceland if you're after a relaxing, rejuvenating escape.
More like this: London's best spa hotels worth splashing out on
Guests have individual hosts to cater to their every whim, whether it's being told when the northern lights are about to appear or just booking a local tour, and suites overlook a private section of baby-blue water, where you can bathe in peace all day long. Beyond the blue pool, there's also a brilliant spa with volcanic-like décor – think black walls and plenty of stone – and the onsite restaurant serves seasonal ingredients from the country's farms, rivers, oceans and mountains. Find more information here.
These days, living in a bubble isn't always seen as a good thing. But set among the bucolic Lake Constance region of Switzerland, these bubbles are a little different. With transparent curved walls and sitting atop wooden decking among wilderness, the Himmelbett im Bubble-Hotel is a truly unique property.
It encompasses all the best bits of sleeping outdoors, but you're in a cosy, completely secluded bubble located in the stunning Swiss countryside (breakfast and toilets are located in a nearby B&B). Enjoy stargazing, spectacular sunrises and free bike rental for exploring your surroundings. Find more information here.
Named one of the most Instagrammable hotels in the world by Architectural Digest, El Fenn is certainly easy on the eye. This beautiful seven-riad property, set right in the Medina, it's an oasis of calm amid the chaos of Morocco's capital, with swimming pools, leafy courtyards and suites to die for.
Expect brilliant views of the Medina's intriguing rooftops and the iconic pink-hued tower that lords over the city, as well as a spa offering traditional hammam experiences and daily afternoon teas in the courtyard. Dinner is served on the roof terrace and the menu include Moroccan dishes as well as European favourites. Find more information here.
India is well-known for its spicy food, ornate palaces and unique Ayurvedic medicine. At Kalari Kovilakom, you get to experience all three. Set inside an old mansion, with beautifully carved pillars and stunningly tiled floors, this place oozes traditional Indian luxury.
It's not all about looking good though – this hotel helps its guests feel good too. "Mindfulness, awareness, a therapeutic engagement of the senses" is how they describe their approach to Ayurvedic medicine. In real terms, that means traditional Ayurvedic cuisine, yoga classes, meditation sessions and massages designed to help your body heal naturally. Find more information here. And if you're inspired, read our top tips for travelling in India here.
The freedom of campervanning is unparalleled, but not everyone wants to rough it. This is where Roving Bushtops comes in: meet their 'land-based super-yacht', essentially a luxury tented camp on wheels, which moves regularly to follow the migrations across the Serengeti.
The tents have a king-size bed and ample decking, plus you'll have a personal butler for 24/7 service. From your canvas home you could spot elephants, giraffe or even lions roaming the savannah, and on twice-daily game drives you'll get to see the Serengeti's varied landscapes and vast array of wildlife. This is the ultimate safari experience. Find more information here.
8. Get spiritual in a cenote: Chablé, Mexico
Chablé has all the ingredients for a luxury hotel – gorgeous rooms, a spectacular location, incredible food… But it's no ordinary stay. What sets this place apart is the cenote (effectively a sinkhole full of groundwater) that's opened up on its grounds.
While swimming in a sinkhole doesn't exactly sound sexy, here it really is. This natural formation was sacred to the Mayan community that lived here centuries ago, and now forms the centre of the on-site spa, which offers healing dips in the delightfully chilly cenote and treatments with an Indian Ayurvedic bent. Find more information here.