20 of the most amazing swimming pools in the world
The world's most amazing swimming pools span the globe from Mendoza to Hong Kong, and range from stunning natural springs to over-the-top infinity edge pools that spill into the sea...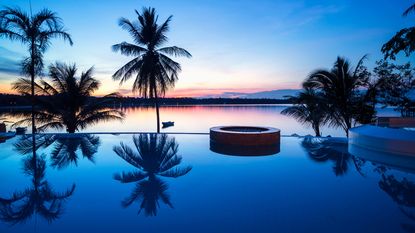 (Image credit: Getty Images)
If you've never planned a trip around the amazing swimming pools at your destination, all of that is about to change.
For the most indulgent getaway, book your next vacation with the world's most incredible pools in mind.
Whether searching for a secluded place to soak on the best private islands on Airbnb, or planning a winter escape and going somewhere hot in November or December, a splash in these beautiful pools invite you to revel in some incredible natural beauty (and equally dazzling cityscapes on a city break too).
See you by the pool...
20 amazing swimming pools around the world
1. Four Seasons Safari Lodge Serengeti, Tanzania
Swathed in the grasslands of Tanzania's Serengeti National Park, guests at the Four Seasons Safari Lodge Serengeti (opens in new tab) can enjoy panoramic views of one of Africa's finest game reserves — all the while soaking in the infinity pool. Nurse a glass of wine as elephants frequent the watering hole right in front of you, and time your stay at the lodge for the dry season for an opportunity to spot buffalo, zebras, and impalas.
2. La Mamounia, Morocco
There's plenty of things to do in Marrakesh, but if taking a dip in this majestic swimming pool is near the top of your list, we wouldn't blame you.
Inspired travelers will delight in the magic of La Mamounia (opens in new tab), which first opened its doors in 1923. Its outdoor pool boasts views of swaying palms, while the indoor pool at the spa, which is thoughtfully heated to a comfortable 28°C, serves as a peaceful sanctuary for finding calm.
3. The Saxon Hotel, Villas and Spa, South Africa
The star attraction at The Saxon Hotel, Villas and Spa in Johannesburg (opens in new tab) is its expansive infinity pool. A haven for relaxation, it's encompassed by immaculately landscaped gardens and a koi pond. Indulge in one of the spa's signature treatments before diving in for a dip, and linger in the pool long enough to admire a breathtaking sunset.
4. Circa Resort and Casino, USA
Stadium Swim at Circa Resort & Casino (opens in new tab) in Las Vegas is America's largest pool destination for professional sports watching. Equipped with two swim-up bars and a 40-foot tall LED screen, sports fanatics can watch the day's most exciting games from six temperature-controlled pools spread over three different levels. With a live DJ and a super cabana that accommodates up to 50 of your closest friends, it's a full-fledged pool party for sports aficionados every day of the year at Stadium Swim.
5. Havasu Falls Pool, USA
Residing on the Havasupai Indian Reservation just outside of Grand Canyon National Park, remote Havasu Falls is a highly sought-after destination by outdoor enthusiasts. A visit to this remote pool requires a 16 km hike downhill, and advanced reservations to access the site. The physically challenging terrain rewards trekkers with a well-deserved swim in the mesmerizing blue waters of Havasu Falls. Just make sure to pack your best hiking boots along with your swimsuit.
6. Castle Hot Springs, USA
Adventure in Arizona's dreamy Sonoran Desert, then relax in the warm waters of Castle Hot Springs, about an hour's drive north of Phoenix, surrounded by the Bradshaw Mountains. The mineral-rich, geothermal waters are believed to embody restorative properties, and a soak in the natural pools could help boost your mood, improve circulation, and alleviate aches. Castle Hot Springs is a seasonal resort that's closed during the summer months.
7. The Loren at Pink Beach, Bermuda
This five-star boutique hotel in Tucker's Town on the island's east end continues to be one of the hottest places to stay when vacationing in Bermuda. Since its opening in 2017, this property has taken luxury to new heights, and its expansive pool deck consists of chaise lounges, two heated pools, and four private cabanas. The infinity pool at The Loren at Pink Beach (opens in new tab) affords boundless views of the island's famed pink sand beach and the Atlantic Ocean.
8. Jost Villa, Guana Island
A secluded getaway in the British Virgin Islands, Jost Villa sits on one of Guana Island's highest points. With unobstructed views of the Atlantic Ocean on one side of the island and the Caribbean on the other, you'll be hard-pressed to leave the resort's infinity pool. A night here starts at $890, and if you want total privacy on Guana Island, it'll set you back a cool $30,515.
9. Silversands Hotel, Grenada
At a whopping 100 meters long, Grenada's Silversands Hotel (opens in new tab) lays claim to the longest infinity pool in the Caribbean. The resort itself enjoys a dreamy location on a 213 meter stretch of golden sands, and your biggest worry each day will be whether to soak in the hotel pool or tan at the beach.
10. The Ritz-Carlton, Thailand
This swoon-worthy pool at The Ritz-Carlton, Thailand (opens in new tab) resides on a 58-acre oceanfront property that was once the site of a coconut plantation. Spend your days tanning on the property's private white sand beach, or soaking in the beachfront infinity pool while sipping refreshing cocktails from the poolside bar. Thanks to its location atop a cliffside on Koh Samui's northeastern tip, the pool affords panoramic views of the Gulf of Thailand.
11. Topas Ecolodge, Vietnam
Nestled deep within Hoang Lien National Park in northern Vietnam, the two saltwater infinity pools at Topas Ecolodge (opens in new tab) showcase the spellbinding natural beauty of the country. The upper pool is comfortably heated year-round, while the lower one and adjacent jacuzzi serve as a quiet adults-only escape. A soak in either provides views of terraced rice fields and the lush hilly terrain that stretch far into the horizon.
12. Rosewood Hong Kong, Hong Kong
Hong Kong's glittering skyline provides a dazzling backdrop to this 25-meter long infinity pool on the sixth floor of Rosewood Hong Kong (opens in new tab). One of the city's most luxurious addresses, this glitzy property can be found on the shores of Victoria Harbour. Head to the Asaya Pool for morning laps, or soak up some afternoon rays as you casually float against the city's skyscrapers.
13. Bimmah Sinkhole, Oman
Local legends attribute the existence of this naturally occurring sinkhole to a meteorite that crashlanded on the site of the Bimmah Sinkhole. Because it's only 600 meters away from the sea, this 20-meter deep swimming hole is fed by both fresh water and saltwater, resulting in that distinct shimmering turquoise. The Bimmah Sinkhole is easy to reach and is about an hour and a half drive south of Muscat, along the highway that connects the capital with Sur.
14. Grand Hotel Kronenhof, Switzerland
Housed in a stunning Neo-Baroque building, the 20-metre indoor infinity pool at the Grand Hotel Kronenhof (opens in new tab), just a few miles from St. Moritz, is perfect for admiring the stunning views of the Engadine Valley and its surrounding peaks. Enclosed with floor-to-ceiling windows, the infinity pool aims to offer an experience that seamlessly brings guests together with nature.
15. Deplar Farm, Iceland
Luxury stay Deplar Farm (opens in new tab), on Iceland's remote Troll Peninsula, blends minimalism with stunning natural beauty for a rejuvenating stay. A former sheep farm turned high-end lodge, the winning feature of this property is its sweeping scenery of mountains and ocean. Iceland is one of the best places to see the Northern Lights (opens in new tab), and this pool is the ideal place to lounge while you keep a look out for them.
16. Royal Champagne, France
Journey to rejuvenation with a stay at the award-winning Royal Champagne Hotel & Spa (opens in new tab), situated on a UNESCO World Heritage Site in the Champagne region of France, 45 minutes outside of Paris. Its stunning indoor pool is enclosed by floor-to-ceiling windows, which show off uninterrupted views of the region's rolling vineyards. In the warmer months, soak up the warm sunshine in the outdoor infinity pool (while sipping on a glass of Champagne, of course).
17. Entre Cielos Wine Hotel and Spa, Argentina
Set a 20-minute drive from Mendoza, Entre Cielos Wine Hotel and Spa (opens in new tab) is encompassed by some dozen acres of Malbec vineyards and feature dramatic views of the snowcapped Andes. The pool area at this upscale boutique hotel is furnished with cushioned lounge chairs and parasols. For the ultimate treat, indulge in the spa's popular six-step hammam treatment.
18. Fera Palace Hotel in Salvador, Brazil
The rooftop pool at Fera Palace Hotel in Salvador (opens in new tab) is worth visiting just for its sweeping panoramic views of All Saints Bay. Housed in an elegant art deco building dating from 1934, this is the first luxury hotel in Brazil's first capital. Adorned with blue and white geometric tiles, the outdoor pool pays homage to its history as a Portuguese colony.
19. Careyes, Mexico
The pool at Careyes' Ocean Castles in Jalisco (opens in new tab), Mexico is one of the most amazing swimming pools in the world - and it's not difficult to see why.
The Ocean Castle Sol de Oriente at Careyes is a stunning six-bedroom suite with room for 12. Plus, it's equipped with a 360° infinity pool that winds around the castle and teems with swoon-worthy views of Playa Careyitos and the Pacific Ocean.
20. Las Ventanas al Paraíso, Mexico
Overlooking the shimmering Sea of Cortez, Las Ventanas al Paraíso in Los Cabos (opens in new tab) emanates luxury and is equipped with eight pools of distinct character. The resort's main infinity-edge pool features Baja California Sur's first-ever lazy river and transports guests through a tunnel with sculptures and colourful works of art. Underwater speakers broadcast lively tunes played by the resident DJ to make this an audio-visual experience.