Where is hot in November: 11 of the best places to visit for 2019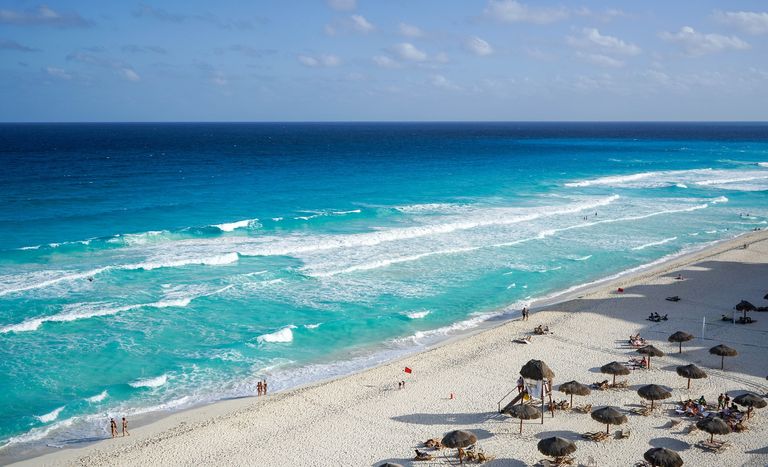 Want to know where is hot in November for a warming holiday? Find out where to go for your November holiday with our picks of the best places to visit...
Deciding where to go in the summer is easy, isn't it? There's so much choice – sizzling beaches, great walking destinations, island-hopping aplenty (hello,Greek islands). But the colder months are a trickier proposition. We find ourselves wrapped up in jumpers clutching hot water bottles wondering, where is hot in November? How can I get away from all the doom and gloom and top up that fading summer tan? And so here are the answers.
Where is hot in November?
Avoid the terrible weather that comes with autumn and winter and head to one of these hot countries in November...
1.La Palma, Canary Islands, Spain
Best November holiday for: A sunny island escape
Fancy a dose of winter sun without the long-haul schlep? The Canary Islands are your best option, just four hours by plane from London. Go to La Palma, where striking black volcanic sand beaches contrast with the blue Atlantic.
Outside of the school holidays, La Palma is a wonderfully quiet island and has far fewer brash resorts than its neighbours. Spend a day exploring pretty Santa Cruz de la Palma, take a hike around the rim of a collapsed volcano and spend an evening stargazing - the skies here are so clear, there are laws to protect them.
Top tip: Don't expect balmy summer evenings - temperatures drop at night, so remember to bring some cosy cover-ups.
2. Marrakesh, Morocco
Just a 3.5-hour flight from London, Marrakesh is an excellent option for a November holiday, especially as it's still pretty warm at this time of year. Stay in a beautiful city-centre riad like the Riad Star, and don't miss the Medina – a chaotic but colourful square with food stalls, the freshest orange juice you've ever tasted and plenty of performers.
Get your best bartering skills out in the souks, where you can buy anything from pungent incense to gorgeous, handmade leather bags and shoes. Inspired? Read our guide to Marrakesh here.
More like this: The best places to visit in SeptemberMore like this: The best places to visit inOctoberMore like this: The best places to visit in December
3. New South Wales, Australia
Best November holiday for: A hot long-haul November escape
Great beaches, a diverse food scene and a gorgeous ocean road... what more could you want from a holiday? New South Wales's Pacific Coast was made for epic road trips – and November is a prime time to visit with summer is in full swing.
Arriving in Sydney, you've got two options: head south on the Grand Pacific Drive to discover wild rainforests, secluded beaches and quaint villages on the two-day trip to Jamberoo. Or venture north along the coastal road towards the Gold Coast - take a week for a leisurely drive - where more amazing beaches and cool surfer towns await.
Top tip: Book it with Riviera Travel, who have a fantastic three-week Australia adventure. Request the brochure here.
More like this: The best places to travel alone
4. India
Best November holiday for:That bucket list trip
India swelters in the summer, but November brings cooler temperatures all over the country - a welcome relief after the hot months and rainy seasons. Though rest assured, it's still pretty warm.
The monsoons in the south are over by November, which means the gorgeous Goan beaches are fair game. The hot and dry regions of Rajasthan and northern India enjoy far milder climes at this time of year, so a great excuse to take in chaotic capital Delhi and visit the breathtaking Taj Mahal.
Book it: Riviera Travel has river cruises and escorted tours to India from £1,399. Request a brochure here
5. The Philippines
Best November holiday for:Island hopping in paradise
With over 1,700 islands scattered across its turquoise waters, Palawan was made for island hopping adventures and November marks the start of the season. Here you can snorkel with turtles in the bath-temperature shallows, recline on powder-white beaches with a freshly-picked coconut in hand, and fish for your dinner from the back of a traditional bangka sailing boat.
Whether you opt for an off-grid sailing adventure (Tao Philippines runs incredible sustainable island camping trips) or all-out luxury (El Nido Resorts has some fabulous options), the islands of Palawan always feel five-star.
Top tip: The easiest way to access Palawan is to fly straight from Manila - the capital - to El Nido or Busuanga Island. It's pretty far-flung out here, but hotels and sailing trips will usually provide transfers to and from the airport.
6. Florida, USA
Best November holiday for: Theme parks and chilled city vibes
With the kids back in school, November's the best time to visit Florida's theme parks - of which there are many, including Disney World, Universal Studios and Epcot. But if you're not a thrill seeker, don't be put off: there's plenty in Florida for all.
The state is home to the best beach in the USA according to TripAdvisor users - Clearwater Beach is a long stretch of golden sand ripe for sunbathing at this time of year. Miami is the party capital and has some of the world's coolest Art Deco architecture, and the Florida Keys make for a fabulous break among nature if you want to escape the city.
Read more: 8 trips every woman should take in her thirties
7. Mexico
Best November holiday for: fragrant food and fabulous resorts
Forget fajitas, burritos and margaritas. The Mexican food you think you know isn't really Mexican at all. Which is why you should head to the country in November – to taste some of the fresh, zingy cuisine and enjoy the local spirit of choice: tequila. On the west coast of Mexico you'll find resorts aplenty around the Yucatan and Cancun, sitting shoulder-to-shoulder with some of the country's most interesting ruins from thousands-year-old civilisations.
On the east coast, however, things get a little more exclusive. Head toMontage Los Cabos, a stunning resort with numerous pools, spectacular dining experiences and stunning suites well worth shelling out for. The five-star hotel has its own beach and bay, ideal for sunning yourself, swimming, snorkelling or even kayaking or stand-up paddleboarding. Plus, there are multiple pools with sunbeds too, so you'll never miss and opportunity to relax.
8. New York City, USA
Best November holiday for: Thanksgiving festivities
While it's not hot HOT, it's usually warm, and New York City is at its most colourful in November. As autumn tightens its grip, the leaves of Central Park turn scarlet and the smell of roast chestnuts fills the air. It's the month of Thanksgiving too (the fourth Thursday of the month), which means pies, parties and parades - don't miss the famous Macy's Thanksgiving Parade, with its outlandish balloons and floats.
Book it: Travel solo in New York City with Riviera Travel from £1,899
Christmas is on the horizon, too: early-bird shoppers should take advantage of the Black Friday discounts and tax-free offers, while ice rinks and festive markets start to pop up around the city, too.
Top tip: Many of Europe's budget airlines are serving airports in New York, so check out carriers such as Norwegian, WOW Air and Primera for flights from as little as £199.
Read more: How to blag an upgrade on your next flight
9. Oman
Best November holiday for:Desert dwelling
The Middle East is balmy year-round, but November's temperatures are best in Oman with an average of26°C in capital Muscat.This safe, stable Middle Eastern country is seriously underrated and often loses out to its more popular neighbour, Dubai.
Barter for spices and scarves in Muscat's Muttrah Souk, head into the mountains with a guide to walk breathtaking trails (Jebel Akhdar is fantastic for hiking), or make for the desert to spend a night under the inexplicably starry sky at a luxury campsite.
Book it: Explore this oasis with Riviera Travel's 12-day Oman tour from £2,159
10. Cambodia
Best November holiday for:An affordable Asian adventure
November is dry season in Cambodia, so it's the ideal time for temple-hopping and seaside sunbathing. It's a small country and relatively easy to get around by car, train or bus, so take two weeks to explore its many historic sites, sleepy rural towns and beautiful islands.
Most visitors beeline for Angkor Wat - part of the world's most impressive ancient temple complex where hundreds of religious monuments dot an intriguing, forested landscape. It's highly popular at sunrise - so much so the experience can be ruined by jostling selfie sticks and hundreds of snap-happy tourists trying to get the perfect dawn shot. Visit at lunchtime while everyone else is picnicking, or in the late afternoon once the heat has died down, for a more relaxing experience.
Book it: Riviera Travel have an thrilling 16-dayVietnam and Cambodia tour for just £2,289
Take a cooking class in nearby Siem Reap so you can recreate fragrant Cambodian dishes at home, then head to the coast for some beach time.The beaches in Cambodia are as gorgeous as Thailand's (another great place to visit in November), but they're far quieter. Cambodia's much cheaper than its popular neighbours too, so a beach break here need not cost the Earth. Don't miss the incredible islands of Koh Totang and Koh Rong.
11. San Diego, USA
Best November holiday for:A sunny city break
Often ignored in favour of its big, glitzy neighbour – Los Angeles – San Diego is actually a brilliant, little-known city break for Brits. With its position near the Mexican border, they've got classic SoCal sunshine and a laid-back vibe that will immediately make you feel at ease.
It's all about cocktails and coastlines here, especially at Level2 in Georges at the Cove, which overlooks the ocean. Spend some time in Balboa Park enjoying the shade, or take ahike through Torrey Pines State Natural Reserve if you're feeling active.
There's great shopping around South Park and North Park, and if you want to get really adventurous it's easy to hop over the border to Tijuana in Mexico.
If you have any destination suggestions for our guide to where is hot in November, message us on Facebook. We love to hear our readers ideas.