7 things you need to know if you're booking a trip to Marrakesh in 2021
Is the area on your bucket list?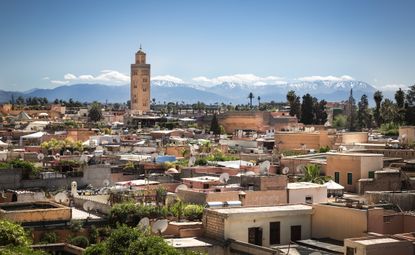 (Image credit: Getty Images)
If you've ever been lucky enough to visit Morocco, North Africa, you'll know that the experience is like no other.
Before 2018, I had never been to Africa. So when I stepped off the plane for my first trip to the country's capital, Marrakesh, in November, it's safe to say that I had no idea what was waiting for me at the end of our taxi ride. The focal point of Marrakesh is the medina; the older, walled-in area full of the glittering, bustling (and densely packed!) authenticity you want from a trip to Morocco. And it was there that we were staying for our weekend away. Our destination was the Riad Star (riad meaning a type of traditional Moroccan house, with a courtyard at its centre), a 13-room boutique hotel that sums up everything you hope the city to be.
The old home of Josephine Baker, an American-born French entertainer, the place is steeped in history. But you wouldn't know it as you turn down the dusty side-street, where the riad is tucked away behind a large, wooden door. But when the door was opened and our home for the next day was revealed, we were utterly blown away. A calm, soothing tranquil escape from the hectic streets of the medina, the Riad Star is decked out in traditional Moroccan architecture, complete with a stunning blue pool oasis in its centre – a welcome sight to any wearer traveller.
If you want to know the real Marrakesh, this is truly the place to be. We were greeted with a steaming pot of mint tea, which we relaxed with in the cosy courtyard as we waited to be given our room – despite arriving hours before the official check in time.
After being shown to our room (the exquisite Charleston room, with a courtside view of the pool) we dashed straight to the rooftop terrace, for a birds eye view of the hectic streets below. With a stunning view of the Atlas mountains – its safe to say we were pretty blown away.
And as with any trip, food was one of the things we were most looking forward to on our visit to Marrakesh. After all, a day can be made or broken depending on the meals you have, right Thankfully, we weren't to be disappointed. During our stay at the Riad Star, we were blown away by the fresh salads, deliciously flavoursome tagines, and fruity desserts - all made from ingredients found at the local markets just outside of the hotel door. And all of that is before you even head out into the city, where a range of eateries are available to you - including colourful rooftop cafes and slick high-end restaurants - we particularly loved Pepe Nero in the medina.
After any day spent traversing the busy, vibrant streets of, no one can say no to a relaxing spa treatment. And the Riad Star is the ideal place to experience the traditional Moroccan massage - a hammam treatment. Now be warned, you'll need to strip off. But you expect a totally soothing scrub, wash, and massage that will leave you feeling invigorated and with skin as soft as a baby when it's done. A highlight of our trip.
If you want to book a stay at the Riad Star, you can visit the website. Rooms in May and September will set you back around £112 a night, or up to £176 a night for the Ivory Room, which sleeps two people with up to three extra beds.
MORE:Destination guide: Everything you need to know before visiting Marrakesh, Morocco
Overall, a trip to Morocco is like no other – and because of that, it may be different to holidays you've taken before. So whilst there is so much to enjoy there, there are a few things we reckon it's vital to get clued up on before you start preparing for your trip - see our top tips below...
1. Ask your hotel to book you taxis if you want to go somewhere specific in Marrakesh
Now, you'll definitely need a taxi at some point during your holiday to Morocco. While there's no such thing in the medina (no cars travel through the narrow lanes, so you'll have to navigate it on foot), you may need one to get out and about to other parts of the city, as it can be a confusing place to navigate. And while the people of Morocco are some of the nicest I've ever met in my life (and a damn sight friendly than plenty of Londoners), taxi drivers in the area are pretty well-tuned in to tourists, meaning some may ask you to pay well over what the journey is worth. Don't be afraid to haggle to make sure you're paying the right fare – perhaps even ask staff at your riad how much it'll cost before you leave. But you may well have the easiest time if they book the taxi for you, letting the taxi driver know that they can't charge you too high a price.
2. Change your money well in advance (but don't take too much)
Changing your pounds and pennies into money you can use in Marrakesh can be ever so slightly tricky. Firstly, you need to make sure to ask for Moroccan dirhams, rather than UAE dirhams, which of course can't be used in the country. We found that our local post office (and department store), didn't actually have any Moroccan dirhams in stock, meaning we had to order some in specially – a process that can take a few days. As such, it's probably best not to leave getting your cash until the last minute – as we did!
Due to current regulations in Morocco, you're also not allowed to take more than 2,000 dirhams (around £400) into the country, or out again, which is worth bearing in mind. Of course, it can be tricky to budget in that way on a holiday, and you may not want to. So, one of the easiest ways around the complications is to get money out from an ATM once you're in Marrakesh. There are plenty dotted around, with one just by the exit of the airport if you're worried you won't find one. We found it best to get out only as much as we knew we needed – and had our debit/credit cards to hand for any other expenses.
3. Plan your days to a tee – and remember to take a break
The city can be a hectic, overwhelming, and exhausting place to be, so if I were to head back (fingers crossed), I'd make sure to plan my days a bit better. It's so easy to get lost in the medina, with no clear street signs, so planning to go to places that are all nearby to one another is a brilliant idea, so you're not trekking round for the entire day without actually seeing anything.
But, it's even easier to get lost when you're outside the medina, with minimal road/tourist signs, and maps that are tricky to follow. So if you can, hop in a cab and make the most of your valuable time in the country exploring - rather than taking wrong turns. If you're looking for some of Morocco's best sights, visit Le Jardin Majorelle, and the next door Yves Saint Laurent museum, or the Bahia Palace. See our full destination guide to Marrakesh here for more must-see spots.
In the medina, it's a good idea to take breaks when you can. The streets are busy - with donkey carts, motorbikes, market sellers, and people all around you trying to get about, so we found ourselves needing to take regular pitstops to regain some energy. Schedule in plenty of breaks for a refuel (and some tasty peppermint tea), before heading out again to see the sights.
However, saying this, some of our best days in Morocco were spent simply meandering through the medina. If you're on the hunt for some fresh, local delicacies, or want to do some shopping, the souks are somewhere you won't want to miss.
4. Remember to fill out a boarding card at the airport, and prepare for a queue
This is something many people on our flight from London had no idea about. In order to get in to the country, and out again, you'll need to fill in a boarding card, with your reasons for being in the country, your name, and where you're staying. Make sure to do this before you start queuing – it'll make the process a whole lot easier.
And, because of the strict immigration rules in the country, it's also wise to anticipate long lines at Marrakesh airport upon arrival. We were there for about three hours - so bring some snacks and entertainment for the post-flight wait as well as the flight, too!
5. Not everywhere sells alcohol – investigate restaurants if you want a drink with dinner
As a Muslim country, and with high taxes on drink, rules around alcohol are different in Morocco. In the medina, not everywhere is licensed to sell the stuff, so if you do want a drink, it's worth researching the restaurant you're planning to go to first. But, Marrakesh is a modern city and there are plenty of places that do sell alcohol, if you'd like to toast to your holiday - we liked Cafe Arabe and Le Trou au Mur. The same applies to having had a bit too much to drink. Keep in mind that you need to pay attention the law of the land, and it's not seen as particularly respectful to be stumbling around after a big night.
6. Dress more conservatively than you might at home
In Morocco, the accepted way of dressing is slightly different to what you might see in the UK and US, given that it's a Muslim country. In order to remain respectful, most guides suggest women cover their shoulders and don't reveal too much of their neckline. Also, it might be an idea to stay away from clothing that's too figure-hugging or too short.
MORE:Fancy a change in 2020? You can buy a house for just €1 in these Italian towns
So it's important to be aware of this when packing your suitcase before you leave. Bear in mind, too, that Marrakesh is often very hot, so try and pack clothes that are both culturally suitable and weather appropriate - think midi skirts and long, flowing trousers, which are normally a safe bet.
In a similar vein, a personal recommendation would be to wear shoes you know are comfortable. You're bound to do a lot of walking in the city (as with most cities), and when you're seeing the sights, blisters should be your last concern!
7. Haggle at every opportunity
If you're planning some shopping at the incredible and eclectic souks in the medina, you're going to need to haggle. In Marrakesh, haggling is somewhat of an art form - a dance between market trader and customer. In fact, it's probably fair to say that it's expected. But don't let yourself be fooled. Traders will often offer tourists a hugely inflated price, far more than whatever the item is is worth. So don't be afraid to get the price down significantly.
However, on the same track, don't willingly offer to underpay. If you reckon an item is worth about £10 (126 Moroccan Dirhams), don't offer them £1. Suggest whatever you'd be happy to pay for it, and if they won't meet you halfway, then be prepared to walk away. If they agree a price, don't feel guilty either, even if they do tell you they're letting it go for no profit - they certainly aren't!
Amy Hunt is an experienced digital journalist specialising in homes, interiors and hobbies. She began her career working as the features assistant at woman&home magazine, before moving over to the digital side of the brand where she eventually became the Lifestyle Editor up until January 2022. Amy won the Digital Journalist of the Year award at the AOP Awards in 2019 for her work on womanandhome.com.