The ultimate India bucket list: 11 incredible places to visit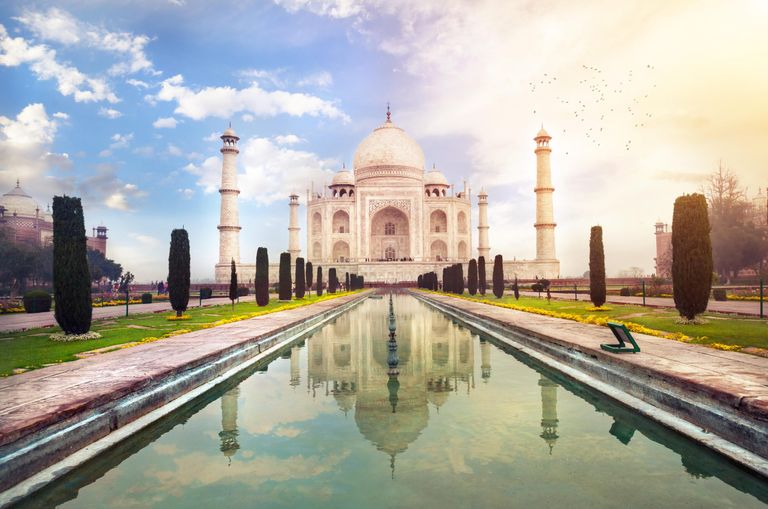 From crazy colourful cities to the misty foothills of the Himalayas, these are the best places to visit in India...
1. See the amazing Taj Mahal for yourself
You've seen its likeness a million times, but now's your chance to actually see the Taj Mahal in the flesh - and feel its magic for yourself. Poet Sir Edwin Arnold described the mausoleum as "the proud passions of an emperor's love wrought in living stones" - and the vision of white marble, pristine gardens and shimmering pools is as moving today as it ever has been.
While you're here: Don't miss Agra Fort, the imposing 16th century residence of the Mughal Dynasty emperors.
** Visit the Taj Mahal on our exclusive Real Marigold Hotel Tour of India - where you'll also meet the author of the best-selling book that inspired the film and TV series! See the details **
2. Cruise Kerala in a houseboat
The best way to experience Kerala's beautiful lagoons and lakes is by houseboat: a quaint, quiet vessel which glides through the smooth waters. Exploring India can be frenetic at times, but this is a serene way to travel - with your own guide, cook and private floating quarters.
While you're here: Kerala is one of the best places to visit in India for foodies! It's renowned for its tasty coconut-infused curries, so try a local cooking course for tips.
** Discover Kerala's beautiful coastline, fragrant spice gardens and tea plantations on our new 13-day holiday in South India – with tours of Mumbai and Cochin, a traditional houseboat cruise, beautiful boutique hotels, and a cooking lesson in Alleppey. See the details **
3. Take tea in Darjeeling
The British Raj used to retreat to the foothills of the Himalayas when India's cities sweltered in summer - and Darjeeling was one of their favourite spots. This lofty town is surrounded by tea plantations, which thrive (just like those colonial Brits) in the cool, wet conditions - creating some of the best cuppas known to mankind. Take afternoon tea at The Elgin, a 125-year-old hotel and estate.
While you're here: Venture to Tiger Hill observatory before dawn to watch the sun rise over the Himalayas - including the awe-inspiring peak of Mount Everest.
More like this: 11 of the best places to travel alone
4. Visit the 'Pink City' of Jaipur
Jaipur is all of India's stereotypes come true: it's frenetic, colourful, brash and beautiful. Head straight to City Palace - which is now home to an impressive museum - and Hawa Mahal ('Palace of the Winds'), whose intricate facade was designed so that royal women could observe the city without being seen themselves. Amer Fort - a grand 16th-century hilltop palace and fort - continues the opulence, with its red sandstone and white marble ramparts.
While you're here: Treat yourself to another of the best things to do in India: shopping. Jaipur is a great place to haggle for handicrafts, clothes and art.
** Explore Jaipur for yourself on our 10-day Real Marigold Hotel Tour - designed exclusively for Woman & Home readers. See the details **
5. Admire Delhi's architecture
This city is jam-packed with spectacular monuments. It's impossible to miss the crimson turrets of Delhi's Red Fort: this former royal residence has watched over the city since the 1600s. Nearby Jama Masjid mosque is an opulent example of Islamic architecture, and a tour of its hallowed grounds and well-tended gardens offers welcome respite from the frenetic pace of Delhi. Humayun's tomb - which looks like a mini Taj Mahal - should be on your to-do list too.
While you're here: Haggle for sweets and spices in the busy bazaar of Chandni Chowk.
6. Go beach hopping in Goa
It might be India's smallest state, but Goa has bagged all of the country's best beaches. Its gorgeous stretch of coastline has a beach to suit every style: whether you're a honeymooner in search of pristine luxury, a surfer hunting for world-class breaks, or a yoga buff looking for somewhere spectacular to unroll your mat, you'll find the perfect sandy spot.
While you're here: Tear yourself away from your sunlounger to trek to Dudhsagar Falls, a spectacular four-tier waterfall.
More like this: 9 of the world's most relaxing river cruises
7. Float on Udaipur's lakes
The majestic palaces and lakes of this serene corner of Rajasthan have kept travellers transfixed for centuries. Cruise Lake Pichola for up-close views of the City Palace, which has overlooked this glassy lagoon for centuries. To really appreciate the scale and grandeur of this incredible spot, sign up for a hot air balloon ride: while watching the sun rise over the landscape you'll feel like a maharajah yourself. This is one of the best places to visit in India for utter relaxation.
While you're here: Don't miss the intricate Hindu carvings of Jagdish Temple, near the main entrance of City Palace.
8. Try tiger spotting in Bandhavgarh
The wilds of India inspired Rudyard Kipling to write the Jungle Book - and Bandhavgarh National Park looks like it's been lifted straight from its pages. This haven of wild and wonderful countryside is home to almost 100 tigers, and thanks to its diminutive size (the core is just 105 sq km), you won't have far to travel to see one. There are also lots of prehistoric caves and the ruins of an ancient fort to explore, so you'll need a few days to do this incredible area justice.
While you're here: Base yourself at the Tree House Hideaway, which boasts five gorgeous treehouses and tiger spotting on its doorstep.
9. Stay in a royal palace
India is strewn with gorgeous old palaces, left over from the luxury-loving Maharajahs and the opulent days of the British Raj. While some are crumbling into obscurity, many have been converted into fabulous hotels, positively dripping with old-world opulence. We've designed an exclusive Woman & Home holiday in India, which includes stays at the lavish Narwain Palace and stunning heritage properties like Castle Bijaipur - and even a night in the real Best Exotic Marigold hotel itself.
While you're here: Book a night or two at the Taj Lake Palace - one of India's most lavish hotels - which appears to float on Lake Udaipur.
More like this: The 8 trips every woman should take in her sixties
10. Watch the sunrise over the Ganges
The Ganges is the lifeblood of India - sacred to Hindus and vital to the country's economy, ecology and culture. Head to Varanasi to see the Ganges at its most spiritual, lined with the hundreds of pilgrims that bathe in its waters every day. A sunrise boat trip is the best way to experience the lure of the river, and get close to the action without feeling like you're imposing.
While you're here: Varanasi has some incredible street food: make a beeline for banana lassi (buttermilk), curry-filled kachoris (deep-fried pasties), and inventive chaat (savoury snacks).
11. Hitch a ride on Shimla's toy train
This narrow gauge railway track is considered to be one of the best train journeys in the world, winding 96km through pine forests and sheer-sided hillsides from Kalka to Shimla. The journey lasts five hours, and the train's slow trundle is welcome respite from the otherwise hair-raising pace of India's public transport.
While you're here: Choose a premium ticket for the best views out onto the rolling Himachal Pradesh countryside.
All images from Alamy