9 incredible gardens that have to be seen to be believed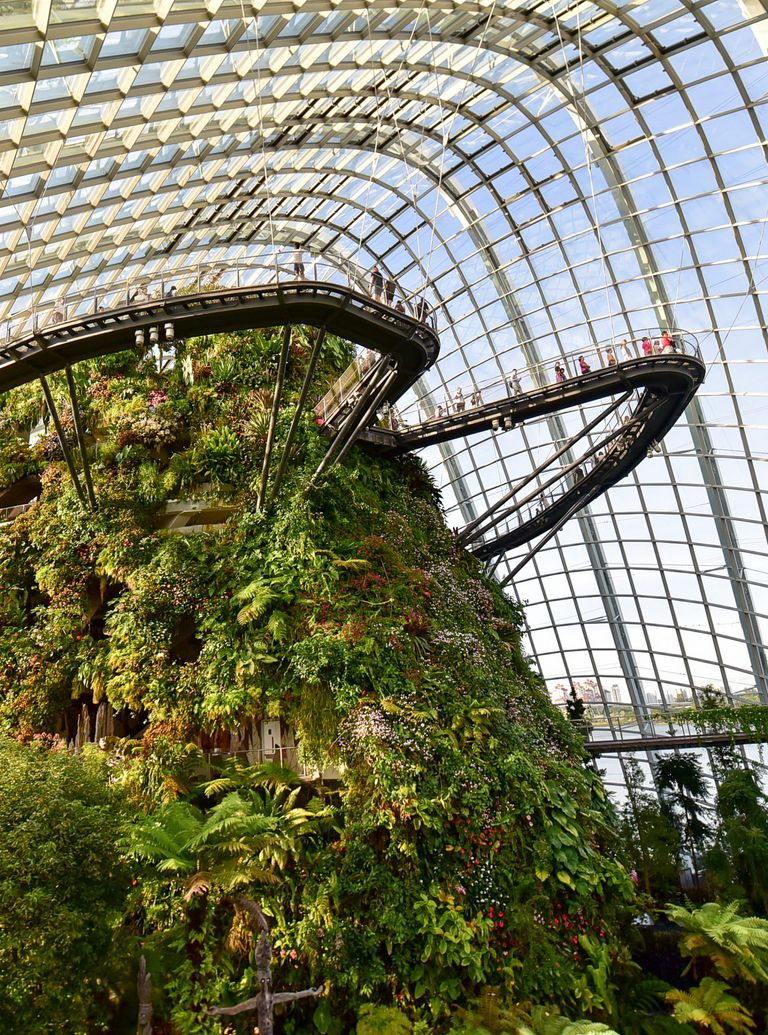 These aren't just gardens - they're show-stopping pieces of art. Created by some of the world's leading landscape designers, these amazing gardens are bold, big and utterly beautiful - and like nothing you've ever seen before...
1. Montreal Botanical Garden, Canada
This green goddess was created for a 2013 exhibition at Montreal Botanical Gardens - one of the world's biggest and most innovative urban green spaces.
2. Shibazakura flowers near Mt Fuji, Japan
Just after the Japanese cherry blossom season,the area around Mt Fuji turns an even more vibrant shade of pink. The shibazakura blooms – also known as phlox moss – carpet the Japanese countryside, with the sacred mountain as an impressive backdrop.
Want to see Japan's cherry blossom for yourself? Join our exclusive Woman & Home Japan Holiday– a spectacular 12-day trip which transports you to all the best blossom spots, plus Tokyo & Mount Fuji, a thrilling bullet train journey, traditional tea ceremony, and 8-night cruise around Japan's stunning coastline. See the details
3. Cloud Forest, Singapore
In downtown Singapore you'll find a nugget of tropical cloud forest (pictured left) - where rare plants thrive, waterfalls tumble, and lofty walkways thread through the misty treetops. This innovative project is just one of the ways Singapore's city planners aim to nurture nature in this thriving metropolis.
More like this: 8 beautiful European islands you must visit
4. Giverny Garden, France
Does this garden look familiar? That's because it was owned by artist Claude Monet, who loved to paint its vibrant blooms and lily pond.
5. Nong Nooch Tropical Garden, Thailand
Instead of planting fruit trees as they originally planned, the owners of Nong Nooch decided to nurture tropical plants on their land instead - and turned their plot into landscape gardening masterpiece. It has since expanded to 500 acres in size, and is stuffed with fascinating florals.
6. Madeira Botanical Gardens
Madeira, also known as the 'Floating Garden of the Atlantic', is famed for its vibrant gardens and flower fields - the greatest of which is the Botanical Gardens.
More like this:12 amazing drone photos of Corfu that will make you want to visit right now
7. Palace of Versailles, France
The equisitely manicured lawns of the Palace of Versailles stretch over a whopping 800 hectares, in designs that were originally commissioned by Louis XIV in the 1600s. There are also 11 elaborate water fountains in the grounds.
8. Bamboo forest of Arashiyama, Japan
In Japan, bamboo groves are thought to protect from evil, so are often planted close to temples. Arashiyama's bamboo forest is one of the country's most atmospheric, its stalks creaking and squeaking as they bend and flex in the breeze.
More like this: 7 incredible cruise holidays with Woman & Home
9. Keukenhof Park, Netherlands
With over 800 varieties of tulips and 7 million bulbs in bloom, Keukenhof is one of the world's largest flower gardens. It's awash with colour every spring and summer.
All images from Alamy