9 of the world's most beautiful gardens—be inspired by these serene works of art
The world's most beautiful gardens prove nature never fails to impress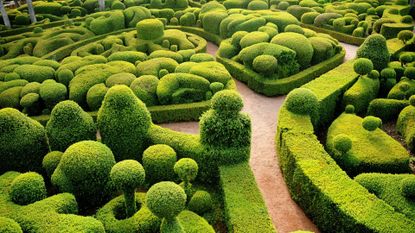 (Image credit: Getty Images)
There's nothing more wonderful than being surrounded by nature, watching as life bursts back into dormant shrubs, trees, and bushes with the tiniest of neon-green buds, springing seemingly out of nowhere. It is an understated, but seriously life-affirming act.
While nature can be found everywhere—from cracks in pavements in sprawling cities to the wild and rugged forests, moors, and woodland that cover billions of kilometers of our planet—the world's most beautiful gardens showcase some of the most impressive landscaped spaces with vast collections of unusual and beautiful species from across the globe.
Much like how the most spiritual places in the world promise to leave you spellbound, the world's most beautiful gardens will leave you filled with a sense of serenity, and will hopefully spark joy in all who visit.
The world's most beautiful gardens—when to go and how to make the most of your visit
1. Jardín Majorelle, Marrakech, Morocco
Filled with hot-pink bougainvillea, fragrant jasmine, cacti, and weeping willow, Jardin Majorelle is a calm oasis outside the bustle of Marrakech, Morocco. The garden was designed in 1923 by French artist Jacques Majorelle and took over 40 years to complete. Eventually, due to the mounting costs of maintaining the place, the garden fell into abandonment and was purchased by fashion powerhouse Yves Saint Laurent in the 1980s—later becoming a tribute to him when he died in 2008. Today, bright green palm fronds and oversized cacti stand out against the bold blue backdrop of the mansion that sits in the center of the garden, while the nearby water fountain provides a calming soundtrack to any visit.
How to get there: Take a taxi from the city center, but remember to fix a fare before you ride.
Best time of year to visit: Spring and fall are great times to visit as it's not too hot in Marrakesh. However, the garden generally looks the same for most of the year, so if you're looking for somewhere hot to visit in November, Morocco makes a fantastic cultural trip.
Price: Tickets can be bought online here and must be purchased at least 24 hours before your visit. Alternatively you can buy tickets at the on-site ticket office every day from 9am to 6pm (last entry is at 5.30pm). Tickets cost 70 Moroccan Dirhams (around $8/£5.50). Children 11 years old and under go free.
2. Kew Royal Botanic Gardens, London, UK
Due to its size, large collection of plants, and history—the gardens were founded in 1840—Kew Gardens can feel a tad overwhelming for first-time visitors, which is why making sure you have plenty of time to visit is optimal. Boasting an epic collection of over 50,000 living plants and UNESCO World Heritage status, the grounds at Kew feature specialist alpine houses, grass and kitchen gardens, an extensive botanical library, and the truly impressive palm house which was built between 1844 and 1848. Various exhibitions and free guided tours take place within the grounds year-round but stand-out events include the Christmas at Kew Light Trail, orchid season, and springtime when magnificent magnolia trees are in full bloom. There's also a cafe serving one of the best afternoon teas in London for an extra special element to your trip.
How to get there: Kew Bridge station is just under 1km from the Elizabeth Gate entrance. South West trains run from London Waterloo station. Kew Gardens tube station is 0.5km from the Victoria Gate entrance and is served by the District line and London Overground.
Best time of year to visit: Taking place around February to March each year, the gardens' annual orchid festival is too stunning to miss.
Price: You can buy tickets at the Royal Botanic Garden gates, but you'll get a better price if you book on the website here in advance. Tickets start at £11 ($15) off-season from November 1 to January 31, or £15 ($20) during peak season from February 1 to October 31 for adults. Children under four go free.
3. Park Güell, Barcelona, Spain
One of the best places to visit in Europe, Park Güell is known mostly for its fairytale-like buildings, stone archways and mosaic work. Set over 12 hectares of beautiful parkland in the Gracia district of Barcelona, it's the largest green area in the city and boasts fragrant pine trees, rosemary, and lavender, as well as row upon row of palm trees and lots of delicate wisterias. The park was originally intended to express the spirit of Catalonia as a potentially independent nation by Eusebi Güell—a wealthy businessman—and his friend, architect Antonio Gaudi. Much of Gaudi's design work is inspired heavily by nature leading his eccentric buildings to blend in perfectly with the manicured grounds of the park making this fantasy-esque park truly unmissable.
How to get there: Lesseps and Vallcarca Metro stations are the closest to the park, and from both, it's a 20-minute walk uphill. Otherwise, it's easy to take a city taxi or book an Uber through the app.
Best time of year to visit: It's best to visit this world heritage site during summer when the wisteria is in full bloom, but avoid the midday sun by heading over in the afternoon.
Price: Güell Park is open every day of the year with tickets available online. Opening hours are 9.30am to 6pm and general tickets cost €10 each (£11/£8.40).
4. Yuki Shrine, Mie Prefecture, Japan
This place is actually a shrine rather than a garden but the grounds are home to over 300 astoundingly beautiful weeping plum trees which when visited during the month of March provide a stunning show of delicate pink, white, and rose-colored blossoms. Some of the trees have even been planted to create a tunnel of blossom, and while the garden is fairly small, it will impress with its once-a-year floral display.
How to get there: Buses run from Tsu Station in Mie Prefecture to Yuki Jinja Mae daily.
Best time of year to visit: The only time to visit is March when the blossoms are at their peak.
Price: You can pay to enter the shrine and garden at the gate, tickets are 500 Yen ($4) each.
5. Nek Chand Fantasy Rock Garden, Chandigarh, India
When it comes to the world's most beautiful gardens, the Nek Chand Fantasy Garden is certainly not the most obvious, but today remains one of the best places to visit in India coming a close second to the Taj Mahal in terms of number of visits per year.
The story behind this collection of sculptures, waterfalls, mosaics, and walkways is as beautiful as the grounds themselves. Road inspector Nek Chand was living in the northern Indian city of Chandigarh in the 1960s, as part of his job he witnessed a lot of waste building products and refuse which he began to collect and tidy away. One day he discovered a small patch of land and used it to create a small garden, but also began turning the materials he'd found on the streets into incredible sculptures. Chand worked on his secret garden project in his spare time for over 10 years before it was eventually discovered by city officials who wanted to demolish it.
Luckily Chand's artistic haven was saved by locals and has since grown and grown, becoming one of India's most beloved sites. As well as over 5000 pottery mosaic figures, the garden also features a small theatre, numerous plazas, and an abundance of ancient trees.
How to get there: Trains from New Delhi run to Chandigarh two to three times per day—the journey takes around three hours. The Nek Chand rock garden is in Sector one of the city.
Best time of year to visit: October is the best time to visit through to March, as the summer heat has died down and flowers will be in bloom.
Price: Open every day from 9am, tickets cost 20 Rupees (26 cents/20p) for adults and 10 Rupees (13 cents/10p) for children.
6. Les Jardins de Marqueyssac, Dordogne, France
The bucolic setting of Marqueyssac château and gardens is enough to impress even nature fiends. In every direction, there are rolling patchwork fields of green, corn stubbled earth, and feathery pines, but that's before you even enter the grounds of Marqueyssac, where the real magic begins. Over 150,000 hand-pruned boxwoods unravel to make the most astounding topiary collection, each one perfectly trimmed into spheres, domes, or oblongs reminiscent of hay bales.
How to get there: Sarlat-la-Canéda is the closest train station to the gardens but a car is the best way to access Marqueyssac.
Best time of year to visit: This place is magical all year round and is one of the best places to visit in Europe in December as it is especially ethereal during winter months when it takes on a fairy-tale quality.
Price: The gardens are open every day all year round with opening hours changing slightly depending on the season. Tickets are available online, adult tickets are €9.90 ($11) and children's tickets are €5 ($5.50), children under nine go free.
7. Jardin Botánico Carlos Thays, Buenos Aires, Argentina
Located in one of the most picturesque neighborhoods of Buenos Aires, Palermo, the city's botanical garden—designed by renowned architect Carlos Thays—has been open to the public since 1898.
Today it boasts an art nouveau greenhouse imported all the way from France, organic vegetable patches, hundreds of rose bushes, as well as many of the vibrant jacaranda trees the city is known for. In recent years it's also become home to Buenos Aires' many abandoned cats which are now looked after and fed by a group of local volunteers.
How to get there: Scalabrini Ortiz is the closest metro station and is served by line D.
Best time of year to visit: Any time of the year, but for the jacaranda trees alone, November is the best month to visit.
Price: Jardin Botánico Carlos Thays is free to enter and open from 9am to 6pm every day.
8. Chelsea Physic Garden, London, UK
Billed as a garden for the 'botanically curious' this walled, hidden space in the heart of London's Chelsea is a true haven, full of medicinal, useful, and edible plants.
Established in 1673 by the Worshipful Society of Apothecaries it was a place where "young apothecaries could learn to identify key medicinal plants" according to the garden's website. To this day medicinal beds remain filled with wonderful healing plants such as St John's Wort, Thyme, English Marigold, and Evening Primrose, but the garden is also known for its historic glasshouses that house delights like cocoa and coffee plants.
As well as exploring the grounds, there are often talks and workshops scheduled for most months of the year.
How to get there: Sloane Square is the closest tube station and is served by the District and Circle lines or bus number 170 towards Victoria Station stops right outside.
Best time of year to visit: Fall is a particularly good time to visit to see a tree known as the Burning Bush's bright crimson leaves and the dainty star-shaped flowers of the garden's Mexican Hydrangeas.
Price: Open every day, besides Saturdays, between 11am to 4pm (last entry is at 3.30pm). Tickets start from £8.50 ($11) for adults, and £6.50 ($8.50) for children over five, under-five-year-olds go free.
9. Montreal Botanical Garden, Quebec, Canada
Aside from Montreal's burgeoning restaurant and art scene, the city is also known for its beautiful botanical garden that impresses with its scale and sheer abundance of various plant species. With ten exhibition greenhouses, each filled with a different horticultural collection—from ferns and cacti to orchids and bonsai—there's something to lure almost every nature lover.
Another standout area is the aquatic garden which features many species that are native to Quebec alongside pretty water hyacinths, lotus, and colossal lily pads. Due to its size, it's worth spending a whole day at Montreal's Botanical Garden to really get to grips with the place and appreciate it in all its glory.
How to get there: Montreal Botanical Garden is served by subway line one, the closest station is Pie IX.
Best time of year to visit: Any time of year is great, but winters in Montreal get seriously cold, so opt for spring, summer or fall for the most enjoyable trip. It's one of the best places to visit in June to catch the sites before the school holidays.
Price: The outdoor gardens are open all year between 9am and 5pm and access is free, but tickets for the greenhouses need to be purchased in advance. Adult tickets are $22 (US$17.50), tickets for children aged five to 17 are $11 (US$9), and children four and under go free.
Lydia is woman&home's Lifestyle News Editor and a freelance travel writer. Day-to-day she manages an international team of nine news writers and oversees all news content on woman&home.com. Her travel writing has been published in BBC Good Food, Oh magazine, Harper's Bazaar, Town&Country, ELLE, MailOnline, Woman, and woman&home.