The best places to visit in October in the USA, Europe and around the world
The best places to visit in October this year include getaways packed with food and culture and destinations that offer great value for money...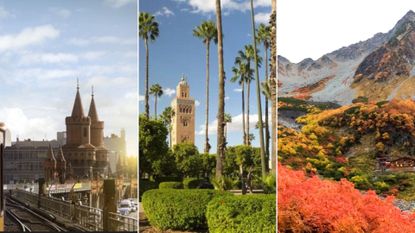 (Image credit: Future/Getty Images)
woman&home newsletter
Sign up to our free daily email for the latest royal and entertainment news, interesting opinion, expert advice on styling and beauty trends, and no-nonsense guides to the health and wellness questions you want answered.
Thank you for signing up to . You will receive a verification email shortly.
There was a problem. Please refresh the page and try again.
With enticing beaches, sprawling wineries, and a plethora of historic attractions, the best places to visit in October delight all types of travelers, from enthusiastic foodies to art and culture lovers, and even to beach bums.
With many regions well into fall, October serves as shoulder season, with generally fewer crowds and lower prices. These destinations cater to those who are ready to embrace the chilly sweater weather and beautiful fall foliage, as well as to those who want to extend their summer vacations.
This time of year presents travelers with endless possibilities, with the best places to visit in October including some of the best European family vacation ideas, foodie cities in France and the chance to experience the Greek islands after the summer crowds have dissipated.
Best places to visit in October in the USA
Charlottesville, Virginia
Best October holiday for: Scenic drives and wine tasting
Average high temperature in October: 20°C
Base yourself in the thriving university town of Charlottesville for some leaf-peeping this October. Navigate the winding twists and turns of Skyline Drive, which is easily accessible from Charlottesville, and admire the fiery red and vibrant yellow leaves that carpet the scenic Blue Ridge Mountains this time of year. With many lookouts on the way, bring a picnic lunch and meander at a relaxed pace. Time your visit for the last three weeks of the month, when the fall colors reach their peak.
October is also harvest season. Visit the sprawling farms and orchards of Western Virginia to participate in apple picking, and toast to Virginia Wine Month with one of the region's notorious cabernet francs and rieslings.
Top tip: If you're planning on taking advantage of public transit on your visit to Charlottesville, you can travel between downtown and the grounds of the University of Virginia on a free trolley.
See the latest official tourism advice for the USA here (opens in new tab).
Albuquerque, New Mexico
Best October holiday for: Colourful and quirky hot air balloons
Average high temperature in October: 22°C
For nine days each October, locals and visitors gather at the Balloon Fiesta Park in Albuquerque to observe the International Balloon Fiesta. More than 500 balloons take off into the skies at this family-friendly event, and visitors are invited to bring along a blanket or lawn chair to sit on as they admire the brightly coloured hot air balloons that often take the shape of fun characters like Yoda, Garfield and Tweety. Accompanying events often include skydiving and evening fireworks for an unforgettable time.
Besides the event, spend time wandering the cobblestone streets of Old Town Albuquerque and admire its adobe homes, museums, and historic San Felipe de Neri Church. Make time for the Indian Pueblo Cultural Center, which is located two miles north of Old Town and celebrates the various cultures of the Pueblo people.
Top tip: Plan to stay in Albuquerque for multiple days throughout the event as the events are extremely weather dependent.
See the latest official tourism advice for the USA here (opens in new tab).
Kauai, Hawaii
Best October holiday for: Exhilarating outdoor adventures
Average high temperature in October: 24°C
Lush tropical rainforest and emerald valleys cover much of the landscape on Kauai, earning this island its nickname of the Garden Isle. Those who come to Kauai crave outdoor pursuits and spend their time exploring the island's natural beauty by kayak, standup paddleboards, all-terrain vehicles, and on grueling hikes.
Spend time on the Na Pali Coast, which spans 27 km along Kauai's North Shore, and is characterized by dramatic cliffs and majestic waterfalls. For the ultimate challenge, hike the entire 18km Kalalau Trail to Kalalau Beach, crossing streams and traversing along unmaintained trails and sheer cliffs. Experienced hikers also have the option of completing a portion of the trail on a popular day hike to Hanakapi'ai Valley.
Due to the geographic makeup of Kauai, parts of the island are inaccessible by road, making a helicopter tour the best way to view its dramatic coastline and lush green forest.
Top tip: Plan extra time when driving on the island, as there's only one way up and one way down the coast.
See the latest official tourism advice for the USA here (opens in new tab).
Pictured Rocks National Lakeshore, Michigan
Best October holiday for: Natural beauty and hiking holidays
Average high temperature in October: 14°C
When it comes to appreciating Fall colors, there are few places on earth more beautiful than this picturesque spot along Lake Superior. Pictured Rocks National Lakeshore is located on the south shore of Lake Superior in Michigan's Upper Peninsula and while its dramatic landscapes are beautiful at any time of year, Fall sees the region come alive with vivid autumnal colors.
The area gets its name, Pictured Rocks, from the impressive sandstone cliffs that rise above the shoreline. Hikes around Pictured Rocks, including the famous North Country National Scenic Trail and the Chapel Loop Trail, will take visitors through magical woodland and impressive parks, with some incredible lakeside views along the way. To truly complete the trip, stay in one of the many cozy waterfront lodges.
Top tip: One of the best ways to see Pictured Rocks' cliffs up close is to rent a kayak for a relaxing and memorable afternoon.
See the latest official tourism advice for the USA here (opens in new tab).
Best places to visit in October in Europe
Florence, Italy
Best October holiday for: Tuscan cuisine and Renaissance treasures
Average high temperature in October: 21°C
As the birthplace of the Renaissance, Florence makes one of the best European city breaks for sightseeing on foot, with well-preserved frescos, museums and historic structures that tell the tale of the city during this revolutionary period found all over the city.
Aside from visiting renowned works by Leonardo da Vinci and Raphael at the Uffizi, and the Statue of David at the Accademia Gallery, admire the city's architecture from a distance. Visit Piazzale Michelangelo for that picture-perfect panoramic view over Florence, with the Duomo piercing the skyline. Or, revel in the view as you lay among hundreds of fragrant roses and lemon trees at the nearby Rose Garden just below the Piazzale Michelangelo.
Discover the simplicity of Tuscan cuisine by tasting traditional Italian dishes, such as fire-grilled Florentine steak with a glass of house Chianti, the classic Florentine lampredotto sandwich which consists of tripe topped with salsa verde, and tagliatelle with truffle and porcini mushrooms. For a sweet finish, top it off with creamy and flavorful gelato.
Top tip: Book your tickets to the museums and art galleries ahead of time so you can skip the long lines when you get there.
See the latest official tourism advice for Italy here (opens in new tab).
Santorini, Greece
Best October holiday for: Soft sandy beaches and archaeological sites
Average high temperature in October: 22°C
With a generally warm and dry climate, October in Santorini makes for more pleasant days of sightseeing. Plus, sea temperatures remain comparable to that of summertime, which allows visitors to this European island the option to sunbathe and go for dips without the crowds. Beach bums should visit the black sands of Kamari Beach, or Red Beach, aptly named for its red-hued volcanic sands. Splurge on a hotel directly on the beach, as prices are often lower at this time of year.
Make time for an excursion to the archaeological site of Akrotiri on the island's southwest, a destination that few visitors venture to. Buried in a volcanic eruption, visitors to this ancient Minoan city can expect to see excavated pottery, delicate frescoes and ruins that are impressively intact.
Round out your trip with a catamaran cruise on the west coast for a close-up view of Santorini's caldera, or with a spectacular hike between the island's capital of Fira and the photogenic town of Oia.
Top tip: Most accommodations on Santorini have many steps, so pack and pick your shoes accordingly as there are no elevators.
See the latest official tourism advice for Greece here (opens in new tab).
Loire Valley, France
Best October holiday for: Enchanting castles and blooming flowers
Average high temperature in October: 17°C
Home to some of the world's most beautiful gardens and enchanting castles, the Loire Valley appears to be the perfect backdrop for any fairy tale. The lavish castles in the quaint countryside, which can be traced back to the 15th and 16th centuries, were built by French kings who frequented the valley for its natural beauty and bountiful hunting opportunities. Visit the Château de Chambord on the banks of the Cosson River, and see the original furniture and grand halls of the 17th-century manor house Château de Cheverny.
With its colorful fall foliage and chrysanthemums still in full bloom in October, autumn in the Loire Valley is more than about making time for its royal sites. If you can swing it, plan to stay for its annual Autumn Festival, which generally takes place over the course of a weekend at the end of each October. Staged at the fairytale-like Château du Rivau, visitors are invited to admire displays of chrysanthemum-based creations.
Top tip: The terrain in the Loire Valley is relatively flat, making this an easy destination to bike around. Or, see the sights from the water by booking a cruise - the Loire Valley features on the itineraries of some of the best river cruises in Europe.
See the latest official tourism advice for France here (opens in new tab).
Berlin, Germany
Best October holiday for: Culture and hearty food
Average high temperature in October: 14°C
Cultural hotspot Berlin has so much to offer visitors, from famous landmarks such as the Brandenburg Gate and Berlin Cathedral, to countless independent art galleries and thriving nightlife. In October, the temperature drops in the city and it's easier to get around the various attractions without the stifling heat to contend with. October also sees the annual festival of lights from 11 - 20 October 2022, where light and video projection will be cast onto landmarks across the city center.
Berlin has so many parks and green spaces that, come October, the city becomes so much more colorful as the leaves begin to fall. It's no secret that Germany is famous for its sprawling markets serving hearty food such as hotdogs, stews and soups - and these come into full swing in the autumn months. As the evenings become chillier, wrap up warm and peruse the best of German comfort food.
Top tip: Head to Tiergarten, a huge park right in the center of the city. It's one of the best places to see the autumn colors.
See the latest official tourism advice for the Germany here (opens in new tab).
Best places to visit in October across the world
Arequipa, Peru
Best October holiday for: Museums and historic sites
Average high temperature in October: 24°C
Framed by three imposing volcanoes, the well-preserved colonial architecture of Arequipa in the south of Peru enjoys a dramatic setting.
Spend time in the palm-lined Plaza de Armas, the city's centerpiece and historic center. Backed by colonial architecture and the luminous Basilica Cathedral of Arequipa, the square is a delightful place to people-watch and sample homemade ice cream from a local vendor.
From the Plaza de Armas, head to nearby San Camilo Market, about ten minutes by foot. Sip on fresh fruit juice from the stalls as you experience the kaleidoscope of sights and smells. Shop for local spices, handicrafts and fresh produce, and sample local dishes like stuffed hot pepper and ceviche.
Besides exploring its urban charm, outdoor adventurers use this colonial city as a base for visiting the Colca Canyon. Whether on a long day trip or multi-day trek, visit one of the world's deepest river canyons to see Andean condors take flight, raft on the Colca River, and observe native wildlife like guanacos and alpacas.
Top tip: Indulge in pisco sours, Peru's national cocktail and make sure to read our guide to the amazing restaurants in Lima if you are flying in or out of the country's capital.
See the latest official tourism advice for Peru here (opens in new tab).
Marrakesh, Morocco
Best October holiday for: Luxurious relaxation
Average high temperature in October: 28°C
Nestled in the foothills of the Atlas Mountains in western Morocco, the desert city of Marrakesh entices visitors with its undeniable charm and winter sun, seeing warm temperatures in October and still hot in November, too.
Spend time in Jemaa el-Fna, the cultural heart of Morocco, and wander the mazelike alleys of the walled medieval city. Haggle for traditional textiles, pottery and stained glass lanterns at the thriving marketplaces known as souks. Experience the city's vibrant soul with a return to the square in the evening, when it's filled with snake charmers, storytellers and food stalls. Sample the merguez sausages, harira soup and boiled snails.
Treat yourself to a stay at a boutique hotel housed inside a riad, a traditional Moroccan house centered around a courtyard. And for a break from sightseeing, indulge in a treatment at the hammam, which consists of steaming, washing, and exfoliating your skin, a process that's sure to leave you feeling rejuvenated.
Top tip: Bring cash when shopping in the old city, as credit card machines and ATMs remain challenging to find.
See the latest official tourism advice for Morocco here (opens in new tab).
Tel Aviv, Israel
Best October holiday for: Spectacular beaches
Average high temperature in October: 27°C
Despite its storied history, this city on Israel's Mediterranean coast exudes youthful and vibrant energy.
The city's beach promenade runs along the picturesque coastline and invites visitors to laze on the golden beaches and peruse its buzzing cafes. Take part in the seaside pastime of matkot, a fast-paced paddle game that's become Israel's unofficial national sport.
Visit Jaffa, the oldest part of Tel Aviv, and browse the art galleries along its cobblestone streets. Shop the flea market Shuk Hapishpishim, and haggle for jewelry, antique ornaments and colorful kilim rugs. Brimming with trendy restaurants, sample creamy hummus and shakshuka, which is a dish made of baked eggs in tomato sauce.
Those eager to participate in Tel Aviv's energetic nightlife should head to Florentin, the city's hipster neighborhood in the south that's packed with buzzing bars and restaurants that stay awake until the wee hours.
Top tip: Leave extra time when getting in and out of airports in Tel Aviv, as security checks are thorough.
See the latest official tourism advice for Israel here (opens in new tab).
Japanese Alps, Japan
Best October holiday for: Spectacular scenery and natural springs
Average high temperature in October: 20°C
While springtime in Japan may bring the famous cherry blossom season, visiting in Fall brings its own rewards, particularly if you head to higher ground. In the autumn months, the Japanese Alps are awash with vibrant red, yellows and oranges, with hiking trails that offer some spectacular views.
Embrace Japanese traditions, such as sipping tea in one of the traditional tea rooms along the hiking trails, or relax in hot springs at one of the neighboring spa towns.
Top tip: Hirayu Onsen is a picturesque market town where you can take advantage of the numerous hot springs and enjoy a relaxing afternoon. Minzokukan open-air baths are situated within an old farmhouse with an outdoor heated pool where you can wash your worries away.
See the latest official tourism advice for Japan here (opens in new tab).
Vivian is a Vancouver-based freelance writer who has worked for Culture Trip and Fodor's Travel as well as Woman&Home. She covers a wide range of topics, ranging from travel and outdoor adventure, to food and mental health and wellness. She's a curious wanderer with a thirst for adventure, and when she's not writing, can likely be found lazing by a lake, hiking the forested trails of beautiful British Columbia, or on a mission for the next best donut.
With contributions from