14 Greek islands that are unmissable for holidays and hopping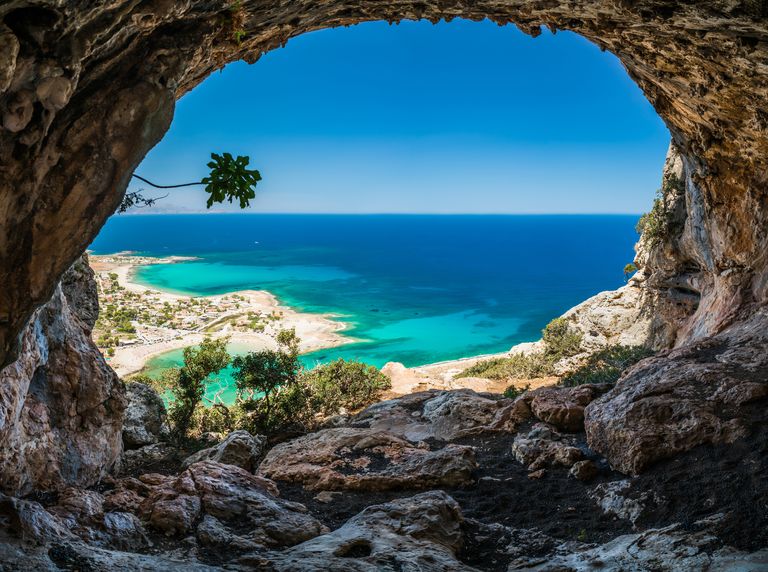 (Image credit: Getty Images)
Whether you want to go island hopping or just want a relaxing holiday, these are the best Greek islands for type of trip…
Island hopping in Greece is one of the most popular ways to see this European nation, but there are so many to choose from it's hard to know where to start. We've done most of the hard work for you, rounding up the best Greek islands for holidays and island hopping.
Greek Islands that are unmissable
1. Crete
Best Greek Island for… the whole family
Crete has mass appeal. It's got everything you could want from a Greek island holiday: stunning beaches, excellent resorts, incredible scenery, bucolic villages and a long, fascinating history. It's also the country's largest island, so there's plenty to keep you occupied if beach bumming isn't your bag.
Active types can hike along canyons, cycling among orchards, kayak on the ocean or simply snorkel in the warm Mediterranean Sea. While history buffs will love the ruins of the Palace of Knossos and the Heraklion Archaeological Museum.
Beach-wise, there's plenty of space to lay down your towel on the island's vast coastline. Beeline for Elafonisi to see pink-tinged sand, Mátala for romance come dusk and Frangokástello for fine sand.
How to get to/from Crete? There are direct flights from most major UK airport to Crete's three airports in Heraklion, Chania and the smaller Sitia. Heraklion and Sitia also have ferry ports, which connect to Santorini, Milos, Kasos and Rhodes.
Where to stay in Crete? There are plenty of hotels and holiday resorts in Crete for all budgets. For something sophisticated try Sensimar Elounda Village Resort & Spa by Aquila, which offers all-inclusive rates and high-end luxury. A more affordable option is Arminda Hotel & Spa – a great option for families.
2. Ios
Best Greek island for… wild parties & serene village life
With typical Cycladic scenery – think dusty hills peppered with pretty whitewashed villages – Ios is easy on the eyes. It's also well known for its wild party scene, though, so be prepared for late nights if you go out on the town. But you don't have get into the party mood if something more serene is your scene.
We love Ios for its small village vibes. The island's capital, Chora, is a rival to neighbouring Santorini's scenery – whitewashed houses with touches of blue tumbledown a steep hill to a pretty harbour overlooking the Aegean. And it doesn't even have half the crowds, either. There are gorgeous, untouched beaches and majestic seaside churches, as well as the tomb where world-famous poet, Homer, was buried.
Book it: We love Riviera Travel's Greek island-hopping cruise which tours the blissful Ionian islands over eight days from £1,499. Find out more information here.
How to get to/from Ios? Fly to Santorini and take a two-hour ferry, or into Athens and take the ferry (runs 4-5 times per week; takes 4-8 hours) from the city's main port, Piraeus. Ferries connect Ios to the likes of Naxos, Anafi, Paros, Milos and Mykonos.
Where to stay in Ios? Small and stylish with a spectacular seaview location, we love Liostasi Hotel & Suites. Rooms are small but come with balconies and the pool overlooks the Aegean Sea. The absolute best accommodation on the island, though, has to be Calilo: think gorgeous marble interiors, a variety of serene outdoor pools, a private beach and a leafy estate with more than 41,000 trees to find shade under. Stay at Calilo for more than 5 days and you'll get discounted helicopter transfers, too.
3. Corfu
Best Greek island for…Intriguing architecture
With resorts and beaches aplenty, Corfu is a crowd-pleaser – and it's easy to reach, too. But one of the unexpected highlights of this island is exploring the unique architecture throughout its towns. With Venetian, French and British influence behind it, there are some fascinating fortresses, French-style arcades and a few grand palaces worthy of Kings and Queens.
Explore the island's medieval capital – Corfu Old Town is a warren of alleyways filled with gift shops and cafes. Or head up to Old Peritha, an ancient mountain village that was abandoned by its residents in the 1960s and is now a gorgeous hideaway with views out to the Ionian islands and neighbouring Albania.
Speaking of Albania, it's just a 20 euro ferry ride away, so make your island hopping holiday a border hopping one too with a trip across the sea to this intriguing, former communist country.
How to get to/from Corfu? There are regular direct flights from most major UK airports to Corfu. Ferries also run to and from the Greek mainland, Saranda in Albania, and Bari and Venice in Italy.
Where to stay in Corfu? If you want to soak in the romantic, secluded atmosphere of Old Peritha, stay at the Merchant's House – a glorious little B&B filled with antiques, run by a kind couple who source as much as possibly locally. For a five-star resort, you can't go wrong with Grecotel's Corfu Imperial, which has five private beaches, a large outdoor pool and plenty of dining options.
4. Hydra
Best Greek Island for… Feeling rich & famous
Hydra has long been a location the well-heeled with celebrity status flock to – Leonard Cohen bought a mansion here, and the island found fame thanks to the Michael Cacoyannis film A Girl in Black. And today it's still just as popular with the A-listers, having attracted the likes of Eric Clapton and even The Rolling Stones too.
But it's not all glitz and glam – there's an understated luxury to this island, with its nearly car-free roads and old, crumbling buildings. Walkers will love the island outside of the hottest summer months – local maps are available but the coastal path is easy enough to follow without. There are a few old mansions on the island that have now been turned into museums – Lazaros Koundouriotis is one of the best, with gorgeous interiors and intriguing objects on display from the islands maritime heyday. Beaches aren't spectacular here, but good stretches can be found at pebbly Limnióniza and shingle Avláki.
More like this: The best family holiday resorts in Europe according to mums
How to get to/from Hydra? Ferries connect Hydra to the mainland from the port at Piraeus. Boats also run between Hydra and the surrounding islands, including Spétses for day trips.
Where to stay in Hydra? We love the characterful Orloff Boutique Hotel, with its antique furniture and cosy outdoor seating, or the biggest four-star hotel on the island, Bratsera. There's a pool, cosy bedrooms and glorious mountain views.
5. Rhodes
Best Greek Island for… A great all-rounder
Rhodes has many virtues – a beautiful old town, a cosmopolitan resort, stunning sandy beaches and ancient history to boot. This makes it a perfect all-rounder for family holidays or romantic couples getaways.
Active types will love hiking through the Valley of the Butterflies, where thousands of the creatures flit about, attracted to the nectar secreted by the trees. Those seeking retail therapy should head to the Old Town for boutiques and Mandraki for big-name stores, and beach bums will be spoilt for choice by the various stretches of sand that edge this gorgeous isle. Kiotari and smaller Agathi are the best in our books.
Big, brash, late-night parties can be found in Faliraki if that takes your fancy, and quieter, more laid-back life can be experienced in one of the island's may villages such as Apollona or Lardos. Don't forget to taste some local wine, too – Rhodes was once one of the largest wine merchants in the Med.
How to get to/from Rhodes? Ryanair fly direct to Rhodes from Stanstead. Ferries connect Rhodes to the mainland from Piraeus 12 times a week, and there are regular boats to the likes of Syros, Tilos, Thira, Kos, Naxos and more.
Where to stay in Rhodes? Family fun can be found at Amathus Beach Hotel, which has four pools, a private beach and big kids pool too. There's a playground, tennis court, ping pong table and oversized chess, too. For a romantic couples escape, try the adults-only Boutique 5 Hotel & Spa, where sea views and direct beach access make for a dreamy escape.
6. Lesvos
Best Greek Island for… Foodies & philanthropists
Famous for its olive trees and excellent vines, Lesvos has been a foodie hub for centuries. The island is also responsible half of Greece's ouzo output, so anyone with a taste for boozy aniseed will love this little escape.
There are dreamy seaside resorts, beautiful little fishing villages and quaint hilltop towns well worth exploring. But there's a darker side to the island that all visitors should know about. People fleeing conflict from all over the world have come here in search of asylum and better lives, and camps are set up across the island to handle the processing of thousands of refugees.
While tourism to Lesvos has seen a decline in recent years due to the refugee crisis, with hundreds of people landing on its shores daily, the island still needs visitors and you can help the local economy just by going there. If you want to go one step further and make a small difference in the migrant camps, bring some supplies and connect with local volunteer distributors, Attika, who can send them out to those in need.
How to get to/from Lesvos? Ferries run from Piraeus and Kavala in the north on mainland Greece, and there are boat connections betwee the island and Chios, Lemnos, Samos, and Ikaria.
Where to stay in Lesvos? Get your own villa with a private pool at A - Luxury Villas, or book into Heliotrope Hotels for sea views, a good-sized pool and beach access.
7. Chios
Best Greek Island for... An off-the-beaten-track adventure
Closer to Turkey than to mainland Greece, Chios is a pretty off-the-beaten-track adventure. Head to Kambos, once home to the island's leaders, to see stately mansions of a byegone era, and visit the 'mastic villages', a collection of 20 settlements where the trees shed the 'tears of Chios' – little mastic crystals – every August, creating peculiar white, snow-like patterns on the ground.
Anavatos, an abandoned medieval village, is an intriguing and atmospheric day trip, and foodies will love the abundance of citrus fruit. Fresh orange juice in the morning has never tasted so good…
More like this: Travel companies that go the extra mile to make your holiday sensational
How to get to/from Chios? Connect to a flight to Chios from Athens or Thessaloniki airports on the mainland, or take a ferry from Piraeus or Lavrio. There are also boat connections to nearby Lesvos, Efstratios, Samos, Ikaria and Tsesme in Turkey.
Where to stay in Chios? Stay in Chios town (Chora) for the best restaurants and bars – we love Agora Residence, a collection of serviced apartments and studios inside a renovated 19th-century mansion. For the quiet life, head to Erytha Hotel & Resort where you'll get endless sea views and simple but cleanly decorated rooms.
8. Naxos
Best Greek Island for... Brilliant beaches
Naxos has certainly got one of the finest beaches of all the Greek islands. The entire southwest coast forms one long beach, with numerous resorts and hotels on its shores for a spectacular seaside escape.
In the Kástro area of the main town and you'll find plenty to keep you busy for a week, such as the ancient Apollo Temple and an archaeological museum, alongside hopping between coves and beaches. Local food is a highlight here, too, with the small potatoes grown across the island a total hit, alongside all manner of island-produced cheeses.
How to get to/from Naxos? There are regular flights from Athens to Naxos, and BA and easyJet fly to nearby Mykonos which connects via ferry. There are also ferries from Piraeus, Crete and most of the other Cycladic islands too.
Where to stay in Naxos? In Naxos town, we love Nissaki Beach Hotel which has great beach access and bright and breezy decor. Beachfront villas further down the coast are equally lovely at Salinus Naxian.
9. Mykonos
Best Greek Island for… Traditional village life
Famed for its hedonistic nightlife, Mykonos is more than just superclubs and hangovers. There are beautiful beaches and the buzzy little capital, Hora, but its interior is where you'll find serene peace and quiet.
Ano Mera is a gorgeous little town in the centre of the island, with whitewashed houses, a taverna-filled main square and the Tourliani Monastery – founded in 1537, it's a glorious old domed church with a collection of treasures inside.
How to get to/from Mykonos? Direct flights from Athens take just 35 minutes and ferries go from Piraeus and Rafina ports near the city. There are connections islands such as Ios, Crete, Paros, Thira and Tinos.
Where to stay in Mykonos? Hilltop bliss can be found at Amallini Suites near Ano Mera, where there's a pool, beautiful original exposed brick interiors and glorious views out to the ocean. Elia Mykonos Resort by the Sea is a good bet for direct beach access and four-star service.
10. Zakynthos (Zante)
Best Greek Island for… Instagram-worthy views
Better known as 'Shipwreck Island' and Zante, Zakynthos has featured on many a tourist brochure thanks to its enormous, rusting shipwreck on Navagio beach. There's a viewpoint north of the beach atop precipitous cliffs, looking down on the enormous crumbling hull of the MV Panagiotis, which ran aground in 1980 after reportedly trying to smuggle in tobacco and other illegal products.
Elsewhere on Zakynthos, there are more spectacular views of azure oceans and white sandy beaches. There's water so clear you'll be able to see toes right on the bottom of the ocean floor, and even sulphur springs if you know where to look (tip: head to Xigia beach).
How to get to/from Zakynthos (Zante)? easyJet and Jet2 fly to Zakynthos regularly throughout the spring and summer seasons. There's also year-round flights from Athens. Ferries travel between most of the Ionian islands, as well as the mainland ports of Patras and Kyllini.
Where to stay on Zakynthos (Zante)? For adults-only fun, book into Lesante Blu, set in a rural spot near the resort town of Tragaki. The pool overlooks the ocean and many rooms have lovely sea views. The food is sensational, too. Diana Palace Hotel has two pools, unusual contemporary decor and is a hit with guests.
11. Astypalea
Best Greek Island for… A breath of fresh air
This little bat-shaped isle in the Dodecanese is tiny. There are fewer than 1,500 residents and it has just two towns to explore. On the northern half of the island you'll find the tiny settlement of Analipsi, where there are laid-back beach bars serving fresh juices in the morning and cocktails by night, and beachfront restaurants make for romantic evenings under the stars.
The southern side of the island, Astypalea is the main hub, welcoming ferries from nearby islands and with plenty of tavernas and hotels. There's an archaeological museum and the ruins of a hilltop castle overlooking the ocean, but the absolute best thing about this island is that it's almost entirely smoke-free. Astypalea has become the world's first 'Smoke-Free Culture' island, meaning the air is extra fresh and you'll never need to worry about second-hand smoke.
How to get to/from Astypalea? SkyExpress run flights to Astypalea from Athens, Rhodes, Kos, Santorini and more, and ferries connect the island to Athens' main port Piraeus, as well as Kos, Rhodes, Tilos and Symi.
Where to stay on Astypalea?Maltezana Beach Hotel is, as you might expect, right on the beach on the northern half of the island. There's a great pool and good food in the homely restaurant. The superb Pylaia Boutique Hotel & Spa is the top pick on the south side of the island, tucked away among the hills on the coast, with sea views, minimalist decor and an excellent spa.
12. Santorini
Best Greek Island for… Sensational views
Santorini really needs no introduction. We've all seen those stunning shots of whitewashed houses tumbling down towards the rich-blue ocean, with classic Greek Orthodox church domes in view. Santorini is synonymous with luxury, but there's much more to this popular island than Instagrammable views and stunning sunsets.
We love Pyrgos Village, the island's former capital which is now a sleepy little settlement away from the hustle and bustle of Fira and Oia, with cute little tavernas for fresh-fish lunches and a spot of afternoon ouzo. Also don't miss Akrotiri, another little village hidden away on the south coast with a striking red beach backed by ochre-coloured cliffs.
How to get to Santorini? easyJet run non-stop flights to Santorini year-round and British Airways have seasonal flights throughout spring/summer. There are plenty of ferries connecting Santorini to the mainland and islands like Anafi, Ios, Zakynthosm Mykonos, Milos and Naxos.
Where to stay on Santorini? For a hotel with serious character and a luxurious vibe, check into a former convent at Agialos Hotel in Fira. With stunning views over its whitewashed rooftops, you'll get the classic Santorini scenery and sunsets alongside contemporary rooms, beautiful food and a small pool. For a more affordable stay, head to Armeni Village Hotel in Oia, which has equally gorgeous sea views and beautiful, minimalist interiors.
13. Skiathos
Best Greek Island for… Beaches aplenty & off-season escapes
Most Greek islands have a good selection of sandy stretches to explore, but on Skiathos there are over 50 beaches to choose from, so you're spoilt for choice here. That's why it's absolutely overrun with visitors from around Europe come summertime. To avoid the crowds, though, come in spring or early summer (May/June are best) or take a late summer sun break and visit from mid September onwards. Temperatures are still in the low 20s even in October.
The island's best beaches include Koukounariés – think fine sand, watersports and sunbeds aplenty – and the Big and Little Banana beaches, which have spectacular sunset views. On the eastern side of the island, Vromólimnos has a great taverna and plenty of sunbeds and watersports available.
How to get to Skiathos? British Airways has regular flights to Skiathos throughout peak season (June through September), and there are lots of ferries to and from the mainland (Agios Konstantinos on the east coast), as well as surrounding islands like Chora, Volos, Alonissos and Glossa. There are also regular flights from Athens.
Where to stay on Skiathos? For small-scale luxury, book into Skiathos Mystery where chic rooms and rooftop views are accompanied by a great pool and even better service. For something a little more lavish, try Skiathos Princess Hotel, which has plush furnishings and direct access to one of the island's top beaches.
14. Kos
Best Greek Island for… Roman ruins & ancient architecture
The beaches on Kos are fantastic, but the highlight on this Aegean isle is the plethora of ancient sites. The Roman Odeon is one of the most important sites on the island, dating back to the second century AD. It has a capacity of 750 and was built to host musical competitions and political debates at the time.
Elsewhere there's the medieval castle of Neratzia, an abandoned town and Byzantine castle in Pyli and the second-century BC temple of Hercules. All of this sits alongside glorious stretches of sand lapped by the warm Mediterranean, and great hiking and biking opportunities. There's also a host of family-friendly attractions, such as waterparks for the kids. Come in summer to celebrate at the Hippocratia Festival, which involves all manner of traditional dancing, singing, costume and food.
How to get to Kos? Both easyJet and Jet2 have direct flights to Kos, and there are internal flights from Athens with SkyExpress and Olympic. Ferries arrive to Kos from Piraeus, Syros, Rhodes, Naxos, Leros, Astypalea and many more.
Where to stay in Kos? TUI's adults-only resort, Sensimar Palazzo Del Mare, is a gorgeous getaway for anyone seeking a romantic escape. The huge resort has ample pool and sunbed space, and has its own beach. Wellness-focused Diamond Deluxe Hotel has a fantastic spa, indoor and outdoor pools and enjoys glorious sunset views.
Greek Islands map
Wondering which Greek island is where?
Whichever Greek island you choose for your holiday, you're bound to have a spectacular time.