Best river cruises in Europe to take in 2022
Cruising expert Rebecca Barnes rounds up the best river cruises in Europe, from luxury liners to affordable trips...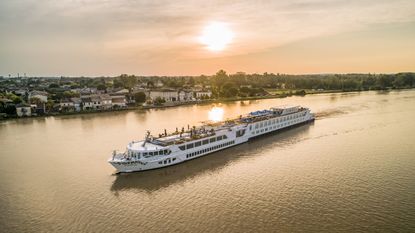 (Image credit: Uniworld)
The best river cruises in Europe combine culture and superb sightseeing with the first-class amenities of a contemporary, purpose built ship.
There's something so serene about river cruising. The small, intimate ships, the slow pace, the scenery sliding by as you glide along one of Europe's prettiest rivers - it is, quite frankly, dreamy. But there are hundreds of river cruises out there, so it's hard to know where to start.
River ships ply the rivers that run alongside or through some of the best places to visit in Europe, and are intimate and friendly with all the creature comforts you need for a superb holiday. Whether you're looking for a themed cruise with excellent food and wine, or a more active break with lots of activities both on and off the ship, we've suggested the best cruises for your next trip below.
If you would like to know how to choose the right European river cruise for you, read on for our expert tips and advice, including the reason why this type of cruise is a great option if you're on a budget and keen to secure the best holiday deals.
BEST RIVER CRUISES IN EUROPE
Scenic Delightful Douro
If you've been weighing up the pros and cons of river cruises vs ocean cruises, the 5-star Scenic Azure is the perfect ship to persuade you to opt for a European river cruise. Aimed at luxury lovers looking to cruise the idyllic Douro Valley, on this river cruise in Europe you will tour elegant Lamego and discover Salamanca on a journey of Portugal's 'River of Gold'.
On this eight-day sailing, you'll also get to sample Pocinho's local produce including jams, marmalades and sugared almonds, and discover Mateus Palace while sipping a glass of the renowned vino in the gardens.
Visit the impressive São Francisco Church, before watching a private performance within the Gothic and Baroque façade with its intricate wood carvings covered in gold.
Departing Porto on 6 November 2022, prices start at $3,045pp / £2,245pp and include excursions, complimentary premium beverages, complimentary mini bar, WiFi, return airport transfers and gratuities.
To find out more and to book visit Scenic (opens in new tab)
Saga Flowers of Floriade and Keukenhof
Like the sound of cruising the Dutch waterways to witness Europe in bloom?
The Floriade Expo in the Netherlands takes place once every 10 years, and this summer, new ship Spirit of the Rhine will visit the Expo, along with Meise Botanic Gardens and Keukenhof Gardens.
Not only that, celebrity cruise guest, horticulturist Pippa Greenwood will be on board to host talks on the topic.
The ship features a panoramic lounge and bar, fitness area, shaded sun deck with hot tub and barbecue, and spacious cabins, some with floor-to-ceiling picture windows.
Departing Amsterdam on 14 May 2022, prices start at $2,916pp / £2,149pp (based on two sharing) for 10 nights and include a complimentary door-to-door chauffeur service, flights or standard class rail/coach travel, three included excursions, gratuities, travel insurance, WiFi, welcome drinks and Captain's Dinner.
To find out more and to book visit Saga Travel (opens in new tab)or call 0808 258 2031.
Viking Cruises Paris & the Heart of Normandy
Take it from us – the Seine is one of the most beautiful European rivers to cruise on, and this eight-day cruise celebrates history, art and food in both the best foodie cities in France and pastoral settings.
In Giverny, you'll have the opportunity to visit one of the world's most beautiful gardens and a charming farmhouse where Claude Monet lived and worked; it's the setting that inspired many of his masterpieces.
You'll trace the footsteps of Joan of Arc in Rouen, and visit Normandy's American Military Cemetery and the World War II beaches. You'll also get to sample Normandy cuisine back on board one of Viking's new 168 guest longships, which dock at Viking's exclusive location a few steps from the Eiffel Tower in Paris.
Departing Paris in May 2022, prices start at $4,810pp / £3,545pp and include return flights to select UK airports, a standard stateroom, six guided tours, meals including wine, beer and soft drinks with lunch and dinner, WiFi and gratuities.
To find out more and to book visit Viking Cruises (opens in new tab) or call 0800 319 66 60.
Uniworld Brilliant Bordeaux
Cruising roundtrip from Bordeaux, this luxury seven-night itinerary enables you to uncover the legacy, heritage and breathtaking backdrops of Southwest France.
Sailing on SS Bon Voyage along three rivers – Garonne, Dordogne and Gironde – tailored experiences include a yoga class in the Blaye fortress, a Médoc vineyard bike ride or chateau wine tasting, a peek into the life of Toulouse Lautrec at his mother's home at Château Malromé and Verdelais (his final resting place), and a visit to the lively farmers' market of Libourne.
If you like the sound of travellng in your own bubble and are at leisure with overnight stopping points, there is also a self-drive option with included parking near the embarkation point for the duration of the cruise.
Departing Bordeaux on 27 March 2022, prices start at $3,391pp / £2,499pp and include all-inclusive accommodation, all excursions, gratuities, transfers and return flights from London.
To find out more and to book visit Uniworld (opens in new tab) or call 0808 168 9110.
TUI River Cruises European Icons
Sailing along the Rhine, Main and Danube waterways, this action-packed itinerary takes in five countries over 14 nights and ticks off many of the best European city breaks in one sailing. The 12 ports include Amsterdam, Cologne, Koblenz, Rudesheim, Nuremberg, Passau, Vienna and Budapest.
You'll take in picturesque landscapes, Bavarian towns and buzzing cities with cultural highlights including the architecture of Vienna and Cologne's gothic cathedral – night owls will also enjoy overnight stays in Amsterdam and Budapest.
New ship TUI Isla features two restaurants and two bars, as well as a top deck for sunbathing, lounging and activities. Accommodation ranges from standard cabins to French Balcony suites and single cabins for solos.
Departing Amsterdam on 8 April 2022, prices start at $2,455pp / £1,810pp, and includes return flights from London Heathrow, transfers, £240 excursion credit, tips and service charges.
To find out more and to book visit TUI River Cruises (opens in new tab) or call 0203 451 2688.
Emerald Cruises Danube Explorer
As the second-longest river in Europe, the popular Danube has so much to offer river cruisers.
During your eight-day cruise on board the contemporary ship Emerald Sun, you'll walk the cobblestone streets of medieval cities, enjoy tastings in Austria's wine-growing region and experience the fusion of old and new in musical Vienna and eclectic Budapest.
Active explorations include a guided hike around Passau, catching sight of the Mariahilf, a place of pilgrimage and St. Severin that dates back to the Ottonian dynasty, and a cycling tour through the vineyards and towns of the Wachau Valley.
Departing Passau on 10 April 2022, prices start at $2,096pp / £1,545pp and include return UK flights (or Eurostar on selected itineraries), transfers, tipping and gratuities, meals and a selection of excursions and experiences.
To find out more and to book visit Emerald Cruises (opens in new tab)
Riviera Travel The Seine, Paris & Normandy
Looking for a culture-packed river cruise but need to watch your budget?
Sailing on the elegant, 140-passenger MS Jane Austen, this affordable yet incredibly scenic eight-day cruise includes nine visits and tours along the stunning Seine River.
When you're not enjoying facilities including a splash pool, sun deck, putting green and wellness area, you'll be exploring ashore on guided tours of Paris; charming Honfleur and Rouen; plus visits to Caudebec, Les Andelys and Vernon – there's also excursions to Claude Monet's house, the D-Day Normandy Beaches and Bayeux Tapestry.
Departing Paris on 26 April 2022, prices start at $2,345pp / £1,729pp and include return flights or Eurostar, overseas transfers, self service tea and coffee, all meals and WiFi.
To find out more and to book visit Riviera Travel (opens in new tab) or call 01283 523431.
AmaWaterways Magna on the Danube
If you're looking for a sailing with plenty of personal space, the AmaMagna, which is twice the width of traditional European river ships, is well worth a look.
Visit Hungary, Slovakia, Austria and Germany on this specially curated seven-night Danube itinerary, with experiences including a cruise through Hungary's stunning Danube Bend, an excursion to Vienna's Schönbrunn Palace and Gardens - one of the best places to visit in Europe in December when the Christmas market is on - and a visit to the winemaking village of Spitz, with options to hike or bike through town as well as an exclusive wine tasting evening.
Suites are spacious with balconies – there's also two new dining venues including a family-style restaurant and Al Fresco Restaurant, the latter with outdoor seating. Additional facilities include a sun deck pool and whirlpool, and Zen Wellness Studio including a fitness centre, two massage rooms and a juice bar.
Departing Budapest on 27 March 2022, Fly Cruise packages start at $3,766pp / £2,777pp and include overseas transfers, immersive tours, WiFi, bottled water daily and unlimited drinks.
To find out more and to book visit AmaWaterways (opens in new tab) or call 0800 520 2250.
APT Touring European Gems
Want to travel deeper in Europe on a brand new Travelmarvel ship? On this 15-day cruise from Amsterdam to Budapest, you will discover Germany's well-preserved medieval towns and wind through the Rhine Gorge.
From the network of canals in Amsterdam to the elegance and splendour of Budapest, highlights include a night of Bavarian food, music and folk dancing; exploring World Heritage-listed Augustusburg Castle in Bruhl, and discovering the culture of Miltenberg on a visit to a local's home for coffee and cake.
This cruise also allows you to tailor your own shore excursions to allow a perfect balance of guided sightseeing and free time.
Departing Amsterdam on 3 June 2022, prices start at $4,063pp / £2,995pp (twin share) and include return scheduled flights from the UK, complimentary soft drinks, beer and local wine with lunch and dinner, excursions and local guides.
To find out more and to book visit APT Touring (opens in new tab) or call 0800 012 6683.
CroisiEurope Prague, Dresden & the Castles of Bohemia
To get up close and personal with some of Europe's most regal castles, try this seven-night cruise on the lesser-trodden Elbe and Vltava rivers.
Highlights include the Golden City of Prague; the castles of Bohemia –Konopiste Castle, a former hunting lodge of the Habsburgs, and the Renaissance-style Nelahozeves Castle with private artwork collection. You can also visit the birthplace of the famous Czech composer Antonin Dvorak, and spend a day in Dresden, also known as the Florence of the Elbe.
The 81-guest Elbe Princesse II is an authentic paddlewheel ship specially designed for navigating the low waters of the Elbe. It features open spaces, large picture windows and modern furnishings – head to the sun deck for the best, unobstructed views.
Departing Prague between April and November 2022, prices start at $2,133pp / £1,572pp and include WiFi, drinks with meals and at the bar, onboard activities, and travel assistance.
To find out more and to book visit CroisiEurope (opens in new tab)
A-ROSA Rhine Discovery Amsterdam and Rotterdam
Looking to cruise with the family? Then try the new ship A-ROSA Sena, which has been built with multigenerational holidays in mind and features family cabins – it also has impressive green credentials, thanks to a hybrid propulsion system which ensures silent, emission free port calls.
This seven-night sailing on the Northern Rhine visits Amsterdam and Rotterdam overnight, as well as Dordrecht and Antwerp.
One of the Netherlands' lesser known and oldest cities, Dordrecht is a new port of call for A-ROSA; excursions include a morning city tour, a trip to Efteling Theme Park and for the adventurous, a canoe trip through the Biesbosch Nature Reserve.
The port city of Antwerp is a must-see. Rich in art and culture, it's also a hub for foodies thanks to Belgian specialities including waffles and chocolates.
Departing Cologne on 3 September 2022, prices start at $2,373pp / £1,749pp and include return flights from London Heathrow on a premium all-inclusive basis, and transfers to and from the ship.
To find out more and to book visit Flexi Cruise Holidays (opens in new tab)or call 0344 984 0828.
HOW TO CHOOSE THE RIGHT EUROPEAN RIVER CRUISE FOR YOU
Whichever river you're cruising on, the ports are the key attraction, so prepare to pack in a lot of sightseeing! Ships usually dock close to landmark cities and towns, so in most cases you can simply walk to places of interest or join a tour.
But with so much choice, how on earth do you narrow it down to ensure you find the right European river cruise for you?
"Do you want an active holiday or a more relaxed pace?" asks Rupert Thomson, MD of Light Blue Travel. "The Rhine or Danube would suit those looking for a busy city stay itinerary with two or more ports of call a day, whereas the Douro offers a more relaxed pace with half or full days dedicated to just cruising."
If you're looking for a themed cruise, Thomson recommends the Rhone for wine, history and culture, or the Seine for a city central, cultural experience.
River ships can be every bit as luxurious as five-star boutique hotels. All cabins include a balcony or window so you can admire the ever-changing scenery from inside the ship. On the newer ships facilities are often first-class, with wellness facilities, smart pools and upscale dining.
Thomson suggests that you consider factors such as food, ship size, what's included and other priorities before booking.
If you're on a budget, you'll often find that more is included in river cruises. From flights and transfers to tours, full board and complimentary Wi-Fi, you'll pay upfront knowing there's no other hidden costs. There's also the option to opt for mini cruises over longer expeditions, which also keeps costs down.
"With so many different rivers and destinations, lines, ships and styles, choosing the right European river cruise will take a bit of planning and research," agrees Paul Melinis, managing director of APT.
"There are brands and ships that cater to every level of luxury and budget, so it's important to consider what is right for you. Choose an itinerary that reflects the pace at which you want to explore, and how much free time you wish to have for pursuing your own sightseeing and interests, or just to relax and enjoy the amenities on board."
Freelance travel writer & cruise expert
Award-winning journalist and editor Rebecca Barnes has written travel-related content for countless consumer titles and websites including The Telegraph, Daily Mail, Wanderlust, Tatler and Cruise Critic.
A former editor of World of Cruising magazine, Rebecca is also co-founder of the premium blogazine, Cruise Blondes – as a cruise specialist, Rebecca spends much of her time sailing the world's oceans and waterways and checking out the latest ships - all in the name of research, of course.