Holiday with the stars! 6 fabulous cruises with special celebrity guests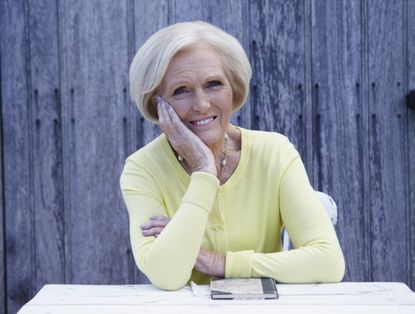 From the stars of Strictly to famous TV presenters, our new celebrity-led holidays will put a bit of glamour into your break...
1. Quiz Mary Berry about her baking tips
Mary Berry is one of our favourite foodie stars – and now we're giving you an exclusive opportunity to meet her on our fabulous new8-day cruise down the Dourothrough Portugal and Spain.Mary will join you for two days on theEmerald Radiance, a luxury ship custom-built to navigate the Douro. Your wonderful itinerary, which starts and ends in the ancient city of Porto, includes the chance to visit some of the region's best Port-producing wineries.
Enjoy a talk, Q&A and book signing with Mary Berry, plus she'll join you for a fabulous afternoon tea. Ask the "Queen of Cakes" her baking secrets, and enjoy a four-course gala dinner hosted by Mary on your final evening – a stunning end to this once-in-a-lifetime holiday.See the details
2. Taste the flavours of France with Raymond Blanc
World-renowned chef Raymond Blanc is the star of our new foodie cruise through Bordeaux, which departs this August. He'll join the 11-day cruise for two days of gastronomic delights, entertainingguests with an exclusive talk, a cooking demonstration, and a lavish gala dinner.
"There are few greater pleasures than drifting quietly along the rivers and canals, perhaps with a nice glass of wine in your hand," says Raymond. "I look forward to meeting you on board and toasting together to beautiful Bordeaux."
He'll also be joined by wine expert Susy Atkins, who'll introduce all of the region's best wines. Drinking world-class wines in sunny vineyards, under a cloudless sky with excellent company... now that sounds like our idea of heaven. See the details
More like this: Why travel is the secret to a great retirement
3. Eat authentic Italian cuisine with Aldo Zilli
He's best known for his successful Italian restaurants, countless recipe books and TV cooking shows, but next summer Aldo Zilli will also join Woman & Home's newfoodie cruise along the Amalfi Coast– sailing in the magnificent Royal Clipper tall ship.
On the 8-day voyage from Rome down to Sicily, you'll have the chance to meet Aldo, hear about his life and career, enjoy two cooking demonstrations and join him for a special lunch in Amalfi.
"I'm over the moon to be travelling to some of my favourite parts of Italy," says Aldo. "I'll be teaching and learning about the different foods this amazing region has to offer to us all."See the details
More like this:Escape your comfort zone! 10 adventurous holidays to take this year
4. Dance down the Danube with Vincent and Flavia
Our new Woman & HomeStrictly river cruise will get you dancing down the Danube through Hungary, Austria and Germany with ballroom stars Vincent Simone and Flavia Cacace - two of the most popular professional dancers ever to perform on Strictly Come Dancing.
Their charisma, chemistry and dazzling dancing has wowed audiences on BBC One and around the world - and now you have a unique chance to see them perform a one-off showcase in one of the Europe's greatest cities, Vienna.
The two waltzing wonders will also teach a private dance masterclass exclusively for guests, on board your luxurious ballroom dancing cruise. See the details
More like this: 14 fabulous spring mini breaks & hotel offers from £90pp
5. Cruise the Mediterranean with Victoria Hislop
If you love Victoria Hislop's best-selling book The Island, why not join her on our new Mediterranean cruise to Sicily, Malta, Crete and Santorini? Over 14 days you'll sail around Sicily and see the ancient temples at Segesta, before cruising across to Crete and meeting Victoria, who'll explain why she set her epic family saga on the beautiful deserted island of Spinalonga.
She will also give an exclusive talk and Q&A, and guide you around the island that has given her so much inspiration. "I am excited to be joining the trip," says Victoria, "as it takes readers to some of my favourite places in Crete and Athens, which have become like second homes to me in recent years."
There will also be other top experts on board, who will give fascinating talks on what to expect from the eight included excursions. See the details
More like this: 12 amazing photos of Corfu that will make you want to visit right now
6. Go bargain hunting with Tim Wonnacott
If you love to rifle through markets and antiques shops looking for treasures, who better to accompany you than former Bargain Hunt presenter and director of Sotheby's Tim Wonnacott?
He will join our new Antiques Adventure on the Rhone cruise, departing next June - giving you an entertaining look behind the scenes of real-world bargain hunting in the beautiful south of France.
Learn how to find antique treasures in two exclusive and fun talks from Tim, discover how to spot a masterpiece with his expert advice, and take Tim's Antiques Challenge at L'Isle-sur-la-Sorgue's famous flea market... He'll give his verdict on a selection of items bought by guests on their trip - and award prizes for the best buys, and a wooden spoon for the worst!