Escape Your Comfort Zone! 10 Adventurous Holidays To Take This Year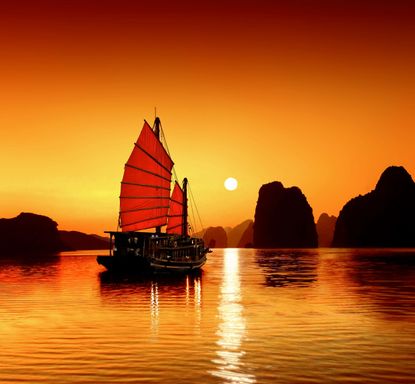 (Image credit: Alamy Stock Photo)
Want to explore beyond the beach on your travels? These fascinating cultural holidays will surprise and delight - and take you all over the world...
1. Vietnam's wonders & waterways
Vietnam is the jewel in South East Asia's crown - famous for its beautiful scenery, majestic rivers, rich history, French colonial architecture, extraordinary food and stunning beaches.
On a 13-day tour you'll explore Vietnam's most exciting cities: foodie heaven Hanoi, historical Hue, and lively Ho Chi Minh City. Then, relax on a serene overnight cruise around Halong Bay, and wander the Unesco-listed old town of Hoi An - whose market is the perfect place to haggle for local silks, paintings and tailormade clothes.
The Ultimate Tour of Vietnam with Woman & Home (opens in new tab): 13 days, from £2,195 (including accommodation, activities, breakfasts and flights)
2. Walk China's Great Wall
From the majestic Great Wall to the impossibly cute pandas of Chengdu, China is brimming with bucket list sights and experiences – but where to start? We've designed the 14-day Great Tour of China, an exclusive trip for Woman & Home readers, so you'll see all of these fantastic sights in great company!
You'll walk on the Great Wall, explore Beijing's Forbidden City, discover the Terracotta Warriors of Xian, and meet the giant pandas in Chengdu. The trip, which departs in September, also includes a three-night cruise on the Yangtze River, a mini break in Hong Kong, and a tai chi workshop at the Temple of Heaven in Beijing.
The Great Tour of China with Woman & Home: 16 days, from£3,490(including accommodation, most meals, activities and flights)
3. Explore southern India
Discover India's lush, tropical south on our exclusive new 13-day holiday - exploring the gorgeous coastline, coconut groves, fragrant spice gardens and picturesque tea plantations of this truly enchanting region.Highlights of our exclusive group holiday for Woman & Home readers will include guided tours of bustling Mumbai, the UNESCO Heritage Elephanta Caves and the cultural city of Cochin.
Along the way, you'll be staying in some of the region's finest hotels, including the luxury Trident Nariman Point in Mumbai, The Blackberry Hills Retreat and Spa, a boutique retreat nestled in the mountains, and Abad Turtle Beach, a beautiful resort featuring 28 premium cottages.
Jewels of Southern India with Woman & Home: 13 days, from£2,575(including accommodation, some meals, activities and flights)
More like this: 7 incredible cruise holidays to take this year
4. Treasures of Russia
Compare the cities of St Petersburg and Moscow on a well-paced, seven-night cultural holiday which includes a specially-organised, private tour of the Fabergé Museum at the Shuvalov Palace in St Petersburg.
Visit the Hermitage and St Isaac Cathedral before departing for Moscow on the high-speed, Sapsan train. A city tour of the capital, plus excursions to the Kremlin and to Novodevichy Convent - burial place of the musicians Shostakovich and Prokofiev - are further highlights.
Russian Capitals with Jules Verne (opens in new tab): 7 nights, from £1,175 (including accommodation, breakfast and flights)
5. Learn to cook in Sicily
If you've ever lusted after the rich pasta dishes, parmigiana bakes and juicy grills that Sicily is famed for, we have the ideal foodie trip for you. Woman & Home's food editor Jane Curran is passionate about great Italian cooking, so who better to accompany you on our new cooking holiday in Sicily (opens in new tab), which features hands-on lessons from expert local chefs?
You'll join Jane for an evening talk and Q&A about her career in food, and learn how to rustle up authentic dishes in a relaxed environment - before feasting on them of course! You'll stay in a historic Sicilian estate, complete with private terrace and pool, surrounded by beautiful views - and with no single supplement it's perfect for solo travellers.
Learn to Cook in Sicily with Woman & Home (opens in new tab): 5 days, from £1,299 (including accommodation, flights, all meals and drinks, and excursions)
6. 'Mozart Week' in Salzburg, Austria
Immerse yourself in the music of Salzburg's most famous composer on a five-day cultural holiday in the company of expert lecturer and musician, Professor John Irving.
Alongside a variety of talks, guided walks and performances, including a morning recital at the Mozarteum by eminent pianist, Daniel Barenboim, and an opera at the Haus für Mozart, there will be plenty of free time to explore this elegant Austrian city.
Mozart Week Festival with The Cultural Travel Company (opens in new tab): 5 days, from £1,645 (including accommodation, some meals and concert tickets. Flights not included)
More like this: 11 amazing things to do in China
7. India's Real Marigold Hotel
Follow in the footsteps of iconic actors Judi Dench, Bill Nighy and Maggie Smith, on a spectacular ten-day India holiday which includes an exclusive talk by Best Exotic Marigold Hotel author, Deborah Moggach.
Have high tea at Castle Kanota, film location for the Viceroy Club and stay at Ravla Khempur, location for the Exotic Marigold Hotel itself. Tour Jaipur and Udaipur, and watch the sunset at the Taj Mahal.
The Real Marigold Hotel Tour of India with Woman & Home (opens in new tab): 10 days, from £1,780 (including accommodation and most meals. Flights not included)
8. Amazing Andalucía
Explore the major cities in this fascinating Spanish region on an 11-day cultural holiday accompanied by author, lecturer and Andalucia specialist Dr Philippa Joseph. Focusing on Moorish sites, gardens, palaces and fine art collections, itinerary highlights include Grenada's thirteenth-century Alhambra, Córdoba's La Mesquita mosque and the Alcázar Palace in Seville.
The Picasso Museum and recently-opened Centre Pompidou in Málaga also feature on the itinerary, with a detour to the small Renaissance towns of Úbeda and Baeza.
Essential Andalucía with Martin Randall Travel (opens in new tab): 11 days, from £3,230 (including accommodation, some meals and flights)
9. Hands-on in Japan
From watching traditional live Japanese sports to learning about culinary arts and sampling distinctive food, discoverJapan's rich cultural heritage on a new 14-night group tour with Inside Japan.
You'll discover the country's customs first hand, learning how to make traditional pickles at the Daio Wasabi farm, trying your hand at papermaking and taiko drumming, plus experiencing a sumo tournament in Tokyo. The trip includes stays in unusual accommodation, including a traditional ryokan inn and one of Japan's iconic capsule hotels.
Get Hands On with Inside Japan: 14 nights, from £3,950 (including accommodation, some meals, activities and 14-day rail pass)
10. Intrepid South America
Combine the vibrant countries of Brazil, Argentina and Chile on an unforgettable 11-day cultural holiday which starts in Santiago and finishes in Rio de Janeiro. Included on the itinerary is a private city tour of Buenos Aires, with a visit to its famous Teatro Colon, and a chance to see the spectacular Iguassu Falls.
Exclusive insights include a meeting with an indigenous Guarani tribe, visits to family-run wineries, a breathtaking tango display, and a lavish Michelin-starred dinner.
'Classic South America' with Luxury Gold Vacations: 11 days, from £4,294 (including accommodation and some meals. Flights not included)
All images from Alamy