11 amazing things to do and see in China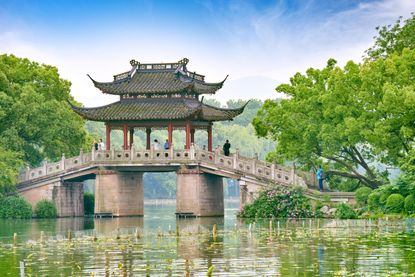 From temple hopping and panda spotting to walking the mighty Great Wall - how many of these amazing things to do in China have you ticked off?
1. Be inspired by Hangzhou
The ethereal beauty of Hangzhou's West Lake has been inspiring China's poets, artists, royalty and travellers for over a millennia. Marco Polo described it thus: 'In heaven there is paradise / On earth, Suzhou and Hangzhou.'
Just one-hour from Shanghai on the high-speed train, Hangzhou feels a world apart from the big city. Here, little wooden boats float across limpid waters dipping in and out of curtains of willow leaves, while couples stroll hand-in-hand along the prom. Hire a bicycle and circle the lake at dawn to see the mist rising on the water.
2. Walk the Great Wall of China
Expect head-to-toe goosebumps when you first lay eyes on the Great Wall of China (opens in new tab); its sinuous spine dancing across cresting mountaintops into the far distance is truly one of the most extraordinary sights you'll ever see.
Stretching over some 5,500 miles and four different countries - China, Mongolia, North Korea and Russia - the easiest sections to view are a few hour's drive from Beijing. Aim for Mutianyu, where crowds are thinner (especially before 10am) and you can take a ski-lift up, walk along The Wall and then toboggan back down.
Experience China's incredible sights for yourself on our 14-day Great Tour of China & Hong Kong holiday - designed exclusively for Woman & Home readers!See the details (opens in new tab)
3. Discover Beijing's Forbidden City
Built in the early 15th century and sprawling over some 78 hectares in the centre of Beijing, this is architecture as power. Passing through its looming gates, visitors are met with enormous courtyards (some capable of holding up to 100,000 people) flanked by curvaceous marble bridges, broad imperial carriageways, serene cypress gardens and vast ceremonial halls and residences.
Collections include everything from the Emperor's sedan chair to ancient silk screens, royal jewellery collections and scientific instruments. It takes at least a full day just to cover the highlights; factor in two if you're a history buff.
4. Soak up the sun in Sanya
With its jungle-covered mountains, white-sand beaches, coral reefs and red hot summers, the island resort of Sanya is ardently selling itself as the 'Hawaii of China'. And while that may be somewhat of a stretch (most tourists still arrive on low-cost package holidays from the Mainland), Asia's jet set are increasingly being drawn to its sugary shores.
Tempted in no small part by a clutch of new luxury resorts, including an Ian Schrager-designed Edition complete with infinity pools and ocean views, an ultra-luxurious outpost of One and Only and £1.3billion Atlantis hotel.
5. Party in Shanghai
Once known as the Pearl of the Orient and the Paris of the East, Shanghai has risen phoenix-like from ashes to reclaim its title as one of the world's most glamorous cities. Here, lines of candy-coloured Ferraris purr down the street as you crane your neck to glimpse the top of the newly-opened Shanghai Tower, 125-storeys of twisting glass and steel rocketing into the clouds.
On the Bund, brides in red princess dresses pose for pictures on the steps of art deco buildings, while F1 drivers and celebrities party at chic rooftop bars. It's a go-glam or go-home kind of town, but brilliant fun with it.
6. Meet Chengdu's pandas
The capital of Sichuan province, Chengdu boasts ancient temples, verdant national parks and a sizzling culinary scene - but it's the city's adorable panda population that everyone really comes to see.
Around 1,600 of the black and white bears are thought to roam the surrounding mountains but the elusive animals are nigh-on impossible to see. Instead, make your way to the leafy Chengdu Research Base of Giant Panda Breeding, where visitors can learn about animal conservation, as well as observing nearly 100 fluffy panda bears lolling in bamboo groves.
Experience China's incredible sights for yourself on our 14-day Great Tour of China & Hong Kong holiday - designed exclusively for Woman & Home readers!See the details (opens in new tab)
7. Zip line through Guilin's forests
Guilin and the surrounding southern Guangxi province countryside is the place for quintessential Chinese watercolour scenery: towering limestone karsks mirrored in flat-calm lakes, meandering waterways running into yawning caves, jade-green rice paddies tumbling down the mountainside.
Adventurous types can go rock-climbing, spill through swirling rivers in a rubber dingy or zip-line through the forest. Less-strenuous activities include river cruises, photography tours and soul-soothing hill walks.
More like this: A first timer's guide to visiting China (opens in new tab)
8. Face the Terracotta Army
In 1974, a farmer stuck upon what was to be one of the world's greatest archeological discoveries; a life-sized battle-ready army fashioned from clay. Over forty years on, some 8,000 soldiers, horses and chariots, each with their own individual features, have been excavated, a fraction of the total number expected to be discovered.
Millions visit the sight each year so it's worth hiring a guide to help navigate you to the best viewing spots.
More like this:Amazing cultural tours that will change how you see the world (opens in new tab)
9. Cruise the Three Gorges
The third-longest river in the world, after the Amazon and the Nile, the Yangtze River (opens in new tab) stretches for nearly 4,000 miles, rising in the Tanggula Mountains before powering through seven provinces and out to the East China Sea.
Far and away the most-scenic section is that which flows through the Three Gorges, a UNESCO-protected scenic spot made up of strange peaks, peculiar rock formations and fantastical karsks laced with rivers and waterfalls. Take a cruise for at least four nights to get to its most magical corners - looking out for rare Chinese alligators, finless porpoise and pink-tinged Baiji dolphins.
Experience China's incredible sights for yourself on our 14-day Great Tour of China trip - designed exclusively for Woman & Home readers. See the details (opens in new tab)
10. Chill at Harbin's Ice and Snow Festival
Who doesn't want to frolic in a snowy wonderland which lights up in a blaze of psychedelic colours at night? Located in China's nippy northeastern Heilongjiang province, Harbin attracts dozens of sculptures from all over the world who come to compete in its annual festival in the process transforming the landscape into a wintry wonderland of mythical animals, fairytale palaces and a swimming pool cut from a frozen river for the chill-seekers.
Wrap up warm: temperatures during festival-time regularly dip around the minus 20-degrees Celsius mark.
11. Temple hopping in Yunnan
Snow-topped mountains, steaming jungle, sapphire blue lakes, 1,000-year-old Buddhist temples - and home to 28 distinct ethnic groups - Yunnan is the place for a great big cultural hit.
Top spots include the pretty regional capital Kunming, the temple-strewn towns of Dali and Lijiang, the emerald-green near-vertical rice terraces of Yuanyang, the knee-trembling Tiger Leaping Gorge and the tropical rainforests, extraordinary wildlife and jewel-like temples of Xishuangbanna, on the border with Laos and Myanmar.