The secret to a great retirement? Travel! The 'Best Exotic Marigold Hotel' approach to ageing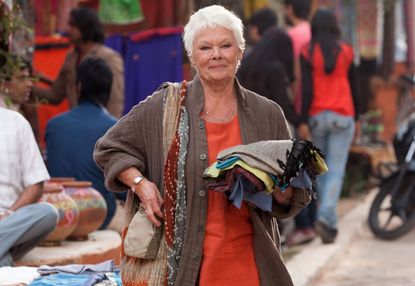 woman&home newsletter
Sign up to our free daily email for the latest royal and entertainment news, interesting opinion, expert advice on styling and beauty trends, and no-nonsense guides to the health and wellness questions you want answered.
Thank you for signing up to . You will receive a verification email shortly.
There was a problem. Please refresh the page and try again.
It's impossible to watch The Best Exotic Marigold Hotel without falling in love with India – and wondering what it would be like to spice up your retirement in far-flung lands. But would "outsourcing" your golden years in an Indian retirement home work in real life? Author Deborah Moggach, who wrote the original Best Exotic Marigold Hotel novel, thinks it would – so why aren't we all giving it a go?
We caught up with the best-selling novelist to find out what inspired her idea, how she felt seeing it on screen, and why she thinks India is the perfect retirement retreat...
How did you come up with the Best Exotic Marigold Hotel idea?
I was thinking about what will happen when we all get older - we're living so much longer now, so who will look after us? I thought, we outsource everything to different countries these days - so why not outsource the elderly?
It's not such a bonkers idea - in fact, it makes complete sense. India is unbelievably cheap, it's nice and warm, so very good for arthritic joints. English is spoken everywhere, and they have a really lovely attitude to old people. They don't send their grandparents to some ghastly retirement home, because they still think they should be part of the family. And jolly useful we are too! They respect the elderly - they call you 'uncle' and 'aunty' as a mark of respect.
Sounds like a great plan to us…
I thought it was a good idea, so I made up this hotel in India called Dunroamin. The book was originally calledThese Foolish Things, and it's quite different from the film. It's run by this shady entrepreneur, and he comes up with this idea to open it up as a 'Sunset Home'. He lures these unsuspecting British pensioners to go. I made up 6 or 7 people; I wanted to send them out to India, and see if in their next phase of life India would have a transformative effect on them.
And it did! Do you think it would be as rejuvenating in real life?
Why not? Novelists have very curious minds - we look at things laterally, developing all kinds of ideas. It's actually quite an entrepreneurial way of thinking, like Richard Branson does - but of course we don't make anything like so much money!
Want to experience the Best Exotic Marigold Hotel for yourself? Our exclusive Marigold Hotel tour of India (opens in new tab) includes a night at the Ravla Khempur hotel, highlights such as the Taj Mahal, Jaipur and the lakes of Udaipur, and the chance to meet author Deborah Moggach – and lots more! See the details (opens in new tab)
TheRavla Khempur hotel (above) starred as the Best Exotic Marigold Hotel in the film
It sounds like the ultimate anti-ageing plan...
If our life expectancy and our ways of life are changing so fast, this last phase of life can be years long. What can you do with it? Are we up for adventure - can we enjoy this next chapter of life?
I think the film was successful because it showed us that you can do a film with very 'grown up' actors and it doesn't have to be all about dying. It can actually be all about life! We're just the same people we always have been: the same loves, hates, jealousies, joys - we're just more wrinkly. And of course the wonderful cast and exotic locations don't hurt too...
More like this: A first timer's guide to visiting India
You clearly love India - why is it so special to you?
There is such a link between Indian and British cultures that when I go there I feel strangely at home. Things are very familiar, despite feeling very exotic and far flung, because our two countries have been meshed for so long. It's a very interesting feeling.
I lived in Pakistan in the 1970s, and I went to India a couple of times then as a tourist. I have, of course, been back to India a fair few times since then...
The movie cast was so star-studded. Did you get to choose who played your characters?
The rights to the film were immediately snapped up when I wrote the book. And as soon as Judi Dench was on board, the other actors signed up too. When you get to be that successful, at that stage of your life, all you want is to have a hoot with your mates! And what could be more hootish than going out to India, shooting a movie together?
The book is set in Bangalore, but the film is set in Jaipur - why was that?
If you go to Jaipur you'll see why. It's the most gorgeous place you'll see in your entire life - lots of elephants and loveliness. It's all painted a beautiful pink colour, and looks utterly magical.
But the Ravla Khempur hotel - which was transformed into the Best Exotic Marigold Hotel for the film - is actually nowhere near Jaipur: it's in the countryside, an hour and a half from Udaipur. India's city streets are rammed with people and are very difficult to film in, so they transformed the outside of the hotel completely, and created their very own Jaipur.
Deborah Moggach (above) wrote the original Best Exotic Marigold Hotel novel
In the film, the hotel looks enchanting - what's it like in real life?
It's ancient and utterly beautiful. Before they started filming, the hotel was rather shabby and on its uppers - quite like the hotel in the book! But for the film they smartened it up, and built three bedrooms on the roof.
You can actually stay there now - and if you're lucky, you might get one of the bedrooms that were in the film. The characters played by Celia [Imrie], Judi and Ronald [Pickup] got bedrooms on the roof, and Tom Wilkinson's character's room is still just as it looks in the film. They were filming there for months, and even laid a tarmac road to the hotel and built a city bazaar right next to it - in the middle of the Rajasthani countryside!
More like this: The ultimate India bucket list: 11 incredible places to visit
Want to experience the Best Exotic Marigold Hotel for yourself? Our exclusive Marigold Hotel tour of India (opens in new tab) includes a night at the Ravla Khempur hotel, highlights such as the Taj Mahal, Jaipur and the lakes of Udaipur, and the chance to meet author Deborah Moggach – and lots more! See the details (opens in new tab)
Did you meet Judi and Co?
Yes - I went out for a few days to watch the filming. When I arrived at the set, the extras were all there: some were Rajasthani tribesmen, sitting there with their camels, and some were young bloods from Bombay who'd been flown in to represent the young people of Jaipur - all iPhones, shades, very cool. As I walked through them all, there was lovely Bill Nighy chatting to the extras - which actors rarely do. And there were the others, sitting under a parasol, watching the action between takes. They got to their feet, with their joints cracking like pistons, and came running up to hug me.
They said thank you - that they wouldn't have all been there if it wasn't for the book - which was so kind of them to say. It was music to my ears, because people forget that actually somebody has written the book!
Making a film is such a huge adventure, and fraught with a squillion potential mishaps and disaster - but of course it was a huge success, and none of us would have been there if I hadn't sat there making up Evelyn in my little room in North London. Isn't life funny?
Amy Hunt is an experienced digital journalist specialising in homes, interiors and hobbies. She began her career working as the features assistant at woman&home magazine, before moving over to the digital side of the brand where she eventually became the Lifestyle Editor up until January 2022. Amy won the Digital Journalist of the Year award at the AOP Awards in 2019 for her work on womanandhome.com.