9 of the best foodie cities in France – and what to eat and drink while you're there
Take a trip through the best foodie cities in France and learn what dishes, desserts, and drinks you should enjoy whilst you're there...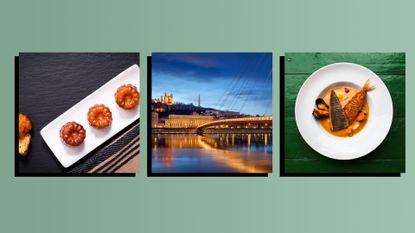 (Image credit: Future | Getty)
With France considered by many to be the gastronomic capital of the world, it's no surprise that it boasts so many foodie cities to eat and drink your way around. But there are only so many vacation days a year, so where do you start? This is our edit of the absolute best foodie cities in France and what to eat while you're there...
Each region has its own distinctive cuisine, from the hearty dishes of northern Lille and Normandy to the sun-soaked specialties of the Côte d'Azur. Combined with some of the world's best wines and a range of aperitifs and digestifs to sample, France offers up a veritable feast for gastronomes.
Here we take you on a trip through the country's best cities for foodies and what dishes, desserts, and drinks you should enjoy whilst you're there.
The 9 best foodie cities in France
1. Paris
France's capital might lack its own regional specialties but there's a reason it always appears on the lists of best places to visit in Europe: this is where to come to soak up Parisian café culture, dine in classic French bistros, and splash out on some of the world's most prestigious Michelin star restaurants.
The regional specialties...
The city also stands out for its bakeries and their excellent baguettes, croissants, and pains au chocolats, as well as its pretty patisseries and salons de thés (tea rooms) for indulging in le goûter, the French equivalent of afternoon tea. For an authentic Parisian experience make sure to spend at least one evening in a cozy bistro and fill up on classic French dishes such as steak-frites, onion soup, and croque monsieur.
What to order in Paris...
Bread and pastries
Le goûter (afternoon tea)
Steak-frites
Onion soup
Croque Monsieur
2. Marseille
The vibrant port city of Marseille is one of France's most exciting culinary destinations. A new generation of young and creative chefs are putting their stamp on the city with contemporary dishes that champion local, sustainable, and organic produce.
The regional specialties...
Despite the influx of exciting modern chefs, traditional foods are still a firm favorite here. For example, every Candlemas (a Christian festival held in February, which makes Marseille a good destination if you're looking for inspiration for where to go in February), locals flock to bakeries to buy navettes, a boat-shaped biscuit scented with orange blossom which can be enjoyed all year round. The city is also famous for pastis, the cloudy aniseed-flavored aperitif which is best enjoyed on a terrace under the Mediterranean sun. And you couldn't talk about Marseille cuisine without mentioning bouillabaisse, the classic seafood soup was apparently invented here. You'll see it on menus everywhere, but for a good bowl avoid the tourist districts, expect to pay dearly, and in some cases, you may have to order it a day or more in advance. Finally seek out aioli, which is a delight to drip frites, fish, and vegetables in.
What to order in Marseille...
Navettes
Bouillabaisse
Aioli
Pastis
3. Lyon
Often touted by critics as being the true capital of French cuisine, Lyon is perhaps the best foodie city in the whole of France. The city is forever associated with the celebrated late Paul Bocuse, who opened numerous restaurants in Lyon plus a much-lauded Michelin star address just outside. Even today there is still a famed culinary school and a huge food market named in his honor.
The regional specialties...
The city is home to the French classic coq au vin, has its own signature salad named salade lyonnaise, which combines lardons, croutons, and a poached egg, and if you're feeling more adventurous then try escargots à la Bourguignonne, snails cooked with a garlic butter and parsley sauce.
What to order in Lyon...
Coq au vin
Salade lyonnaise
Escargots à la Bourguignonne
4. Lille
Lille is one of the most underrated European city breaks. And like Marseille, Lille offers foodies a mix of bistros serving traditional French dishes and a collection of hip new restaurants putting their contemporary take on local cuisine.
The regional specialties...
The most famous dish to try here is Le Welsh, which perhaps surprisingly is inspired by Welsh Rarebit and is composed of toast topped with ham, a spread of mustard, and covered in a sauce of melted cheddar and beer. Thanks to its close proximity to Belgian, the Flemish stew carbonnade flamande, made of beef, onion, beer, thyme, juniper berries, and mustard, is another popular dish in Lille which is well suited to its northern weather. For something sweet look out for waffles and merveilleux, a delicate cake of meringue and cream dusted with shavings of chocolate, crushed praline, or crystallized meringue.
What to order in Lille...
Le Welsh
Carbonnade flamande
Waffles
Merveilleux
5. Strasbourg
Sitting right on the border of Germany in the region of Alsace, Strasbourg has a distinctive Franco-Germanic cuisine that stands apart from the other best foodie cities in France. This means it's just as interesting a culinary destination in winter, if you're wondering where to go in December, because it has one of the best Christmas markets in Europe.
The regional specialties...
The best way to start your day is with coffee and a kougelhopf, a brioche-style bun with dried fruit and almonds, and come hungry for famous dishes such as spätzle, a comforting dense pasta made with fresh eggs and often topped with local Muster cheese, and choucroute garnie, a generous plate of hot choucroute (sauerkraut) served with local sausages, thick cuts of pork, and potatoes. An ever so slightly lighter dish is flammekueche, or tarte flambée in French, which is a pizza-style base topped with crème fraîche, onions, and lardon before being cooked in a wood-fired oven, perfect served with a crisp glass of local Reisling.
What to order in Strasbourg...
Kougelhopf
Spätzle
Muster cheese
Choucroute garnie
Flammekueche
Reisling
6. Nice
Located on the sunny Côte d'Azur, Nice's balmy weather and Mediterranean location have given its cuisine a distinctive summery feel.
The regional specialties...
The city's most famous dish is Salade Niçoise, but there is so much more here to try on a visit to the Riviera. Other specialties include pissaladière, a cross between a savory tart and a pizza often topped with caramelized onions, Niçoise olives, and anchovies, or socca, a large chickpea "pancake" sold at Nice's central market, Cours Saleya. Socca is best enjoyed hot out of the pan and sprinkled with black pepper.
What to order in Nice...
Salade Niçoise
Pissaladière
Socca
7. Saint-Malo
Located in the northern region of Brittany, the charming port town of Saint-Malo is one of France's most picturesque cities and the best place to experience the region's unique cuisine if your tour of the best foodie cities in France reaches this far north.
The regional specialties...
Local specialties to try include the Cancale oysters, which are some of the most prized in the whole of France, savory buckwheat galettes topped with ham, cheese, and egg and best enjoyed with local cider, and sweet crêpes served with classic combinations such as Nutella and banana, or, caramel au beurre salé (salted butter caramel). Don't even try to resist dessert when Kouign-amann is on the menu, a dense buttery dough topped with caramelized sugar.
What to order in Saint-Malo...
Cancale oysters
Buckwheat galettes topped with ham, cheese, and egg
Sweet crêpes
Kouign-amann
Local cider
8. Bordeaux
Bordeaux might be France's most famous wine region but it also has a strong history of gastronomy making it one of the best cities for foodies as well as wine lovers.
The regional specialties...
The city's specialities tend to be on the hearty side, think L'entrecôte bordelaise, or steak served with the traditional Bordelaise sauce of chopped shallots cooked in red wine, and Lamprey à la bordelaise, a slowly simmered stew of lamprey fish with leeks, cured ham, and of course, more red wine. Don't leave without trying canelés, the region's most famous pastry, instantly recognisable thanks to its golden caramelised crust which hides a soft, slightly chewy centre flavour with rum and vanilla.
What to order in Bordeaux...
L'entrecôte bordelaise
Lamprey à la bordelaise
Canelés
Red wine
9. Honfleur
Technically it might be a quaint fishing village rather than one of the best foodie cities in France, but even the smallest places in Normandy have a strong gastronomic scene thanks to the region's rich food culture. Unsurprisingly fish and seafood make popular dishes in Honfleur, which sits around a picturesque port on the Seine estuary. This place is small but serves mighty food, and has a wonderful weekly food market.
The regional specialties...
Look out for local Normandy cheeses on the menu such as Camembert, Pont-l'Évêque, Livarot, and Neufchâtel. The region is probably most famous for its apples which make the centerpiece of specialties such as Tarte Normande, a version of apple tart, and Crêpes Normande, Normandy's take on the traditional Brittany crêpe served with cooked apples. Still on the apple theme, the drink to order here is the apple-based digestive Calvados, named after the region that Honfleur sits in. You might even have it served to you as a Trou Normand, a shot of calvados poured over tangy apple sorbet and served in between meals to help aid digestion.
What to order in Honfleur...
Normandy cheeses: Camembert, Pont-l'Évêque, Livarot, and Neufchâtel
Tarte Normande
Crêpes Normande
Calvados
Ready to start booking your tour of the best foodie cities in France? Don't forget to read our guide to how to book a cheap holiday first.