Best places to visit in February in the USA, Europe and beyond
Whether you want a tropical paradise or pristine snow, these are the best places to visit in February across the world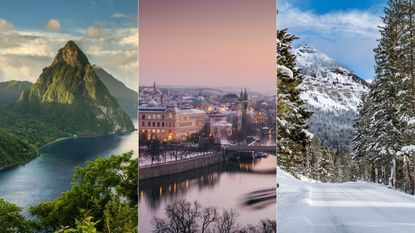 (Image credit: Getty Images)
The best places to visit in February may surprise you. It's actually a great time of year for a getaway—and there are some seriously stunning places around the world where you can have a vacation to remember.
Whether you want to warm up with a tropical break in the sun or are in the mood for a late winter snow holiday, we've found the places that are at their best for a visit in February.
Although there are an increasing number of options for your February break now that the world is starting to open up, Covid-related travel restrictions are still in place around the world, with some countries enforcing stricter entry requirements than others.
Wherever you choose to go, be sure to check the latest travel requirements before you book and before you go, as these will vary depending on the destination and may be subject to change.
Best places to visit in February in the USA
1. Palm Springs, California
Best February holiday for: Combining outdoor adventures with chic city living
There are plenty of incredible things to do in California, but parts of the state can get pretty chilly in February. Not so Palm Springs. In fact, with an average daily high of 75.2°F/24°C, you'll avoid the scorching temperatures of the summer months (when it can hit highs of 104°F/40°C plus) but you'll still enjoy plenty of sun, and typically very little rainfall.
The pleasant temperature means that as well as simply blissing out by the hotel pool and enjoying the vibrant local dining scene, you'll be able to do some outdoor activities without breaking (much of) a sweat.
Hiking is particularly popular here, with some amazing trails to explore in the nearby mountain foothills. The Wilderness Loop is a great option if you're travelling with kids, as it's a relatively easy route, and it's situated in the Living Desert Zoo.
The iconic Joshua Tree National Park is less than an hour's drive from Palm Springs and is well worth a visit. If you want to stay overnight, make plans well in advance as the campsites book up quickly, and to tackle the harder trails, pack your hiking boots.
Top tip: For a once-in-a-lifetime experience, book the Palm Springs Aerial Tramway, which takes you more than 8,500 feet from the desert up into the mountains, where you can build a snowman during the winter months!
2. Key West, Florida
Best February holiday for: A tropical holiday with beautiful beaches
Key West is a classic USA destination for winter sun. The chief draw, of course, is the idyllic beaches.
Some of the best can be found in the nearby island clusters, which are reached by ferry, but there are also some great options on Key West itself, including the laidback Higgs Beach in the Old Town.
Travelling with kids? It's easy to plan a family holiday in Florida that all ages will enjoy, and that's particularly true in Key West, which has plenty to keep children amused, from water sports to dolphin safaris.
Get your cultural fix at The Hemingway Home and Museum and the Truman Little White House, and we'd recommend heading to the Key West Lighthouse for amazing views.
An evening stroll around atmospheric Mallory Square is a must, with street food vendors and entertainers adding to the party vibe.
Top tip: Key West is one of the best places to visit in January and February and is a very popular destination over these months as a result. So, make sure you book sought-after restaurants (such as Pierre's (opens in new tab)) before you go.
3. Yellowstone National Park, Wyoming
Best February holiday for: Embracing winter snow and escaping the crowds
Yellowstone is one of the most-visited national parks in the USA—for good reason. This vast wilderness area is home to richly diverse wildlife, making it a great nature holiday, and spectacular scenery, including iconic geyser Old Faithful.
It's so popular in summer that the US government is discussing National Park Service restrictions. If you want to beat the crowds, February is a great month to visit. Yes, it will be seriously cold, with daytime highs of 3°C. However, it's undeniably beautiful in winter, as steaming hot springs contrast with pristine snow. Visit in May for a slightly warmer experience without the summer crowds.
It's also a good spot for winter activities, from snow shoeing to ice skating and cross-country skiing. You can book photo safaris with expert guides, without too many other tourists ruining your shot.
Top tip: Book a tour in a heated snowcoach if you don't want to spend too much time in the cold.
See the official latest travel advice for the USA (opens in new tab) here.
Best places to visit in February in Europe
4. Prague, Czech Republic
Best February holiday for: A wintry city break full of cultural highlights
Prague is popular year-round destination for European city breaks, but it's one of those cities that looks especially enchanting in the winter.
Even if you don't actually get snow while you're there – there are an average of 12 days of precipitation in February so travel in December if you want a guaranteed snow-covered scene – there's just something magical about the way the Gothic and Baroque architecture looks in the moody light of winter.
It's a great city for strolling, with beauty around every corner, from the Old Town Square to Charles Bridge. A guided walking tour is highly recommended to really get into the city's rich history.
When you want to warm up, there are plenty of cosy cafes and restaurants, plus some glamorous bars for romantic winter evenings.
Top tip: Prague's cobblestone streets can be slippery in icy weather, so make sure you pack footwear with a good grip for your urban adventuring.
See the official latest travel advice for the Czech Republic (opens in new tab) here.
5. Paphos, Cyprus
Best February holiday for: A laidback trip with culinary delights
Don't expect tropical temperatures in Cyprus at this time of year—the average high is 17°C. However, February is still a good time to visit if you're looking for pleasant winter sun.
Even if you're unlikely to be sunbathing in these temperatures, there's still much to enjoy in and around this Mediterranean city.
Explore the Paphos Archaeological Park, with ruins dating back all the way back to ancient Greek and Roman times. The Tombs of the Kings, a series of underground chambers, is a must-see.
If you're particularly keen on foodie adventures, head to nearby villages to enjoy traditional Cypriot cuisine. There are also some stunning vineyards in the area where you can sample the local wine.
Top tip: Take a day trip to the nearby Troodos Mountains—you'll need some extra layers as it's chillier at altitude.
See the official latest travel advice for Cyprus (opens in new tab) here.
6. Barcelona, Spain
Best February holiday for: Cultural exploration without the crowds
Barcelona is one of the best places to visit in Europe, full of cultural gems, but these can be hard to appreciate in peak season, when the city is flooded with visitors and the mercury is soaring. For a quieter visit, February is ideal, with an average high of 59°F/15°C.
Classic Barcelona sights include the Gaudí-designed Sagrada Familia and Parc Güell, bustling shopping street La Rambla, the Picasso Museum and the magical Gothic Quarter.
It's also worth a visit to La Boqueria market. Even if you're not buying food, it's a great spot for soaking up the city's atmosphere.
Top tip: There are some fabulous beachfront restaurants where you can take a break from sightseeing and enjoy seafood with a view.
See the official latest travel advice for Spain (opens in new tab) here.
Best places to go in February for sun
7. Jamaica
Best February holiday for: A sunny escape that includes relaxation and adventure
If you're living somewhere with cold winter weather, an average high of 25°C probably sounds pretty good for an escape from the chill. Step forward Jamaica, one of the best February places to visit for sunseekers.
This Caribbean island nation is a glorious destination to shake off the winter blues, with verdant scenery, beautiful beaches and sparkling sea.
It would be tempting to spend your days in blissful relaxation on a sun lounger with a rum cocktail in hand. But it's definitely worth making time to explore the sights, including the Bob Marley Museum and Dunn's River Falls.
In the evening, take in the sunset from Jamaican institution Rick's Cafe, the island's most famous bar and restaurant.
Top tip: For a real away-from-it-all vibe, check into Rockhouse (opens in new tab), a boutique hotel with thatched rooms styled to complement the natural surroundings.
See the official latest travel advice for Jamaica (opens in new tab) here.
8. The Maldives

Best February holiday for: Romantic indulgence in a tropical idyll

Looking for a winter paradise? The Maldives may just fit the bill, with powder-soft sands, crystal-clear waters and a host of luxury private-island resorts where you can truly unwind.
February is the driest month in The Maldives, and temperatures remain in the high 20s, so you can take full advantage of the idyllic surroundings.
As you'd expect from a destination synonymous with honeymoons, there are plenty of adults-only resorts. However, you'll also find some lovely, family-friendly places to stay, with lots of activities to suit travelers of all ages.
Top tip: The Maldives has famously clear waters, making it an excellent diving spot, so if you're thinking of learning to scuba dive, book a resort with a PADI centre.
See the official latest travel advice for The Maldives (opens in new tab) here.
9. St Lucia
Best February holiday for: A sunny escape with as much —or as little—as you want to do

St Lucia can be seriously humid in the summer months, but February is beautifully dry and clear, with highs of 84.2°F/29°C.
This is easily one of the most romantic destinations in the world, with lush green forested hills surrounding serene, sandy bays.
The Pitons, two volcanic cones, are the island's most iconic site, and if you want to experience them up close, you can book a private guided hike. Do this early in the morning to avoid the sun at its hottest!
St Lucia produces cocoa beans for chocolate, and it's worth visiting a farm to find out more about the process—and to have a tasting, of course.
Top tip: There are plenty of luxurious resorts in St Lucia, but it's worth trying to get at least a couple of nights at Jade Mountain (opens in new tab), with in-room infinity pools overlooking the coastline.
See the official latest travel advice for St Lucia (opens in new tab) here.