The best places to travel in August in the USA, Europe and beyond
The best places to travel in August provide balmy temperatures, endless sun and plenty of adventure and perhaps even the chance to escape the peak season crowds...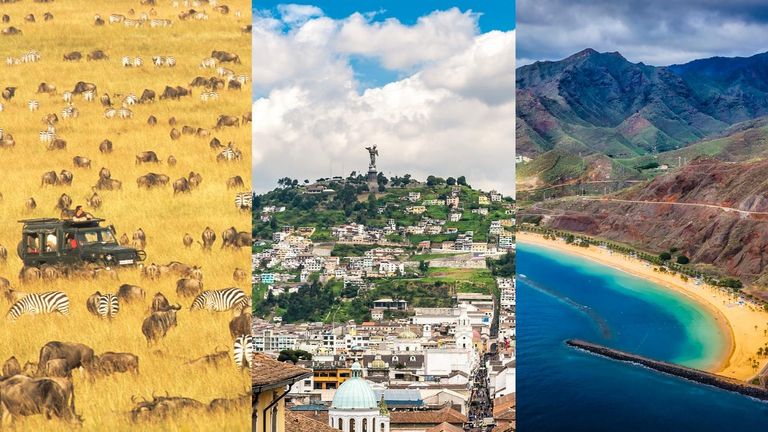 (Image credit: Getty Images)
Our pick of the best places to travel in August feature a range of destinations with each offering something remarkable; whether it's the opportunity to witness a natural phenomenon or explore a perfectly preserved medieval town.
Spend your late summer days tanning on the sun-drenched beaches of Tenerife, hiking through the lush backcountry of Montana's Glacier National Park, or indulging in art performances while on a European city break.
Whatever your ideal August looks like to you, you'll likely find those experiences in these destinations. Though peak travel season often means you'll be contending with crowds at the most popular attractions (and may struggle to get the best holiday deals), some pre-planning can help you find the solitude you crave.
Spanning the globe from tiny islands in the Pacific Northwest to the grassy plains of Kenya, here are our picks for the best places to visit in August.
Best places to visit in August in the USA
San Juan Islands, Washington
Best August holiday for: A remote getaway
Average high temperature in August: 22°C
Made up of over 170 picturesque islands and islets, the San Juan Islands off the northwest coast of Washington State provide plenty of reasons to visit during August. Three of the most popular islands, San Juan Island, Orcas Island and Lopez Island, can be easily accessed by one of the Washington State Ferries from Anacortes.
Each of these main islands boasts distinct attractions. While San Juan is the busiest and most populated one, Orcas Island provides a quieter setting for picturesque hikes. Summit Mount Constitution, the highest point on the San Juan Islands, where you can see Mount Rainier on a clear day. On tranquil Lopez Island, navigate the mostly flat and rural terrain by bicycle.
Top tip: August is right in the middle of whale watching season, so book a boat tour to see migrating orcas and grey whales. For fewer crowds and quieter waters, visit in September or October.
See the latest official tourism advice for the USA here.
Cape May, New Jersey
Best August holiday for: A bit of beach luxury with a side of history
Average high temperature in August: 29°C
This ritzy seaside destination at the southernmost tip of New Jersey's Cape May Peninsula is a big draw for sunseekers in the summer months. As America's first seaside resort destination, it boasts stretches of sandy shoreline as well as charming Victorian-era cottages.
As a registered National Historic Landmark, Cape May is home to some 600 well preserved Victorian-era houses, characterized by decorative gables, jewel-toned facades and decorative trim. A wander through the Cape May Historic District will reveal that many of these 19th-century homes have now been converted into luxurious bed-and-breakfasts.
To sink your toes into the fine white sands, head to Congress Street Beach right across from Congress Hall, which is America's first seaside resort. To surf, kayak and sunbathe, visit the wide shores of Cove Beach.
Top tip: Bring your best walking boots, as parking in Cape May can be a challenge and the sites are best seen on foot.
See the latest official tourism advice for the USA here.
Glacier National Park, Montana
Best August holiday for: Soaking in the raw beauty
Average high temperature in August: 21°C
Spanning some 4,101 square km, Glacier National Park in northern Montana is comprised of verdant meadows, placid lakes and deep glacial valleys. Plus, this national park is home to over 1100 km of hiking trails.
The 80-km Going-to-the-Sun Road serves as the park's main thoroughfare, and visitors can expect to find a number of the park's campgrounds, picnic areas, scenic pull-offs, and trailheads dotted along this route.
While the raw beauty of the Two Medicine region and Many Glacier on the east side of the park are unmissable, escape the peak summer crowds by venturing into other deserving areas of the park. Explore the depths of the backcountry by hiking at Cobalt Lake and spending time at Bowman Lake.
Montana's Rocky Mountains provide abundant wildlife viewing opportunities, and common sightings include mountain goats, bighorn sheep and grizzly bears. Raft, camp, hike, mountain bike, or kayak—Glacier National Park is ideal for any outdoorsy traveler.
Top tip: Visitors between late May and early September must apply for a permit to drive the Going-to-the-Sun Road. They're available 60 days in advance and generally sell out quickly - so plan ahead.
See the latest official tourism advice for the USA here.
Best places to visit in August in Europe
Bruges, Belgium
Best August holiday for: A romantic escape
Average high temperature in August: 21°C
Famed for its quaint canals and beckoning cobblestone alleyways, the fairytale town of Bruges in northwest Belgium is on of the best places to visit in Europe for a romantic getaway. Because of its relatively compact size, it's possible to visit the city's main attractions in just one day, including the Basilica of the Holy Blood and the bustling main Market Square. While many do come here for a day trip, opt to stay the night to experience the more tranquil side of this perfectly preserved medieval town.
For the finest views over Bruges, brave the 366 steps to the top of the 15th-century Belfry tower, which can be found on the south side of Market Square. And if you're visiting the city with a loved one, cross Lover's Bridge together at the Lake of Love in Minnewater Park, which is believed to unify your love forever.
Top tip: Time your visit for a Wednesday, when vendors at Market Square set up with stalls of flowers and local produce for purchase.
See the latest official tourism advice for Belgium here.
Edinburgh, Scotland
Best August holiday for: Exploring the arts
Average high temperature in August: 18°C
Visible for miles from every side, the Edinburgh Castle towers over the Scottish capital and is one of the nation's most iconic symbols. Those who want to explore the castle grounds can delight in the dazzling collection of Crown Jewels, and admire the jewel-encrusted crown, sword and scepter housed in the Royal Palace.
Aside from the city's historical sites, Edinburgh is a hub for culture and arts. Its annual Edinburgh Fringe Festival runs for three weeks each August and draws artists, visitors, and producers from all over the world. As the world's largest arts festival, visitors will be delighted by some 50,000 performances in comedy, cabaret, dance, theatre, and opera across 300 venues by established artists and those hoping to advance their careers.
To escape the crowds flocking to the Fringe, hire a car and take advantage of the may day trips that can be done from Edinburgh, with the city just hours away from some of the best beaches in Scotland and famous Scottish lochs, too.
Top tip: For a panoramic view of the city, head up Arthur's Seat - just make sure you're prepared with sturdy walking shoes, a good water bottle and a waterproof layer first.
See the latest official tourism advice for Scotland here.
Tenerife, Canary Islands, Spain
Best August holiday for: Splashing in the waves
Average high temperature in August: 28°C
The largest of Spain's Canary Islands is also one of its most visited and one of the most well-known European islands. August sees dry, sunny skies, making this the ideal time to explore. Situated just off the coast of West Africa, Tenerife is blessed with long stretches of golden sand, a rugged coastline and a swoon-worthy national park.
For those who enjoy a challenge, strap on your best hiking boots and brave the 3715 m tall Mount Teide. This dormant volcano is Spain's highest point. Stop at the El Portillo Visitor Center before the hike, as it gives an overview of the formation of volcanoes and the origins of Tenerife through a series of interactive exhibits.
To tan on the island's golden beaches, head to the south where gentle waves lap the shore and there are plenty of holiday homes and trendy restaurants. To indulge in luxury spas and practice your golf swing, visit Playa del Duque in Costa Adeje.
Top tip: Rent a car to explore Tenerife outside of the beaches and resorts, as public transportation outside of the main hubs become less convenient.
See the latest official tourism advice for Spain here.
Best places to visit in August across the world
Whistler, Canada
Best August holiday for: Reveling in West Coast beauty
Average high temperature in August: 25°C
Situated at the base of both Whistler and Blackcomb, Whistler is the site of North America's largest ski resort. Aside from attracting powder hounds every winter, this town north of Vancouver is also a popular summer destination for outdoor enthusiasts. Brimming with glittering glacial lakes, coniferous forests and snow-dusted peaks, Whistler is especially favoured among hikers and mountain bikers in the summer months.
For intense mountain climbs, hike the trails at Garibaldi Provincial Park that lead to Garibaldi Lake, Cheakamus Lake, and Wedgemount Lake. Or for a more laid back experience, ride the Peak 2 Peak Gondola between Whistler and Blackcomb for stunning views of alpine lakes, wildflowers and dense forests. Or, embark on a relaxed nature walk around Lost Lake.
Only a 90-minute drive north of Vancouver, the Sea to Sky highway that connects the two destinations is easily one of BC's most scenic drives.
Top tip: Whistler hosted cross-country, ski jumping and biathlon during the 2010 Olympic games. Snap a selfie with the Olympic rings in Whistler village.
See the latest official tourism advice for Canada here.
Quito, Ecuador
Best August holiday for: A city break and delectable street food
Average high temperature in August: 20°C
High in the Andean foothills, the capital of Ecuador is often skipped over by travelers in favour of spending time in the Galapagos. But rich in history, the museums and churches of Quito deserve attention too, beginning with the 17th-century La Compañia de Jesus, an ornate Catholic church.
For views of the city, climb El Panecillo, a 200 meter tall hill on the south side of Quito's historic old town. Rise early to catch a clear view of the city before the clouds roll in. El Panecillo is also home to the Virgin of El Panecillo, arguably Quito's most recognizable landmark.
Indulge in the city's local street food by heading to Parque de las Tripas, or Tripe Market, in the La Floresta neighborhood in the early evenings. Sink your teeth into empanadas de viento, a cheese-filled empanada that's deep-fried and dusted with sugar. Sample the fried plantain, and order the Seco de Pollo, a stewed chicken dish with peas, carrots and potatoes.
Top tip: Situated at 2850 m above sea level, plan for relaxed days to acclimate to the elevation.
See the latest official tourism advice for Ecuador here.
Masai Mara National Reserve, Kenya
Best August holiday for: Witnessing one of Earth's greatest natural phenomena
Average high temperature in August: 25°C
Spanning an area of 1510 square km, the Masai Mara National Reserve in southwestern Kenya plays host to one of the world's greatest spectacles in the animal kingdom—the Great Migration. Between July and September, some 1.5 million wildebeest and zebra make their way from Serengeti National Park in Tanzania to the Masai Mara National Reserve, navigating grassy plains and river crossings while dodging preying crocodiles lions. Time your visit for August, when the wildebeest usually reaches the Mara River in Masai Mara National Reserve.
Outside of the Great Migration, indulge in a hot air balloon adventure to witness the sunrise from the skies, or embark on a 4x4 safari to observe other animals among the savannah plains and rolling hills, like lions, cheetahs, elephants and hippos.
Top tip: To increase your odds of witnessing the Great Migration stay at two camps in different regions of the park.
See the latest official tourism advice for Kenya here.
Travelling later in the year? See our guides to the best places to visit in October, where is hot in November and the best places to travel in December.
Vivian is a Vancouver-based freelance writer who has worked for Culture Trip and Fodor's Travel as well as Woman&Home. She covers a wide range of topics, ranging from travel and outdoor adventure, to food and mental health and wellness. She's a curious wanderer with a thirst for adventure, and when she's not writing, can likely be found lazing by a lake, hiking the forested trails of beautiful British Columbia, or on a mission for the next best donut.