Bewitching European islands to visit in 2022
These European islands provide all you need for a memorable trip—tranquility, rugged beauty, and seriously good food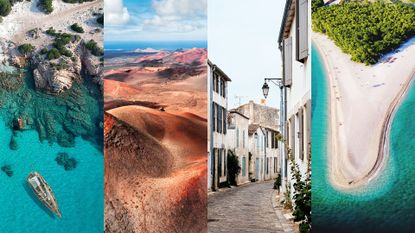 (Image credit: Future/Getty Images)
woman&home newsletter
Sign up to our free daily email for the latest royal and entertainment news, interesting opinion, expert advice on styling and beauty trends, and no-nonsense guides to the health and wellness questions you want answered.
Thank you for signing up to . You will receive a verification email shortly.
There was a problem. Please refresh the page and try again.
The best European islands boast beautiful beaches, intriguing landscapes, and a bounty of fresh seafood—the makings of a memorable vacation.
And although Europe is the second-smallest continent it certainly has its fair share of varied islands.
While the Greek islands have global appeal and are well-known for their beauty, turquoise waters, and luxury hotels, there are many other countries on the continent with stunning islands to discover.
There's even some UK islands that can rival their Mediterranean counterparts for wild beauty and remote escapism...
11 of the best European Islands to visit in 2022
1. Brač, Croatia
Home to the highest peak in the Adriatic, Brač is one of the best places to visit in April when the summer heat is yet to hit and tourists are few and far between, ensuring you'll have this pretty European island all to yourself. Unlike Hvar, Brač is slightly more under the radar when it comes to tourism, but boasts a brilliant white strip of sand known as Zlatni Rat, and the Adriatic's highest peak, Vidova Gora. At 780 meters high you'll need to dedicate around four and a half hours to completing the hike but it's worth it for the views back down over Zlatni Rat and the rest of Croatia's magical islands.
Thanks to its varied landscapes, islands, and well-priced restaurants, it's no surprise that Croatia is one of the best places to visit in Europe, and from Brač it's simple to head to more of the surrounding islands, or to the mainland. The city of Split is just a 50-minute boat ride away and it's here you'll find hidden coastal swimming spots and the magnificent sprawling labyrinth known as Diocletian's Palace. Built in the 4th century AD, it forms roughly half of Split's Old Town and is so perfectly preserved that it was awarded UNESCO World Heritage site status in 1979.
Where to stay in Brač: 5-star Villa Giardino has won the TripAdvisor Travellers Choice award for seven years in a row and it's not hard to see why when you step into the heritage boutique hotel and well-manicured grounds. The exotic garden full of palmettos, bougainvillea, and bright roses provides a relaxing hideaway, while the 15 rooms are designed with terracotta and green accents and some have roll-top bathtubs. Rooms start from $186 (£142) per night and can be booked at Villa Giardino (opens in new tab).
Island tip: If you spy a food truck on the side of a road, don't miss a local kebab called cevapcici—mini pieces of grilled meat are served inside the most delicious pitta-style bread and it won't cost more than $4 (£3).
Best time of year to visit: April is the perfect month for hiking and exploring as temperatures hit a daily average of 17° and there's usually a gentle breeze.
2. Mallorca, Balearic Islands, Spain
Thanks to the island's abundance of some of the world's most beautiful hotels, a new wave of inventive restaurants led by young local chefs, and a hefty dose of artistic history, Mallorca has transformed into a seriously luxe getaway in recent years.
One of Palma's most famous residents was the artist Joan Miró who moved to the island with his wife Pilar Juncosa in 1956. His home and studio, just outside the city center in the Cala Major district, immediately stuns with its bright white and primary-colored facade designed by Rafael Moneo. The most peaceful part of the place is at the back of the studio, where an old Finca sits surrounded by pine trees. Visitors can fully immerse themselves in Miro's eccentric world and learn more about his painting, drawing, sculpture, and artistic processes—including sketching directly onto the Finca walls—with a tour around the buildings and gardens.
Mallorca's geographical location, temperate climate, and fertile land provide the best environment for some seriously good wines. To truly discover the best produce from the island, a road trip makes a necessary but fun excursion. Vinyes Mortitx (opens in new tab) is a winery owned by a group of Mallorcan locals who pooled together to buy the land in 2000. Surrounded by a circle of mountains on the northern part of the island, the rocky soil, fresh ocean breeze, and sloped surroundings ensure the environment produces easy-drinking wines that you'll want to take home. Hand-harvested with only 4000 plants per hectare to keep humidity low, Mortitx specializes in Syrah, Merlot, and Chardonnay producing around 80-90 thousand bottles a year. The vineyard welcomes intimate group tours where you can learn much more about the way the grapes are grown, harvested, and processed, ending with a tasting session.
When it comes to food chefs Jhonatan Maldonado and David Moreno head up the kitchens at Fontsanta Hotel (opens in new tab) and Hotel Can Simoneta (opens in new tab) respectively. Both masters of their craft they've created some of the tastiest dishes in the Balearics with dishes like turbot with green huachinango and milk-fed goat on their menus.
Where to stay in Mallorca: Unassuming from the outside, Can Bordoy Grand House & Garden hotel is a luxurious place that has everything to make a stay on the island total heaven, including two of the most amazing swimming pools (one heated), a relaxing spa and stunning hidden garden in the center of the city. Rooms are truly impressive, containing neat touches like fresh flowers, TVs hidden in gilded mirrors, retro drinks cabinets—where drinks and snacks are complimentary—as well as Diptyque products alongside handmade bath salts that provide the perfect tonic after a day of sightseeing. Rooms start from $456 (£348) and can be booked through Booking.com (opens in new tab)
Island tip: Whether you're staying there or not, try dinner at Can Bordoy hotel where the impressive menu focuses on plant-based dishes. The carrot and lobster ceviche with orange and coriander, and the leeks with black truffle hollandaise are particularly good.
Best time of year to visit: Any time of year is great for Mallorca as there is always lots to see and do without solely focusing on beaches. Winter can be a great time to get the island pretty much to yourself, as well as better hotel rates.
3. Lanzarote, Canary Islands, Spain
With an amazing 300 days of sunshine a year, and often listed in the best holiday deals, Lanzarote is also known for its fascinating landscapes, one of the reasons so many film directors have chosen this place as the backdrop for their movies. Stanley Kubrick filmed parts of 2001: A Space Odyssey on the island back in 1968 and legendary Spanish filmmaker Pedro Almodovar picked Lanzarote to film 2009's Broken Embraces starring Penelope Cruz.
Cesar Manrique's studio home and garden, built into an old lava flow should be the first stop on any Lanzarote itinerary. It's full of bright white walls, lush gardens, and stunning decor complete with a natural outdoor pool. And when the ocean calls, divers will surely be impressed by Museo Atlantico (opens in new tab), a fairly new underwater sculpture museum featuring over 300 incredibly life-like sculptural scenes. Sitting 12-metres underwater just off the coast of Coloradas Bay, it's the perfect way to get acquainted with the island's sea life.
Like the rest of the Canary Islands, Lanzarote's geology is volcanic, and in order to fully appreciate how the island was born, a guided trip to Timanfaya National Park is a great way to experience the landscape where just 30ft below the surface, temperatures can reach a staggering 600 degrees. A trademark of volcanic islands is black sand beaches that make for beautiful photographs, but there's plenty of white sand too. Most beaches suitable for bathing are found along the south coast—Playa Dorada and nearby Papagayo are island favorites. Further north is Famara: set against a backdrop of 1,500ft pinkish cliffs, this place is a magnet for surfers keen to ride the massive ocean waves.
Where to stay in Lanzarote: Forget all-inclusive resorts and huge hotel chains and head inland where you'll find lush, more authentic accommodation like Hotel Palacio Ico (opens in new tab), where rooms start from $187 (£142) a night. It's pretty much in the center of the island but is authentically Lanzarote through and through with wooden accents and white-washed walls, choose Suite 05 for a bed that wows.
Island tip: Limpets are a specialty in Lanzarote, try them cooked in garlic and butter. Or, if you're visiting the National Park don't miss lunch at El Diablo where food is cooked on volcanic hot steam.
Best time of year to visit: Any time of the year won't disappoint but November is particularly good for a winter sun break that's not too far from the rest of Europe.
4. Flores Island, Azores, Portugal
Flores Island boasts lush countryside and an incredible array of flowers which is where it gets its name. Here, delicate blue hydrangeas are a specialty and grow in abundance thanks to the rich volcanic soil and temperate climate, alongside distinctive gladioli and bold cerise-colored bougainvillea. One of the most amazing aspects of the island is the seven volcanic craters now filled with water creating stunning lagoons that look like a serene straight out of a movie—reserve a whole day to explore them all. Hiking is unimaginably beautiful on Flores making it one of the best European islands to visit if you want an active break and to bask in the benefits of nature. Beaches aren't so amazing, however, so it makes sense to book a hotel with a pool if you want to go swimming.
Where to stay on Flores Island: A 30-minute drive from Calderas National Park, the main draw at Inatel Flores Hotel is the panoramic ocean view and the sublime swimming pool is pretty unbeatable too. Rooms are standard for the island, starting at $95 (£73) per night and bookable through Booking.com (opens in new tab)
Island tip: Hiring a car will mean you get to experience the absolute best parts of the island. Public transport will only take you so far so a car is highly recommended.
Best time of year to visit: July through August is the best time to visit Flores Island. Storms can hit during the winter months when rain can be relentless.
5. Iceland, North Atlantic Ocean
The mesmerizing and otherworldly landscape of sparsely-populated Iceland is filled with enough empty space to make you feel like you have the entire island to yourself. Scattered with around 130 volcanoes, ethereal waterfalls, plus mysterious black-sand beaches, blue lagoons, and lava fields, Iceland really is one of the best places for a winter snow holiday. There are also an astonishing 269 glaciers scattered throughout the country, meaning 11 percent of Iceland is covered by some form of glacier. Yet if global warming continues at its current rate, they could be gone in as little as 150 years—a sobering thought that makes you realize how frail our planet is when not cared for.
Experience the natural beauty of Iceland up close by hiking to Snaefellsjokull, a glacier that sits on top of a dormant volcano. The seven-to-ten-hour round trip takes you all the way to the 1446 meter summit or if you're not into hiking a drive through the national park will also impress. Once back at sea level, head to the Secret Lagoon in Fludir, Iceland's very first swimming pool which is heated to 39 degrees by natural hot springs. Sitting in the naturally heated water is a blissful experience and the rural setting of Fludir conjures up images of mystery and magic. Equally mystical is Krossnes, a remote pool suitable for serious adventurers as it's a good five hours drive from Reykjavik. The pool was built by local farmers and overlooks the wild ocean—a lucky few swimmers have even spotted whales from their spot in the pool—an experience that's surely hard to beat.
Where to stay in Iceland: On the south of the island, Fosshotel Glacier Lagoon is the best place to stay for stunning scenery including glacier or sea views. Rooms start from $202 (£154) and can be booked through Expedia (opens in new tab).
Island tip: Make time to visit Reynisfjara, a stunning black sand beach just 2.5 hours from Reykjavik, but avoid swimming as the water can be dangerous with strong waves and powerful undercurrents.
Best time of year to visit: Iceland is one of the best places to visit in September, especially towards the end of the month when you'll have a better chance of spotting the elusive aurora borealis (Northern Lights).
6. Sardinia, Italy
Home to some truly delightful traditional Italian dishes, Sardinia is a haven for both food lovers and beach bums alike. And while the northern part of the island is home to luxurious hotels and beloved by A-listers such as Rihanna and Beyonce—making it somewhat exclusive and pretty expensive—the rest of the island is just as beautiful, but a lot more affordable. Must-see towns are low-key San Gavino—famed for high-quality saffron and fun street art, and San Pietro where the food offering is insanely good, combining influences from North Africa and Genoa.
In terms of beaches, Cea on the east coast is pretty unbeatable and a great snorkeling spot, or for something more rugged, head to Spiaggia Sa Canna where the waves are bigger but the sea is just as clear.
Where to stay in Sardinia: With just four bedrooms, each designed to perfection, it's sensible to book ahead to secure a booking at Domu Antiga (opens in new tab). The rustic, yet beautiful property dates back to the 1800s but has been lovingly restored to make the most of its historic features while bringing it into the modern-day. As well as getting the most restful night's sleep you can sign up for cheese making and Sardinian cooking classes, both of which take place at the property. Rooms start from $173 (£132) per night and can be booked through Booking.com (opens in new tab)
Island tip: There are three airports in Sardinia so it's worth looking into all options to ensure the best value for money and proximity to your accommodation. Alghero and Olbia airports are based in the north and Cagliari airport serves Southern Sardinia.
Best time of year to visit: July and August are the hottest months of the year with daily temperatures reaching around 31°—perfect for swimming in the sea.
7. Hiddensee, Germany
Also known as 'sweet little land' or 'pearl of the Baltic', Hiddensee is a tiny under-the-radar, car-free island off the coast of northern Germany that's been attracting creatives and deep thinkers for centuries.
With around 1000 residents it's the ideal place to escape the daily grind, go off-grid and get back to nature by exploring the benefits of cold water swimming, taking an awe-inspiring hike, or simply enjoying a coastal stroll. Art lovers will adore an old converted smokehouse now known as Blaue Scheune gallery in the village of Vitte. It's open on Wednesdays and Sundays during summer months, often featuring the work of German impressionist painter Elisabeth Büchsel.
Where to stay in Hiddensee: Due to its compact size there are not really any luxury or boutique accommodation options in Hiddensee, but there are a handful of good, clean, and welcoming hotels. Hotel Hitthim (opens in new tab) is close to Kloster harbor and the beach, with some rooms offering sea views. Rooms start from $132 (£101) per night and can be booked on Booking.com (opens in new tab)
Island tip: The only way to reach Hiddensee is by boat from Schaprode, a district roughly three hours drive from Berlin. Boat tickets cost approximately $27 (£21) and can be bought here (opens in new tab).
Best time of year to visit: As one of the sunniest places in Germany, spring is an ideal time to plan a trip to Hiddensee. You'll be rewarded by the sights and sounds of life being breathed back into the natural landscape and bright, clear days.
8. Menorca, Balearic Islands, Spain
Menorca, meaning 'smaller island' sits quietly in the Mediterranean Sea and its slow, free-spirited way of life makes it one of the best European islands to visit in the spring or autumn—outside of peak tourist season. There are over 70 beaches to explore and some seriously rival the white sand and turquoise waters of the Caribbean. As well as Menorca's beaches, it's worth seeking out the island's enchanting, prehistoric sites that include ancient sanctuaries, settlements, and taulas—huge table-like structures made of stone, built between 500 and 300 BC. Reminiscent of Stonehenge, these mysterious monuments are found nowhere else in the world and yet to this day 13 intact taulas remain dotted throughout Menorcan countryside, each one as fascinating as the last.
Where to stay in Menorca: Menorca Experimental is a twenty-five-minute drive from the cobbled streets and pastel townhouses of Mahon, the island's quaint capital. The thoughtfully designed hotel, placed elegantly at the end of a dusty sun-scorched track is housed in a bright white converted 19th-century Finca. Surrounded by cornfields, hay bales, and dry-stone walls, the hotel boasts 43 rooms designed to heavenly perfection. The attention to detail is not lost even on the smallest of items—from cutlery to vases—everything here impresses. Rooms start at $212 (£162) per night and can be booked directly through the hotel's website, Menorca Experimental (opens in new tab) or Booking.com (opens in new tab)
Island tip: For some of the best food in Menorca, book a table at El Rosario de la Aurora in Mahon. The 00 anchovies from Cantabria, jamón ibérico, and Rosario salad are seriously hard to beat.
Best time of year to visit: September for daily average temperatures of 26° and fewer tourists.
9. Gotland, Sweden
Surrounded by the algae-rich Baltic Sea, Gotland may not seem like the first choice of islands to visit in winter but due to its rugged coastline, UNESCO World Heritage Site, and festival dedicated to black truffles (yes, really!) it's one of the best places to visit in November.
The main town of Visby is a superbly preserved trading town and its abundance of ancient architectural buildings ensured heritage status was granted in 1995—take time to appreciate its beauty.
A real haven for foodies, Gotland is also filled with places that rival restaurants in Lima in terms of super fresh seafood and inventive dishes that leave a long-lasting impression. The Gotlandic truffle is unique to this European island too, meaning it even has its own festival. For 2022 the festival will take place on November 18, 19 and 20, and promises truffle hunts, seminars, pub crawls and gourmet banquets.
Where to stay in Gotland: A relatively new hotel but one that exudes style is Kalk Hotel (opens in new tab) right in the town centre. There are just 21 rooms providing an intimate and homely feel and some have balconies overlooking the sea, prices start at $99 (£76) a night and can be booked directly through the hotel's website (opens in new tab).
Island tip: White, green, and purple asparagus grows in abundance on Gotland, make sure you sample some of the local delights at Krakas Krog (opens in new tab), a cozy restaurant where dishes are created in line with the changing seasons.
Best time of year to visit: For a spellbinding getaway that feels like you're at the end of the earth winter is the ideal time to visit, with November being a standout month for the charming truffle festival.
10. Île de Ré, France
Known for some of the world's most beautiful gardens, France is also a top destination for its smattering of tiny islands dotted just off the country's coastline. Zig-zagged by cycle paths, quaint Île de Ré is typically French through and through—picturesque bakeries show off freshly baked goods behind mottled glass panes each morning, and cobbled streets wind by pastel-colored cottages so perfect you might think you'd imagined them. In between cycling, a spot of sailing, and enjoying the produce in one of the best foodie destinations in France, alongside heady red wine, there's not a lot to do on Île de Ré, but that's precisely the point.
Where to stay in Île de Ré: Soizic's bright white Airbnb listing, which you can book on Airbnb here (opens in new tab) is right next to Saint-Martin-de-Ré harbor and sleeps four, making it perfect for a family trip or getaway with friends. The apartment is decorated with touches of driftwood and rattan and includes a kitchenette plus a small outdoor terrace where you can enjoy those all-too-delicious French pastries. The apartment starts from $117 (£89) per night. For something a little more refined La Baronnie Hotel and Spa (opens in new tab) certainly provides the wow factor. This four-star hotel is typically French with pastel shuttered windows, a gorgeous garden, and sumptuous rooms from $222 (£170) per night.
Island tip: Seek out Cabane du Feneau for oysters. This tiny cafe in the middle of nowhere definitely isn't fancy but serves the most sublime shrimp and seafood alongside some of the best sunset views you'll ever see.
Best time of year to visit: July, August, and September are the hottest months but also the busiest, try October for a more sedated break.
11. Ios, Greece
A Greek island famous for its rugged beauty, Ios is also the resting place of Homer, epic poet and author of the Iliad and the Odyssey. Literary fans now flock to the tiny spec of an island to pay their respects to the beloved master of the arts, and the oldest church on the island in Agia Theodoti is also nearby, and well worth a visit.
Even though Ios is pretty small it does have a bit of a reputation as a party island, but don't let that put you off, there are still plenty of secluded spots to explore and a great selection of traditional restaurants.
Where to stay in Ios: Set on the hillside for unbeatable views out across the ocean, Liostasi Hotel and Suites (opens in new tab) has artsy rooms starting at $133 (£102) per night. Numerous quirky swimming pools, the sophisticated interior design throughout, and top-class dining make Liostasi the best option for a vacation on this pretty European island.
Island tip: Stunning to look at, and insanely good to eat, stuffed zucchini flowers are a specialty on Ios, hunt them out when they're in season between spring and summer.
Best time of year to visit: The months of May and June mean fewer tourists, lower accommodation costs and the weather hovers around the 20° mark—perfect for exploring.
Lydia is woman&home's Lifestyle News Editor and a freelance travel writer. Day-to-day she manages an international team of nine news writers and oversees all news content on woman&home.com. Her travel writing has been published in BBC Good Food, Oh magazine, Harper's Bazaar, Town&Country, ELLE, MailOnline, Woman, and woman&home.