12 beautiful UK islands to inspire your next holiday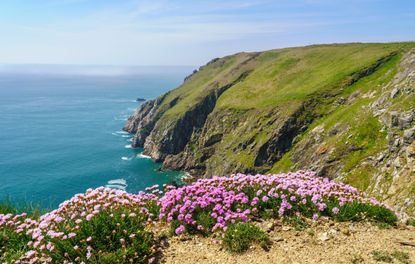 Britain has more than 1,000 beautiful UK islands just waiting to be discovered. So what are you waiting for? Book your next trip to one of these stunning destinations...
Covid-19 might have put paid to our fantasies of jetting off to far-flung islands, but thankfully there's much to explore right here on our doorstep in the UK.
From wonderful windswept wildernesses to bucket-and-spade holiday favourites, UK islands are just asking to be the destination of your next British staycation. Plus, as all UK islands are just off shore, you don't even have to fly to all of them. Some of the best UK road trips head towards UK islands you may not have even realised you could visit.
Here are just a few precious British offshore UK islands just waiting to be discovered...
The best UK islands to visit for a British staycation
Tresco, isles of Scilly, Cornwall
Gloriously isolated and unspoiled, the isles of Scilly form an archipelago of more than 200 stunning subtropical islands, islets and rocks, 50km off the tip of Cornwall.
White sand beaches, tranquil coves and wildflower meadows provide a sanctuary for wildlife and migrating birds.
Verdant Tresco, a three-square-kilometer gem, packs a lot in between its shores. The rugged north, with its historic forts and spectacular views, is a treat for walkers and explorers.
In the west, the beautiful Abbey Gardens has exquisite walled enclosures and terraces. You'll find 20,000 exotic plants in a horticultural paradise.
Fly to the Isles of Scilly from Land's End, Newquay or Exeter, or take the ferry from Penzance.
Click here for more information
Lundy, Devon
Cast adrift in protected coral waters in the Bristol Channel, the UK island Lundy is a blissful reef of granite and heathland.
They don't call it 'Britain's Galapagos' for nothing. Its wildlife includes puffins, rabbits, seals, guillemots, deer, feral goats and basking sharks.
As England's first marine wildlife reserve, it boasts some of the best diving sites in the British isles. You'll find all sorts of shipwrecks and sea creatures to marvel at beneath the clear waters.
Fascinating walking routes abound. Take all or part of the 12km circular walk around the island's coast and you'll stumble across burial chambers, former prisoner caves and the highest lighthouse in Britain. You'll also find some fascinating flora and fauna, including the incredibly rare Lundy Cabbage plant.
Ferries depart from Bideford or Ilfracombe.
Click here for more information
Isle of Man
Mountainous and cliff-fringed, the Isle of Man's patchwork of delights include golden beaches, snow-capped peaks, wooded glens, rural villages, and steam trains. This UK island looks straight out of a 1950s picture book.
This self-governing island, nestled between Ireland and England, offers rollicking rambles along windswept coastlines and rugged hills.
Try the summit of 620m high Snaefell mountain, the island's highest peak, accessible via the mountain railway.
Take a boat trip to the Calf of Man – a tiny islet set amidst spectacular scenery – half a mile off the southern tip of the island, to see spectacular seabird colonies.
Ferries to the capital Douglas depart from Liverpool, Birkenhead, Heysham or Belfast.
Click here for more information
Guernsey, Channel Islands
Charming, peaceful, vibrant and exceedingly pretty, Guernsey offers a heady mix of coastal and country vistas.
The island oozes contentedness - even its famous cows appear to be in a state of bliss - and the vibe is relaxed and friendly.
Part of Guernsey's unique enticement is its jumble of influences. It feels a little bit French and quite a lot British, and the relics from the German occupation during the Second World War add to its quirkiness.
Take a stroll around picturesque St Peter Port, where Victor Hugo wrote Les Miserables. Clamber up to the 800-year-old Castle Cornet, and enjoy scenic clifftop strolls. Admire the beautiful landscapes that inspired some of Renoir's loveliest paintings.
Click here for more information
Mersea, Essex
Across a narrow channel from Essex's southern coast, Mersea offers a seaswept dose of nature and traditional beach life. It sits just a few miles from bustling Colchester.
Here you'll find Jurassic cliffs, sandy beaches, bleakly beautiful mudflats, pretty pastel beach huts, and even a vineyard.
You can walk around the whole island, a popular 20km challenge, to admire the views and wildlife. Look out for marsh harriers, water vole, red squirrels, and numerous migrating seabirds.
Britain's most easterly inhabited island is also a seafood haven. Mersea oysters make their way into the kitchens of everyone from Gordon Ramsay to The Ritz. But they taste their best right here, in one of the oyster bars or beach shacks.
Mersea is cut off from the mainland when the high tide rises above the Strood, the causeway that joins the island to the mainland.
Click here for more information
Fair Isle, Scotland
Fair Isle, the most remote inhabited island in the UK, is home to just 55 residents. And they're all happily engaged in crofting and arts and crafts amid a menagerie of sheep, goats, cows, pigs, ducks and various seabirds.
Famous for its knitwear and historic shipwrecks, this tiny gem, halfway between Orkney and Shetland, lives up to its name on sunny days. The views are magnificent and the air is filled with the sounds of the North Sea and the cries of sea birds.
During summer, the Shetland Isles are bathed in near-perpetual daylight. This phenomenon blankets the islands in a silver sheen at midnight - the 'simmer dim'.
There are lots of fabulous walks. Try the 'Complete Fair Isle', a 15km trek which takes in magnificent coastal scenery and rock formations. You'll also come across the island's famous bird sanctuary.
Take a flight or overnight ferry to Shetland from Aberdeen, then a flight or ferry to Fair Isle.
Click here for more information
Isle of Wight
Think elegant promenades, bucket-and-spade resorts, wild beaches, blustery downs and rolling hills. The Isle of Wight mixes beautiful landscapes with old-fashioned English charm.
There are red squirrels in the forests, and Mediterranean plants flourish among the plunging hills of Ventnor and the Undercliff.
Nearly half of the island is designated an Area of Outstanding Natural Beauty, and the 800km of well-maintained footpaths make it a walkers' dream.
Take the 5km stretch from Brook to Freshwater along the sandstone cliffs to Compton Bay. You may find fossil remains and dinosaur footprints at low tide. Carry on up onto the spectacular chalk downs, before descending into the picturesque cove of Freshwater Bay.
Queen Victoria's favourite home, Osborne House, is on the Isle of Wight. Here you can visit Victoria and Albert's private apartments. Sit on their bathing beach and see their children's play-cottage for an intimate glimpse of royal family life.
Ferries depart from Portsmouth and Lymington.
Click here for more information
Lindisfarne, Northumberland
Isolated by fast-moving tides which submerge the causeway twice a day, the brooding Holy Island of Lindisfarne is shrouded in history and mythology.
The isle is dominated by its sixteenth century castle, which rises from sheer rock at the tip of the island.
Venture beyond the day trippers and pilgrims who gather here, and you'll find some marvellous scenery. From beautiful deserted beaches to majestic dunes teeming with wildlife, it's a beautiful island.
The dune-covered area in the north is part of the Lindisfarne Nature Reserve and has many rare species. You'll see pretty sea aster and grass of parnassus, which flower well into September.
Grey seals bob in the waters and sun themselves on the sands, and there are roe deer and glorious sunsets to admire.
Autumn is the best time to see rare species of wildfowl and wading birds that overwinter on Lindisfarne. Look out for pale-bellied brent geese flying in from Svalbard, pink footed and greylag geese, wigeon, grey plovers and bar-tailed godwits.
Click here for more information
Rathlin, Northern Ireland
Around 100 people live alongside a spectacular array of wildlife on Rathlin, Northern Ireland's only inhabited island.
Sitting just north of Ballycastle on the rugged North Antrim Coast, the L-shaped isle is steeped in cultural heritage and awash with seafaring history. A number of shipwrecks here include a WW1 cruiser, now a national monument.
The island's terrain combines a dramatic patchwork of idyllic green fields, towering sea-cliffs and sensational coastline for walking.
Take the hike from Rathlin harbour to the RSPB Roonivoolin Reserve. Enjoy splendid views of the coastline and wildlife such as seals, irish hare and curlew.
Ferries to Rathlin leave from Ballycastle.
Click here for more information
Tiree, Hebrides, Scotland
The most westerly island of the Inner Hebrides and the 'Hawaii of the north', Tiree, is a windswept, treeless 'desert island'. There are fewer than 700 inhabitants.
Graced with prime fertile land and sparkling white beaches, it has an abundance of sunshine in the warm seasons.
This may be Scotland's sunniest place, but It's also one of its windiest. These blustery elements and sweeping seas of Tiree attract countless wind surfers.
Walkers will enjoy nearly 60km of mainly flat coastline complete, with a plethora of craggy inlets and glorious deserted beaches.
Ferries to Tiree depart from Oban, or fly from Glasgow.
Click here for more information
Ynys Llanddwyn, Wales
Ynys Llanddwyn is a small tidal island off the west coast of Anglesey, with magical views of forest, beach mountains and wild seas.
This rocky paradise boasts a 'holy' freshwater well, the ruins of a 16th century church dedicated to St Dwynwen (the Welsh patron saint of lovers), an ancient lighthouse and some of the oldest volcanic rocks in Wales.
There are some gorgeous beaches and secluded coves for walking, paddling, and swimming, and you can snorkel for crab and lobster amongst the kelp bed.
The island is 1km south of the village of Newborough: check the tide times before you cross the sand to the island to avoid getting stranded.
Click here for more information.
Eel pie island, London
Many people have never heard of London's 'secret island', situated in the middle of the river Thames near Twickenham.
Less than 500m long, Eel Pie Island was Henry VIII's 'courting' hideaway, where he took several of his mistresses.
Later, the island became a popular holiday destination for Londoners looking for a river break, before turning into an unusual music venue- bands including the Rolling Stones, David Bowie and Pink Floyd played here.
Today, it has 120 inhabitants, who are mainly artists. Twice a year, they open their studio doors to visitors, providing an opportunity to talk to the artists and buy or commission new artworks.
Most of the island is private property, but you can still visit the quirky museum and take the arterial path around the island to have a nose around.
Helena is the Travel Editor for Woman & Home, Woman's Weekly, Woman, Woman's Own and Chat. As a journalist with 8 years' experience, she has also worked for titles including Stylist, The Evening Standard and Heat.

She is a keen traveller who loves nothing more than exploring a new country. Her dream trip is a safari. A fierce animal lover, she dreams of seeing some of the big five out in the wild. Her wish-list also includes India – to explore her husband's heritage more – as well as exploring more of America's stunning national parks.