How to get the best holiday deals: 12 booking hacks and tips
Secure the best holiday deals for your next staycation or overseas trip and save money—it's easier than you think!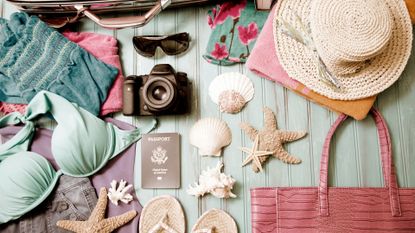 (Image credit: Getty)
Securing the best holiday deals for your upcoming trips is all about being savvy with your research and knowing the right booking hacks to bag some serious bargains.
It's been a tough couple of years and with international borders finally re-opening to allow for travel overseas to new and exciting destinations, it's no surprise that people still want to book a trip, even if money is tighter this year and the cost of living is rising.
Whether you're planning a staycation and are looking for affordable luxury hotels in London, or want to book a journey to a far-flung destination, it might be easier than you think to book an affordable luxury vacation.
The key to pandemic travel is flexibility. With testing and vaccine-related restrictions still enforced in most countries, and unforeseen changes in plan a possibility, always book your trip with airlines and accommodation that offer flexibility, such as last-minute cancellation or the option to rebook your travel for a later date.
It's also vital that you take out travel insurance with Covid cover as soon as you book your holiday. Insurers in the UK, such as M&S bank, will cover you for a range of Covid-related cancellation circumstances, including if you need to cancel because you test positive for coronavirus in your pre-flight lateral flow test.
With flexibility and travel insurance in place, you can be reassured that if something unplanned happens after you've booked the best holiday deals, you will avoid losing the hard-earned cash you spent on your vacation.
12 HACKS AND TIPS TO GET THE BEST HOLIDAY DEALS
1. Shop around
It might sound obvious, but one of the quickest ways to secure the best holiday deals is to shop around. Happily, there are plenty of price comparison websites online that can help you spot a bargain.
For flights, try Skyscanner (opens in new tab) or Google Flights, and for accommodation, give Booking.com (opens in new tab), Expedia (opens in new tab) or Secret Escapes (opens in new tab) a browse. One word of warning—deals get snapped up fast and can change with little notice, so don't expect the same deals to be listed one day to the next.
2. Speak directly to the hotel
While it's always a smart idea to shop around for the best holiday deals, do be sure to have a quick check on the website of your chosen hotel for any special offers or exclusive deals before booking your trip.
"People sometimes hold an incorrect perception that booking directly is always more expensive, but that's often not the case," explains Jonathan Mills, CEO of Choice Hotels EMEA (opens in new tab). "Many companies, like us, are committed to offering the best price available online. If you find a lower, publicly available rate online, we will match it."
And if you can't find a better deal on the hotel's website? "It's worth giving the hotel a call directly," adds Jonathan. "We are a friendly bunch in hospitality and only too happy to offer the best rates suited to specific circumstances, as well as ensuring we can best cater for a guest's needs."
3. Set up price alerts
Take the hassle out of searching for the best holiday deals by setting up those all-important price alerts. That way, should the cost of your desired flight go down (or up!) you'll know about it straight away, without having to constantly refresh the site.
4. Don't search for a specific airport
This might sound counter-intuitive, but it's a genius move when you're looking for the best holiday deals on flights. When popping in your search criteria, simply select a region rather than a specific airport, and the website will give you all the options for flights to that location—allowing you to quickly see which airport is the cheapest one to fly from or to.
5. Check the app
While it might feel like a faff to download yet another app onto your phone, one of the best-kept secrets to finding the best holiday deals is to check the hotel's app before you book.
"Companies often have offers on their apps and this is frequently the easiest way to get the lowest price guaranteed," explains Jonathan Mills.
6. Book in advance
While the lure of a last-minute deal can seem tempting, especially during these uncertain times, you're most likely to get the best holiday deals when you book ahead.
"If you can, I'd recommend booking your accommodation as far in advance as possible," advises Jonathan Mills. "You'll frequently get the lowest rates and sometimes can even secure discounts for booking early."
When it comes to booking flights, there are some useful trends to keep in mind.
Flight prices fluctuate far less than hotel and cruise prices, but there is still an optimum time to book: 56 days before departure, says Momondo (opens in new tab). They also suggest that Tuesday evenings are the best times to fly for a bargain.
For international flights, it might benefit to think even further ahead, as you'll secure the best deals when you book around six months in advance of the flight. If you can, monitor the price of flights for your intended route around 10 months before departure so you can spot when the price rises or falls, and work out the best time to purchase your ticket.
7. Take advantage of loyalty programmes
Loyalty programmes are there to reward you, the loyal customer, with the best holiday deals, so it's definitely worth signing up to loyalty programmes —and fast. Jonathan Mills recommends doing this as soon as you make your first booking with a company, to help you rack up as many of those precious loyalty points as possible.
"Whichever travel provider you are using, I'd advise checking whether they have a loyalty programme," says Jonathan. "Many loyalty schemes provide great benefits and often include free room nights after just a few stays, so it's well worth signing up from the outset."
8. Be flexible on dates
When searching for the best holiday deals, you increase your chances of grabbing a bargain by being flexible over your dates.
Most flight and accommodation sites will allow you to browse between dates and times, meaning you can easily spot whether you could save money by flying mid-week rather than the weekend, or arriving at a hotel on a Sunday rather than a Saturday. Friday and Saturday nights will always be the most popular thanks to weekend getaways, so if you're willing to skip those nights, it will pay off.
Tuesday or Wednesday is usually the cheapest day for scheduled flights. As a general rule, you'll usually get a better price on mid-week options as prices are hiked for weekends.
9. Haggle with a travel agent
If you want to get the best holiday deals, you might just have to haggle for them. Once you've done your research and discovered the best price for your holiday, call two to three travel agents (or more if you have the time!) and see if anyone can beat the cost.
Even if they can't slash your prices, they might be able to offer you a room upgrade or other perks such as meals in the hotel. It's always worth a try!
10. Book a cruise on a Thursday
Cruise prices fluctuate throughout the year, and even from day-to-day, depending on the number of recent bookings and the availability left.
Whether you're looking to book a mini cruise or are deciding between a river cruises and ocean cruises, prices for cruise trips tend to drop mid-week, according to Cruise Critic (opens in new tab), so booking on a Thursday is likely to get you the best deal.
11. Book package holidays on a Monday
A former Thomas Cook insider revealed: "Booking a holiday on a Monday can sometimes help you get a better deal, as prices are sometimes dropped to try and entice customers who've had quotes at the weekend but not completed a booking."
This insider advice only applies to all-in-one deals, where you'd book your hotel and flights through the same company.
12. Clear your cookies when booking online
If you've been searching around the web for flights and hotels for a while, it might pay to clear your browser cookies before booking. Cookies - the internet kind, not the baked good - are little bits of data stored in your browser that tell the websites you visit where you've been on the web.
Clearing them can ensure websites you might want to book on don't hike up prices simply because they can see you've been there before and are clearly ready to book. Follow these steps to clear your cookies in Chrome (opens in new tab).