10 luxury hotels for less than £200 a night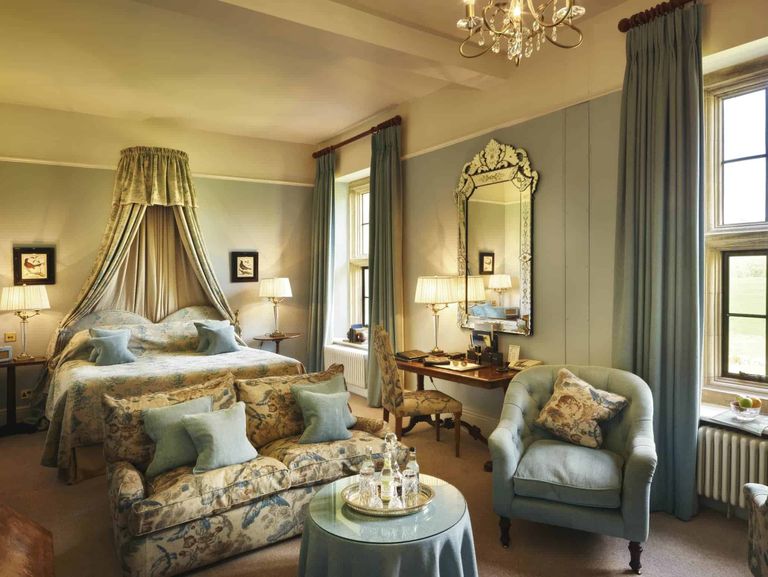 Not all luxury hotels are ruinously expensive. The UK has plenty of hotels with rooms costing less – some considerably less – than £200 a night. Here are ten of the best luxury hotels in Britain that present great value.
The term 'you get what you pay for' isn't always true in the hotel world. Forget shelling out £400 a night for sublime luxury – there are fancy experiences to be had without an eye-watering price tag. Compiled by the editors of The Good Hotel Guide, these are the best luxury hotels in Britain for under £200 a night.
In a Grade I listed neo-classical building on a grand Georgian street, this boutique hotel has been made over in fabulously quirky style. The smallest bedrooms, on the top 'Artists' Floor', have a mural by a local artist. 'Good Afternoon' and 'Good Evening' deluxe doubles have exotic bird ceiling wallpaper, silver on the walls, a silver cocktail cabinet, a Hypnos bed, a coffee machine, smart toiletries. In The Dispensary, lined with antique apothecary cabinets, an all-day menu offers a mix of simple and exotic choices, or you might opt for a sandwich in the sitting room. There is a basement spa, and, of course, glorious Bath is on the doorstep.
Bed and breakfast deluxe doubles from around £182, à la carte dinner £35
Cate Blanchett, Woody Allen and Kylie Minogue have all stayed at this chic hotel, occupying a handsome pair of terraced late-Georgian houses on the seafront. Such starry guests no doubt favour a feature room with a bath in the triple-aspect windows and views of the Palace Pier. Those on a slightly tighter budget might choose a smaller sea-facing room or a bijou city-facing room with a free-standing bath and monsoon wet room. All are supplied with White Company toiletries, waffle robes, slippers, glossy magazines, bottled water and cafetière coffee. There is a cocktail bar; creative cooking in the basement restaurant.
More like this: Unique luxury hotels around the world
Rooms from £120 (Sun-Thur), £160 (Fri, Sat, bank hols); feature room from £230, fixed-price dinner £35-£48, tasting menu £65
A leafy lane leads to this Victorian country house, remodelled in the 1940s in the style of a Loire château, amid landscaped parkland, with a lake, fountain, tennis court and 17th-century dovecote. Traditionally furnished bedrooms range from snug 'classics' with a double bed, to feature suites with a king-size bed, seating area and capsule coffee machine. Complimentary treats include home-made biscuits, savoury snacks, mineral water, ESPA toiletries. There is fine dining for veggies and omnivores in the restaurant, simpler fare from the all-day menu in the Colonial Bar, where you can eat and drink with your dog at your side, before roaming the grounds or the Wyre Forest countryside.
Bed and breakfast from £120, feature suite from £190, set-price menus £38-£59.95, tasting menu £75.
Debussy wrote La Mer in suite 200 of this magnificent Victorian seafront edifice, nicknamed 'The White Palace'. Today a suite might set you back £385 (still a bargain for a family of four). The cheapest doubles are justly described as 'deluxe', with Molton Brown toiletries, coffee machine and 24-hour room service. Public areas are all you would expect in a five-star hotel – great, soaring, pillared spaces – but the ambience is friendly and welcoming to all ages. There is a spa, an outdoor pool, and two fine-dining restaurants. Afternoon tea in the lounge, on the last Sunday of the month, might be accompanied by Shelley van Leon and the Palm Court Strings Orchestra.
Bed and breakfast from £150–£730, fixed-price dinner in Garden Restaurant £37-£42; at Mirabelle £39-£46, tasting menu £67.
Each of the 29 stylish, contemporary bedrooms and suites has a river view through floor-to-ceiling windows at this purpose-built hotel on the banks of the Stour. A coffee machine, fresh milk and bottled water, Aromatherapy Associates bath products and 24-hour room-service are also standard. Depending on when you stay, you might even get a family suite with kitchenette for under £200. There is a lovely, airy, leisured feel throughout, an award-winning spa, plus moorings for your yacht. Choose to eat inside or out, casually in the Club Lounge or bar, more formally in the restaurant. There is a kids' menu, cocktails, all making for a happy ship.
More like this: Luxury London hotels worth splashing out on
Bed and breakfast rooms from £159–£299, suites (3–6 guests) £219–£699. À la carte dinner £40.
The National Trust takes good care of this William and Mary mansion, furnished throughout in period style, with antiques and oil paintings. Bedrooms are in the main house and adjoining 18th-century building. You might have to settle for something more humble than one of the grand suites, but you'll be free to wander gardens and parkland with a lake and specimen trees, before afternoon tea in the library or drawing room. In the panelled dining room, produce from the walled kitchen garden appears on excellent seasonal menus. The spa with indoor pool occupies two Edwardian cottages. Check the website for some tempting special offers.
Bed and breakfast rooms from £149–£569, tasting menu £75, à la carte dinner £60.
Taking its name from the wooded valley in which it sits, just five minutes'drive from the city centre, this Tudor-style mansion, built in 1822 and much altered, is run today as an impressive hotel. Bedrooms, in contemporary style, are supplied with a minibar, fridge and coffee maker, magazines, smart toiletries. The best bathrooms have both a bath and walk-in shower. Rich interiors include a lofty Great Hall with Jacobean panelling and carved chimneypiece; William de Morgan tiles to a sitting room fireplace. Book ahead: advanced purchase rates make even a deluxe room or junior suite affordable. Food is served all day in the light-filled restaurant, from an imaginative breakfast through to dinner, with menus designed around local, seasonal ingredients.
Bed and breakfast rooms from £119–£299, à la carte dinner £45.
Tucked away in a Dartmoor valley, in gardens laid out by Walter Sarel, this Jacobean mansion was largely rebuilt by the Revd Sabine Baring Gould, a Victorian writer and antiquarian best known for penning Onward Christian Soldiers. Antiques and paintings are all of a piece with this extraordinary confection of friezes and panels, Renaissance woodwork, a Rococo fireplace, a Jacobean ceiling… Bedrooms– some in a courtyard annexe – are individually styled, with considerable charm, and even a suite won't break the bank. Portraits look down from the walls of the dining room, where home-grown and local ingredients appear on appealing menus, or you can eat more simply and for less in the bar.
Bed and breakfast from £135. Set-price dinner £49.50, tasting menu £74–£89.
Standing in beautiful gardens in the Wye Valley, this Jacobean mansion was opened as a hotel by the late Sir Bernard Ashley, husband of the renowned fabric designer Laura, and still displays his astonishing art collection, including works by James McNeil Whistler and Augustus John. Bedrooms are furnished with antiques, some with a four-poster and original Laura Ashley fabrics and décor. All are supplied with fresh fruit, mineral waters, a decanter of Madeira, while morning tea or coffee and a newspaper will be delivered on request. Produce from the kitchen garden appears on the menus in the fine-dining restaurant, with an exceptional wine list. Breakfast brings new-laid eggs from the resident ducks and hens.
Bed and breakfast £160–£950, à la carte dinner £55, tasting menus, £60 and £90.
In a glorious setting beside Loch Shiel, against a backdrop of woodland and mountain, this mansion was built in the 1750s for a veteran of Culloden, and remodelled in 1842. Bedrooms are traditionally styled and competitively priced. A superior four-poster room with views over the loch to Ben Nevis is just £180 a night. Walls in public rooms are hung with paintings on a Jacobite theme, while the iconic Glenfinnan Monument on the loch shore recalls the 1745 Jacobite Rising. Long-standing, classically trained chef Duncan Gibson (whose wife, Manja, is manager) cooks with local ingredients, including char-grills and venison from the Glenfinnan estate. Sandwiches, salads and home-baked cakes are served in the bar.
Bed and breakfast rooms from £145, à la carte £30.
The Good Hotel Guide 2020: Great Britain & Ireland was published on Monday 7th October 2019 and is priced at £16 (including P&P within the UK) from The Good Hotel Guide, or at £20 a copy from bookshops across Britain.
Co-edited by Adam and Caroline Raphael, together with award-winning travel writers Ian Belcher and Joanna Symons, the new 2020 edition features 830 hotels, inns and B&Bs, with 433 main entries (including 36 new entries) chosen for their exceptional hospitality and distinctive style and a revamped Shortlist section (including 50 new entries) featuring 397 properties with extended text and a photograph for each entry.