9 best European city breaks to book in 2022 for incredible scenery, culture and food
Discover the best European city breaks with incredible food, scenery and culture, all within easy reach of the UK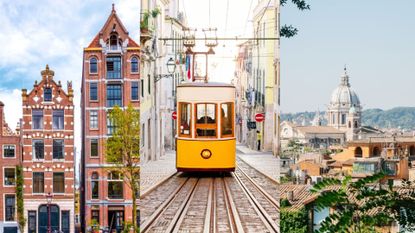 (Image credit: Future / Getty Images)
The best European city breaks have enough to inspire over the space of a long weekend but also offer enough to see and do to make a short holiday out of your trip if you have slightly more time to spare.
As some of the best places to visit in 2022, the dynamic cities in our list have it all—history, culture, incredible scenery, and some of the best food in the world. Part of Europe's appeal is how easy it is to hop between cities, with just a drive, short flight, or train ride transporting visitors between some of the best places in Europe in a matter of hours or overnight.
A comprehensive list of the best European city breaks wouldn't be complete without the likes of Paris, Amsterdam, and Rome, with tourists flocking year after year to experience their famous landmarks. But there are some lesser-known European city break destinations that still offer visitors unforgettable experiences. Cities like Seville, Lisbon, and Antwerp are steadily gaining momentum among travelers—no doubt classic European city breaks in the making.
9 of the best European city breaks to book in 2022
1. Paris, France
Best European city break for: People watching
Paris has long been touted as the ultimate romantic getaway in Europe and is home to some of the world's most beautiful hotels. Despite topping best European city break lists year after year, tourists never seem to tire of its charms. Perhaps it's the cobbled, winding streets that are best explored by foot, its abundance of quaint cafés and bakeries that make perfect spots to watch the world go by, or that it's one of the best foodie cities in France—the City of Lights boasts over 100 Michelin stars.
Easy to navigate via the Metro, explore the artist quarter Montmartre, the Louvre, the Arc de Triomphe, and the Eiffel Tower all in one weekend. But in addition to the world-renowned culture and fine dining food scene, there's another big draw to a weekend in Paris: shopping. As well as the upmarket Galeries Lafayette—the biggest department store in Europe—there are luxe boutiques, colorful flea markets, and stylish independent stores to discover on a shopping tour of Paris. And for your own Carrie Bradshaw moment, the bright lights of Chanel and Dior await along the Champs-Élysées.
How to get there: Fly from most UK airports (flight time approximately 1 hour 15 from London), or Eurostar from London St Pancras (opens in new tab) (on average 2 hours, 15 minutes). Look out for some of the best holiday deals on Eurostar trips, with prices starting as little as £60 return.
Where to stay: Mama Shelter Paris East (opens in new tab) is a far cry from Paris' ornate and traditional hotels, with eclectic interiors, a bustling late-night bar, and a contemporary feel, in the heart of one of the most vibrant neighborhoods in East Paris. Its hidden rooftop bar is also one of the best places to experience those famous twinkling lights.
Don't leave without trying: Hot chocolate at Angelina (opens in new tab). Nestled on Rue de Rivoli, opposite the perfectly manicured Jardin de Tuileries, renowned patisserie Angelina is more than just a pretty tearoom in a prime Paris spot. While there are Angelina tea rooms in the rest of Paris and, more recently, the world, nothing quite beats sampling the iconic hot chocolate and delicious cakes, pastries, and desserts at the original location. Be warned though, long queues are likely in summer, so plan your visit outside of peak season to avoid the crowds.
2. Amsterdam, the Netherlands
Best European city break for: Cycling the sights
Canals, bicycles, tulips and stroopwafels... Amsterdam has a lot to offer. To experience the best of Amsterdam is to simply wander (or cycle!) through its picturesque streets, popping into its numerous cafes, galleries and markets along the way. On arrival, head straight to the Bloemenmarkt on the canals for a view of quintessential Amsterdam, then stop off at the Kattenkabinet for something completely different—a museum entirely dedicated to cats and art involving cats. With bicycles as the transport of choice, Amsterdam lacks the hectic atmosphere of many other European city break destinations.
In terms of culture, Amsterdam has some major players, with the Van Gogh Museum (opens in new tab) and Rijksmuseum (opens in new tab) both must-visits while you're in town. The market scene also has a lot to offer foodies, with local produce on offer at the Saturday Noordermarkt, and giant stroopwafels—Amsterdam's signature sweet treat—at the Albert Cuyp Market (opens in new tab). The small but mighty Foodhallen (opens in new tab) is also not to be missed, with numerous food stalls and bars offering tasty morsels to fuel an afternoon of exploring. Indulge on bitterballen, salmon tacos, vegan nachos and dim sum, all topped off with a high-end G&T.
How to get there: Fly from most UK airports (approximately 1 hour 15 minutes from London), or take the Eurostar route between London and Amsterdam (opens in new tab) in just under 4 hours.
Where to stay: Undoubtably the coolest new addition to the Amsterdam hotel scene is The Hoxton Amsterdam (opens in new tab), comprised of five interconnected canal houses, with a stellar restaurant and waterside views.
Don't leave without: Taking a trip to the Keukenhof Tulip Gardens (opens in new tab), 40 kilometers from the center of Amsterdam in Bollenstreek. Amsterdam is particularly beautiful in early spring, when its colorful flowers are beginning to bloom, making it one of the best places to visit in April.
3. Lisbon, Portugal
Best European city break for: Rooftop sundowners
A growing contender for the best city break in Europe, Lisbon offers sun-drenched squares and colorful shopfronts, its rooftops peppered with bustling cocktail bars and fine dining restaurants. Set against the backdrop of the Atlantic Ocean, Lisbon has all the laid-back allure of a coastal destination, with the hustle and bustle of city living. Its baroque streets are full of old-world charm, from the retro wooden trams that support tourists and residents around the city to an abundance of traditional craft and trade shops.
After dark, Lisbon glows, its jagged skyline alight with late-night dining spots (dinner is typically eaten around 9pm in Portugal) and revelers. To experience Lisbon in all its glory, head to one of the many rooftop bars to soak up its spectacular views of the city and the River Tagus, unfolding out towards the Atlantic Ocean. Lisbon's hilly terrain may mean you need to catch your breath while stomping around the city, but it certainly makes for some incredible views. Lisbon still experiences milder temperatures in the autumn months, making it one of the best places to visit in September.
How to get there: Fly from most UK airports (approximately 2 hours, 15 minutes from London).
Where to stay: Torel 1884 (opens in new tab) Suites & Apartments are luxurious, but still have a homely feel.
Don't leave without: Sampling a pastel de nata, of course! The signature pastry of Portugal may be a cliche, but there are few things more delicious than this custard-filled treat. Head to the Time Out Market (opens in new tab) for a reliably delicious variation, or pick one up as you meander through Lisbon's cobbled squares—there's no shortage here.
4. Rome, Italy
Best European city break for: Local food
Wandering the streets of Rome is like stepping back in time—its ancient roots are still present within every beautifully-preserved building. Many visit The Eternal City for its architecture—the countless stunning churches, fascinating archaeological sites, and of course the Colosseum, Pantheon and Roman Forum that mark the city's 3,000-year history.
But there's another reason tourists flock to Rome—the food. Roman food is some of the best in the world, characterized by its robust flavors, each dish telling a different story. Pizzerias and restaurants serve up traditional Italian dishes like rich ragu and hearty stews, washed down with a heady mix of fine wine and Italian hospitality. If you like your evening meal to be lively, head to the neighborhoods Monti or Trastevere, where diners spill out onto the street from bustling trattorias.
How to get there: Fly from most UK airports (approximately 2 hours 15 minutes from London).
Where to stay: Boasting a prime location just below the Spanish steps, Rocco Forte Hotel De La Ville (opens in new tab) is one of Rome's premier luxury hotels.
Don't leave without: Trying some of Rome's original dishes, such as cacio e pepe—pasta with cheese and black pepper—and pizza alla Romana.
5. Dublin, Ireland
Best European city break for: Merriment
It's not all Guinness drinking and frivolity when it comes to Dublin's appeal—although they certainly make up a large part of the Republic of Ireland. A short hop over the sea from Britain, or a drive over the border from Northern Ireland, it's a fun-loving, friendly and eccentric city, with a rich cultural heritage to explore. Get lost in Dublin's winding streets, take a literary tour of the watering holes of the likes of James Joyce and Oscar Wilde, and marvel at the impressive St Patrick's Cathedral in the heart of the city, or the spellbinding Trinity College Library.
How to get there: Fly from most UK airports (approximately 1 hour 15 minutes from London), or you can take a ferry from Holyhead in Wales, which takes around 3 hours.
Where to stay: The Shelbourne (opens in new tab) offers five-star service and serious luxury. Just five minutes from the city's main attractions, it's in a prime location—plus there's a fantastic seafood and steak restaurant.
Don't leave without: Sampling Guinness straight from the source. Beer lovers should head straight for the Guinness Store experience, where even if you don't drink the stuff you'll be fascinated by its interactive exhibits.
If you're looking to extend your trip and experience Ireland's stunning countryside, take the trip to Giant's Causeway, which is three hours' drive away. Visually breathtaking and shrouded in mysticism, it's one of the most spiritual places in Europe.
6. Berlin, Germany
Best European city break for: An evolving arts scene
If you're fascinated by Berlin's tumultuous, yet compelling, wartime history, there's plenty to see—Brandenburg Gate, the graffiti-covered remains of the Berlin Wall, and the Holocaust Memorial. But don't stop there. Today, Berlin is a phoenix from the ashes, and—after paying homage to its past—it's crucial you immerse yourself in its present, too. In particular, Berlin's ever-evolving arts scene. As well as the galleries and exhibitions that adorn Berlin's squares, there's vibrant street art, experimental installations, and nightclubs that will transport you to a different world entirely, with light shows, spoken word, dance, and drama all on offer in venues across the city. Wander the city's local markets, gaze over the city from atop the 368m Television Tower, and observe 22,000 types of plants in Berlin's stunning Botanical Gardens.
How to get there: Fly from most UK airports (1 hour, 50 minutes from London).
Where to stay: Hotel am Steinplatz (opens in new tab) is just 650 yards from the famous Ku'damm Boulevard in Berlin's stylish Charlottenburg district and the former haunt of Brigitte Bardot.
Don't leave without: Browsing Berlin's extensive markets. Berlin is also one of the best places to visit in December due to its transformation into a magical Alpine village with over 80 Christmas markets dotted across the city.
7. Seville, Spain
Best European city break for: Al fresco dining
It always feels like summertime in Seville, with sweet-smelling orange and lemon trees at every turn and a warmer year-round climate thanks to its positioning in the southernmost part of Spain. Enjoy Seville's long hours of daylight, dining al fresco with fresh seafood, plates of jamón, washed down with the city's signature drink—ice-cold sherry wine. The sun-drenched capital of Andalusia is a feast for the eyes, as well as the stomach, with some of the prettiest streets in Spain, vast and sprawling 17th-Century palaces and perhaps the world's most beautiful gardens. A city that was made for long, leisurely lunches, followed by hot summer nights—where you can catch a flamenco show or bar hop around the city's many nightlife spots.
How to get there: Fly from most airports in the UK (approximately 2 hours 45 minutes from London).
Where to stay: To really experience Seville's old-world glamor, book a stay at the prestigious—and very regal—Hotel Alfonso XIII (opens in new tab). A hangout for the highest-ranking Spanish nobility since 1929, this is one of the grandest buildings in Seville, with a recent refurb meaning it has all the amenities of a luxe five-star hotel. A contender for one of the best luxury hotels in the world.
Don't leave without: Visiting Las Setas (opens in new tab) (popularly known as the Mushrooms of the Incarnation), an awe-inspiring structure in central Seville with a viewing platform where you can look over the city and all its splendor.
8. Antwerp, Belgium
Best European city break for: Gothic architecture (and plenty of chocolate!)
Antwerp is a brilliant European city break—with a towering, Gothic cathedral, higgledy-piggledy architecture, cobbled lanes and an arts scene to rival Europe's most cosmopolitan cities. Don't miss a visit to The Rubenshuis (opens in new tab), former home and studio of painter Peter Paul Rubens, and make time to explore MAS—the Museum aan de Stroom (opens in new tab)—which has fabulous views over the city from its upper floors and outdoor deck.
It's not just Antwerp's thriving arts scene that has the rest of Europe taking note—the city is also emerging as a major fashion player, with stylish boutiques dotted around the city's winding streets. Do a spot of shopping around Volkstraat and Nationalestraat—the city's top designers have boutiques there—and find inspiration at the MoMu (opens in new tab), Antwerp's famous fashion museum.
How to get there: Fly from most UK airports (approximately 1 hour from London). For a longer option (approximately 3 hours from London), take the Eurostar from St Pancras International (opens in new tab) or Ashford in Kent to Brussels, then change for a local train (included in the ticket price when you buy 'to all Belgian stations').
Where to stay: Hilton Antwerp Old Town (opens in new tab) is situated in a picturesque part of the city, yet has all of Antwerp's best bits on its doorstep.
Don't leave without: As well as its enviable arts and fashion scene there's a local specialty that you need to experience in Antwerp—chocolate. There's even a whole museum dedicated to the sweet stuff. Chocolate Nation (opens in new tab) is the world's biggest Belgian chocolate museum and is not to be missed.
9. Prague, Czech Republic
Best for: Historical tours
Prague is one of Europe's cheapest cities—and one of its most spectacular too. Everything from its flat whites to its historic hotels are budget-friendly, leaving you with plenty of cash to get under the skin of this arrestingly beautiful city. Not that you'll need it. Known as the 'City of 100 Spires' (but boasting around 500) Prague has a history stretching back 1,000 years—with its Medieval landmarks discoverable by wandering through Prague's cobbled streets.
Navigate the labyrinthine Jewish Quarter, stroll the Charles Bridge, admire the Church of St Nicholas, and gaze upon the Astronomical Clock then finish your day with a coffee or wine overlooking one of the city's picturesque squares. After nightfall, Prague comes alive, but it's not just the famous stag and hen parties that bring revelry to its streets. Arthouse cinemas, bustling food markets, and lively neighborhood bars and restaurants are just some of the options for after-dark activities.
How to get there: Fly from most UK airports (approximately 1 hour 55 minutes from London).
Where to stay: Alchymist Prague Castle Suites (opens in new tab) is a historic hotel right below Prague castle—a prime location for seeing the sights of Prague. Hotel prices are reasonable in Prague, making it a great affordable luxury vacation destinations.
Don't leave without: Trying some of the craft beer in the many breweries and microbreweries around the city. Brevnov Monastery Brewery is a unique starting point, for those who like their pint with a side of history.
Do you really need travel insurance?
It may feel like an extra expense but travel insurance can give you peace of mind should the worst happen when you are travelling. The best travel insurance policies should cover most things, from emergency medical expenses and repatriation to flight delays and trip cancellations. You can even choose policies specifically tailored to your type of trip, such as cruise or backpacking insurance.
Compare Travel Insurance Quotes at GoCompare (opens in new tab)
Lauren is the former Deputy Digital Editor at woman&home and became a journalist mainly because she enjoys being nosy. With a background in features journalism, Lauren worked on the woman&home brand for four years before going freelance. Before woman&home Lauren worked across a variety of women's lifestyle titles, including GoodTo, Woman's Own, and Woman magazine.