The best places to visit in Europe: 26 bucket list experiences on the continent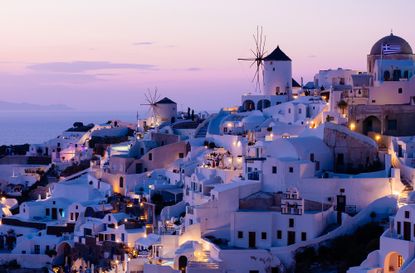 Our vast continent has plenty to offer, so plan your next trip with this bucket list of European landmarks, beautiful destinations and the best places to visit...
It's bursting with world-famous culture, fascinating history, sublime beaches and truly exceptional food - but how much of Europe have you explored? These are the best places to visit in Europe, whether you're after beautiful destinations or simply spectacular landmarks.
1. Gawp at Gaudí's Barcelona, Spain
The whole of Barcelona is a work of art, thanks to the incredible architecture by Antoni Gaudí - the likes of Casa Vicens, Parc Güell, and La Pedrera. La Sagrada Familia might still be under construction, but it will no doubt be the most spectacular church you've ever set foot in. It's set to be completed sometime in 2026, which marks 100 years sinceGaudí passed away. But scaffolding aside, it's still well worth the trip - plus it's set in one of Europe's most beautiful cities, with beaches and tapas galore.
2. See Rome's ancient treasures, Italy
The Sistine Chapel, the Colosseum, the Forum, Trevi Fountain, Villa d'Este... of all Europe's amazing city break destinations, Italy's capital surely has the longest 'must-see' list of incredible European landmarks. Not to mention all that gelato. Prepare for an unforgettable city break if you're planning a trip to Rome, and don't miss out on gorging on pasta like a pro in its many quaint trattoria.
Inspired? See Rome's best ancient and Baroque architecture on this escorted tour from £649 by Riviera Travel (opens in new tab).
More like this: The only Italian city you need to visit this year
3. Explore the lost city of Pompeii, Italy
A trip to Pompeii is the closest you'll get to time travel: this ancient city was buried by the eruption of Mount Vesuvius in AD 79, and has been remarkably preserved. As you wander the eerie streets (which still bear Ancient Roman graffiti) you'll get a real idea of what life was like almost 2,000 years ago. See it for yourself on our favourite Italian departure by Riviera Travel - the Pompeii, Capri and Bay of Naples escorted tour from £699 (opens in new tab).
4. Visit the opera in Vienna, Austria
When it comes to cultural clout, Austria's capital is Europe's finest: a colourful hub of world-class opera, concerts and ballet performances. It's also the birthplace of the waltz, so a dancing lesson or two wouldn't go amiss here.The opera doesn't have to be an expensive experience either: you can pick up a standing-only ticket to Vienna State Opera House performances for less than €5 per person.
This elegant city is by far one of Europe's most beautiful, and is best visited on a cruise along the glorious Danube. Riviera Travel's epic Heart of Europe cruise (opens in new tab) is a stunning 15-day introduction to some of the continent's best places and costs from just £1,899 per person.
More like this: The holidays every woman should take in her 60s (opens in new tab)
5. Explore Switzerland's glorious lakes
There are hundreds of lakes in Switzerland - but which ones are the best? Seebergsee is surrounded by walking and cycling trails, Lake Lucerne is best explored on boat tours, and Lake Constance spans the border with Germany and Austria, making for a fascinating cultural blend. If you love hiking trails with a great view, Switzerland is one of the best places to visit in Europe.
Book it: Holidays to Switzerland from £999 with Riviera Travel (opens in new tab)
6. Admire the glory of the Lake District, UK
You don't have to travel far to experience the serenity of a lake-side retreat: the Lake District is just a few hours on the train from London, and boasts arguably some of the best walking trails in England. For starters, take an amble from the little town of Keswick to the pristine banks of Derwentwater - an easy, pretty jaunt that'll get you hooked on this beautiful region.
More like this: Where to have an incredible staycation
7. Sail the Amalfi Coast, Italy
Fall in love with the azure waters and pretty clifftop villages of Italy's Amalfi Coast - one of Europe's most beautiful seaside regions. The best way to experience it is by boat, discovering crowd-free coves and picturesque harbours every day.
More like this: The best European river cruises to book this year
8. Be amazed by Spain's Alhambra Palace
The city of Granada, in Spain's sun-drenched south, is renowned for its incredible Arabesque architecture: think soaring archways, beautiful mosaics, and gorgeous courtyard gardens.
If you love art and design, this is one of the best places to visit in Europe. The Alhambra fortress and palace is the jewel of this beautiful city - its Arabian Nights-style splendour makes for an enchanting afternoon tour.
More like this: The best places to visit in June
9. Sip Champagne in... Champagne
Want a taste of the good stuff? The city of Reims is a quick Eurostar trip away from the UK - and you'll be happy to hear that Champagne is often cheaper when purchased directly from its creators. With Paris's Notre Dame cathedral devastated by fire earlier this year, the Reims' own version is a stunning 13th-century alternative, and beyond the city there are vineyard tours aplenty. Probably best get a driver so you can sip as much as you like in the sun!
More like this: European city breaks within two hours of the UK
10. Go island hopping in Greece
These Mediterranean islands are a feast for all the senses. See the stunning famous white architecture on Santorini, explore Crete's wild interior and little-visited northern beaches, or while away the afternoon in the tavernas of Lefkas. Best explored on a gorgeous luxury yacht, the Greek islands are some of the most beautiful in Europe, with azure seas and golden sands. You can explore it on the Riviera Travel Ionian Island (opens in new tab) Odysseycruise, which takes in 10 different islands over eight days.
More like this: Mini cruises: the best short cruises to take for a quick break
11. Hop along the Giant's Causeway,Northern Ireland
Looking more like a bizarre obstacle course than a natural stretch of coastline, the 40,000 interlocking stone columns of Giant's Causeway are a striking sight to behold. They were created millions of years ago by a volcanic eruption - not, sadly, by giants - and they are a highlight on any tour of the Northern Irish coast.
More like this: The best summer walks in Britain
12. Splash out in Venice
Everyone knows that Venice is one of the best places to visit in Europe - but don't let the crowds or price tags put you off. Visit 'off season' (September to February, avoiding Christmas and school holidays) for the best chance of enjoying Saint Mark's Basilica, the Doge's Palace and the Grand Canal in (relative) solitude.
13. Learn to cook in Tuscany, Italy
Sure, you can feast on the rich pasta dishes, parmigiana bakes and juicy steaks that Tuscany is famed for, but why not go one step further and learn how to cook them yourself? Enjoy vineyard visits for wine tastings, a day feasting in Florence, and fabulous cooking demos on a trip to Tuscany and you'll come back an expert in Italian cuisine. We love this walking tour with Riviera Travel (opens in new tab), which explores the stunning Tuscan hills just for solo travellers.
14. Overlook Paris from the Eiffel Tower
Yes, it's a huge cliché, but if you haven't been to the top of the Eiffel Tower we suggest you book a Eurostar ticket pronto. When you're looking out over the Seine, your gaze skimming across the rooftops of Paris and up to Montmartre, the romance of the City of Light is undeniable.
15. Road trip through Scotland
Do you really need travel insurance?
A country escape might seem like a peaceful and tranquil holiday, but there are still risks that travel insurance could cover. Travel insurance can provide cover should your trip be cancelled or if your property gets damaged or stolen. If travelling abroad, a travel insurance policy could also cover you for flight delays or medical expenses should you become ill or injured. If backpacking is more your speed, you can even buy specialist backpacking insurance.
Compare Travel Insurance Quotes at GoCompare (opens in new tab)
Where will the open road take you? Scotland is one of the best UK spots for a road trip: you could venture up into the highlands, catch the ferry between far-flung islands in the Hebrides, or simply scoot into the countryside on day trips from Glasgow of Edinburgh. For views like the incredible one below, head to the Isle of Skye.
Read more: The UK's best spas for girly weekends away (opens in new tab)
16. Watch flamenco in Seville
The rhythms of flamenco run through the heart of southern Spain - particularly in the streets of Seville. The month-long Bienal de Flamenco Sevilla showcases the best of Seville's dancing talents every other September, with informal performances, street music and dance workshops held throughout the city.
Aside from dancing, this city has plenty more to entertain. With its origins in Roman times, there's plenty of fascinating architecture and a stunning cathedral to visit. Plus, it's one of Spain's best places to try paella.
Book it: explore Seville and Classical Spain with Riviera Travel from £659 (opens in new tab)
17. Explore the Acropolis in Athens, Greece
Towering over the city of Athens, the Acropolis dates back to 4BC - the days of ancient Greece. The rocky citadel is topped with the ruins of several impressive monuments, including the iconic Parthenon temple - which boasts incredible views back towards the city.
18. Have a spa break in the Italian Lakes
The glassy waters and rolling hills of the Italian Lakes make it one of Europe's most serene spots - perfectly complemented by the area's crop of luxurious spa hotels. Grand Hotel Tremezzo and Il Sereno on Laka Como both boast lavish spa treatments and swimming pools, while Lake Garda's Lefay Resort & Spa (opens in new tab)is also a grand spot for a getaway.
19. Devour a genuine Cornish ice cream
What could be better than hanging out on a Cornwall beach, with a genuine Cornish ice cream in hand? You'll never look at a Cornetto the same way again. Discover Falmouth, where stunning spa hotel St Michaels Falmouth (opens in new tab) offers a near beachfront retreat. Or visit wide, sandy Watergate Bay - one of Cornwall's best beaches - where the Watergate Bay Hotel (opens in new tab) overlooks the stunning ocean.
20. Take a river cruise on the Rhine
If you've always wanted to see the likes of Strasbourg and Cologne, get yourself on a river cruise along the romantic Rhine. This stunning river traverses Germany, France and Switzerland and has some of the finest European countryside scenery and small, quaint towns along its banks. Riviera Travel's eight day epic (opens in new tab) from Cologne to Basel is the ideal way to see it.
21. Go to a German Christmas market
It simply isn't Christmas until you've spent a dark December weekend eating hot pork rolls and gingerbread, washed down with more mulled wines than you care to remember!
On Riviera Travel'sfabulous yuletide cruise (opens in new tab), you'll visit allof Germany's best Christmas markets in Cologne, Bonn, Koblenz, Rüdesheim and Dusseldorf this winter – with plenty of mulled wine along the way.
More like this: 8 European islands you must visit (opens in new tab)
22. Climb a Welsh peak
Whether you choose the coastal peaks of Pembrokeshire, the rolling Brecon Beacons, or the challenging peaks of the Black Mountains, nothing puts a spring in your step quite like a ramble in Wales's hills.
We're lucky to have such incredible scenery on our doorstep - and a glut of traditional buttery Welsh cakes as your reward. For adventurous souls, this is one of the best places to visit in Europe.
23. Take a horse and cart through Krakow, Poland
The classiest way to navigate the cobbles of Krakow? By horse and cart - that's how locals have been getting around the city for centuries.
The impeccably groomed horses are decorated with ostich feathers and tassels, and will trot you around the sights in the comfort of a traditional carriage.
24. See Berlin's Brandenburg Gate
Since the end of the Cold War, the Brandenburg Gate has symbolised unity in Germany: it commemorates the reunification of East and West Germany in 1989, when it was finally opened as a border crossing between the divided states. Today, this monument of peace and tolerance is just as important - and moving - as ever.
25. Tour Holland's tulip gardens
It's utterly incredible to see acres of tulips, daffodils and hyacinths in full bloom - and the gardens of Holland and Belgium in spring are some of the most stunning in the world.
26. Explore beautiful Bruges
Bruges was made for lazy, indulgent city breaks: it's the kind of place where you can cruise on pretty canals, get lost in picture-perfect cobbled lanes, then feast on moules frites and Belgian beer for lunch.