Best vacations for 60 year olds: 7 trips everyone should take in their 60s
The best vacations for 60 year olds range from adventurous treks, to easy-does-it excursions and pampering layabouts. Here are some of the best places to travel in your 60s - according to a 60-something who has been there...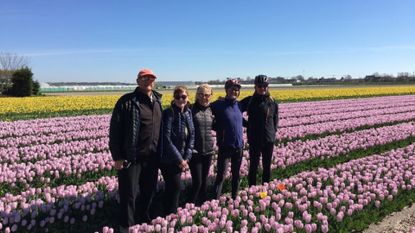 (Image credit: Toni DeBella)
The best vacations for 60 year olds don't look that different from the vacations you might plan in your 40s or 50s. The main point of difference is that you might be able to spend a little more time in each destination, and without the restriction of trying to keep the whole family happy, affording you the freedom to explore at your own pace and really immerse yourself in the places you visit.
They say with age comes wisdom — and a sense of perspective that can only be obtained after a half-century or more of life under our belts. For many of us in our sixties, chronological age rarely jibes with how we see ourselves and "slowing down" just isn't part of our middle-age lexicon.
As travel opens up around the globe and we venture out to explore the world's great destinations again, Covid safety continues to be top-of-mind. That's why our curated list of top places to visit (and experiences to have) includes more than a few outdoor-focused holiday ideas and social-distanced inspirations.
By bicycle, rail, on foot or riding one of the best cruises, here's our pick of the best places to discover in your sixties, from the best places to visit in Europe when you've got time to explore, to trips that can be taken as group tours for solo travellers.
The best vacations for 60 year olds to inspire, intrigue, excite and delight
1. Bike, Barge, and Tulips: The Netherlands
Best known for its iconic tulips and twirling windmills, the Netherlands also boasts the highest number of cyclists per capita than anywhere else on the planet. Situated between Belgium to the south and Germany to the east, the low-lying country of Holland (as it's casually referred to) is etched with a vast network of bike paths and winding canals — crisscrossed by a system of locks and draw bridges — making it the perfect destination for biking and cruising, Dutch style.
Board a vintage barge at Amsterdam's Oosterdocks where the two-wheeling jaunt begins. Each day pedal on terra firma through historic towns and beside watery byways that stretch across greener-than-green countryside. Stop along Instagrammable ribbons of colourful flower fields or take a coffee at a pavement-side café. Cycle at your own pace; the pancake-flat terrain makes riding a breeze, even for those with mobility issues.
In fact, Greg Shank and his wife Diana, chose this particular trip because of a recent health crisis that left Greg's legs shaky and his balance compromised. "Oddly enough, I'm much more comfortable on a bike than on my own two feet," says Shank.
YuBike offers a wonderful four-day, five-night tour that begins and ends in the country's storied capital. Rates include bike hire (e-bikes are available), accommodations, meals, and all the coffee and tea you can drink. Purchase bottles of wine onboard at the very reasonable price. Transfers and gratuities are extra.
Top Tip: There's a short window of opportunity to see Holland's flowers in full bloom, so plan ahead. The best time to visit is April.
2. Ring Around Mont Blanc: France, Italy, and Switzerland
For the pandemic-weary, a great way to dip your toes back into the travel verse is by taking a hike in the great outdoors around Western Europe's highest peak, Mont Blanc. A bucket list trip for many, the journey begins in Chamonix and circles the mountain, winding through small towns and charming villages in France, Italy, and Switzerland. The journey ends where it started with plenty of epic scenery witness, memories made and delicious French and traditional Italian dishes sampled on the way.
There are a mass of companies that offer guided and self-guided itineraries with accommodations and luggage transport included — all you need is a small rucksack, a good water bottle and an excellent pair of hiking boots. Tours are conducted from June to August.
Top Tip: Though you needn't be in "Mt. Everest shape", you should be in strong physical condition and have good hiking experience, with the right gear for the trip (your best hiking boots and walking poles are a must).
3. All Aboard the Coast Starlight: Seattle to Los Angeles
Sojourn in style. Railways are a delightful and hassle-free way to holiday that leaves the driving to the conductor.
One of America's most scenic train routes, Amtrak's Coast Starlight takes passengers on a stunning journey between Los Angeles, California and Seattle, Washington. The 35-hour trip snakes through some of the greatest cities on the West Coast, such as Santa Barbara, the San Francisco Bay Area, Sacramento, and Portland. From the Starlight's Sightseer Lounge — a elevated observation car — take pleasure in the unforgettable vantage point as snow-capped Mount Shasta, vineyard-cut central valley farmlands, and the magnificent shoreline of the Pacific Ocean roll past your window.
For the most privacy and comfort, reserve a bedroom sleeper. It comes with a private toilet and shower, complimentary meals, access to the lounge car, and a dedicated attendant to see to your every need. Accessible bedrooms are available.
Top Tip: Make a grand tour of it by hopping off and on the train along its route. There are a total of 29 station stops, with local guides available for hire in L.A., Portland and Seattle.
4. Rancho La Puerta, Tecate, Mexico
Since the 1940s, the family-owned Rancho La Puerta has been pampering and enlightening everyone from Hollywood bigwigs to royalty. The resort is located in the coastal mountains of Mexico's Baja California, 40 miles south of the border from San Diego.
What you find when you arrive is singularly astounding in both its natural beauty and an array of activities for body, mind and spirit. Stay in one of 86 uniquely decorated casitas scattered throughout the 4,000-acre desert oasis and enjoy amenities that include several amazing swimming pools, 40 miles of hiking trails, a restorative spa, and oodles of secluded corners where you can read a book or take a catnap.
"It's summer camp for adults," gushes Suzee Ackermann, an international flight attendant and passionate yoga enthusiast who celebrated her 65th birthday this April. "I have learned so much at the ranch — I find that I am much more comfortable trying something brand new here. I feel supported and encouraged and never judged," says Ackermann.
Think of it as a wellness centre, meditation and healing hub, organic farm, art institute, lecture hall, writer's retreat, fitness club, and cookery school all rolled into one. You name it and Rancho La Puerta probably has it.
Top Tip: Be prepared to splash out but don't feel pressured to participate. It's entirely up to you how much (or little) you do.
5. Rent a Private European Estate
Whether you fancy a Mediterranean villa in Tuscany, a château in Provence, or a hacienda in Malaga, for several weeks (or even months), staying in a holiday home is slow, responsible travel at its best. Immersing oneself in everyday life — eating, shopping, and engaging at the local level is how to get a feel for a place, its cultures and traditions.
If you're dreaming of an Italian getaway, Tuscany Now offers exclusive hand-picked villas in Tuscany and Umbria (with properties in Spain too). Choose their bespoke concierge service (maids, private chefs, wine tastings, etc.) or, if you prefer a more do-it-yourself holiday, opt for a self-catering property - you can always pop to one of the many foodie cities in France for a meal out if you get tired of cooking.
Top Tip: Retired? Why not take advantage of Europe's three-month tourist visa and rent out a country house or city flat for an extended period.
6. Go Down Under: Sydney, Australia
After more than two years of isolating lockdowns, Oz has finally opened up to visitors again. It's time to see Sydney in all its glory. Situated on the eastern coast of New South Wales, Sydney is the largest city in Australia.
Gaze upon the architecturally stunning Opera House erupting from Sydney's awe-inspiring harbour. Work on your tan at one of its many sandy beaches, visit the world-renowned Sydney Zoo, scale the Harbour Bridge or tour the Museum of Contemporary Art. After the sun sets, partake in the city's uber-cosmopolitan dining and vibrant nightlife. Sydney has no shortage of things to see and do, so it's rather hard to pack it all into one vacation, but you can try.
Top Tip: Hire a car and drive 3 hours up the coast to Halliday's Point. This tiny village sports one of the most beautiful stretches of beach anywhere, or use your wheels to take a day trip to the famous 'Blue Mountains' for more epic scenery.
7. Out of Africa: Marrakech, Morocco
Lying on the Haouz Plain, south of the Tennsift River, Marrakech's famed Medina (ancient city centre) was designated a UNESCO World Heritage Site in 1985.
Marrakech is home to some of the most luxurious hotels in the world (a stay at La Mamounia is a bucket list experience in itself) but for a truly authentic stay, book yourself into a Riad - a traditional guesthouse usually centred around an open-air courtyard.
A shining example is Riad Dombaraka. Located on a quiet and narrow street, Dombaraka features six individually decorated rooms and a suite, a lovely rooftop terrace and a small plunge pool to wash off the dust after a long day sightseeing.
A must-see, the souks (outdoor markets) are the undeniable thumping heart of the city. The dizzying maze of artisan shops is chaotic yet completely captivating. After getting your fill of shopping, head over to the Majorelle Gardens - one of the most beautiful gardens in the world in the middle of the desert. Enjoy a rest from the heat and a tranquil stroll amongst French painter, Jacques Majorelle's botanical wonderland.
Top Tip: If haggling over prices isn't your thing, there are shops located on the main market square, Jemaa el-Fnaa, which sell merchandise as marked — no bartering required.
An American freelance travel, lifestyle and digital content writer based in a medieval hill town in Italy, Toni's work has been featured in publications including The Telegraph, Fodor's, Italy Magazine, Culture Trip, and Walks of Italy. Along with contributing to a series of DK Eyewitness guide books, she also covers the DIY beat for magazines that include The Family Handyman and Hunker.