The best water bottles for cold and fizzy drinks, for on the go refreshment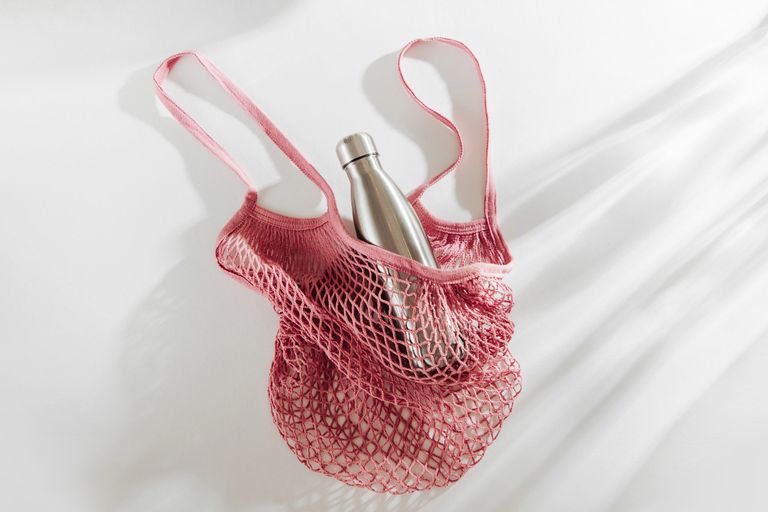 Keep yourself hydrated on the go and do your bit for the environment by investing in a tough, reusable water bottle. We've found the 9 best water bottles on the market right now.
We've all become increasingly aware over the past few years of the impact that our obsession with single-use plastic water and drinks bottles is having on the environment. Images of seas and waterways covered in a huge tide of debris, mostly plastic and in particular bottles, are growing and it's clear that something must be done. Sadly, while many of us are aware of the situation, sales of single-use plastic water bottles grew by 7% to more than £558m last year.
So, how do we reduce our dependence on plastic water bottles while at the same time ensuring we stay fit and healthy by consuming enough water during the day? By choosing to invest in a reusable water bottle, whether that's one made from plastic, steel or glass, each one of us can reduce our consumption by an amazing 150 bottles a year. But how do you select the best water bottle with so many out there? Our guide will help you pick the best water bottle for you, whether you need one that's insulated, a bigger 1ltr bottle or even a huge 2litre water bottle.
How we selected and tested the best water bottles
We tested a number of reusable bottles for several days, taking into account the size and weight, how leak-proof they were and how easy to clean. Plus, when we were on the go, how cool or not they kept, how simple they were to transport in a bag or by hand and how easy refilling was, too. Most importantly, we examined how pleasant the drinking experience was, taking note of sharp edged and too small or too large drinking spouts.
Overall best water bottle 2019: w&h's verdict
W&H's best buy:Emma BridgewaterChilly'ssteel bottle,£25
For versatility, performance and style, the Emma Bridgewater for Chilly's steel bottle wins our w&h best buy. Able to keep cold drinks cold for 24 hours, and hot drinks hot for 12, it might seem on the pricey side but this is a product that really delivers. Plus it comes in an array of different styles, from the classic Emma Bridgewater spots to cute pink hearts!
W&H's star buy:Carbonated Drinks Bottle, Thermos, £19.99
The Thermos Carbonated Drinks Bottle promises to keep your sparkling water (or prosecco) fizzy and cool for up to 14 hours. The rose gold design gives the bottle a functional yet chic look - plus the airtight valve in the cap ensures no leakage throughout the day! For all this, £19.99 seems a very reasonable price, which is what makes it our w&h star buy bottle!
The best water bottles you can buy
For the bottle with the biggest capacity, capable of keeping you hydrated for the longest, skip to number 4. For a super-light bottle that won't leave you with arm ache from holding it, take a look at number 6. And if it's a discreet design you're after, number 2's chic design won't bulk out your bag at all!
1. Best dishwasher safe water bottle:Glass Bottle with silicone sleeve Oliver Bonas, £14
While many insulated steel and plastic bottles are unsuitable for the dishwasher, this stylish glass and silicone 500ml design from Oliver Bonas can just be popped in the machine at the end of the day. The stubby shape feels well balanced in the hand and although it's glass it isn't too heavy to carry even when full. At first we were a little worried about its resilience but the impact proof material stood up to bouncing around in our bag all day and it didn't leak at all. The protective silicone sleeve is pleasant to hold and is bio-degradable to boot.
Capacity: 500ml
Dishwasher proof?Yes
RATING: 4 out of 5
SHOP NOW:Glass Bottle with Silicone Sleeve, £14, Oliver Bonas
2.Best small water bottle:A6 water bottle, Memobottle, £26
If you're after something discrete to fit into your bag while travelling between meetings then the super slim Memobottle range will suit you perfectly. The A6 version holds 340ml, just enough for travelling to and from meetings or the gym without weighing you down. It's even flat enough to fit into a back pocket if you want to travel light. It's stylish, too, and is made from BPA-free plastic and comes with two lids – one black, one white. It's only suitable for drinks up to 50˚ and is not insulated so won't keep water cold for long but we drank the contents long before it became lukewarm and filled it at one of the new refill points while we were out. It's not suitable for popping in the dishwasher but the makers recommend you clean with warm water and vinegar – we're guessing that's white not malted!
Capacity: 375ml
Weight: 386g
Dishwasher proof? Yes
RATING: 3.5 out of 5
SHOP NOW:A6 Memobottle £23, Amazon
3. Best stainless steel water bottle:Emma BridgewaterChilly'ssteel bottle,£25
Not only does the Chilli's steel bottle keep beverages cold for an amazing 24 hours, it also keeps them hot for 12 thanks to the double-walled vacuum insulation. Perfect for a summer family picnic or a hot coffee to keep you warm on the sidelines while watching junior Sunday morning footie. We found warming the inside with boiling water before adding hot drinks kept them hotter for longer and likewise, placing ice cubes in with cold drinks helped maintain their cool. They come in a huge array of colours and patterns but we particularly liked the ones featuring the classic Emma Bridgewater Designs – Anemone, Pink Hearts and Polka Dots. We chose a standard 500ml bottle but they also do a dinky 250ml and larger 750ml version. And, if you want something supersized, we recommend Chilli's 1.8ltr stainless steel bottle with handy carrying handle. The bottles aren't dishwasher proof but should be washed with warm soapy water then rinsed.
Capacity: 500ml
Weight: 380g
Dishwasher proof? No
RATING: 4.5 out of 5
SHOP NOW:Emma Bridgewater Chilly's Water Bottle, £25, Emma Bridgewater.co.uk
4. Best large water bottle:1.82l Roamer Bottle, S'well
When full, this glamorous gold steel water bottle is pretty heavy, so we think it's best for days out with family and friends rather than for keeping you hydrated around town. The huge 1.82l capacity means there will be more than enough to drink for all and we found the handy carrying handle made it fairly easy to transport, too. While you can drink from the wide opening, if lots of children are using it while eating, in our experience it's probably best to decant into individual cups (reusable ones of course) to avoid food getting inside the bottle. It's made from quality 18/8 BPA-free stainless steel and features triple-walled ThermaS'well technology with a copper layer for great insulation, so will keep your hot chocolate warm for nights by the camp fire or your water cold for days at the beach.
Capacity: 1.82L
Weight: 798g
Dishwasher proof? No
RATING: 4 out of 5
SHOP NOW: Roamer Bottle 1.82l, £75, Amara
5.Best sports water bottle:Tritan Active water bottle, Sistema, £6
We all know how important it is to keep hydrated during the day and that is even more crucial when we're exercising, whether it's a gentle yoga workout or something more aerobic. Specialist running bottles abound but we were looking for something that was bigger than usual and that was easy to grip and take a sip from while working out. The great value Tritan Active fits that bill perfectly. It holds an impressive 800ml of water in a bottle that's pretty light – just 760g when full – totally leakproof, has an easy to operate flip-top lid, and is moulded to fit the hand, ensuring our grip on it remained tight at all times. While it's not insulated, so won't keep your water cool, we found the neck was plenty wide enough to drop a few ice cubes inside.
Capacity: 800ml
Weight: 118g
Dishwasher proof? Yes
RATING: 4 out of 5
SHOP NOW:Sistema Tritan Active, £6, John Lewis
6.Best value insulated water bottle:Thermal insulated flask bottle, Cambridge, £12.99
While there are plenty of insulated flask bottles on the market, we loved the five funky designs including botanical and leopard prints, which along with the great value price, makes the Cambridge a canny purchase in our book. The bottle holds 500ml, plenty for a day out and the thermal insulated interior is fully shatter and leak-proof, making it a great choice for those days when you're on the go. Even when full it's not too heavy and it sat happily in our bag without even a suggestion of a leak while we lugged ourselves around central London. It's good for both hot and cold drinks, keeping them at the perfect temperature for 6 and 24 hours respectively. It's also BPA-free ensuring there's no potentially harmful chemicals released when it's in use.
Capacity: 500ml
Weight: 299g
Dishwasher proof? Yes
RATING: 4 out of 5
SHOP NOW:Cambridge Thermal Insulated Flask bottle, £12.99, Amazon
7.Best kids' water bottle:Dolly the Llama Children's water Bottle, Rex London, £6.95
Encouraging kids to keep hydrated on the go can be tricky but our testers loved the flip-top design and integral straw that went with this llama patterned BPA-free 500ml bottle. It's pretty light, even when full and the strap means it's easy for a child – or parent, let's be realistic – to carry. The straw is soft, so won't damage little mouths, either. It also help to prevent the inevitable 'I'm thirsty' when you find yourself in a coffee shop surrounded by racks of full-sugar carbonated drinking single use plastic bottles, plus it's the perfect way to get the next generation into the habit of reusable bottles. There are heaps of designs to choose from so if your child's not a llama lover, then they might be more pleased by a space ship design or Sydney the Sloth. Wash out thoroughly with warm soapy water, particularly if you're using it for fruit juice or other sugary drinks.
Capacity: 500ml
Weight: 94g
Dishwasher proof? Yes
RATING: 4 out of 5
WHERE TO BUY:Dolly the Llama Children's Water Bottle, £6.95, Rex London
8.Best fizzy water drinking bottle:Carbonated Drinks Bottle, Thermos, £19.99
If you prefer your water fizzy – or want a hit of something more sugary to help you through the day without having to invest in endless pop bottles – then this clever 500ml carbonated drink flask is for you. Made by the experts at Thermos, this steel bottle guarantees to keep your drinks sparkling and cool for up to 14 hours. We loved the look of this one, too, with it's fashionable rose gold outer and handy carrying hook. It's also slim enough to fit in most car cup holders. The black silicone cap has an airtight valve, which ensures no leakage, even when we carried it around all day, and our fizz remained, well, fizzy. The top part unscrews so you can drink straight from the nicely rounded spout and the main cap twists off for decanting pop from family-sized containers to help you use fewer plastic bottles. While it is made by hot-drink container experts, Thermos, this one's strictly for cold drinks and is best washed by hand.
Capacity: 500ml
Weight: 322g
Dishwasher proof? Yes
RATING: 4.5 out of 5
WHERE TO BUY:Thermos Carbonated Drinks Bottle, £19.99, Lakeland
What should I consider before buying a water bottle?
As well as deciding on which material and size suit your needs, you'll want to make sure that the one you choose is comfortable for you to drink from. Some people prefer the softer feel of plastic to hard steel edges for instance. Look at how you'll be transporting the bottle most of the time, too – if you're carrying it to and from work or it's going to be left in your bag for a lot of the day, then something more compact and definitely leak-proof is better, while runners will probably prefer something that's shaped to sit comfortably in the palm, or one that has a carrying loop or handle. Insulate bottles are a good choice for cold drinks and there are even ones that work for fizzy drinks, too. For non-insulated plastic bottles, choose one with a wide mouthpiece so you can pop a few ice-cubes inside. Weight is also a factor. The bigger and heavier the bottle is to start with the more it will weigh once it contains liquid. Typically, the 500ml steel bottles we tried weighed about 300g when empty and 800g when full. Reusable plastic is marginally better at 130g and 630g respectively
Types of water bottles
Most reusable water bottles are made of steel, glass or plastic with a few eco bamboo models appearing on the market. The main difference is that steel bottles are more likely to be insulated and will help to keep your water colder for longer – some claiming for up to 12 hours. These are good if you're likely to be out a lot, after all no-one wants to be drinking lukewarm water at the end of a hard day. Choose a BPA-free plastic one if you can as research has show that bisphenol A (BPA) can seep into beverages from containers, causing some worries about the possible health issues this might have. Some plastic ones also have an inner compartment in which you can place berries or citrus fruit or cucumber to add taste.
Water bottle sizes
Size is a good place to start when deciding which reusable bottle will suit your needs. Bottles range from the standard 500ml size to 1ltr water bottles and even 2ltr. Of course, not everyone will want a reusable 2ltr water bottle, but there might be occasions, family picnics or days out for instance when bigger is definitely better. If you're out all day, then an insulated, cool water bottle could be a good investment, while ones that have special internal chambers to hold strawberries, cucumber or lemon for instance, can pep up your drinking experience. For a Saturday park run, a bottle with a handle that's easy to grip, and a lid that flips will ensure taking a drink doesn't slow you down.
What are the best water bottle brands?
There are heaps of reusable water bottles on the market but those regularly featured in 'Best Of' tests include Thermos, Chilly's S'well and Sistema. Lakeland also has a great selection of bottles, both own brand and from respected makers.
Are reusable water bottles dishwasher safe?
Some plastic water bottles, can be placed at the top – not the bottom – of a dishwasher but do check your individual purchase before you try. They certainly shouldn't ever be put into in high temp washes, which are designed for cleaning difficult pans rather than delicate plastics. Many of the insulated steel models are not dishwasher safe but are pretty easy to clean (see below).
How to clean water bottles properly?
Simply rinsing probably won't get rid of any bacteria that might get into the bottle from the action of drinking from it. If you don't have a dishwasher or the one you've chosen isn't dishwasher safe then you should clean your bottle with a gentle washing up liquid and rinse well then dry. It might be worth investing in a bottle brush, too just to ensure you get into every nook and cranny, particularly if you're adding fruit to your water or filling the bottle with flavoured waters or soft drinks.
Are metal water bottles safer than plastic?
Metal is less likely than plastic to crack if dropped or knocked but do make sure, if you drop an insulated flash that the inside isn't damaged before you reuse. Usually, metal bottles will last longer as they are corrosion resistant but this is countered by the fact that it takes more energy to make a metal water bottle than a plastic reusable one. They are less likely to leach BPA when exposed to the sun but some also feature a BPA coating so check before you buy and make sure that they are made from 18/8 food-safe steel.
A glass bottle is a good choice but can be heavier, more prone to damage and more expensive than either steel or plastic.
Are reusable water bottles good for the environment?
In the UK an astounding 13bn plastic bottles are bought and nearly 60% or 7.7bn are bottles of water, despite the fact that we have drinkable water on tap. It's estimated that the average adult buys three bottles of water a week and while many of them are actually recyclable, if not made of recycled materials, almost half of that total are littered, sent to landfill or incinerated instead of being sent to recycling. In the same way that reusable plastic bags are by far the more eco choice than single-use ones, using one bottle over and over again is clearly going to have an environmental impact. While it takes materials and energy to make, just like hessian and canvas bags do, the maths is clear. Even if you buy one plastic, metal or glass bottle a year and use it every time you go out, you'll still be saving more than 150 bottles going into the bin. Multiply that by the number of adults in the UK and you can see the potential benefits.
Ysanne Brooks comes from a family of wordsmiths, artists and jobbing journalists. Among other things, her somewhat lengthy career includes 10 years working on specialist magazine 25 Beautiful Kitchens, nine of those as editor.
For more years than she cares to reveal in public, she's opined on planning, designing and buying for all areas of the home. She's too long in the tooth to be a tech geek but she knows what's what when it comes to beautiful, useable products that make modern living just that little bit more comfortable. She now combines supplement editing and freelance feature writing for interiors magazines and websites with a new venture as a budding ceramicist.
Tired of London but not tired of life, she moved to Surrey 8 years ago, where she now lives with her husband, also a journalist, and Buffy the cat.