Healthy drinks besides water that will regulate your mood
Lift your spirits with these healthy drinks that are also very delicious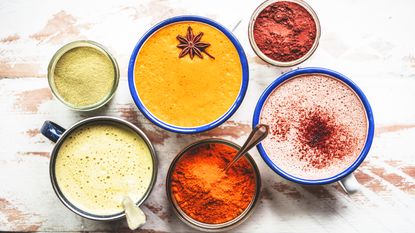 (Image credit: Getty Images)
woman&home newsletter
Sign up to our free daily email for the latest royal and entertainment news, interesting opinion, expert advice on styling and beauty trends, and no-nonsense guides to the health and wellness questions you want answered.
Thank you for signing up to . You will receive a verification email shortly.
There was a problem. Please refresh the page and try again.
Healthy drinks don't have to be boring. We all know water is good for us, but it can be a little... dull. Instead, grab your best blender and whip up one of these mood-boosting treats.
We'd all love to feel centered, all of the time. But the truth is that everything from the strain of the pandemic to perimenopausel symptoms (opens in new tab) can put paid to our inner zen in an instant.
While it's tempting to reach for a glass of merlot when we're feeling less than chipper, we've got five easy-to-make liquid prescriptions that help trade hangovers for happiness. And they're tasty to boot!
1. When you can't focus... try water plus!
It's a fact, lack of the wet stuff can kill concentration and reduce metabolism to a bloat-inducing crawl. Love water more by flavoring your daily eight glasses. Robyn Youkilis, the author of Go With Your Gut (Kyle Books), has a great glassful that works when you're bleary, puffy or in need of a detox.
Slim from within water: "This combines natural diuretics and detox ingredients in one glass," says Robyn. "Cucumber and lemon work to alkalize your body, while the cayenne and ginger jumpstart your metabolism and aid in flushing out your organs."
To 2 litres of water add...
1tsp freshly grated ginger
1 medium cucumber peeled and thinly sliced
1 medium lemon, thinly sliced
Juice of 2 limes
½tsp cayenne pepper
Combine all the ingredients in a large jug. Stir, cover and refrigerate. Aim to have one jug every one or two days.
2. When you're blue... hit the chocolate!
A luxe smoothie with a shot of chocolate - well super-cacao actually, can add a little pep to your step. Super-cacao is high in mood-enhancing serotonin-boosting flavanols - 8 times more than the regular kind!
Chase the blues smoothie: What's in it? Super-cacao of course plus walnuts for a dose of blues beating fatty acids. Cherries to help your brain produce mood-enhancing hormones while banana is rich in magnesium - effectively nature's 'chill pill'. Good vibes in a glass!
Into a high-speed blender throw...
1 cup fresh or frozen cherries
1 cup dairy free milk
1 ripe banana
¼ cup walnuts
2tbsp super-cacao powder
1tsp honey (optional)
Whizz up and pour. Serves 1-2.
3. When you're flagging... make green tea!
A regular cup of green tea will get you over the energy hump for sure but matcha green tea adds more oomph! "Matcha is bursting with antioxidants and a rare amino acid - L-Theanine that has a calming effect on the mind whilst still keeping you alert," says herbalist Tipper Lewis. Try Tipper's tea alternative - an energizing latte!
Pick-you-up matcha latte: This is perfect for the mid-afternoon slump. With mineral-rich maple syrup for a sweet hit and nutmeg to help regulate blood sugar, this is a satisfying alternative to your usual coffee/biscuit break.
Make a paste with1tsp matcha green tea and a little hot water. Heat 1 cup almond milk in a pan with 1tsp maple syrup. When it's warm, whisk in the matcha, pour into a cup, and top with grated nutmeg. Yum!
4. When you're knackered... drink soup!
If Gwyneth says soups are the new smoothies, it must be so, and an energizing bowl of beetroot is right on the button if your stamina needs a kick-start. A study led by the University of Exeter (opens in new tab) found that drinking beetroot juice can boost stamina by 16% and make exercise less exhaustive. Other research has indicated that it can also play a role in lowering blood pressure, so it's heart-protective too.
Borscht Boost: "No need to boil beets for hours when juicing gets you all the flavor plus vitamins and iron," says raw food expert Deborah Durrant of the Deliciously Raw Culinary School. Her Borscht Boost is a souper shortcut!
Juice together... 1 beetroot, carrot, and apple and pour into a pan. Whisk in 1 finely grated clove of garlic, 1tsp Barley Miso, 1tbsp tamari, and 1tsp olive oil. Heat until warm to the touch. Pour into a mug and drink. For a more substantial meal grate a little raw carrot, beetroot, and perhaps some red cabbage into the bowl and pour the soup over.
5. When you're sluggish... try bone broth!
While it doesn't sound super appetizing bone broth is packed with nutrients and works perfectly in a smoothie hybrid. "A cold smoothie isn't always the best thing to get your digestive system going," says Robyn Youkilis "I set out to create a one utilizing gut-friendly bone broth and the savory smoothie was born. The perfect way to start your day."
The Savoury Smoothie: It seems odd at first but it's wonderfully soothing. Loaded with protein and minerals known to help heal your gut, prevent fatigue, and even alleviate anxiety.
In a blender combine...
120ml bone broth (at room temperature)
1 chopped and peeled cucumber
10g fresh chopped coriander
juice of 1 lemon
15g spinach leaves
2 celery sticks chopped
pinch of sea salt
Blend until smooth but don't over blend as this creates foam. Pour into a glass or bowl and enjoy!
Miriam worked for woman&home for over five years and previously worked on the women's lifestyle magazines Woman and Woman's Own.