The best gifts for runners—from self-care essentials to accessories that they'll actually use
Meet our curation of best gifts for runners, with practical finds for your favorite marathoner or couch-to-5Ker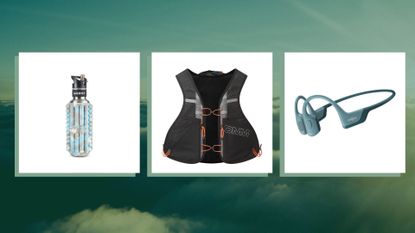 (Image credit: MOBOT/OMM/Shokz)
Finding the best gifts for runners can be a challenging task, with so many brands and so many essentials to choose from. Our edit of the best picks may come in handy if you've got a runner in your life and want to get them something special that they'll love, without having to ask them what they like.
After all, there are so many different types of running out there and everyone takes to running for a different reason. Someone who loves running in the park just to get some fresh air in the mornings will have an entirely different running kit from someone who is training for their first marathon.
While staying away from buying them a pair of the best running shoes or one of the best sports bras is likely a good idea, there are so many other smaller and larger gifts that every type of runner will love.
Best gifts for runners 2022
Why you can trust Woman & Home Our expert reviewers spend hours testing and comparing products and services so you can choose the best for you. Find out more about how we test.
Now available in this cool blue color, Shokz latest headphones release is the best one yet. All Shokz have an open ear design and Bone Conduction Technology so your runner can tune into music while still being able to hear what's going on - an essential for anyone running outdoors. The latest release, however, also has two more hours of play compared to the previous model, a quick charge feature, plus better Bluetooth connectivity, enhanced bass and sound quality.
2. MOBOT 27oz Grace Foam Roller Water Bottle
This water bottle and foam roller combo is definitely one of our best gifts for runners. With capacity to hold 27oz / 725ml of water, it's naturally perfect for hydration and then your runner can roll out their aches and pains post-run with the in-built, sustainably produced foam roller wrapped around the bottle. The Grace Foam Roller Water Bottle comes in a whole range of colors, is lightweight and certainly makes for a unique present.
Sometimes the best gifts for runners will be the practical ones, the ones that keep them moving for longer, and the thing they always forget to buy themselves. Available in fruity flavors like blackcurrent and tropical, these energy gels don't require any water and are the perfect pre- or mid-run pick-me-up, with 22g of carbohydrate and 87 calories per gel. They're the ideal smaller gift or add-on present for the runner in your life.
4. MicroPillow Tab Running Sock
Designed for running, these light and breathable Lululemon socks are a gamechanger. As well as having mesh construction in high sweat areas to help keep feet cool and dry, they have ergonomic cuffs to protect ankles from chafing against trainers during running and a heel shape that hugs the achilles, offering extra support. Perfect for any Lululemon devotee or if you're making a hamper of the best gifts for runners.
5. OMM TrailFire Hydration Running Vest
No matter your runner's favorite distance, this vest is perfect. At its most basic, the OMM TrailFire Vest is super lightweight and has pockets for all the essentials. It comes in all black or grey with blue or purple piping. For longer distances, there's also space for a hydration pack and clips for additional packs, so they can add extra items if needed down the line.
While not everyone is on board with fitness trackers, having one when running is pretty essential for measuring everything from pace to tracking distance. The Fitbit Versa 3 is the most advanced beginner's smartwatch. As well as offering sleep stats, workouts and breathing exercises, it tracks everything that your runner will need to maintain and improve their best distance, time, pace, and more without the flare and faff of a professional sports watch. This one also comes in a variety of great colors.
7. Kair Signature Finishing Spray
You know that smell of stale sweat? Not great. While this finishing spray isn't a substitute for washing, it's best gift for runners who do a LOT of running. The spray freshens up clothes inbetween workouts with heavenly wild juniper and bergamot scents, so if they forget to slip their favorite leggings in the wash before a run, they don't have to go without.
The accompanying activewear wash is also a great gift if you're looking to turn it into a bundle.
As summer slowly arrives, morning and evening runs are bound to feature some sunshine. These specialist running sunglasses have interchangeable, polarised lenses to prevent glare, are lightweight, scratch- and impact-resistant. So whether your runner is taking on trails or the city roads, they'll be covered. These also come in a whole range of colors, or you can customise your own.
9. Epic Runs of the World
As described, all the most stunning runs in the world are included in this book - accompanied with incredible photos, travel ideas. instructions, maps, and accounts of those who've done the amazing routes. This coffee table book is the ideal gift for an adventurous trail runner or even anyone particularly into challenging hikes, like nordic walking.
10. Jog On: How Running Saved My Life
Bella Mackie's book is an unfiltered, inspiring account of how she utilised running to help her anxiety and depression following divorce and years of mental health issues, without giving up her favorite things: alcohol, cigarettes and ice cream. An easy read and the perfect gift for a new runner or one who needs a little more workout motivation sometimes.
11. Therabody Theragun Mini
It's definitely worth checking if your favorite runner already has a Theragun before buying as they're so popular, but if they don't, this is absolutely the best gift for marathon runners. Tackling aches and tired muscles post-run with three different speed sessions, the Theragun Mini has all the power of a classic Theragun but it's compact, portable and colorful so whether they're running in the countryside or on the mountains in the next race, they'll be covered in recovery.
12. 'Male Runner' Medal Display Hanger
Even if your runner has just learnt how to run a marathon, they'll have plenty of medals lying around or will do soon. Whether it's their first race or they're a pro, a display case is a great way for them to celebrate their wins everyday. This one from Not On The High Street is adaptable so you can pick between black and silver, one display bar or two.
13. Custom Marathon Route Map Print
Available from Etsy, this custom marathon route map print is definitely one of the best gifts for marathon runners this year. It could be the Boston marathon or Brighton, just submit the link to their race on Strava or fill in the details manually, then pick the style and route line color. For faster turnaround, have a look at the seller's pre-made prints, as their race could already be on there.
At the end of the day, it's difficult to predict what your favorite runner really wants. Take the guesswork out with a voucher to their store of choice. Wiggle, for instance, has a particularly good running section, stocking best-loved clothing brands like dhb, New Balance and Ronhill, along with the best tech and nutrition bundles.
What to buy for a runner who has everything
If your runner already has all the best running gear, and doesn't want to turn their hobby into a home aesthetic, opt for a recovery gift. Something like Rituals The Ritual of Mehr Energising Routine, which will help them continue that endorphin high post-run or help them feel fresh after a marathon.
Other top self-care for runners picks include:
These all contain a selection of soothing body cleansers, balms, lotions, and more in wonderfully-smelling scents like spicy ylang ylang and bergamot to help elevate their post-run routine.