Best gifts for runners: Trainers, accessories and activewear presents that are great for those who love jogging
From accessories to technology, these are the best gifts for runners...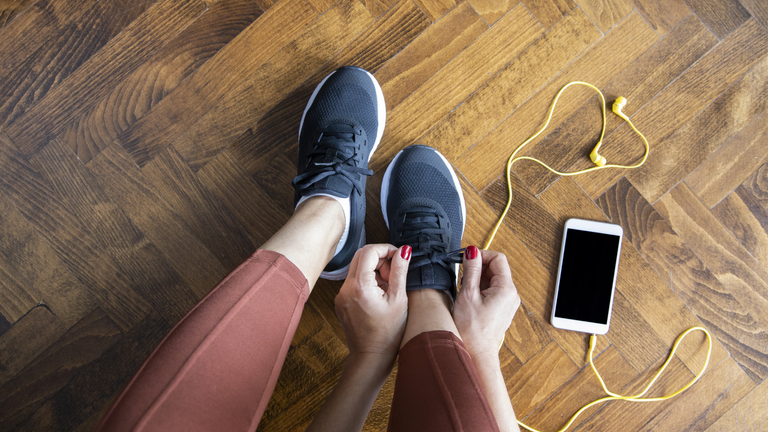 (Image credit: Getty)
Whatever your budget there's a present for the jogging-obsessed person in your life and we've rounded up some of the best gifts for runners.
From sportswear such as trainers and headbands to accessories like bottles and headbands, you won't be short of present inspiration with our comprehensive round-up.
There are also other gifts such as books and personalised running-themed items to tech like headphones. We've done all the hard work for you by collating some of the best gifts available on the high street, from reputable retailers like Nike, John Lewis, Sweaty Betty and Lululemon - so you can be rest-assured the products are of the highest quality.
Here are some of the best gifts for runners...
Runderful Running Dictionary Mug Runners Gift - Run Runner
Specifications
RRP: £9.50
Size: 10oz size
This lighthearted gift is great for the runner in your life who already has all the gear.
Mpow Running Armband for iPhone 11 Pro 11 XR XS X 8 7 6 6s Samsung Galaxy S20 S9 Up to 6.1'
Specifications
Price: £6.49
Size: 162×82mm
Great for those on a budget, this iPhone holder comes in at less than £7 and is compatible will all kinds of phones, including iPhone 11 Pro, Max XS, Max 8, Plus 7, Plus 11, XS, XR, X Samsung S9, Plus Note 9 Up to 6.5.
Technical Run Socks
Specifications
Price: £15
Materials: 63% Polyester, 24% Polyamide, 11% Cotton, 2% Elastane
Designed for long runs, these socks are sweat wicking but are also made with breathable organic cotton - to keep a runner cool and comfortable.
Swiftie Running Cap
Specifications
Price: £24
Materials: 94% Polyester, 6% Elastane
A cap is a great practical piece of kit to have to protect your face against the elements as you train, so this lightweight classic black style is a good option.
Sweaty Betty Fast Track Running Jacket
Specifications
Price: £100
Materials: 88% Polyester, 12% Elastane
During the colder months a lightweight jacket is essential for staying warm whilst out on a run. This lightweight and breathable one from Sweaty Betty will keep a jogger comfortable.
Neal's Yard Remedies Unwind Foaming Bath Collection Bodycare Gift Set
Specifications
Price: £24
Size: 3 x 100ml bottles
Running can be tough on the body, so this bath gift set is great for relaxing muscles and for unwinding.
Invero 2x Set of Sports Drinks Water Bottle 500ml with Pull-Out Spout and Active On The Go Easy Grip
Specifications
Price: £12.99
Size: 22cm x 12cm x 40cm
This handy water bottle is great for being on-the-go with the practical hand cut-out section - which makes it easier to run with.
Model Matches for M&S Half Zip Run Top
Specifications
Price: £19.50
Materials: 91% polyester, 9% elastane
A long-sleeve running top is essential for winter jogs and this breathable, moisture-wicking garment is just the ticket.
Nike Women's Lightweight Tech Running Gloves
Specifications
Price: £15.99
Size: H25.5, W7.5, D2cm
Keep fingers toasty during the colder months with these brilliant sports gloves, made with a DRI-FIT lightweight fleece fabric.
Rapid Merino Running Beanie
Specifications
Price: £35
Material: 100% Merino Wool
Made of 100% merino wool, this temperature regulating beanie is brilliant for nippier days. Plus it's super comfortable and lightweight so won't weigh a runner down.
No running outfit would be complete without a great pair of trainers. Treat a loved one to these cushioned and breathable Nike shoes, which come in a plethora of different colours.
This backpack is designed to reduce movement during a run, with mesh panels at the back to add breathability.
Runners Gift Pack
Specifications
Price: £13.50
Size: H12 x W15 x D 3.5cm
This gift pack is great for pampering a runner's feet, with two 60ml tins of cream - a soothing muscle rub and a cooling peppermint foot cream.
Running Diary Training Journal
Specifications
Price: £20
Size: 14.8 x 21 cm
This A5 journal is great for runners who want to set goals and targets, as well as track their progress.
Personalised Metal Shoe Tags
Specifications
Price: £10
Size: Width 4cm x Height 0.5cm
Give a loved one an inspiring message with these personalised shoe tags which slip on top of shoe laces.
Massage Gun Deep Tissue Muscle Massager 30 Speeds Hand Held Percussion Massager with LCD Touch Screen Ultra-Quiet Muscle Massage Gun for Sports Pain Relief
Specifications
Price: £56.99
Size: 9.06 inches x 8.66 inches
This handheld massage gun is the perfect gift for runners as it can help relieve muscle stiffness and soreness after exercise, promote blood flow and relieve lactic acid, improve the overall health of the body's soft tissues.
Beats X In-Ear Wireless Headphones
Just five minutes of charge gives 2 hours of battery life on these lightweight headphones - which are ideal for sports like running. The bluetooth connection also means there's no need to worry about getting tangled in them.
Epic Runs of the World
Specifications
Price: £24.99
Size: 265 x 207 x 27 mm
For those who love running and travel this lovely book shares 50 of the world's greatest running routes - from short city runs and must-do marathons to cross-country trails.
Running Belt with Sweatproof Adjustable Elastic Strap
Specifications
Price: £7.99
Size: Fits waist sizes from 25.9 inch to 42 inch
Great for storing keys, phones or other everyday essentials when out for a jog, this nifty purse belt is a winner - plus for under £8 it's a bargain buy.
Foam Roller For Deep Tissue Muscle Massage
Specifications
Price: £13.99
Size: 14 x 33 x 14 cm
Treat your loved one to a massage (well, sort of) with this deep tissue foam massager, perfect for relieving aches, pains and muscle tension.