How to run a marathon—the ultimate guide for beginners, plus a 16-week training plan
Wondering how to run a marathon? We've got you covered with help from an expert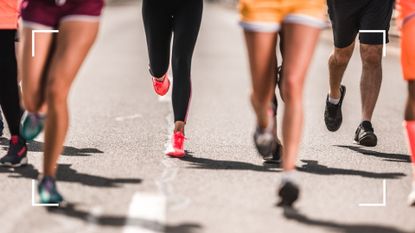 (Image credit: Getty Images)
Putting together a training program for how to run a marathon isn't as daunting as it sounds. With careful planning and some discipline, even novice runners can build up to comfortably completing the full 26.2 miles in as little as 16 weeks.
There's no better feeling than crossing the finish line with your fellow runners to the cheers of the crowd who've gathered to support you. But, before you invest in a pair of marathon running shoes (see our guide to the best running shoes for women for recommendations), there are lots of things you need to consider about marathon training. To help you prepare, Marathon Lead coach at England Athletics Tom Craggs shared with us his top tips for beginners. Whether you're new to running or are ready to take on a new challenge, by arming yourself with knowledge and expert advice—and following the 16-week training plan below—you'll soon be on your way to the finish line.
How long does it take to train for a marathon?
How long it takes to train for a marathon depends on your fitness level, running ability, and your goals. "Most people rush their marathon training, relying too little on a base of fitness, and building to too big a peak three or four weeks before race day," says England Athletics coach Tom Craggs. "While you can 'get around' a marathon from 16 weeks of training, running well and feeling good is a different story. Giving yourself longer and building a solid foundation, means you won't be trying to squeeze in too much at the last minute".
For runners with a basic level of fitness—you should give yourself at least 12 to 16 weeks to train specifically for the marathon.
For novices—six months to a year to train is best.
"This gives you time to build up your strength and speed at distances from 5-10km, and perhaps even a half marathon," says Tom. "Even for the best runners out there, their best marathon performance will be years in the making. Start early, build slowly and the marathon becomes achievable for most."
It's best to let your body slowly adjust to the new demands running will put on it, before you start increasing that mileage. Many first-time marathoners get injuries in the run-up because their bodies are running distances they've never had to do before. The ideal goal is not only to run a good marathon but enjoy the process enough to keep running afterward!
How long does it take to run a marathon?
The majority of people finish a marathon between four and five hours.
How long it will take you to run a marathon depends on a range of factors, including your fitness level, your experience, your age, the weather on the day and how well-fueled you are.
If it's your first marathon, you'll already be hitting a personal best. Plus, just being able to say you've run a marathon is a huge achievement, no matter what time you run it in. But, if you want a target, here's an easy way to set yourself a goal for race day:
Run a half marathon (13.1 miles) at some point in your training.
Multiply your half-marathon time by 2.2 to get your full marathon time goal.
Use this as a rough goal for marathon day, but remember the main thing is crossing the finish line and collecting your well-earned medal.
How to start training for a marathon
So, you've decided you want to do a marathon, now what? There are a few things you should consider before you start running:
Sign up for a marathon and have a date to aim for—ensure it's far enough away that you give yourself lots of time to train, but not too far away that you lose motivation.
Map out a training plan—using our 16-week beginner's marathon training plan below, map out a training plan that works around your lifestyle. If you've never run distances before, start with a couch to 5k program and build up to the 16-week plan. Allow for plenty of rest between runs and time for other activities that will benefit your training, such as yoga for runners.
Think about nutrition—to run big miles every week you need to be well-fuelled. When fitting training around a busy lifestyle meal prep is key to ensure you're getting enough nutrients for energy before runs and recovery on rest days. A diet high in carbohydrate-rich food and protein is key.
Run with others—while you absolutely can train for and run a marathon alone, for first-timers joining a running club or teaming up with a friend might make training more fun. Running with another person is an instant boost of workout motivation, and can make getting up early on cold mornings for long runs a whole lot more pleasant.
How many times a week should I run?
By following our 16-week marathon training plan below, you will run four times a week. You'll start with short 30 minute easy runs and slowly increase your mileage each week.
Once you have built a foundation, and you're confident running 60-75 minutes, then you can start to mix in different types of sessions like intervals, or tempo runs—and your fitness will start to progress more rapidly.
Focusing on road running will benefit your marathon training as it will properly prepare you for the experience on the big day. However, if you can only train on a treadmill in the beginning as you build confidence, it's better than not running at all! You can also mix up your weekly sessions by adding HIIT treadmill workouts.
It's also important to:
Never increase your mileage by more than 10% in any week as this increases your chance of injury
Reach your longest training run at least three weeks before race day
After your longest run, taper off and reduce mileage ahead of race day to ensure you're fully recovered and ready to run 26.2 miles
What pace should I run at?
The pace you run at is essentially your minutes per mile or kilometers per mile. The best way to think about your runs is purely in terms of 'time on feet'. The pace you want to aim for will depend on what your goal finish time is. Women aged 30-64 typically finish a marathon within 4 hours 21 minutes and 5 hours minutes 12 according to data compiled by Marathon Price Comparison.
If you do have a goal finishing time in mind, the rough pace to aim for, according to statistics from the Marathon Handbook, is as follows:
4 hours = 9.10 minutes per mile

4 hours 15 minutes = 9.45 minutes per mile

4 hours 30 minutes = 10.20 minutes per mile

4 hours 45 minutes = 10.50 minutes per mile

5 hours = 11.25 minutes per mile

5 hours 15 minutes = 12 minutes per mile

5 hours 30 minutes = 12.35 minutes per mile

5 hours 45 minutes = 13.10 minutes per mile

6 hours = 13.45 minutes per mile
How do I work out my current pace?
Your pace will be dependant on a number of factors such as the temperature, how well you slept, how stressful your day has been to whether you're running on the flat road or hilly trails.
To work out your running pace use this simple calculation:
Time (in minutes) / Distance (in miles or km) = Pace (minutes per mile/km)
Or, invest in one of the best fitness trackers or workout apps to help you accurately calculate this. To improve your pace, you can:
Rest properly between runs so you're fully recovered
Stick to your training plan and run consistently
Include tempo runs at a steady pace
Practice Fartleks—quick sprints with a recovery jog. Repeat multiple times changing your sprint/jog distance and time.
Improve your posture and strengthen your muscles with ab workouts for runners for more efficient breathing
What other workouts should I do?
Runners—including very experienced ones—can sometimes neglect the non-running aspects of training.
To supplement your running routine, you could work into your routine:
Strength training and conditioning work
Pilates
Yoga
Spinning
Rowing
Adding strength and conditioning work to your routine is hugely important for a number of reasons. It builds strength and stability, therefore reducing the risk of injury, it builds endurance and mental resilience to get you through tough miles, and it helps build a strong core for better running form. Plus, there are many more benefits to strength training for women, including combatting the natural loss of bone density, encouraging fat loss, and relieving lower back pain.
Any other activities you enjoy and can fit into your lifestyle will have a positive impact on your running technique, too. Pilates is excellent for core strength (see our guide to Pilates for beginners if it piques your interest). Yoga can improve flexibility and stretch out tired muscles (again, we have a great guide on yoga for beginners), while other forms of cardio such as spinning and rowing will see you through the days your legs need a break from hitting the pavements.
How to find the best marathon running shoes and running kit
Finding the best running gear for your marathon training and race day can seem like a tricky task. Truth be told, the best marathon running shoes and race day kits are simply the ones you like the best.
Have a gait analysis—of course, there are some running shoe brands making great trainers for long miles, such as Brooks, HOKA, and Saucony. But, before investing in an expensive pair of trainers, it's best to have a gait analysis at a specialist running shop so you choose a pair that works for your running technique. A gait analysis can sound daunting, but we promise it's not. At a specialized store, you'll simply run on a treadmill for a few minutes while a machine and expert analyses your running technique—such as how you move, how your ankle rotates, and how you land as you hit the treadmill belt. The assessment will focus on your degree of pronation (the natural inward roll of your foot as your heel strikes the ground) and based on this you will be given personalized shoe recommendations. These trainers will help you run stronger for longer, while also preventing injury and reducing any unnecessary pressure you're putting on your body.
Shop breathable materials—similarly, the best running kit will be whatever works for you. Lightweight, breathable sweat-wicking clothing is best to keep you cool and avoid rubbing or chafing on long runs. Look for nylon, polyester, bamboo, and spandex materials and gear made of wool for cold weather.
Dress light—Always dress reasonably light as you'll quickly warm up working up a sweat. A general rule of thumb is to dress as though it's 10—15 degrees warmer than it really is. Once your heart rate increases and you start to sweat, you will regret wearing too many layers.
What to eat before a marathon and during training
It's important you're well-fueled when training for a marathon, but there's no need to spend a lot of extra money on specialized products or increase your intake massively.
Ensure you're getting a good healthy balance of carbs and protein. Carbs are particularly important, mainly before you run, to give you plenty of energy to tackle those miles. Protein is essential for aiding recovery and muscles growth. The WHO recommends the average person's daily protein intake should be 0.8g for every kilogram they weigh. However, those training for a marathon could increase this.
Stick to simple, healthy carbs (especially in the days before your race) and don't eat too much of them. The benefits of carb-loading could easily be outweighed by feeling horribly full and bloated on race day.
Experiment in training with what works best for you before a long run—whether that's a bowl of porridge an hour or two before you run, toast, or pasta. We are all different—some people need three hours to digest a bagel, while others can eat a banana on the start line.
During the race itself, you will probably need to consume extra carbohydrates. Our bodies tend to run out of carbs after around 90 minutes. What you take with you during the race is entirely individual and you must practice this beforehand to see what your body can tolerate. The most convenient forms are carbohydrate gels—these can be sticky, and some need to be taken with water. Some people prefer candy or carbs mixed into a drink. Experiment on your long runs to see what you can digest. Never try anything new on race day, clothing, food, trainers or otherwise. Everything should be tested in training.
A 16-week marathon training plan
To get you ready for marathon day. Tom has shared his 16-week training plan with w&h. Follow the simple guide below or mix up the training sessions throughout the week to suit your lifestyle.
Remember, rest days are as important as training days. And incorporating other forms of exercise into your week will have you feeling strong, fit, and powerful, ready to take on those 26.2 miles.
Download the 16-week marathon training plan
2022 Marathon Calendar
Ready to start training for your first marathon? Here are some of the most popular marathons around the world, and the key dates to know about in 2022.
w&h thanks England Athletics coach Tom Craggs for their time and expertise.
Sign up to our free daily email for the latest royal and entertainment news, interesting opinion, expert advice on styling and beauty trends, and no-nonsense guides to the health and wellness questions you want answered.
Kate Carter is an experienced journalist who worked for the Guardian for a decade before going freelance. She writes for the Guardian, Runners World, and World Athletics amongst many other publications, and presents for The Running Channel. She is also a sub three hour marathon runner and an England Athletics coach.