The best gym bags for women—discover the top totes, duffels and backpacks on the market
We tried and tested the best gym bags from top fitness brands including Lululemon and Sweaty Betty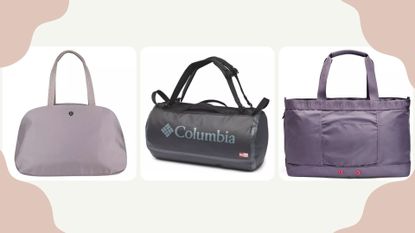 (Image credit: Lululemon/Columbia/Under Armour)
woman&home newsletter
Sign up to our free daily email for the latest royal and entertainment news, interesting opinion, expert advice on styling and beauty trends, and no-nonsense guides to the health and wellness questions you want answered.
Thank you for signing up to Woman & Home. You will receive a verification email shortly.
There was a problem. Please refresh the page and try again.
Want to pick up one of the best gym bags for all your workout essentials? While there are tons of different totes, backpacks, net bags, and duffel bags out there, choosing what suits your current fitness routine is harder than you might think.
Whether you're racing around the netball court or heading to the local lido for a swim session, you'll need a bag to help you get your equipment and belongings from A to B. Prices for gym bags vary; with an average starting price of $15 going up to (and sometimes over) $150, depending on the brand and specs of the bag. You'll often pay more for quality and longevity, but the cheaper options can function just as well, depending on how often you'll use your bag.
To narrow down the best gym bags, we tried and tested different products on the market to help you find the perfect one to match up to the best sports bras and best fitness trackers out there. We rated bags based on size, durability, materials used, as well as zips, straps, and compartments, to help narrow down your search for the ultimate workout companion.
How we tested the best gym bags
Why you can trust Woman & Home Our expert reviewers spend hours testing and comparing products and services so you can choose the best for you. Find out more about how we test.
Despite home workouts gaining huge popularity over lockdown, many of us are keen to get back to the gym. And, while shopping bags might be great for carrying dirty trainers, upgrading to a proper gym bag will help you organize your kit better. Whether you're looking to keep your bottle insulated, your sweaty kit tucked away, or simply want somewhere to put your pick of the best running shoes before you hit the track, the right gym bag can help you keep everything tidy, while also looking stylish.
Before buying a gym bag, it's a good idea to consider the following points:
Purpose—gym bags don't have to be just for the gym. Swimmers, netball players, and even skiers all need somewhere to stash their kit, so we considered how many pockets each bag has, how bulky it was to carry, and whether or not it was waterproof.
Size/Volume—bigger doesn't always mean better when it comes to gym bags. Providing it can store everything you need it to, for example, your cell phone, trainers, sports bra, water bottle, you shouldn't need anything too large (upwards of 40L).
Lock functionality—being able to secure your bag is important if you want to keep your belongings safe while you work out. During our testing process, we checked to see whether you could fit a lock on the zips of each bag.
Price—a more expensive bag will provide better quality materials, however, cheaper brands can do the job just as well and come with fewer gimmicks.
Material—the type of material used for gym bags varies, so it comes down to what you want the bag to do and personal tastes. Nylon and polyester are common and tend to be sturdy, whereas leather is harder to clean. Even the best tote bags often use canvas, which can rip and tear if put under enough pressure. Also consider whether or not you need your gym bag to be waterproof, as a few bags offer this option for wet-weather fitness enthusiasts.
The best gym bags
1. Lululemon Go Getter Bag 2.0
The best stylish gym bag
Specifications
Volume: 25L
RRP: $158 / £148
Colors: Black or Copper
Reasons to buy
+
Padded cell phone pocket
+
Sturdy
+
Padded handles
Reasons to avoid
-
Pricier than other brands
Lululemon has a cult-like fanbase among fitness fanatics and for good reason. The brand's products are top-quality, stylish, and tend to have good durability. In our quest to find the best gym bag, we tried Lululemon's Go Getter 2.0, the sleekest and most stylish option in the range.
The first thing that comes to mind when you use this bag is quality. The bag feels well-made and thought has gone into the product design, with its various pockets and padded straps. The bag features a few different types of pockets, including one for your cell phone, water bottle, and even your laptop. Our testers were impressed with the durability of the product as well⁠—it coped well with regular gym visits, day trips, and even airport travel. Our favorite feature was the padded arm straps, as gymgoers will know that this feature makes all the difference if you're carrying around heavy equipment.
2. Gymshark Everyday Holdall
The best overall gym bag
Specifications
Volume: 26.4L
RRP: $42 / £30
Colors: Black, Light Grey, Purple, Orchid Pink, Light Blue
Reasons to buy
+
Budget option
+
Good size
+
Over-shoulder strap
Gymshark is well-loved for its flattering activewear and colorful designs and its gym bag doesn't disappoint. Big enough at 26L, but not too bulky, we felt that for the price, this bag does a great job of keeping all your belongings together. With a stretchy outside pocket for your keys and wallets, as well as a secure zip pocket, you won't compromise on room or partitions with this bag.
A huge selling point of this product is that it opens up fully rather than using a zip straight down the middle, which means when you can open it, you can see everything inside the bag rather than having to rummage around for your keys and water bottle. The bag also has a handle and an over-shoulder strap option and a lined bottom to protect it from the elements (or a protein shake spillage).
3. The Sport Tote With A Graphic Print
The best tote gym bag
Specifications
Volume: 24L
RRP: $15 / £12
Colors: Black, White, Khaki
Reasons to buy
+
Colorful print
+
Good size
+
Budget price
Lab-tested to make sure that it withstands normal use, the Sport Tote from Decthalon's Domyos range is a great budget option for those looking for a new gym bag. It has a 25L capacity, meaning that you'll be able to fit your sports bra, leggings, water bottle, and even some trainers in the bag before you head out.
This is a great statement gym bag for those who like a bit of color, and our testers thought this one of the most functional gym bags we tried, with compartments of varying sizes to store your gym kit. We particularly liked the inside fabric, a polyester lining, which meant that sweaty or wet kit wouldn't make the outside fabric wet.
The only issue we had with this bag was the straps. If you're wearing the bag over your shoulder for long periods of time then the material can rub a little. However, if you're looking to just go for a standard gym trip or explore the benefits of cold water swimming with a trip to the pool, it will do just fine. It's also worth knowing that this bag has a single zip, so there is no capacity to lock it.
4. Columbia Unisex OutDry Ex 40L Duffel Bag
The best duffel gym bag
Specifications
Volume: 40L
RRP: $100 / £80
Colors: Black, Safari
Reasons to buy
+
Waterproof
+
Lots of storage
+
Padded shoulder straps
Reasons to avoid
-
A little bulky for the gym
Activewear brand Columbia is well-known for producing high-quality, outdoor kit and this bag doesn't fail to deliver. We loved the versatility of the Unisex OutDry Ex 40L Duffel Bag, which includes haul handles, pockets, and removable padded shoulder straps, which allows the bag to be worn like a backpack or converted into a single over-the-shoulder strap.
Our testers agreed this bag would be great for fitness enthusiasts who needed a big bag, capable of carrying a lot of gear (the bag can hold up to 40L), and with its waterproof features, it makes the ideal wet-weather companion if your fitness hobbies involve spending time in the outdoors. However, for just your standard gym visit, many people don't need a bag this big, or with this many features.
5. Freeletics RainShield Gymbag
The best gym bag for runners
Specifications
Volume: 17L
RRP: $54 / £49
Colors: Black or Reflective
Reasons to buy
+
Separate section for trainers
+
Waterproof
If you're looking for something you can wear on your back, then the Rainshield Gymbag from Freeletics could be perfect for you. With a padded laptop compartment for post-work sessions, a separate section for shoes, and a detachable water-repellent cell phone pocket, your gear is guaranteed to stay dry in all conditions.
Our testers were pleasantly surprised by how much room this 17L bag provided for belongings, and there are a few different pockets available for storing keys, your purse and a water bottle. Variable straps mean you can wear this bag as a sling bag or as a backpack, depending on what you prefer. It also comes in black or reflective, making it ideal for city-dwellers and runners who want to be able to carry their kit while they run.
6. Nike One Club Women's Training Duffel Bag
The best barrel gym bag
Specifications
Volume: 24L
RRP: $40 / £44.95
Colors: Black, Pink, Light Blue
Reasons to buy
+
Made from sustainable materials
+
Yoga mat space
+
Breathable
With two pockets, space for a yoga mat, and a vented compartment to keep your trainers and sweaty sports bra tucked away, the Nike One Club Duffel Bag helps keep everything separated for the organized gym-goer. Our testers loved that sustainability had been taken into consideration by Nike, with 50 percent recycled polyester fibers used to make each bag.
The zipped shoe compartment of this gym bag is a real bonus if you're a runner or spin class lover and the polyester lining keeps smells at bay. Another plus point is the elastic bungee on the side of the bag, which cinches down to carry your yoga mat⁠—so you can be kitted out whether you're trying yoga for beginners or are more advanced.
The only negative point our testers found was the plastic clips on the bag, which broke after a month of continual use. However, if you're not overloading the bag then you should be fine.
7. Under Armour Essentials Signature Tote Bag
The best travel gym bag
Specifications
Volume: 31L
RRP: $68.84 / £70
Colors: Black, Purple
Reasons to buy
+
Laptop pocket
+
Vented body
+
Travel-friendly
Finding the best gym bag is essential if you travel regularly. Not only do you want something to carry all your gear, but you need a hybrid bag that is airport-friendly. Our testers agreed the UA's Essentials Signature Tote Bag would make the perfect travel companion for both long-haul and short-haul flights. With a lined laptop sleeve (big enough to fit a 15" laptop) and a large zip-shut compartment, all compartments feel as though they were created with ease of access in mind.
The bag also features an abrasion-resistant bottom panel, so if you put it down on a wet surface, it won't leak into the bag. However, do bear in mind that while this bag is water repellent, it's not waterproof, so if you're looking for a bag that you can take on your next hiking trip to keep your pick of the best hiking boots safe, then we'd give this one a miss.
8. Sweaty Betty Icon Gym Bag
The best colorful gym bag
Specifications
Volume: 41L
RRP: $128 / £95
Colors: Black or Ash Pink
Reasons to buy
+
Yoga mat strap
+
Aqua guard pocket
Sweaty Betty is a firm favorite amongst fitness fans, so we had high expectations for the signature Icon Gym Bag. The Ash Pink color of this bag is stunning and our testers loved all the pockets that came with it (the bag comes with back, front and side pockets plus two internal zip pockets). It also features an aqua pocket, making it ideal for swimmers who want to store their wet kit away after a dip in the pool.
At 41L you get a lot of room with this bag, but our testers did find that then when filled with wet towels, a costume and a change of clothes, the bag became quite heavy. So you can't really use it to its full capacity. However, with its extra pockets and its ability to hold both your yoga mat and your water bottle, our testers agreed that this is one of the most versatile gym bags on the market.
Are gym bags worth buying?
Getting organized with your fitness can help give you the focus to hone into what is important, and stick to specific goals so that you stay on track. "Being organized to ensure that you have the time to get it done and that no excuses or barriers get in the way," says personal trainer Arab Campus.
"I always encourage my clients and community to set up a strict and enjoyable morning routine especially if time is tight in the morning. Tips such as getting your kit out the night before, having your workout planned, and setting your intentions, help get it done."
Packing your gym bag doesn't just help you stay organized. By getting your kit ready for your workout the next day, you're setting an intention and putting the steps in place to action it. It's a lot more likely that you'll have the workout motivation to get your session done in this case.
"Some gym bag essentials I would consider packing include workout clothing, trainers, headphones, water bottle, towel, hair ties and brush, deodorant and face wipes, dry shampoo, and that all-important post-workout snack," says Campus.
How to clean a gym bag
Check the label on your gym bag before washing to find the correct method of cleaning. Most bags can't go in the washing machine, so cleaning your bag with a damp cloth is best if you want to remove dirt or bacteria.
"If you have a multi-fabric bag, mix equal parts warm water and white vinegar, then add a very small amount of dish soap," says Campus. "Use a soft sponge to wipe the bag down, both inside and out. However you clean your bag, the key is making sure to do so regularly, at least monthly. Even better, prevent the spread of germs before it starts. In between washes, give your bag a weekly once-over with antibacterial wipes, and make sure you let it air dry before refilling the bag."
Sign up to our free daily email for the latest royal and entertainment news, interesting opinion, expert advice on styling and beauty trends, and no-nonsense guides to the health and wellness questions you want answered.
With five years of experience working across print and digital publications, Stacey is a journalist who specializes in writing about the latest developments in health and wellbeing. She has also previously written for Women's Health, Get The Gloss, Fit & Well, Stylist, and Natural Health magazine, covering current health trends and interviewing leading figures in the wellness space.
When she's not talking to health experts, you can probably find her hiking somewhere in the Welsh countryside or near the coast. Her favorite two ways to switch off are a Pilates class and a glass of wine with a home-cooked meal.