31 of the best spa breaks in the UK for 2023
The best spa breaks in the UK for 2023 range from calming inner-city sanctuaries to rural nature retreats surrounded by stunning countryside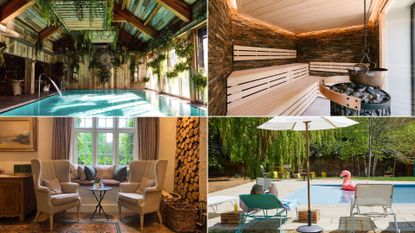 (Image credit: The Elms / Laceby Manor / Barnsley House / Birch)
We've tested and reviewed the best spa breaks in the UK so that when you plan a break for pampering and relaxation in 2023, you know you're picking the perfect place to rest and focus on wellness.
There are so many spas to be found around the UK and the bar continues to be raised when it comes to the quality of the treatments on offer and the opulence of the luxury retreats and stays. A spa break is one of the best UK staycations you can plan and they are well worth the cost if you pick the right destination. We judged these spas on the range and standard of their treatments, the quality of the accommodation and the overall value for money of the break.
From pampering retreats in the countryside to calming sanctuaries created in the centre of cities, there's something to suit just about everyone in this list, so you can find inspiration for your next relaxing UK weekend getaway.
Best spa breaks in the UK to book in 2023
The best spa breaks in the UK tend to get fully booked quickly. Plan your trip in advance and book ahead to secure the best rates and availability for any one of these brilliant spa breaks.
1. Barnsley House, Cirencester
Image 1 of 4
Best spa break for: Cosy countryside luxury
There are so many amazing spas in the Cotswolds (many of which are featured in this list) that to be labelled as one of the best in the area a hotel and spa must be truly exceptional. Enter Barnsley House, a perhaps lesser-known spa hotel near Cirencester, is one such spa hotel and deserving of notoriety and recognition for their truly exceptional spa, restaurant and service.
This is countryside luxury at its best and most brilliant. Sumptuous bedrooms, decorated in a rustic luxury aesthetic with comfort and relaxation at their heart, are cosseted around the immaculately kept gardens and grounds. The main house contains cosy and comfortable rooms for relaxation, whether that's sipping a drink by the fire or reading in a large, homely armchair. The Potager, the hotel's fine dining restaurant, serves delicious, seasonal menus crafted from ingredients grown in the grounds. Each course offered is exquisite, and we still let Barnsley House lay claim to the best tiramisu we've ever tasted outside of Italy.
Tucked away in the secluded grounds, found via a winding garden path, is the Garden Spa. Containing five treatment rooms, a steam room, sauna, relaxation room, lounge area and a lovely outside stone terrace and hydrotherapy pool, the spa is finished sympathetically in the surrounding countryside and as with everything at Barnsley House exudes understated luxury. The treatments are divine, all using Elemis products and delivered by a talented and caring team.
Prices start from £399 per night for a double room with breakfast and access to the spa included. Treatments cost extra. To find out more and to book, visit barnsleyhouse.com.
2. The Spa at Laceby Manor, Lincolnshire
Image 1 of 4
Best spa break for: A romantic retreat
Newly opened at the end of last year, the Spa at Laceby Manor is a new entry in our list of the best spa breaks in the UK for 2023 but it's more than worthy of a spot amongst these esteemed establishments.
Set within 150 acres of countryside on the cusp of the Lincolnshire Wolds, the Spa at Laceby Manor feels more like a Nordic wellness retreat than a timber-clad spa on a golf course and this is thanks to the brilliantly designed space that puts wellbeing and relaxation at the heart of every aspect of the retreat.
Every single room at the Spa is a dedicated sanctuary for wellness, from the seven treatment rooms, to the sauna and steam rooms, to the restaurant spaces serving up a careful balance of healthy options and comfort food depending on what 'self care' looks like to you.
We were spoilt for choice on the day we visited and easily passed 8 hours wandering between the natural swimming pond for wild swimming and cold water therapy, the indoor-outdoor hydrotherapy pool, Finnish sauna, herbal sauna, steam room, rasul and couple's bathing room where we tried out a detoxing seaweed bathing experience by leading global lifestyle brand VOYA.
The only thing better than the facilities at Laceby Manor spa is the team working to provide exceptional care and comfort to all guests. From the warm welcome at reception to the therapists who delivered a genuinely friendly and caring treatment, the whole team here want to ensure that you leave your spa break - whether that be a day, an overnight stay or just an afternoon - feeling relaxed.
The treatment menu is varied and enticing, with VOYA facials, Hammam experiences, bathing rituals, massages and non-surgical facelifts all on offer.
Guests can choose to enjoy individual treatments or one of several spa packages, which include overnight accommodation in new, bespoke lodges. All bedrooms feature private decking with outdoor bathtubs overlooking the lake and 111Skin face masks to start your self care journey as soon as you walk through the door.
Prices start from £227 per night and include an overnight stay in a lodge and a continental breakfast in the Spa's Oak Room restaurant. Access to the spa is included but treatments are charged at extra. Book the Spa at Laceby Manor via Booking.com or find out more at lacebymanor.co.uk.
3. Donnington Valley Hotel and Spa, Newbury, Berkshire
Best spa break for: A serene getaway
Settled in the charming town of Newbury, the Donnington Valley Hotel and Spa is just as grand as it sounds. This privately owned 4-star property is surrounded by breathtaking countryside views, and its cosy yet stylish interior features a roaring open fireplace in the bar.
Why not pamper yourself to a serene spa day where you can forget about work stresses with a dreamy Aromatherapy hot stone massage or an equally relaxing Lemon and Mango body wrap? And when you're not putting your feet up, there's an 18m swimming pool, sauna, state of the art gym and 18-hole golf-course to enjoy. After a busy day of winding down you'll be sure to enjoy an incredible three-course meal in the renowned Wine Press Restaurant with a classic menu designed by new Head Chef, Darren Booker-Wilson.
Their full spa days consist of a 25 minute treatment right up to two 55 minute treatments for those in need of a real pampering. Whatever you choose, you will be welcomed with a hot drink or smoothie, a robe, the best slippers and towel and a little Donnington Valley treat to take home!
Prices start from £129 per night with a day at the spa. Book Donnington Valley Hotel and Spa at Booking.com.
4. The Lensbury Resort, Teddington
Best spa break for: An all round health retreat
If you're lucky enough to live on the outskirts of London, you have The Lensbury Resort on your doorstep. Located just 10 minutes' drive from Hampton Court Palace, the hotel offers modern rooms perfect for a relaxing night away.
The 4-star resort also boasts unrivalled indoor and outdoor leisure facilities, a state of the art health club and an award-winning spa.
You'll find a relaxation thermal spa area on the poolside with a large mixed sauna and steam rooms. There's also a 100 feet indoor pool, 19 tennis courts, 2 squash courts and an indoor and outdoor children's play area. Guests can enjoy complimentary use of all of the leisure facilities throughout their stay.
Once you've explored the health centre, head to one of four treatment rooms and choose a treatment of your choice. They even have a room for couples if you'd like a romantic treat for two.
After a day of relaxation, dine at the ground floor restaurant and bar areas, which offers floor to ceiling windows overlooking the Thames and a bright conservatory and outside eating area if the weather is playing ball.
Prices start from £94 for a Classic Double or £235 for a Deluxe Twin / Family Room, including breakfast. Treatments cost extra. Book The Lensbury Resort at Booking.com.
5. The Mandarin Oriental Spa, London
Best spa break for: A swanky city break
Situated in swanky Knightsbridge, this spa is part of the very chichi Mandarin Oriental Hotel and is one of our picks for the best London spa hotels at the moment.
You'll feel yourself relaxing as soon as you step foot in the zen-like ambience of this orchid filled spa, where you can unwind in the elegantly appointed steam, sauna and therapeutic pool before your treatments.
The Spa offers a diverse range of treatments from traditional Chinese medicine, Bastien Gonzalez renowned manicures and pedicures and anti-ageing Nescens facials. Alongside their 13 luxurious treatment rooms, you'll find the Oriental Suite, featuring two massage beds and a Rasul water temple – its health-enhancing heat, steam and mud are the ultimate in conditioning treatments.
The Oskia warm oil massage promises "a restorative full body treatment to soothingly release deeply held patterns of stress and anxiety" and, believe us, it does not disappoint.
Prices start from £85 for a 30-minute treatment. Book The Mandarin Oriental Spa at Booking.com.
6. The Malvern, Worcestershire
Best spa break for: Water therapy
Best visited in winter, one of the joys at The Malvern Spa is soaking in the heated outdoor pool, with steam rising off the water around you, and looking out at the snow-capped Malvern Hills beyond. The area is known for its healing, naturally-heated waters, and this was the first spa to be constructed in the area since 1910.
Soak up the spa heritage in the indoor/outdoor pool, which has eight different stations for vigorous water massages, then warm up in the sauna and steam rooms before having an ice bucket shower to wake you up. Enjoy a sublime, healthy dinner in the restaurant before retreating to the modern, stylish rooms.
Prices start from £287 for overnight accommodation, prosecco afternoon tea, 30-minute spa treatment each, complimentary access to The Malverns award-winning spa and a delicious breakfast. Guests can upgrade their treatments to 60 minutes for just an additional £25pp. Book The Malvern Spa at Booking.com.
7. St Michaels Falmouth, Cornwall
Best spa break for: All day pampering
After a multimillion-pound refurbishment in 2018, St Michaels Falmouth is an incredible spa destination in its own right now. The beautiful hotel sits within a tropical garden, right on the beach at the southernmost tip of mainland England, with sea-view rooms where the sound of waves will lull you to sleep. If a bracing dip in the ocean isn't your style, try their hydrotherapy pool - the largest in the southwest - or the Cornish sea salt steam room.
Sip on champagne or prosecco as you're pampered in the nail spa, and enjoy a selection of massages in the luxurious treatment rooms. You'll also get access to the on-site Health Club should you feel the need to burn some energy too.
Prices start from £130 for a full spa day, including an indulgent glass of Laurent-Perrier Brut with a mouth-watering 2-course lunch, a 3-hour hydrothermal experience and a 60-minute treatment. Book St Michaels Falmouth at Booking.com.
8. Brimstone Hotel & Spa, Lake District
Best spa break for: A luxurious break
An idyllic place to retire after a long day walking in the Lake District, the Brimstone Hotel & Spa on the Langdale Estate has plenty to soothe your aching legs. Guests have access to the Boot Room here, which is stocked with top of the range all weather gear, so there's really no excuse for not getting outside - though we wouldn't blame you if you just wanted to stay in the pool.
But the real star of the show at this hotel is the spa. There's a nine-metre indoor/outdoor heated pool, and six other thermal experiences (think saunas, ice fountains and steam rooms) to try.
Lunch and dinner is served in the Spa Deli, so there's no need to get dressed, and accommodation is in the Spa Suite or at the stylish Langdale Hotel just next door.
Prices for their Just Relax Spa Break start from £290 per room. Book Brimstone Hotel & Spa Booking.com.
9. Feversham Arms & Verbena Spa, Hemsley, Yorkshire
Best spa break for: A secluded escape
If you're craving some seclusion, away from busy city life, this idyllic corner of the Yorkshire countryside is the place to escape to. The hotel's stand out feature has to be the stylish outdoor pool and terrace area. Sat here, enjoying a spot of lunch and glass of fizz, the surroundings are more French Rivera than North York Moors.
And yet, the property is only a few hours away from northern cities of Leeds and Manchester. Beyond Feversham's stunning grounds, the sleepy town of Hemsley also has plenty to offer, with numerous independent boutiques and cosy tea rooms to while the day away in when you're not relaxing in the spa.
Prices for their 'classic spa experience' start from £134 and includes a welcome drink, 90 minute treatment and a 2 hour relaxation pass. Book Feversham Arms & Verbena Spa at Booking.com.
10. The Kimpton Charlotte Square, Edinburgh
Best spa break for: A stylish spa weekend
Bridgerton, eat your heart out. The Kimpton Charlotte Square comprises not one but seven elegant Georgian townhouses, displaying all the classical Edinburgh architecture a girl could wish for.
The Kimpton's subterranean spa is furnished in natural materials and is moodily lit - think Bali beach club meets Bond villain's lair. It's too easy to lose an hour or three floating from pool to thermal shower to cosy relaxation snug then back again, but tear yourself away to one of their three treatment rooms.
With a focus on luxury naturals, The Spa at Charlotte Square offers treatments by seaweed-centric Hebridean brand Ishga and high end CBD specialists La Rue Verte. One of the best spa hotels in Scotland and well worth a trip up to the Scottish capital to visit.
Prices start from £120 per person for their spa day experience, which includes: 60 minutes in the Thermal Experience, a 55-minute treatment or two 25-minute express treatments, and a two-course lunch in BABA. Book The Kimpton Charlotte Square at Booking.com.
11. Ragdale Hall, Melton Mowbray
Best spa break for: An all inclusive weekend away
Historic Ragdale Hall is an elegant stately home set in impressive manicured grounds with far reaching views of the rolling fields of the picturesque Leicestershire countryside. Inside it is the perfect mix of traditional and modern. The Hall retains a wonderfully informal country house feel complete with comfy lounges and wood panelling, while the welcome addition of the contemporary Art Deco-style Twilight cocktail bar is the perfect for a few stylish drinks before and after dinner.
Arrive at lunchtime and you'll be whisked into the elegant dining rooms for a perfectly formed three-course lunch. Everything has been crafted to allow for the fussiest of eaters and there is plenty of choice on the mouth-watering menu. You're even encouraged to wear your Ragdale Hall dressing gown and slippers to all meals. Can it get any better than that?
Start by getting your skin in tip-top condition with an Elemis Intensely Cleansing Salt Scrub. The treatment starts with soothing body brushing to help stimulate blood circulation and aid exfoliation. Then choose your favourite Elemis fragrance and enjoy the gentle salt scrub which sloughs away dead skin cells, eliminates toxins and leaves your skin ready to absorb the deeply nourishing body oil. After the half-hour treatment you'll leave with baby-soft skin and feeling wonderfully clean head-to-toe.
For the ultimate treat, add a facial and massage to your spa menu. It's part of the Two Night Taster Break package which includes options to upgrade to more indulgent treatments. Opt for a therapeutic massage like the Elemis Deep Tissue one and you'll be able to create a bespoke treatment from re-energising to relieving tension.
Prices start from £394 for their two night taster break. As well as a 50 minute treatment, you'll be treated to breakfast, a three-course evening meal each night from the day of arrival and a three-course healthy lunch on each full day, including the day departure, plus use of all the facilities. Find out more and book Ragdale Hall at ragdalehall.co.uk.
12. Down Hall Hotel & Spa, Bishop's Stortford
Best spa break for: A luxurious city escape
This grand country house hotel lies just 45 minutes from central London making it the ideal spot for an indulgent uk weekend getaway. The recently-opened Eden Spa boasts a relaxing hydrotherapy pool, a sauna and steam room, and offers a range of ESPA treatments – with Jessica Nails for manis and pedis and MII cosmetics for makeovers.
The relaxation starts as you arrive at Down Hall's sweeping driveway, with the impressive 19th-century mansion house waiting at the end. The traditional interiors are decorated with ornate design features and there's over 100 acres of surrounding woodland to explore – as well as two tennis courts, an extensive gym, and the award-winning Grill Room restaurant. Plus, if you have a pooch, dogs are welcome here too!
Prices for their deluxe spa day start from £175pp, which includes 2 hours use of wet spa, a 55 minute wellness message, a 55 minute triactive personalised ESPA facial, a 25 minute body polish and a glass of prosecco. Book Down Hall Hotel & Spa at Booking.com.
13. Calcot & Spa, Cotswolds
Best spa break for: A family getaway
A spa break with children sounds like an impossibility, but Calcot makes blending the two an easy and enjoyable experience. Should you wish to indulge in some proper alone time in the spa, you can drop the children off at The Playbarn, a fun hub of toys and activities run by a team of OFSTED-registered nannies.
But, before you do, enjoy a family swim in the recently-renovated 16m pool. The kids will love it - as will you!
When it's time for some 'adult time' head to the spa and test out the sauna, steam room, pool and outdoor hot tub. Indulge in a range of treatments like their iconic Caci Super Ultra Facial, a results-driven treatment that happens to be excellent for sensitive skin types. Your therapist will begin with a light peel to remove any dead skin, before using microcurrents to tighten and tone different areas of the face.
Prices start from £239 per night on a B&B basis for two adults. A family overnight stay starts from £284 based on two adults and two children under 12 sharing a family room and includes breakfast. Treatments are added extra. Find out more and book Calcot & Spa at calcot.co.
14. Moddershall Oaks Country Spa Retreat, Staffordshire
Best spa break for: A chic country retreat
Situated in the rolling countryside of Staffordshire, Moddershall Oaks is a five-star family run hotel, designed with relaxation in mind. With just 10 luxury suites with Moroccan-inspired decor and a cosy spa lounge with roaring log fires, an atmosphere of utter tranquility and luxury envelops you from the moment you check in.
The spa offers luxurious facilities including an outdoor vitality spa pool, relaxation lounge, hydrotherapy facilities and much more. While the spa was shut throughout national lockdowns, there was a complete menu overhaul filled with results-driven facials, indulgent massages and cleansing body treatments.
Prices start from £90 per person for their spa day packages while overnight Spa breaks start from £170 per person. Book Moddershall Oaks Country Spa Retreat at Booking.com.
15. Hartwell House Spa, Buckinghamshire
Best spa break for: A royal treatment
As you might expect from a former royal residence, Hartwell House boasts a marvellous spa where you can happily linger all day. Get your blood pumping with a few lengths of the Renaissance-inspired swimming pool (think white marble columns and Italian statuettes), before a well-deserved wallow in the hot tub, steam room and sauna.
The treatment list is equally indulgent, with scrubs, facials and wraps galore - with products by accomplished Icelandic brand Bioeffect. Try the Ultimate Experience Treatment for 90 luxurious minutes of massage that'll leave you feeling super hydrated and utterly relaxed. In addition, all weather tennis courts located in the walled garden are available for use during your stay.
Prices start from £225 per room, per night. Book Hartwell House Spa at Booking.com.
16. The Coniston Hotel and Spa, Yorkshire Dales
Best spa break for: A countryside retreat
Nestled in the Yorkshire Dales, this is one of the best spa breaks in the UK for fresh air, country walks and a spot of pampering. The Coniston Hotel and Spa is a cracking combination of luxury spa designed to make the most of its idyllic countryside estate setting. With walks on its doorstep, horses grazing nearby and pheasants scuttling around the bushes, it's a nature lover's idea of heaven.
Stay overnight, enjoy dinner in the restaurant, wake up to stunning views and a relaxed breakfast, then slip into a robe and slippers and pad your way to the Nadarra Spa. Newly refurbished, it feels so luxurious!
An Ishga full body massage is the perfect way to start – 60 minutes of a Swedish-style aromatherapy massage, which the therapist will adapt to suit your needs, be that invigorating, warming or relaxing. Follow on with a private garden bath, an outdoor roll-top bath filled with warm water and a selection of herbs, salts and seaweed – you choose exactly what you'd like.
There are two together, so you and your travel companion can lie back for 45 minutes, take in the beautiful pastures, forest and lake, sip champagne, nibble strawberries and breathe in the fresh air.
Prices start from £529 for two sharing a signature room, and includes: an overnight stay in the Coniston Hotel, dinner, breakfast, a massage, garden bath and 1 hour, 45mins in the spa. Simply Spa sessions (4 hours inc a robe and lunch) cost from £95, a 60-minute full body massage is £95 and a garden bath is £45. Book The Coniston Hotel and Spa at Booking.com.
17. Lake Country House, Powys, Wales
Best spa break for: A back-to-nature experience
This privately-owned country retreat conceals a lodge-style spa in its beautiful grounds. There's a 25-metre indoor pool and an outdoor hot tub, set in a peaceful location overlooking the private lake. Spa treatments are plentiful and eclectic – from a traditional Indian head massage, to a facial using products blended with Champagne, black truffles and gold.
Enjoy a solo swim in their peaceful 15m swimming pool, or soak in their luxurious outdoor hot-tub set on the balcony overlooking the beautiful nearby lake.
Back at the hotel, the guest rooms are elegantly informal and the award-winning restaurant serves exceptional Welsh cuisine. When you're not relaxing in the spa, there's fishing, tennis and a nine-hole golf-course to enjoy. Make sure you work up an appetite for the delicious afternoon tea, included in this fantastic offer.
Prices start from £190 for their full spa day, which includes; use of spa facilities, a light lunch at the spa and a welsh tea or a cream tea. Enjoy a 55 minute facial and a 55 minute massage bespoke to you using our luxury Temple Spa products. Book Lake Country House via Booking.com.
18. The Varsity Hotel and Spa, Cambridge
Image 1 of 4
Best spa break for: A luxurious retreat in a historic location
Tucked away on a narrow residential lane just a stone's throw from the River Cam, The Varsity Hotel and Spa offers a boutique hotel experience in a modern but classic setting. The location is simply unbeatable: the hotel is a few minutes walk from Magdalene College, St John's, Trinity and Kings, and the city's Jesus Green Park. The riverside spa also has a large window opposite the jacuzzi that overlooks the river which is perfect for people watching.
Location aside, the charming hotel has 48 uniquely designed rooms featuring nods to the city's rich history, from portraits of famous alumni to their inventions. The decor is chic but homely - beautifully upholstered chairs, delicately patterned wallpaper and vintage-style wood furniture. The spacious bathrooms are all stocked with Elemis products and many feature monsoon showers and underfloor heating which was another welcome luxurious touch.
The Glassworks Health Club is located in the adjoining building, where you can access state-of-the-art gym equipment and a range of classes. Our trip was far more sedentary, however, and we eschewed the gym to indulge in the spa treatments instead. The spa is comprised of a sauna, steam room and private rooms offering a range of treatments. We happily bubbled away in the whirlpool before booking in for the Elemis massage and customised facial combination. Feeling relaxed and rejuvenated, we finished the evening with dinner and drinks on the hotel's sixth-floor restaurant (sadly the rooftop bar was closed thanks to a rather turbulent storm - but we'll be back to check that out soon too!). Still, we marvelled over the views of the city.
Prices start from £163 for a Double Room, on a room only basis. Book The Varsity Hotel and Spa at Booking.com or via The Varsity Hotel and Spa directly.
19. The Grove, Hertfordshire
Best spa break for: Food lovers
Only a 30-minute drive from London, this former home of the Earl of Clarendon is full of fun. Set within 300 acres of parkland and gardens, their urban beach is one of the best in Britain. Play volleyball on the sand, then flop in the Sequoia spa to enjoy the pools and saunas. Hang out in the juice bar in between classic treatments from Natura Bissé and ESPA.
With its black mosaic-tiled pool, heat experience rooms and specialist treatment options, their award-winning Sequoia spa offers a truly luxurious experience.
Back at base, the 217 rooms are a mix of Regency, Baroque and French Provincial styles. The three restaurants serve classic British fare, with menus designed by Chef Russell Bateman - who trained under Gordon Ramsay.
Prices start from £332.50pp for their overnight spa experience, which includes breakfast, 3 course dinner, a 1 hour 15 minute treatment and use of the facilities. Find out more and book The Grove at thegrove.co.uk.
20. Middlethorpe Hall, Yorkshire
Best spa break for: A cosy escape
Sitting among 20 acres of gorgeous grounds, this 300-year-old country house is bursting with character, with cosy drawing rooms full of antiques, kept toasty by crackling fires. The hotel's delightful spa is compact but well-appointed, with lovely surrounding gardens.
Floor-to-ceiling windows by the pool provide lots of natural light and there's plenty of space to relax in the spa bath, steam room or sauna.
Head outside to the gym in the pretty restored Victorian summerhouse, or indulge in a holistic treatment on the first floor. From Power-Packed Vitamin Surge Facials to Orange Blossom Garden Rituals, you're sure to leave with a skip in your step.
On warmer days, there's an enclosed private garden where refreshments can be served while guests sunbathe.
Prices start from £95pp for their half-day spa discovery experience, which includes a soft drink or hot beverage and the use of the Spa facilities for a maximum of 2 hours (ideally prior to treatments). You can choose to include 2x 20-minute treatments or a 50-minute treatment of your choice. Book Middlethorpe Hall at Booking.com.
21. The Runnymede on Thames, Windsor
Best spa break for: An experience on water like no other
Nestled on the quiet banks of the River Thames near Windsor, it's all about the Whirlpool By The Weir at this contemporary hotel. Sit back, with a glass of Champagne in hand, and enjoy an indulgent dip in the whirlpool which sits right on the banks of the River Thames. Better yet, it's a complimentary experience.
During your visit, you can discover their swimming pool and whirlpool bath as well as their traditional saunas and eucalyptus steam room. Enjoy endless pampering with a variety of treatments from luxury brands Guinot, ESPA and Jessica.
The hotel itself is equally spoiling with two excellent British restaurants and floor-to-ceiling windows to make the most of those riverside vistas.
Prices start from £170 for a Double Room, on a room only basis. Book The Runnymede on Thames at Booking.com.
22. Swinton Estate, Yorkshire
Best spa break for: All day access
Sitting among 20,000 acres of grounds, the magnificent castle-style hotel is famed for its excellent facilities. The recent highlight was the opening of the multi-million pound Swinton Country Club & Spa: swim laps in the indoor or outdoor pools, warm up in the al fresco hot tub, or refresh yourself in the Finnish sauna. And there's a treatment for every occasion, from nature-inspired flower wraps to indulgent bespoke facials.
You'll find an 18-metre indoor pool alongside the hydrotherapy pool, which provides therapeutic relaxation with a choice of massage. For outdoor lovers, there's a gorgeous spa garden, which is equipped with a 10-metre natural pool, eco-friendly bathing in bio-filtered water, as well as an alfresco hot tub.
For a more energetic spa experience join one of the many fitness classes, and when you're totally exhausted, head to the slumber pods or even the sleep room, complete with heated water beds, for the ultimate down time.
Prices start from £285 for their luxury spa day which starts with a Full Body Rejuvenating Scrub to detoxify the skin followed by a Full Body Signature Massage bespoke to suit your wellness needs. To complement the 180 minutes of Bamford treatments and 3.5 hours access to the indoor 18 metre pool, Hydrotherapy pool and outdoor natural pool and the alfresco spa, and a two-course lunch. Book Swinton Estate at Booking.com.
23. Chewton Glen, Hampshire
Best spa break for: Hydrotherapy by the coast
On the edge of the New Forest, this sprawling 18th-century country house is utterly idyllic. The main hotel is decorated with old-school elegance, as is the dining room which serves British classics.
The award-winning spa has more contemporary assets: from the huge hydrotherapy pool (Europe's largest) to the aromatherapy saunas and crystal steam rooms. The big names are all here: oxygen facials by celebrity favourite Linda Meredith, holistic Ila treatments and Natura Bissé full body scrubs.
There's an 'alkaline-influence' buffet for bloat-free meals, too. Or simply crack some moves in the dance studio, chat over manis and pedis, or play doubles on the tennis court.
Prices start from £210 for their tailor made spa day, which includes a treatment of your choice, as well as full use of the facilities for up to 8 hours, nutritious breakfast on arrival, a choice of salads from the Pool Bar, selected complimentary refreshments throughout the day, use of robes, slippers and towels and a complimentary sessions in the dance and aerobics studio. Book Chewton Glen at Booking.com.
24. Armathwaite Hall Hotel and Spa, Lake District
Best spa break for: Dramatic views
Few settings are more magical than the Lake District. Providing the ultimate nature reset, Armathwaite Hall is framed by the dramatic Skiddaw Mountain and just footsteps away from the shore of Bassenthwaite Lake.
Activities such as forest bathing, kayaking, fell walking, Alpaca walking and wild swimming enable guests to immerse themselves in the beautiful surroundings of the Lake District.
The Serenity Full Spa Day provides access to the spas indulgent facilities, as well as two course lunch in the Brasserie and a 55 minute treatment to unwind.
Prices start from £145 for a full spa day while spa breaks start from £375. Book Armathwaite Hall Hotel & Spa at Booking.com.
25. The Midland, Manchester
Best spa break for: A city centre retreat
A magnificent former railway station, bang in the centre of Manchester, this hotel spa is raking in awards like no other as well as boasting two of the city's best restaurants. The 100-year-old hotel is very impressive, with ornate ceilings and marble floors.
Treatments range from ESPA results-driven facials to indulgent body therapies. There's an aromatherapy steam room, Alder-wood sauna and Arctic rain shower, and a relaxation room with actual beds with duvets and pillows.
There are sound-cancelling sleep chambers, too, and if you're in a large group you even get your own relaxation room.
Prices start from £135 for their wellness spa day, which includes an 80 minute Wellness Ritual, a light lunch or afternoon tea and a £10 voucher to spend on spa products. Book The Midland on Booking.com.
26. St Moritz Hotel, Cornwall
Best spa break for: A seaside escape
Visit St Moritz for the sea views and Cornish charm, stay for the Cowshed spa. Using botanical ingredients found in a typical English country garden, the treatment list includes everything from a Cowshed Moody Massage, to a Sea & Sun Signature treatment. Feel invigorated after a lemongrass-scented facial, or wind down with a peppermint-infused sea salt scrub.
Once you're pampered, take a dip in the indoor or outdoor pool, linger in the steam room and sauna, or even hit some balls on the tennis court, overlooking those glorious sea views. It's the perfect recipe for relaxation.
Prices start from £100 per night and treatments start at £50 for a 30-minute Cowshed treatment. Book St Moritz Hotel at Booking.com.
27. Bowood Hotel & Spa, Wiltshire
Best spa break for: Recharging your batteries
With Lady Lansdowne interiors, Capability Brown landscapes, and opened by the Duchess of Cornwall, this hotel and spa had a lot to live up to. It has triumphed. There are 43 rooms in the hotel, but Queenwood Lodge is the place to stay - a four-bedroom Georgian house in the grounds which you can have to yourselves along with chef, waiter and housekeeper.
The spa's big thing is Ayurveda, the ancient Indian healing technique, with treatments like 'Shirodhara' - the pouring of oil onto your forehead to stimulate relaxation.
There's also a spa bar, rock sauna, crystal steam room and infinity pool with breathtaking views of the rolling Wiltshire countryside.
For the more active among us, there's a gorgeous glass-fronted gym with the latest Technogym equipment and personal trainers, which shouldn't be missed.
Prices start from £162 per night and from £40 for treatments. Book Bowood Hotel & Spa at Booking.com.
28. Careys Manor Hotel & SenSpa, New Forest
Image 1 of 3
Best spa break for: An full body sensory experience
Careys Manor Hotel has a rich history and dates back to 1888. Surrounded by the verdant and wild New Forest, which was first named by 'William The Conqueror' and used as a royal hunting ground in the 10th Century, while the old manor house still retains much of its original charm, the interiors have been modernised over the years and the spa, which is housed in a modern building at the back of the hotel, was last refurbished in 2004.
Unlike other spas on this list that might offer one or two different experiences within the spa facilities, SenSpa is a 24,000 sq feet state-of-the-art spa with multiple facilities to soothe, reinvigorate and refresh. When we visited we loved the fact that there is both a Hydrotherapy Pool and a 14 meter swimming pool, as well as a poolside jacuzzi, steam room and sauna for hotel guests to use. For SenSpa Day Guests and hotel guests that have paid to access the premium Hydrotherapy facilities, a whole new world of calm and relaxation is on offer. Soothe away your aches and pains and feel stress melt away in the Crystal Steam Room, Herbal Sauna and Laconium, rest and relax in the Tepidarium, or reinvigorate your senses in the health and experience showers. For those looking for a real boost, give the ice room a go. Similar to the benefits of cold water swimming, when used correctly an ice room can be hugely beneficial for both mind and body.
In a separate part of the spa there are 18 treatment rooms with more than 25 different facial and body treatments on offer. The SenSpa is a Thai spa, so expect lots of Thai massages on offer as well as facial treatments using products from renowned skincare brand ESPA.
Spa days at Careys Manor start from £139 pp and run from 9.15am until 4.15pm. The price includes access to all the facilities and a two course lunch at the Zen Garden restaurant with a glass of Champagne. There are also morning and afternoon spa days on offer and you can find out more information here.
Spa breaks, with an overnight stay at Careys Manor Hotel, start from £564 a night. However, we would recommend staying in Careys Manor's sister hotel, The Montagu Arms (a dog friendly hotel in Beaulieu down the road) instead and then just visiting the spa for a day.
Book Careys Manor Hotel & SenSpa at Booking.com or find out more by visiting careysmanor.com.
29. The Elms Hotel & Spa, Worcester
Image 1 of 2
Best spa break for: Uncompromising relaxation and 'me time'
The award-winning spa at The Elms Hotel is deserving of every one of their accolades. Beautifully designed to give the sense of stepping into a botanical oasis, the spa is the jewel in this country house hotel's crown.
Named The Greenhouse Spa, the wood-clad building dripping with plants and rustic countryside charm boasts an indoor swimming pool, sauna, two steam rooms, experience shower and a hydrotherapy pool that extends outside the spa for an invigorating indoor/outdoor spa experience. There are also five treatment rooms and a great selection of treatments available, from massages and facials to manicures and pedicures.
Guests of the hotel get free access to the spa, but both half day and full day spa packages are available for those who just want to visit for the day.
If staying in the hotel, expect boutique luxury and individually designed rooms that reject the traditional neutral colour palette of spa hotels in favour of opulence, glamour and plenty of personality. Elemis toiletries, fluffy white towels and a generous selection of teas and coffees add to the feeling of luxury in the rooms.
Breakfast is included in your room rate and allows you to enjoy the cosy and welcoming surroundings of the Badgers restaurant, which is otherwise best overlooked in the evening, when food of a higher quality and better value can be found elsewhere nearby.
Prices start from £176 per night for a double room with breakfast included. Access to the spa and gym is included with the room rate, but treatments are charged as extra. For more information and to book visit theelmshotel.co.uk.
30. Birch, Hertfordshire
Image 1 of 3
Best spa break for: Trendy yet affordable chill time
On the very cusp of the Hertfordshire county border near Enfield you will find Birch, an achingly trendy yet gloriously relaxed and understated spa hotel built in the refurbished private country residence and grounds of Theobalds Estate.
Despite being almost entirely modernised and re-envisioned for a modish millennial, the hotel does pay homage to the estate's glamorous history and the playful and outrageous reputations of the former owners, Sir Henry Bruce Meux and his wife Valerie Langdon. Birch's restaurant Valeries is named after the fun-loving former lady of the house, whose roller-skating rink is now an incredibly well equipped gym, and whose love for her pet zebras is fondly remembered in the naming of the Zebra Riding Club restaurant in the grounds.
Birch has all the elements you would expect from a spa hotel; comfortable bedrooms, fitness studios, a programme of expertly taught classes, a gym, pool (read: lido) and of course a spa, offering relaxing and rejuvenating treatments. But it is also replete with quirks and extras for guests that offer a point of difference from your traditional spa hotel; such as an interactive bakery, co-working spaces, a pottery workshop, BBQ pits, an outdoor tipi serving wood-fired pizza in the summer, screening, music, games and art rooms. Oh and there's a farm, too.
As for the spa itself, Birch have partnered with The | Tides Wellness, a holistic Dutch brand from the Netherlands, for all their treatments. Using all natural and organic products, the treatments lend themselves well to current wellness trends, aiming to "tackle urban pressures, digital overload, environmental pollution and recognise the mind's fascinating ability to aid in ultimate relaxation." The brand doesn't over-promise, either. The treatments are effective and result-driven. We left feeling both relaxed and rejuvenated, with aches and pains that had been plaguing us for months suddenly soothed and eased.
This is an original spa hotel experience for those wanting something out of the ordinary and it was the kind of weekend away where before you've left you're already planning on coming back, and bringing your friends.
Double rooms start from £150 per night and the price includes access to the Lido, gym and free classes and creative workshops throughout your stay. Treatments are charged at extra. Find out more and book at birchcommunity.com.
31. The Spa at Carden, Cheshire
Best spa break for: A gorgeous garden experience
Located in the picturesque Cheshire countryside, The Spa at Carden offers one of the UK's largest spa gardens, making easing back into populated areas easy. There are multi-sensory experiences to help reduce anxiety, as well as intimate social areas such as thermal pods, fire pits and warming hot tubs, where groups can catch up in more private areas.
The Spa Retreat spa stay includes a Spa Garden and Thermal Experience, as well as a 50-minute spa ritual treatment. You can choose from a range of stress reducing treatments and fully indulge at an all-weather Bollinger bar. What more could you want?
Prices from £225 for their spa retreat package. Find out more and book The Spa at Carden at cardenpark.co.uk/spa.