Best UK weekend getaways to take with the girls
The best UK weekend getaways are packed with fascinating things to do, so it's time to get a date in the diary and start planning your next trip...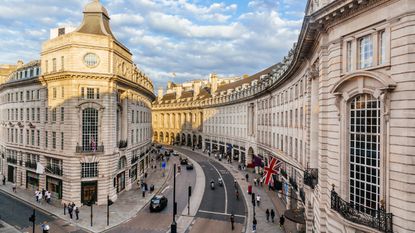 (Image credit: Getty Images)
The best UK weekend getaways give us the chance to discover more of Great Britain, see new places and spend quality time with friends and family.
England, Northern Ireland, Scotland and Wales have plenty to offer when it comes to the best UK staycations, but it's much easier to gather a group of friends for a short weekend away rather than everyone coordinating time off for a longer trip.
Whether you want to escape to a rural paradise, journey to one of Scotland's creative capitals or are searching for the best spa breaks in the UK, there's something for everyone in our pick of the best UK weekend getaways to take in 2022...
The best UK weekend getaways to go on in 2022
1. Oxford
Best UK weekend getaway for: Shopping and sightseeing
Affectionately named the City of Dreaming Spires, Oxford is the perfect escape for a weekend getaway with the girls.
Explore the City of Dreaming Spires on a free (tips are encouraged) walking tour (opens in new tab) led by University educated guides. Relax afterwards in the city's beautiful Botanic Garden and Arboretum (opens in new tab), home to over 5,000 different plant species.
Foodies must head to the historic Oxford Covered Market (opens in new tab) in the city centre for a mouthwatering selection of food and drink. While cheese lovers will be spoilt for choice at the acclaimed Oxford Cheese Company (opens in new tab).
And if the weather's playing ball, what could be more relaxing than a leisurely punt (opens in new tab) along Oxford's lovely River Cherwell, passing under the Bridge of Sighs? Why not hire someone else to do the hard work for you?
Oxford has all the big-name shops, plus a vast array of independent boutiques and delicatessens. For one-of-a-kind dresses don't miss Fresh Oxford (Covered Market), while you'll find chic everyday threads at Vanilla (South Parade) and Indigo (Cowley Road).
Don't Miss: Approximately 12 Shopping and sightseeird is Bicester Village (opens in new tab), an enormously popular luxury brand retail outlet with more than 160 boutiques to choose from. They all offer exceptional savings all year round.
2. Cambridge
Best UK weekend getaway for: A stylish city break
Quieter than its academic rival Oxford, Cambridge has a charm of its own, with plenty to tempt even the most discerning visitor.
As you wander into the city, observing families and friends punting along the river, or sipping beer sitting at the river's edge, take a breath and relax into the Cambridge pace of life. Wander further into the city, along its historic, sleepy streets lined with independent shops and cafes that open out onto expansive green spaces, and you'll find the perfect escape from the hustle and bustle of real life.
Thanks to a bike share scheme, you can hop on a bicycle at various spots across the city. And better yet, they don't need to be returned to a certain stand and their soft saddles are ideal for novices, as are Cambridge's wide cycling lanes. At traffic lights, an illuminated green bicycle appears allowing bikes to pull away first before cars. It's one of the most bike-friendly cities in the UK.
For a good night out, head to The Junction (opens in new tab), which puts on a vast mix of comedy, dance, music, theatre and events from Ahir Shah to The Craig Charles Funk & Soul Club.
Don't miss: At the heart of Cambridge are its colleges. There are 31 to visit, and most are open to visitors at least part of the time (opening times vary, especially during exams, so check in advance). Cambridge University's three big-hitters are King's, Trinity and St John's, but don't discount the smaller colleges which each have their own character, stories and secret spots.
3. Manchester
Best UK weekend getaway for: Art and food
With trendy bars, museums and a crop of new boutiques, Manchester is attracting an increasing number of tourists. Thanks to excellent train and air links it's easy to get here, making it the perfect spot for a weekend of shopping with the girls.
Today, the city is known for being a hub of creativity, spawning painter LS Lowry and Britpop heavyweights, Oasis. It's little wonder that Manchester's creative scene is buzzing. The Lowry (opens in new tab), Manchester Art Gallery (opens in new tab) and the Whitworth (opens in new tab) will enthral art lovers all weekend, while shoppers will love the city's thriving independent stores, which specialise in everything from vinyl to blue cheese. While you'll find Selfridges, Harvey Nichols and the upmarket shopping streets bang in the city centre.
Manchester was home to the suffragette Emmeline Pankhurst. Learn more about her life at The Pankhurst Centre (opens in new tab) — former home of the Pankhurst family — a museum dedicated to the story of women's fight for the right to vote.
If you've worked up an appetite, Escape to Freight Island (opens in new tab) fuses food, drink, music and entertainment. District (opens in new tab), a new contemporary Thai restaurant in the Northern Quarter, is also one to book or try The Allotment (opens in new tab) for very good vegan fare.
Don't Miss: The brand new RHS Garden Bridgewater in Salford spans 156 acres on the site of Worsley New Hall, and includes a kitchen garden and Chinese garden.
4. Glasgow
Best UK weekend getaway for: Tours and tipples
A friendly and artistic city, Glasgow has weathered the blows of declining industry to resurge with a reputation for fine food and drink, culture aplenty, and high streets overflowing with high-end shops.
With acres of green space and elegant former merchants' buildings that mark its trading hub past, it's a fantastic city to spend time in.
The Kelvingrove Art Gallery and Museum (opens in new tab) is one of Scotland's most popular free attractions, with 22 themed, state-of-the-art galleries. Take a walking tour (opens in new tab) of the city that showcases the life, work and influence of its most famous artist, Charles Rennie Mackintosh. Glasgow Cathedral (opens in new tab) is the only medieval cathedral on the mainland to have survived the 1560 Reformation almost entirely intact.
Worked up an appetite? Meaning 'eat well' in Gaelic, Cail Bruich (opens in new tab) was awarded a Michelin star in January 2021, making it the first Glasgow restaurant to receive this prestigious honour in 18 years. The menu boasts an innovative use of the Scottish larder, with many ingredients hand-foraged from the local area. While Ox and Finch (opens in new tab) on main thoroughfare Sauchiehall Street specialises in small plates using top-notch Scottish ingredients.
Glasgow is also home to some of the best spa hotels in Scotland, so consider checking in to the Kimpton or Mar Hall just outside the city for some series R&R.
Don't miss: Take a stroll away from the crowds through Pollok Country Park's woodlands and gardens.
5. Bath
Best UK weekend getaway for: An alternative spa weekend
Brimming with things to see and do, Somerset's World Heritage city is as fascinating as it is beautiful.
Bath has been a tourist attraction since the Romans turned up over 2,000 years ago. Given their flair for grand designs, they quickly spotted the potential of the city's natural hot springs and built what is probably the world's first leisure centre. Fascinating to visit, the steam rising from the central pool in the city's Roman baths has a mystical quality. It was a huge success at the time and remains so today, as you can still bathe in the naturally warm, mineral-rich water of the Thermae Bath Spa (opens in new tab).
Book a two hour slot where you can experience the open-air rooftop pool with fantastic views over the city. There's also a massage list as long as your arm, a Roman-style steam room and state-of-the-art infrared sauna—plus the cafe serves a great afternoon tea.
Fancy something a little more active? Climb 212 steps for a bird's eye view from the tower at Bath Abbey (opens in new tab). Take the behind-the-scenes Tower Tour, which includes a chance to sit behind the clock face.
Even Jane Austen, who once lived here, was inspired by the shopping opportunities. She is known to have written: 'Bath is a charming place, there are so many good shops.' And she wasn't wrong. Half of the 700-plus stores, which include all of the high street favourites, are independent and rival London for choice and variety. Walcot Street is a wonderfully bohemian area where you can browse anything from independent boutiques to cheese, old books, bikes and sewing machines. And the Saturday morning flea market provides a great opportunity to practise your bartering.
For gourmet treats, consider dinner at Clayton's Kitchen at The Porter (opens in new tab), in a wonderfully stylish four-storey Georgian townhouse. Discover pre-dinner tipples and delicious mains.
Don't miss: The Theatre Royal (opens in new tab) is one of the prettiest in the UK, an attraction in its own right as well as the destination to watch pre-West End shows.
6. London
Best UK weekend getaway for: Big city sites
The country's capital can divide opinion, depending on how you feel about crowds, public transport and what your budget is. However, no other city in the UK can compare for the sheer variety of architecture, food and drink options, activities and sights. Whether ticking off classics such as Big Ben, the London Eye and Buckingham Palace, or wandering off the beaten track to lose yourself in neighbourhoods from Bermondsey to Bloomsbury and Shoreditch to Soho, there's always something to captivate you.
London is known for its grand Victorian museums, particularly the Natural History Museum (opens in new tab), V&A (opens in new tab) , and the Science Museum (opens in new tab), which are worth visiting for their architecture alone. Both Tate Britain and the Tate Modern (opens in new tab) showcase compelling artworks, while the National Portrait Gallery (opens in new tab) and National Gallery (opens in new tab) focus on more classical paintings.
There are many green spaces to take advantage of, from Hyde Park to Hampstead, while shoppers can't miss Harrods (opens in new tab), Harvey Nichols (opens in new tab) or Selfridges (opens in new tab).
You can eat the food of practically any country in the world in London. Try fine Mexican dining at newly opened KOL (opens in new tab), run by former Noma chef Santiago Lastra. Cyril Lignac has just opened his first Japanese-influenced restaurant in the capital, Bar Des Prés (opens in new tab), while Imad's Syrian Kitchen (opens in new tab) is run by a Damascene restaurateur who came to the UK as a refugee and has now opened his own place.
If you fancy more traditional British fare, the best afternoon teas in London for a quintessentially English experience can be found at the likes of Fortnum & Mason, The Goring, The Ritz and Claridge's.
Don't miss: Stop for a cocktail at a smart hotel bar—The Connaught, The Savoy, Pan Pacific London or The Ritz are just a few to add to your list.
7. York
Best UK weekend getaway for: History and Harry Potter fans
With its fascinating history spanning back to Roman times, York wears its past well and is one of the best cities to visit in the UK for those who love history and architecture. You'll see everything from cobbled medieval streets to Viking artefacts, ghostly Victorian pubs (it's said to be Europe's most haunted city) and Tudor buildings. But it's a smart, contemporary place, too, buzzing with modern-day artisans and artists, upmarket restaurants and bars, and galleries and museums.
You can't miss York Minster (opens in new tab), one of the world's most magnificent cathedrals. Climb to the top of its tower for unbeatable panoramic views of the city.
The Shambles are now known as the inspiration for Harry Potter's Diagon Alley, but it's also the oldest street in Europe, listed in the Domesday Book. If the weather's good, take a walk around the city walls, or board a river cruise (opens in new tab), where you'll learn about York's history on the very stretch of water that brought the Vikings and Romans there.
No trip to York would be complete without consuming a fat rascal, or enjoying a leisurely afternoon tea at Bettys Tea Rooms (opens in new tab).
There's also quirkily named Skosh (opens in new tab), on Micklegate, specialising in contemporary British cuisine with an international influence. If you're after Michelin-starred cooking, head to Le Cochon Aveugle (opens in new tab), where chef/owner Josh Overington offers a gourmet menu inspired by traditional French cooking techniques.
Don't miss: Bridgerton fans should head to Castle Howard (opens in new tab), near York, an 18th-century stately home that featured in the popular drama, and has also served as the filming location for movies and TV series a-plenty over the years.
8. Cardiff
Best UK weekend getaway for: Sport enthusiasts
Home to historical houses and castles, this small but impactful capital city near the sea is one of Wales' most visited. The epicentre of Welsh rugby, there's a huge sporting connection, and the breathtaking landscape makes it the perfect place for hikers, cyclists and water sports enthusiasts.
But it's also a cultural hotspot, home to the biggest collection of Impressionist art outside Paris, and a hive of activity for independent film, theatre and art. You'll also find some of the best spa hotels in Wales in the city, if you fancy putting your feet up after a busy day of sightseeing.
Cardiff Bay was significant in the 1900s for transporting coal, and it has since been reinvented into a sleek, waterfront escape. Here, the Wales Millennium Centre hosts performances and events, while you'll also find the distinctive red Pierhead Building with its clock tower, and the charming Norwegian Church, built to serve Norwegian sailors who docked here during Cardiff's coal-exporting heyday.
Cardiff Castle (opens in new tab) sits right in the middle of the city. Dating back more than 2,000 years, it's a blend of medieval and Victorian Gothic revival.
Nook (opens in new tab) is a cosy neighbourhood bistro in the fashionable suburb of Canton, with a weekly-changing menu of smaller plates, and recently earned a Michelin Guide recommendation. If you're a sherry fan, Vermut (opens in new tab) micro-bar specialises in sherry, wines from Montilla-Moriles and vermouth, with Spanish pintxos (tapas) to soak it up.
Don't miss: Check out DEPOT (opens in new tab), a revamped warehouse space that hosts a series of creative pop-up events, from yoga brunches to bingo.
Helena is the Travel Editor for Woman & Home, Woman's Weekly, Woman, Woman's Own and Chat. As a journalist with 8 years' experience, she has also worked for titles including Stylist, The Evening Standard and Heat.

She is a keen traveller who loves nothing more than exploring a new country. Her dream trip is a safari. A fierce animal lover, she dreams of seeing some of the big five out in the wild. Her wish-list also includes India – to explore her husband's heritage more – as well as exploring more of America's stunning national parks.