The best afternoon teas in London for exquisite scones, dainty cakes, dreamy interiors and impeccable service
Wondering where to get the best afternoon tea in London? These top spots promise to leave you on a serious sugar high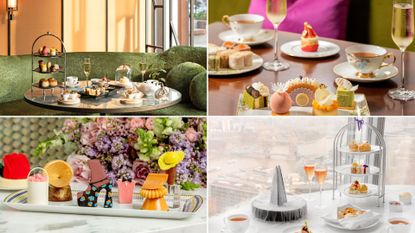 (Image credit: Future)
Discovering the best afternoon teas in London might seem like a simple (and wonderful) task, but with over 200 hotels, restaurants, and cafes offering this historic daily institution, finding the absolute top offerings is not as easy as you might imagine.
Dating back to 1840 the quintessential British ritual began when one of Queen Victoria's ladies-in-waiting, The Duchess of Bedford, decided she needed a little extra sustenance in-between early lunches and late dinners. She began requesting bread and butter, tea and cakes to be bought to her room during drawn-out afternoons, and before long the tradition became a regular occurrence across the country.
But of course, the fertile lands of India, Sri Lanka, and China are to thank for our love of tea, which "predates the introduction of afternoon tea by a couple of hundred years" according to food historian Tasha Marks (opens in new tab). First popularized in England in the 1600s, tea today has become a regular fixture in pretty much every home throughout not only the UK but indeed the world.
As tea makes up a standout part of the afternoon ritual, included in our roundup are the best places to go for the beautiful tea blends and varieties, the fluffiest of scones, and the most delicious savory and sweet accompaniments. We've included intimate cafes, beautiful restaurants, and even afternoon tea options at some of the best luxury hotels in the world.
The best afternoon teas in London
Nobu Portman Square
Best afternoon tea in London for: Standout flavors and mind-blowing cheesecake
With a menu that'll make anyone giddy with delight and one of the most standout afternoon teas in London for variety, flavor and beauty is the offering at Nobu Portman Square. The four-course Japanese-themed high tea begins with deconstructed sushi served in three miniature bowls, the yellowtail with jalapeño is beautifully delicate while the rice is sticky and delicious. An impressive savory platter laden with delectable mushroom pastries, rare beef and wasabi sandwiches (that beat most other afternoon teas hands down), an upmarket version of KFC popcorn chicken and snow crab salad rolls makes up the second course and doesn't fail to impress - compared to other London afternoon teas the savory options at Nobu seriously stand out. The trademark cake stand follows, filled with five perfect works of art, including a melt-in-the-mouth yuzu macaroon and miso caramel éclair as well as scones and the most delicious raspberry jam. But it's the very last course that will stay fixed in your memory for eternity. The Japanese cheesecake for two is the real highlight and so outrageously good it's worth the trip alone. Its light as a cloud texture and subtle creamy flavor makes it one of the best things we've ever tasted. Service here is also impeccable with just the right amount of attention but never overwhelming. Nobu Portman Square really is one of the best afternoon teas in London, an unmissable experience for anyone who appreciates really really good food. Afterwards, stroll to Chelsea to visit one of the world's most beautiful gardens.
Tea selection: 12 varieties including silver needle and the more unusual Pheonix Honey Orchid Oolong, as well as delicately fragranced berry and citrus flavors, and the standard varieties of English Breakfast, Earl Grey and Darjeeling.
Setting: Served in The Lounge with floor-to-ceiling windows (that make for a great people-watching opportunity as all manner of supercars pull up outside), it's the only part of the tea that doesn't really wow, but that's if we're being extremely persnickety as the room is relaxing and well decorated.
Price: £60 ($71) for the regular menu, or £55 ($66) for the vegetarian menu. Both have the option to add a glass of Laurent-Perrier La Cuvée for £12 ($14) extra per person.
Address: 22 Portman Square, London W1H 7BG
Book a table at Nobu Portman Square here (opens in new tab)
TÍng London at The Shard
Best afternoon tea in London for: Outstanding views of the city
If you're after incredible views alongside your afternoon tea, TÍng at The Shard is the place to go. Window seats on the 35th floor ensure you feel as though you're on top of the world with floor-to-ceiling glass that looks out across the River Thames towards the City, Tower Bridge, and Canary Wharf. Inside Shangri-La - one of world's most beautiful hotels - you'll find TÍng's lounge area with an Asian-influenced menu made up of two courses, one savory, one sweet. The savory course features three varieties of finger sandwiches, a deconstructed Hoisin duck pancake served canapé style as well as a prawn cocktail bun, chicken liver choux pastry, and a mini courgette tart. In terms of the sweet offering, three artfully constructed cakes are presented on the cake stand along with two types of scone (the lemon and poppy seed are particularly good) as well as a wickedly rich chocolate and raspberry 'shard' made to share between two. Tíng's offering is good value considering the amount of food you're served, and the attentive and friendly staff are always on hand to bring more sandwiches and scones should you need them.
Tea selection: Tíng offers an epic selection of tea but it's their signature blends that really impress with spicy Masala Chai, white Gong Mai, and the double fermented Pu'erh Ripe with its strong, earthy taste featuring on the electronic menu. A sweet welcome tea served on a tray of dry ice is also served to all guests providing a theatrical display you'll want to photograph along with the view.
Setting: Tea takes place in Tíng's lounge, (ask for a window seat for the best views) where there's a delicate lilac floral theme running throughout. Chairs are low and fairly comfortable and there's faux-wisteria hanging from the ceiling - real would be preferable of course but you can't have everything!
Price: The Skyline Afternoon Tea is £65 ($78) for both the regular and vegetarian menus, with the option to add a glass of Veuve Clicquot Yellow Label Brut for an extra £10 ($12) per person.
Address: 32 London Bridge St, London SE1 9SG
Book a table at Ting here (opens in new tab)
Pret-a-Portea at The Berkeley
Best afternoon tea in London for: The ultimate wow factor
Not only is The Berkeley known to be one of the best spa hotels in London it's also home to one of the most exquisite afternoon teas too. The Berkeley's afternoon ritual, served all week from 1pm to 5.30pm makes our list due to the sheer beauty of its offering, but it's certainly not a case of all show and no substance. Created by executive pastry chef Mourad Khiat, (opens in new tab) the famous Pret-a-Portea takes inspiration from some of the world's most important fashion houses, from Gucci and Oscar De La Renta to Saint Laurent and Lanvin, with a perfectly curated menu that changes every six months. Taken in the decadent Collins Room, there are three menus to choose from, including vegetarian and vegan options all of which arrive with The Berkeley's perfectly crafted trademark cakes. Everything here puts a smile on your face, from the pretty lilac and lemon printed porcelain, to the seriously attentive wait staff who know everything there is to know about the menu and its large tea selection. The first course - made up of five differently filled finger sandwiches - includes a peppered pastrami and Snowdonia cheddar offering that stands out due to some seriously punchy flavours, as well as a canapé of duck breast on brioche which arrives looking like a mini work of art topped with gooseberry chutney and a small dish of heritage tomatoes with dreamy white asparagus velouté.
Then for the main event. For summer 2022, The Berkeley's tea stand arrives adorned with six cakes and biscuits that really do look too good to eat. Favourites include a super slick Gucci pink tuxedo filled with vanilla mousse, sponge and peach compote, and a standout Oscar De La Renta orange gown crafted with apricot bavarois, salted Manuka honey and a meringue frill. The showstopper, a sharing cake inspired by Saint Laurent's floral jumpsuit, is mind-blowing in its beauty and construction. Sitting atop a coconut cake base, Mourad has somehow constructed a lychee mousse filled with a fresh raspberry centre in the shape of a red rose, finished with a single green chocolate leaf. If that's not enough to impress, the tea, of course, ends with scones, (both plain and raisin) served alongside two types of jam and really good clotted cream.
Tea selection: One of the widest selections with an amazing 26 varieties that includes rare yellow tea that's unique to China, Matcha Supreme, and the fascinating vintage cooked Pu Erh with its earthy character and undertones of tobacco. We particularly enjoyed the Ali Shan Oolong which pairs extremely well with all of the cakes.
Setting: Tea is taken in the light and airy Collins Room, decorated in tones of taupe and dotted with vases of fresh hydrangeas. The glass-topped tables and bright conservatory provide a modern setting that is perfect for summer and winter dining.
Price: Regular, vegetarian and vegan menus all cost £64 ($76) per person or £74 ($88) per person including a glass of Laurent-Perrier Champagne La Cuvée Brut.
Address: Wilton Place, Knightsbridge, London SW1X 7RL
Book a table at The Berkeley here (opens in new tab)
The Ritz
Best afternoon tea in London for: Being treated like royalty and old-school glamour
Some things are just synonymous with British royalty: UK castles, such as Balmoral Castle and Windsor Castle being one, and then, there's The Ritz. The Royal Family's love for all things luxurious has ensured they've been enamored with London's most glamorous hotel from the very beginning; the Queen Mother used to attend private parties at The Ritz regularly, while The Queen celebrated her 80th Birthday here. Since then, pretty (opens in new tab) much every other member of the Royal Family has attended this London institution for personal and private engagements making The Ritz the place to go for a London afternoon tea with a seriously regal edge. Reminiscent of an actual palace the hotel's decor wows with grand chandeliers, highly ornate carpets, and gilt detailing, and that's before you even reach the Ballroom of The Ritz Club, which is where afternoon tea is currently taking place until January 2023.
Accompanied by live piano music played by Ian Gomes, The Ritz's afternoon tea consists of a silver cake stand filled with five varieties of delicate fingers sandwiches (the ham with grain mustard is divine), brioche rolls, plain and fruit scones with strawberry jam and clotted cream, as well as three varieties of patisserie. For our visit, we enjoyed a zingy raspberry mousse cake, banana and caramel choux bun topped with gold leaf, and a fruity eclair covered with silky smooth ganache. All sandwiches, cakes, and scones are replenished upon request, and guests are also invited to try extra cakes from the tea trolley if they wish. Service is what you'd expect from a place used to serving royalty (immaculate!) and the dress code means you have every excuse to get dressed up.
Tea selection: Owing to the fact that The Ritz is the only hotel in the world to have a certified tea master there is of course a brilliant selection, with 18 fine teas to choose from. Highlights include the Rose Congou - a black tea blend not too dissimilar to Earl Grey but with notes of rose, rather than bergamot, as well as The Ritz's very own Royal English - a blend of Indian, Sri Lankan, and Kenyan black tea leaves that tastes exquisite without milk.
Setting: Afternoon tea is currently being served in the beautifully extravagant Ballroom until January 2023 when service in The Palm Court will resume following renovation.
Price: The Ritz's afternoon tea takes place daily at 11.30am, 1.30pm, 3.30pm, 5.30pm and 7.30pm. Traditional afternoon tea is £67 ($80) per person. Champagne afternoon tea is £89 ($106) per person with a glass of Barons de Rothschild Réserve Ritz Brut, £92 ($110) per person with a glass of Barons de Rothschild Réserve Ritz Rose or £94 ($112) per person with a glass of Barons de Rothschild Réserve Ritz Blanc de Blanc.
Address: 150 Piccadilly, St. James's, London W1J 9BR
Book a table at The Ritz here (opens in new tab)
Anya's Afternoon Tea at The Village, Pont Street
Best afternoon tea in London for: Fun vibes and wacky sandwiches
Celebrated British designer Anya Hindmarch, famed for some of the best designer handbags and cartoon-esque accessories on the market has sidelined into afternoon tea (yes, really!) but only for a limited period of time. Served every day between 2pm and 5pm is a seriously playful take on the traditional afternoon tea with sandwiches transformed into acid house smiley faces and hearts alongside cloud-shaped cakes. Sitting boldly on a three-tiered cake stand diners are wowed with three types of sandwiches including a joy-inducing egg and cress offering shaped to look like an actual fried egg, as well as four types of cute cake, from a dark chocolate mousse chubby heart to a raspberry caterpillar decorated with 10 eyes. To finish there are of course scones, both plain and raisin served with the customary clotted cream and strawberry preserve - Anya's offering really does put the fun back into teatime, making it one of the best places to visit in September when London Fashion Week kicks off.
Tea selection: If you're a tea connoisseur, the other establishments on our list serve a much wider selection so would be preferable, but Anya does have a good selection of non-caffeinated teas including hibiscus, fresh mint, peppermint, and chamomile as well as Earl Grey, English Breakfast and a delightfully refreshing iced tea.
Setting: Definitely one of the more relaxed settings on our list, Anya Cafe at The Village takes inspiration from a traditional British cafe but also feels slightly Parisian with retro furnishings and wooden interiors, it doesn't have the wow factor but it's certainly fun.
Price: As well as being incredibly fun, Anya's afternoon tea is also one of the most reasonable at £35 ($42) per person or £50 ($60) per person with a glass of Esterlin NV Champagne.
Address: 9 Pont St, London SW1X 9EH
Book a table at Anya's Cafe here (opens in new tab)
The Stage at The Londoner
Best afternoon tea in London for: Innovative cakes and sleek surroundings
Having opened in September 2021, The Londoner is still relatively new on the London boutique scene but the hotel offers all you'd expect of a five-star establishment: an amazing swimming pool, serene wellness center, beautifully designed rooms and indeed, a very impressive afternoon tea. Served alongside a soundtrack of live piano music, The Stage offers a calm and sophisticated setting just beyond the hotel's reception. One of two afternoon teas on our list that begin with an amuse-bouche, The Londoner serves a curious, but delicious mini marble plate topped with yuzu jelly beads, cucumber and Manuka honey-covered sweet that explodes with flavor. This is also the only afternoon tea on our list that moves away from the usual finger sandwiches, serving them in 27 neat squares on a variety of different breads, from brioche to spinach and basil-infused bread. Fillings include Devon crab and smoked salmon, lemon roasted Norfolk chicken, tea-smoked beef, Clarence Court duck egg, and baby cucumber with lemon tahini, all interesting flavors that won't disappoint. Arriving next are freshly baked plain and sultana scones (some of the best we tasted!) served with clotted cream, strawberry preserve and a beautifully light bergamot curd. Innovative cakes make up the last course and diners are invited to pick a selection of two per person from the beautiful display, all made by pastry chef extraordinaire Dale DeSimone. (opens in new tab) Dale's creations really are a delight to behold with six stunning designs created exclusively for the hotel. Standout cakes include a futuristic-looking creation shaped to look just like a Périgord truffle, filled with caramel mousse, black truffle and hazelnut dacquoise and a beautifully delicate contemporary Victoria slice, presented in the style of a classic finger sandwich with raspberry and hibiscus compote.
Tea selection: 16 varieties including two types of Oolong, three non-caffeinated infusions, and three exquisite white teas, with the Spring White hailing from Nepal's Far Eastern corner, the subtle flowery aroma works well with the sandwiches in particular.
Setting: Filled with fresh flowers The Stage, with its low lights and live piano music is a welcome escape from nearby bustling Leicester Square. Modern, yet elegant, afternoon tea here does feel rather special but it's worth noting it's only served on weekends between 12pm and 4pm.
Price: Traditional afternoon tea is priced at £55 ($66) per person, £70 ($84) with a glass of Verve Clicquot Yellow Label Brut, £75 ($90) with a glass of Billecart-Salmon Brut Rosé or £105 ($125) with a glass of Dom Pérignon Brut Vintage 2012.
Address: 38 Leicester Square, London WC2H 7DX
Book a table at the Londoner here (opens in new tab)
The Rosebery at Mandarin Oriental
Best afternoon tea in London for: Cinematic opulence and curious sandwiches
While Mandarin Oriental (opens in new tab) Lake Como offers some of the most mouth-watering traditional Italian dishes, it's the London location that wows with its take on the traditional afternoon tea. Hundreds of bright yellow sunflowers are the first thing you notice upon arriving at one of London's most iconic hotels, before being swiftly escorted through to the hotel's lounge, The Rosebery. Here, tea is served on low polished wood tables, amongst a flurry of service staff all furiously plumping electric pink and green cushions - but that's just part of the charm before the first course sandwiches arrive. Interestingly sandwiches at the Mandarin Oriental come served on patterned china plates in a variety of shapes, and on a variety of bread. The outrageously tasty Cotswold egg and black truffle filling is wrapped up in what can only be described as a sandwich swirl, while the Hereford beef and Scottish smoked salmon offerings come served triple decker. Other fillings include Cornish Yard cream cheese, shrimp and avocado, and a moreish chicken with Parmigiano Reggiano, all are sublime. Plain and raisin scones are accompanied by clotted cream, strawberry jam, fragrant rose petal jelly, and lemon curd, and arrive served on a silver stand that hangs over your table, making a fabulous, but rather tricky display to navigate. Executive pastry chef Emmanuel Bonneau (opens in new tab) creates pastries and cakes for the Mandarin Oriental's afternoon tea, with six varieties being served to share. As well as looking extremely pretty, they also taste wonderful with the Yuzu cheesecake and Matcha Opera taking inspiration from the hotel's heritage.
Tea selection: Mandarin Oriental boasts one of the biggest tea selections we managed to find in London with an astounding 37 varieties. These include intriguing blends such as sticky rice Canton tea, Chocolate Vanilla tea, and a Mandarin Karak tea that tastes similar to Indian chai. We particularly loved the Ancient Haze, a blend of Mei leaf, Muscatel, and orange that pairs extremely well with the scones.
Setting: The Rosebery is a bright and airy space with comfortable lime-green colored sofas, wicker-backed chairs, and specially commissioned one-of-a-kind art adorning the walls. The summer afternoon tea menu is served daily between 12pm and 6.30pm, with vegan, vegetarian, and gluten-free options to choose from.
Price: All afternoon tea menus are £63 ($76) with the option to add a glass of Ruinart Blanc de Blancs for £16 ($19), Ruinart Rosé for £19 ($23), Billecart Salmon for £25 ($30) or Krug 'Grand Cuvée' Brut for £48 ($58). Guests also have the option to add a wine pairing for £20 ($24), a beer pairing for £19 ($23), or a sake pairing for £21 ($25).
Address: 66 Knightsbridge, London SW1X 7LA
Book a table at the Rosebery here (opens in new tab)
Fortnum & Mason
Best afternoon tea in London for: A seriously delightful savory offering
Holiday deals to the UK's capital are getting harder and harder to come by, but if you've made it to London for a UK staycation, a visit to Fortnum & Mason - famous for its royal devotees, including the Queen - is a must. Fortnum's Diamond Jubilee Afternoon Tea is available until September 2022 and has been inspired entirely by Her Majesty with three menus to choose from, including one of the only entirely savory options in London. Beginning with a smoked salmon blini amuse bouche, their trademark silver cake stand follows topped with an amazing array of savory treats, including four types of finger sandwiches: Coronation chicken, cucumber with minted pea cream cheese, Suffolk cured ham with English mustard and Cotswold egg mayonnaise. But it's the scones at Fortnum & Mason that really are unbeatable with a favored minted pea variety that tastes wonderful topped with beetroot relish. Savoury 'cakes' finish off the afternoon tea offering where guests are treated to five intriguing creations, including the pièce de résistance, 'Oeufs Drumkilbo', a lobster and egg concoction, reportedly loved by the Queen Mother and served in a real hollowed-out egg shell. There's also a rich duck mousse melba, smoked trout eclair, mushroom and whiskey pate, as well as a pea and goats cheese mousse encased in a neon green elderflower glaze.
Tea selection: Fortnum & Mason have over 300 years of tea expertise so it's unsurprising that they have the most extensive list we found in London with an epic 48 varieties. Included in these are 12 speciality blends created for special moments often linked to the Royal Family, such as Wedding Breakfast - a blend created to celebrate Prince William's proposal to Kate Middleton in 2011, it uses Kenyan tea as a tribute to the country where the pair were engaged and goes very well with the aforementioned Oeufs Drumkilbo.
Setting: The Diamond Jubilee Tea Salon on the 4th floor of Fortnum & Mason is a pretty traditional and extremely professional setup with crisp white tablecloths, highly patterned carpets and vases of fresh roses adorning tables. The Diamond Jubilee Tea will be served daily from 11am to 6pm until September 2022 when the new fall menu will be revealed to take its place.
Price: Fortnum's savory afternoon tea is priced at £72.50 ($88) per person with the option to add a glass of Fortnum's Platinum Jubilee Blanc de Blancs Extra Dry NV for £16.25 ($20), or a glass of Organic Sparkling Tea for £7.25 ($9).
Address: 181 Piccadilly, St. James's, London W1A 1ER
Book a table at Fortnum and Mason here (opens in new tab)
Ham Yard Hotel
Best afternoon tea in London for: Kooky interiors and an affordable set menu
As one of best dog friendly hotels in London, Ham Yard Hotel also serves afternoon tea, both in their sun-filled lounge, decked out with mint-colored sofas and low wooden tables, or on the terrace right in front of the hotel. It has to be said that Ham Yard Hotel's staff aren't the most attentive, but the interiors just about make up for that with bold pink zig-zag wallpaper and cheeky works of art adorning communal spaces. The afternoon tea itself is one of the more modest affairs but also one of the most purse-friendly in the city which is what helped it make our list. Savory and sweet treats are served together on one cake stand, with four types of finger sandwiches - cheese and caramelized onion, cucumber and mint, egg mayonnaise, and beef with horseradish - alongside mini borage and ricotta tarts, and a seaweed scone with lobster crème fraîche. Four cakes topped the stand, including macaroons and strawberry tarts, while the sones were served warm alongside two types of jam and clotted cream.
Tea selection: Included in the price are only two types of tea: breakfast tea or Earl Grey, or for a supplement of £2.50 ($3) you can choose from eight other varieties that include white jasmine and fresh summer mint.
Setting: Relaxed and bright, the Ham Yard's conservatory allows you to make the most of a summer or winter afternoon tea in this space tucked away behind the buzzing bar. One of the less formal entries on the list, this option suits groups or larger family gatherings.
Price: Ham Yard Hotel offers one of the more affordable options in the city with the menu set at £40 ($48) per person. It's possible to add a glass of Crément de Loire, Rathfinny Classic Cuvée or Billecart-Salmon Rosé for £11 ($13), £12 ($14) and £21.50 ($26) respectively.
Address: 1 Ham Yard, London W1D 7DT
Book a table at Ham Yard hotel here (opens in new tab)
Lydia is woman&home's Lifestyle News Editor and a freelance travel writer. Day-to-day she manages an international team of nine news writers and oversees all news content on woman&home.com. Her travel writing has been published in BBC Good Food, Oh magazine, Harper's Bazaar, Town&Country, ELLE, MailOnline, Woman, and woman&home.