Who lives at Balmoral Castle and what's it like inside the Queen's Scottish home
Her Majesty traditionally visits Balmoral Castle every summer and she often invites other royals to join her at this historic home...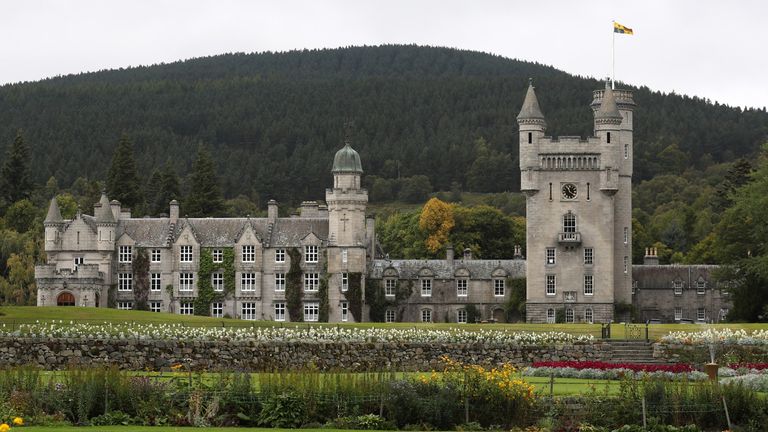 (Image credit: Photo by Andrew Milligan - WPA Pool/Getty Images)
Balmoral Castle is thought to be one of the Queen's favorite royal residences and the monarch regularly enjoys a long relaxing break there in the summer.
---
Whilst the Queen has various royal residences, throughout her 70 year reign there are some traditions that she's continued to uphold when it comes to spending time at different ones. From the Royal Family typically enjoying the festive season at Sandringham House in Norfolk before the pandemic changed things in 2020 and 2021, to spending Holyrood Week at the Palace of Holyroodhouse there are certain times of year where a particular residence is the monarch's home of choice.
And this is the same when it comes to her annual summer getaway in Scotland. This generally takes place every August-October and sees the Queen travel to Balmoral Castle in Aberdeenshire for a relaxing private break. Balmoral has been in the British Royal Family since 1852 and is set amongst acres of lush countryside.
But where is Balmoral Castle exactly, who lives there now and how many rooms does it have inside? We reveal what you need to know about this beautiful home…
Where is Balmoral Castle?
As you might expect from a royal country residence, Balmoral Castle is far away from any noisy neighbours and is located in the picturesque countryside of Aberdeenshire. Though it's not completely isolated, with the village of Crathie just six miles away and Inverness is reportedly just under two hours away.
Balmoral is located mid-way between Ballater and Braemar and the nearest train station and airport are in Aberdeen. And the monarch herself makes use of the airport when she visits, having been spotted there earlier this year as she prepared to fly home to London ready for the Queen's Platinum Jubilee celebrations.
Who lives in Balmoral Castle now?
No-one permanently lives in Balmoral Castle, though it is one of the Queen's royal residences and is often reported to be her "favorite". Throughout the many years that the Queen and Prince Philip were married before his sad passing in April 2021, the couple famously spent the summer and early autumn months there each year. It's a well-established royal tradition though sadly last year marked the first Balmoral getaway without Prince Philip by her side.
Despite her immense sadness at his passing, however, the Queen stunned in bright pink and beamed as she took up residence at her Scottish home. It's understood that one of the Queen's grandchildren, Prince William, as well as Duchess Kate and their three children spent time with her at Balmoral last summer. This isn't an unusual occurrence for Her Majesty, who has often hosted her nearest and dearest during her time at Balmoral over the years.
Princess Eugenie and her sister Princess Beatrice have also often spent summers there. Princess Eugenie once reportedly said of the home, in a ITV documentary, "It's the most beautiful place on earth. I think Granny is the most happy there. I think she really, really loves the Highlands."
She also revealed that the great outdoors is very much on the agenda during the family visits as she explained, "Walks, picnics, dogs – a lot of dogs, there's always dogs – and people coming in and out all the time. It's a lovely base for Granny and Grandpa, for us to come and see them up there; where you just have room to breathe and run."
So far this year, Her Majesty has already spent time at Balmoral as she enjoyed a short break ahead of the packed schedule of events that unfolded over the Platinum Jubilee weekend. Though it's not known for certain whether she will be back in August, if the Queen continues to follow tradition then it's likely she'll be back there very soon.
A Brief History of Balmoral Castle
This beautiful Royal Family residence was originally bought by Prince Albert, Queen Victoria's husband. Deeside was reportedly recommended to the Royal Family for more pleasant weather. However, the castle was thought to be too small to suit their needs, so they brought in architect William Smith, to redesign the property.
After the deaths of both Prince Albert and Queen Victoria, the Royal Family continued to use the home.
According to the Royal Family website (opens in new tab), Queen Mary took a particular interest in the gardens there. She created the flower garden below the south lawn and the castle was modernised with electricity introduced.
During his life, the Duke of Edinburgh was actively involved in managing Balmoral's estate and created a vegetable garden that adjoins the flower garden, as well as a water garden and a flowered paved walk along the terrace.
Who owns Balmoral Castle?
Balmoral Castle is a privately owned property and so unlike other royal homes like Windsor Castle, it's not part of the Crown Estate. This is because it was originally bought by Prince Albert, rather than the monarch at the time, Queen Victoria. This means that the property will pass down through this current Royal Family, and will remain their private property. In contrast, Windsor Castle and Buckingham Palace are available for the current reigning monarch to live in but do not personally belong to them.
Inside Balmoral Castle: What does the Queen's Scottish residence look like?
From pictures taken inside the royal residence, the Queen's Balmoral home is decorated rather traditionally. There's plenty of wooden furniture, as well as the iconic green carpet and green couches that have appeared in plenty of official and personal snaps over the years.
There are reportedly a whopping 52 bedrooms inside Balmoral, as well as a large number of reception rooms, including the one where the monarch often receives guests for official visits. She has also been pictured in her study before, and in the castle's various living rooms, which are decorated in a similarly majestic style.
When spending time inside Balmoral, it's said that the Queen and the other royals apparently enjoy a relaxed, laidback existence. So much so that once tourists walking nearby apparently failed to recognize her looking a little more casual than at public engagements, leading to the Queen's hilarious response.
Meanwhile, according to Express.co.uk (opens in new tab), royal expert Juliet Rieden previously claimed to Nine News that the Queen even does the washing up herself sometimes at Balmoral.
She said, "This is where she loves to be, this is holiday time for the Queen. She always said this is where she feels most herself and feels most free.
"When they are out having their barbecues, which they love to do out in the grounds of Balmoral – it's a massive estate, the most beautiful grounds – where they literally set up a barbecue. And afterward the Queen does the washing up."
What are the Balmoral Castle grounds like?
The castle is set on the Balmoral Estate, which covers a staggering 50,000 acres and is located within the Cairngorms National Park. The estate is made up of a combination of formal gardens, green spaces, and a working estate, which includes forestry land, farmland, and an array of animals, including deer, Highland cattle, and ponies.
The formal gardens cover three acres, and this is where you're supposedly most likely to find the Royal Family relaxing on a pleasant day. There is an array of glasshouses within the grounds, as well as a water garden, and of course, the front lawn up to the castle itself.
Also located on the grounds is Craigowan Lodge, a mile away from the main house. It is a seven-bedroom home, and was often used during Prince Charles and Princess Diana's relationship when the pair visited Balmoral.
Nowadays, it is mostly used as a residence for important guests who are coming to visit the Queen. However, Her Majesty has also stayed there during her annual summer trips on the days when the main castle is still open to the public. Upon closing for the season, the monarch then settles in at Balmoral Castle itself once more.
Is Balmoral open to the public and when can you visit?
For any royal fans looking to see the historic home for themselves that's completely possible as Balmoral Castle is open to the public each year. The open season typically begins in April and this year will come to an end on Tuesday, August 2nd. The Balmoral Castle website (opens in new tab) advises visitors to book in advance. With an Admission Ticket, you can enjoy access to the grounds, gardens and exhibitions at the castle.
But if you'd like a hot drink and cake during your visit then why not book the Coffee & Cake Ticket? This includes morning coffee and cake in The Pipers Hall coffee shop and if you want an extra special treat, then the Afternoon Tea Ticket offers a scrumptious afternoon tea too.
Visitors are only allowed inside one room of the Castle itself, however. Members of the public can go inside the Castle Ballroom, where different exhibitions are held throughout the year. The ballroom is the largest room in the castle and is actually used by the Royal Family for gatherings and dances that the Queen holds during the summer.
The dances are known as the Ghillies Ball and have been an annual tradition since Queen Victoria's reign, with 2020 and 2021 exceptions due to the pandemic. Unfortunately, though, the rest of the rooms in Balmoral Castle are the monarch's private rooms, and so are not permitted for public viewing.
How much is Balmoral Castle worth?
Unfortunately, it's not actually known how much Balmoral Castle is actually worth, though Tatler (opens in new tab) have previously reported that it was bought for £32,000 back in 1852, suggesting that in today's money that would be around £4 million. Centuries have passed since then and given the number of rooms it would likely have only increased in value, with British Heritage Travel (opens in new tab) previously alleging that the Balmoral Castle is estimated to cost around $140 million.
Whether or not it is actually this valuable has not been confirmed, but it's certainly thought to be a very meaningful residence for the Queen.
Amy Hunt is an experienced digital journalist specialising in homes, interiors and hobbies. She began her career working as the features assistant at woman&home magazine, before moving over to the digital side of the brand where she eventually became the Lifestyle Editor up until January 2022. Amy won the Digital Journalist of the Year award at the AOP Awards in 2019 for her work on womanandhome.com.