17 best dog friendly hotels in the UK to book in 2022
These are the best dog friendly hotels in the UK, as rated by guests and their four-legged friends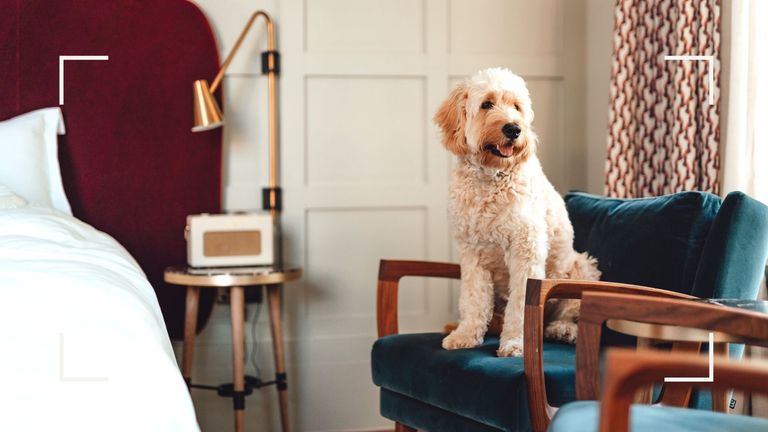 (Image credit: Future / Getty Images)
The best dog friendly hotels in the UK come complete with doggy treats, pup-friendly dinner menus, and everything you need for top-notch walkies. We've analyzed the most popular pet-friendly hotels in England to bring you a list of the most welcoming and well-equipped places to bring your pooch, with insider insight into why they'll love these charming destinations.
Whether it's escaping to a coastal bolthole, country house retreat, fairytale-like Scottish castle, or a gothic manor house on the banks of the River Thames, UK staycations are a chance to make lifelong memories with your nearest and dearest—and for many that includes our beloved pets. Finding the right dog friendly hotel takes the stress out of planning a weekend away with your pooch, with many properties offering rooms tailored towards your pet's needs and helpful extras—like treats, walking guides, and comfy beds—on arrival. Some even offer a specially-curated doggy food menu.
We took a look at the top-rated pet friendly properties on Google Hotels and, coupled with guest experiences and our own research, have devised a list of the very best dog friendly hotels in the UK, including what benefits there are for your dog and any extra costs. All of the hotels featured have a rating of 4.5/5 at least, and hundreds of positive reviews from guests. These are the best UK weekend getaways for both dogs and their faithful humans to enjoy some R&R.
The best dog friendly hotels in the UK in 2022
1. Mallory Court Hotel & Spa, Leamington Spa
Best dog friendly hotel for: A luxurious countryside jaunt
This country house hotel and spa offers a tranquil base for you and your pooch to explore beautiful Warwickshire. Mallory Court boasts 43 tastefully-designed bedrooms located across The Manor House, Orchard House, and the Knights Suite, with 10 sprawling acres of grounds for those all-important walkies. After a day spent exploring the extensive gardens and surrounding countryside, relax in the hotel's decadent country house spa while your pooch has a well-deserved nap. Not all rooms are dog-friendly, with a selected amount decked out with special facilities for four-legged friends. These pet-friendly rooms do get booked up, so it's best to enquire early to avoid disappointment.
Dogs will love: Hotel staff are on hand to recommend a number of walks and hikes around the local area. With local beauty spots such as the Ufton Fields Nature Reserve and the picturesque Abbey Fields park nearby, you and your four-legged friend can really immerse yourselves in the glorious English countryside. Just lace up your best hiking boots and go!
Doggy benefits: A welcome pack is provided for dogs staying at the hotel, including a welcome letter, a comfy dog bed with a cushion, a water bowl, poop bags, and a special treat.
Extra costs: Dogs are charged at £25 per dog, per night.
Book Mallory Court Country House Hotel & Spa (opens in new tab) from £195 per night
2. Kimpton Fitzroy, London
Best dog friendly hotel for: A sumptuous city break
The Kimpton Fitzroy brand is well-known for its welcoming attitude towards our furry friends—in fact, any location (others include the Kimpton Clocktown Hotel in Manchester and the Kimpton Charlotte Square Hotel in Edinburgh) would make a delightful mini-break for you and your pooch. The London property welcomes dogs through its doors at no extra charge with a no-fuss check-in policy and plenty of rooms throughout the property that will accommodate pets. And they don't just stop at dogs. Cats, hamsters, rabbits, and even hedgehogs are all welcome, according to the Kimpton Fitzroy London website. The hotel itself is a spectacular embodiment of quintessential London glamour, its entrance guarded by statues of four iconic British Queens. Each space is steeped in grandeur, from the marble and mosaic-tiled lobby to the stylish late-night cocktail bar, Fitz's. Pets are welcome in all areas of the hotel, with the exception of Fitz's Bar and Galvin's Bar & Grill. At £288 per night, it's one of the more affordable London hotels on our list, with all of the luxurious extras.
Dogs will love: At the Kimpton Fitzroy London, dogs really do get the royal treatment. The hotel has partnered with sustainable pet food company Marleybones and their team of certified animal nutritionists to create a bespoke menu for your pets to enjoy.
Doggy benefits: The Kimpton Pet Getaway package starts from £309 and includes an overnight stay, breakfast for the pet parents, and a tailored pet meal from the ap-PET-isers menu. The package also includes a pet-friendly room set-up, a pet tuck box (and a complimentary human one too!), and pet-friendly amenities upon arrival.
Extra costs: Pets stay free of charge, but special packages such as the Pet Getaway package are available for an additional fee.
Book the Kimpton Fitzroy London (opens in new tab) from £288 per night
3. The Boot Inn, Derby
Best dog friendly hotel for: Cozy pub vibes with excellent food
This charming bolthole nestled in the peak district is a great base for doggies and their owners to explore the English countryside. Expect a quintessential Britsh pub, with traditional features like oak beams, old fireplaces, and sash windows. Before becoming a hotel, the Boot Inn was first a brewery and has also been a bakery and a bootmaking site. Visitors here particularly rave about the food, with both a fine dining menu and pub grub on offer, as well as a hearty English breakfast for those staying overnight that will set you up for a day of exploring the Peaks, which we can thoroughly recommend as one of the best nature holidays in the UK.
Dogs will love: Dogs are allowed outside and also in the pub and snug area for a cozy evening after a run around the countryside. The staff here are very welcoming and love animals, so are sure to make a fuss over your pet pooch.
Doggy benefits: Water bowls are available in the pub, as well as doggie treats behind the bar.
Extra costs: No extra cost.
Book The Boot Inn (opens in new tab) from £50 per night
4. Rectory Manor Hotel, Suffolk
Best dog friendly hotel for: Boutique luxury
This characterful manor house has just seven perfectly-formed hotel rooms, two of which welcome dogs. The Garden Suite and The Waldingfield Room are both situated on the ground floor of the Stables Annex, within easy reach of the extensive grounds of Rectory Manor. All guest rooms have been decorated to reflect owner Frank Lawrenson's love of interiors and architecture from all corners of the globe, imaginatively mixing old and new with quirky touches, such as reproduction tapestries and bespoke headboards with prints of classic Venetian art. Every finishing touch to this luxurious hotel feels personal, and each piece of decor or artwork has a story to tell. And if you want to hear them yourself, resident butler George is on hand to divulge insights into the rich history of this unique property.
Dogs will love: This corner of Suffolk is in close proximity to several Areas of Outstanding Natural Beauty, such as the stunning Dedham Vale where there's a dog-walking trail that finishes with several dog-friendly pubs.
Doggy benefits: There is an outside hot shower for washing the muddy paws of pampered pooches. Shampoo, warm towels, and bedding are also provided. Super cozy.
Extra costs: There is a maximum of two dogs allowed per room, at £10 per dog, per night.
Book Rectory Manor Hotel (opens in new tab) from £150 per night
5. The Greenway Hotel & Spa, Gloucestshire
Best dog friendly hotel for: A country spa break
There's nothing quite like taking some time out to relax with an indulgent treatment after running around with your pet pooch all day. Voted the best spa in Cheltenham, the Elan Spa at The Greenway Hotel is one of the best spa breaks in the UK and offers an escape from the daily grind in a luxury Cotswolds location, with exposed brickwork, rustic beams, and stylish treatment rooms providing a relaxing country-chic backdrop.
Dogs will love: After a long walk, your dog can enjoy a well-deserved rest and relax in the hotel's serene Drawing Room while owners refuel with some tasty refreshments.
Doggy benefits: There's another welcome pack for lucky doggies, including a welcome letter, a dog bed, bowl, toy, and tasty chew.
Book The Greenway Hotel & Spa (opens in new tab) from £159 per night
6. Whitworth Locke, Manchester
Best dog friendly hotel for: A working holiday
Locke Hotels offer not just a comfy place to lay your head, but also an assortment of communal spaces, cafes, coffee shops, restaurants, and coworking space for when you need to stay connected while you're away, or if you fancy a break from working from home. Dogs are welcome in communal areas (aside from the food and drink outlets, including on-site coffee shop Foundation Coffee House and restaurant Peru Perdu) including the coworking space, meaning your pooch can stay by your side while you catch up on emails. Once work is out of the way, Whitworth Locke is situated in Manchester's vibrant Civic Quarter, with the city's best bars and restaurants within easy reach, making it one of the best dog friendly hotels in the UK for exploring a new city on a working holiday.
Dogs will love: Locke hotel bedrooms and studios are spacious, as are communal areas, so there will be plenty of room for dogs to roam around.
Doggy benefits: Whitworth Locke will provide both a dog bed, towel, and bowl, as well as dog treats (plus an extra-deep clean after your departure).
Extra costs: A one-off cleaning fee agreed with bookings. One dog per room.
Book Whitworth Locke (opens in new tab) from £82 per night
7. Glenapp Castle, Scotland
Best dog friendly hotel for: A magical escape
Scotland offers a UK staycation like no other, with rugged and wild landscapes, unmatched hospitality, and some truly remarkable places to stay. Staying in a castle really completes the experience, and Glenapp Castle is one of the best in the region. More than just a hotel, Glenapp is a whole resort, with acres of land to explore and plenty of activities on offer, from foraging within the grounds to a Hebridian sea safari—you'll never be bored. Glenapp Castle is an essential stop on any Scottish road trip.
Dogs will love: Exploring the vast and varied terrain. As well as beautiful gardens surrounding the estate, you're a short walk away from the Ayrshire coast, so a doggy paddle is most definitely on the cards.
Doggy benefits: There are a number of rooms specifically designated for dogs, with direct access outside for early morning walks or late-night toilet trips.
Extra costs: No extra cost.
Book Glenapp Castle (opens in new tab) from £345 per night
8. The Lawrence Hotel, Lancashire
Best dog friendly hotel for: Pampering
Located in historic Lancashire, The Lawrence Hotel is in the perfect location for exploring the beauty of the north of England, with the pretty towns of Clitheroe, Whalley, and the picturesque Pendle Hill just a short drive away. You and your dog will love roaming around the Lancashire countryside—just make sure you pack your wellies and a raincoat. If the wet weather does descend, there are plenty of dog friendly pubs to hide out in until it blows over.
Dogs will love: Taking dog-friendly to the next level, The Lawrence Hotel in Padiham, Lancashire, is one of the UK's best dog friendly hotels when it comes to pampering. Enjoy some relaxing beauty treatments alongside your pet pooch, so you'll both go home feeling shiny and new.
Doggy benefits: There are pup-icures and pawsecco on offer, and the hotel claims to take 'even the most dog-eared pets from ruff to ravishing in just one night!' There are even mini dressing gowns and dog towels on offer to ensure your pet gets the five-star experience.
Extra costs: £7.50 per night, per dog.
Book The Lawrence Hotel (opens in new tab) from £144 per night
10. Vintry & Mercer, London
Best dog friendly hotel for: City views
One of London's newest hotels, Vintry & Mercer opened in February 2019 and has set a new standard for accommodation in the city. All about style, with nods to the guilds that were prevalent in the area through its name and decor, this hotel is dressed with wine barrels in the lobby and rich fabrics throughout the rooms. This welcoming hotel agrees that there is nothing worse than having to leave your furry friend at home while you travel and allows dogs and cats to join their owners in Deluxe Rooms, Deluxe Studios, and Suites, as well as in the Vintry Izakaya restaurant on the ground floor and outside on Mercer Terrace if the weather permits. The Mercer rooftop terrace boasts epic views and is the perfect place to enjoy an evening coffee or cocktail after a busy day exploring. The best part about staying here is that it's actually cheaper at weekends—mid-week business travelers make up the majority of their customers, so come Friday night, prices drop for leisure guests.
Dogs will love: Nearby, the grounds of St Dunstan in the East—a former Wren church, now a public garden—make for a lovely pooch picnic, and the Thames Path is just a few minute's stroll away. Not to mention London's huge parks, so you'll never be short of opportunities for walkies.
Doggy benefits: Pooches who come to stay at the hotel will be given a complimentary dog basket and bowl for their stay.
Extra costs: No extra cost.
Book Vintry and Mercer (opens in new tab) from £245 per night
11. Soar Mill Cove Hotel & Spa, Devon
This luxurious hotel with its golden beach is nestled into a Devon hillside—and so many of the rooms have stunning ocean views. It's the perfect place for a British seaside escape so that both humans and dogs can reap the benefits of swimming in the sea and getting some fresh air. There are plenty of local coastal walking trails—the hilly terrain along the coast is perfect for Nordic Walking—to explore too, as well as a glorious spa with spring-fed heated saltwater pools to relax in.
Dogs will love: After a day of exploring the pet-friendly beach nearby, Soar Mill Cove has a warm dog wash for muddy paws to leave your pooch feeling fresh and pampered. The main restaurant has incredible sea views through its floor-to-ceiling windows, not to mention a gourmet menu—and your dog is welcome to join you while you dine.
Doggy benefits: Dogs are made to feel as welcome as their humans, with a gift of dog treats on arrival.
Extra costs: £15 per night, per dog.
Book Soar Mill Cove (opens in new tab) from £199 per night
12. Four Seasons Hotel Hampshire, Winchfield
Best dog friendly hotel for: Ultimate luxury
This grand property sets the bar for dog-friendly hotels as one of the best luxury hotels in the world. Oliver Beckington, the Four Season's black labrador, is a celebrity around these parts—you might find him playing fetch on the grounds, or greeting guests as they check-in for the night. Just 50 miles from the center of London, yet situated in a complete countryside idyll, the Four Seasons Hampshire lives up to its prestigious reputation, with impeccable suites, fine dining, and an out-of-this-world spa. The concierge is, of course, available to make arrangements to pamper your pet if required, too. This is not just one of the best dog friendly hotels in the UK, it's one of the best in the world, too.
Dogs will love: There are 500 acres of Hampshire countryside right on the hotel's doorstep, making it one of the best UK walking holiday spots. After a day of exploring, pets are welcome to join owners in the outside seating areas of the Wild Carrot Bar and The Library, where you can both relax and unwind with some refreshments and take in the scenic surroundings.
Doggy benefits: A welcome pack, which includes a dog bed, food, dish, and personalized spring water. Dog-sitting and dog treatments can be booked via the concierge, and staff will happily give you information about their favorite nearby countryside walks.
Extra costs: £35 one-off fee.
Book the Four Seasons Hampshire (opens in new tab) from £525 per night
13. The Devonshire Arms Country House Hotel & Spa, Yorkshire
Best dog friendly hotel for: Cozy nights by the fire
An institution in Yorkshire, the Devonshire Arms Country House Hotel and Spa on the Bolton Abbey Estate is legendary among hotel enthusiasts thanks to its boutique, luxury feel, and five-star service. The staff are incredibly attentive—and that extends to pets, too, who will be treated to plenty of thoughtful extras throughout your stay. A former 17th-century coaching inn, the property offers plenty of nooks and crannies to relax in and cozy, intimate bars and dining spaces.
Dogs will love: With the woods and riverside on your doorstep, there's plenty to keep four-legged adventurers occupied, plus a dog wash area in the hotel itself, to scrub up after a muddy day outdoors.
Doggy benefits: The staff at the Devonshire Arms really do go all out when it comes to caring for your dog. Canine guests at the Devonshire Arms get a full five-star treatment—think welcome treats, feeding bowls, a cozy bed, and blankets, plus their very own 'dog lounge' with a bar and open fire (where human guests can enjoy a tipple too). Relaxation at its best.
Extra costs: £10 per dog, per night (includes welcome pack).
Book the Devonshire Arms Hotel & Spa (opens in new tab) from £315 per night
14. Cliveden House, Berkshire
Best dog friendly hotel for: Woodland walks
Cliveden House, a former haunt of Meghan Markle, has it all; stunning grounds, famous restaurants, and perhaps the UK's most prestigious hotel spa. A selection of rooms in this National Trust-managed manor are designed to accommodate dogs as well as humans, with plenty of space for your pet to roam around. It's worth noting that not all rooms are suitable for dogs, and Cliveden House only welcomes dogs over the age of one.
Dogs will love: Pooches are free to explore Cliveden's 250 acres of woodland paths—the ultimate walkies wonderland and the perfect spot for some Forest Bathing. Dog-sitting and walking services are also available via the concierge, who can also recommend dog-friendly days out in wider Berkshire. There's also a dog-friendly dining option at The Astor Grill, the hotel's more informal restaurant—and there's even a doggy menu for your pooch to enjoy.
Doggy benefits: Four-legged guests can live in the lap of luxury with a special Cliveden welcome pack. They'll have their own feeding mat, bed, and bowl, plus a menu of treats and dinners available for an extra charge.
Extra costs: Free for a limited time only (usually £35 per dog, per night).
Book Cliveden House (opens in new tab) from £535 per night
15. Oakley Court, Windsor
Best dog friendly hotel for: A gloriously gothic escape
Oakley Court is a dramatic Victorian mansion on the banks of the River Thames. Your pooch will love exploring this idyllic corner of the UK, while human guests will marvel at the gothic architecture of this grand, historic hotel. As one of the UK's most luxurious dog-friendly hotels, this beautiful Berkshire manor house has a special collection of pooch-perfect rooms, complete with a snuggly blanket, bed, and bowl for furry guests.
Dogs will love: Your dog can accompany you all over the hotel (except the dining room), and the 33-acre estate is their playground.
Doggy benefits: For £30, the 'Woof's Welcome Package' includes a doggy toy and treat on arrival, information on nearby walks and attractions, and a donation to Battersea Dogs Home.
Extra costs: No extra cost.
Book Oakley Court (opens in new tab) from £275 per night
16. Broadoaks Country House Hotel, Lake Windermere
Best dog friendly hotel for: A lakeside retreat
Set within seven acres of landscaped grounds close to the stunning Lake Windermere, this country house hotel is one of the Lake District's finest and offers a warm welcome (like many hotels in the Lakes) to your four-legged friends. This is undoubtedly one of the best dog friendly hotels in the UK when it comes to beautiful scenery. The Michelin-recommended Oaks restaurant is also a highlight, offering a fine dining menu of both classic Cumbrian and modern British cuisine. The £25 per night DDBB (Dinner, Dog, Bed & Breakfast) package is great value and covers everything they'll need to make their stay a comfortable one.
Dogs will love: Molly the cockapoo—Broadoaks' resident pooch—has taste-tested a full menu for visiting dogs, featuring the likes of organic venison and wild boar, as well as chicken and turkey casserole.
Doggy benefits: There are spare leads to loan, treats on arrival, and poop bags available on request. The hotel is run by dog owners, who pride themselves on offering a pet-friendly place to stay.
Extra costs: £25 for the DDBB package.
Book Broadoaks Country House Hotel (opens in new tab) from £130
17. Lords of the Manor, Gloucestershire
Best dog friendly hotel for: A quintessential Cotswolds escape
This stunning hotel is ideally located in Upper Slaughter, a beautiful village near quaint Cotswold towns Bourton-on-the-Water and Stow-on-the-Wold. With eight acres of Cotswolds countryside to run around in and handmade dog biscuits on tap, this rural retreat is real doggy heaven. It's also home to the only Michelin-starred hotel restaurant in Gloucestershire, and a handful of fabulous cozy rooms for a more intimate retreat. In summer, guests can take afternoon tea on the lawn—with dogs invited too, of course.
Dogs will love: Lords of the Manor is in close proximity to cute local pet shops and groomers, so you and your pooch can enjoy a spot of retail therapy and a little pampering during your stay.
Doggy benefits: Dogs will be treated to a restful night's slumber in specially-prepared rooms, which come equipped with comfortable blankets and tasty treats. Don't forget to bring your best robe and best slippers so you can join in the slumber party.
Book Lords of the Manor (opens in new tab) from £445 per night
Lauren is the former Deputy Digital Editor at woman&home and became a journalist mainly because she enjoys being nosy. With a background in features journalism, Lauren worked on the woman&home brand for four years before going freelance. Before woman&home Lauren worked across a variety of women's lifestyle titles, including GoodTo, Woman's Own, and Woman magazine.