The 17 best country house hotels in the UK for a glorious getaway
The best country house hotels in the UK are steeped in history and surrounded by natural beauty for an idyllic UK break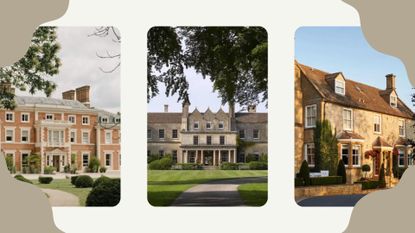 (Image credit: Future)
When it comes to the best country house hotels in the world, nowhere comes close to the UK. Steeped in history and grandeur, these iconic properties each have a story to tell. From manor houses to refurbished inns and grand stately homes, these country house hotels offer sumptuous interiors, world-class food, and glorious natural surroundings.
Offering some of the best UK staycations, a visit to one of these country house hotels is the chance to relax and recharge during a peaceful rural retreat. Naturally, spa breaks and county house hotels go hand in hand, and many of the hotels in our edit are home to the most-coveted spas in the UK. Some of these high-end country house hotels are among best luxury hotels in the world, with the likes of Cliveden House and Heckfield Place hosting A-List celebrities from across the globe.
These UK weekend getaway destinations are often nestled in remote parts of the English countryside, with rolling hills, acres of unspoiled lands, vast lakes, and woodlands on their doorsteps - making them the perfect base for a nature holiday in the UK. Many of the hotels on our list offer special packages, from wellness to historical tours, as well as nature-based activities like paddle boarding and foraging for food.
In order to determine which hotels are worth the trip, we considered hundreds of online reviews, along with our own personal insights, to curate a definitive list of the best country house hotels in the UK, ranging from more affordable to super luxe. These are the best country house hotels across England, Ireland, Scotland, and Wales.
17 best country house hotels in the UK
1. Storrs Hall, Windermere
Image 1 of 3
Price per night: rom £260
Google rating: 4.6/5
One of the Lake District's finest country house hotels, 18th-century Storrs Hall has panoramic views of Lake Windamere, nestled on its quieter southern shore. Soak in the unspoiled beauty at this tranquil destination through its large, lattice-framed windows, or during afternoon tea on Storrs Hall's perfectly-manicured lawns during the summer months.
A stay at Storrs Hall offers lakeside living at its finest, with huge, marshmallow-like sofas to sink into and roaring open fires in the winter. Venture outside and there are 17 acres of private gardens, woodlands, and a lakeshore to explore, alongside its own private jetty. The lake is naturally the central hub of activity, with the chance to paddleboard, canoe, and kayak, as well enjoying the benefits of swimming outdoors. Storrs Hall also offers guests champagne cruises on offer in a vintage boat, finished off with marshmallow toasting by the shore. This is one of the best country house hotels for watersports and lakeside walks.
WHAT'S INCLUDED: The bedrooms in the Main House offer breathtaking views of Windamere Lake, with breakfast included in the hotel's Conservatory. A basket of toast and mini croissants comes as standard, followed by quintessential British favorites such as warming porridge, or a full English with Cumberland sausage.
The property prides itself on being 'discreetly family-friendly', welcoming children of all ages. Guests can also take advantage of exclusive use of the on-site steam room, fire pit, and outdoor hot tub where they can watch the sun sink into the lake.
2. Cliveden House, Maidenhead
Image 1 of 3
Price from: from £475
Google rating: 4.6/5
Cliveden House is legendary. Not only was this five-star Relais & Châteaux hotel the location for Meghan Markle's famously-luxurious hen party, but it's also been a favorite with VIPs throughout history, including the likes of David Lloyd George and Winston Churchill, George Bernard Shaw, and Henry Ford, according to the National Trust. The property was built in 1666 by the second Duke of Buckingham, reportedly as a gift to his mistress, and still exudes old-world glamor. To this day, it's a Grade I stately home, situated within a sprawling 376 acres of National Trust grounds to explore - all just an hour's drive from London.
Inside, it's the history of the house that characterizes its décor, with intricate tapestries and original paintings adorning the walls of its entrance halls. A focal point is Cliveden's heated outdoor pool, surrounded by plush loungers and outdoor hot tubs to enjoy the countryside surroundings in, perhaps with a glass of bubbly in hand. The facilities at Cliveden are truly exceptional, with extra excursions - such as a champagne cruise down the Thames on one of the hotel's vintage boats - available on request.
WHAT'S INCLUDED: Rooms at Cliveden are every bit as luxurious as the rest of the hotel's interiors, equipped with Asprey toiletries and Roberts iPhone docks, as well as super-comfortable hotel beds. Hotel guests can unwind in the luxurious spa, with full access granted to its indoor and outdoor thermal pools with an overnight stay. In higher price-point rooms, guests can also treat themselves to a snack or refreshment from a nearby pantry, which acts as an honesty bar.
Breakfast is also included in the price, which is a buffet of bread, pastries, fruit, yogurt, and juices, alongside tea and coffee, with hot options available. Breakfast is served in the hotel's ornate French dining room with the full white gloves and silver-cutlery service you would expect from such a prestigious country house hotel.
3. Hawkstone Hall and Gardens, Shropshire
Image 1 of 3
Price per night: from £155
Google rating: 4.7/5
Hawkstone Hall's mile-long sweeping driving is straight out of the Downton Abbey sequel, with perfectly-manicured gardens lining its 18th-century Main House, situated within sprawling grounds in the beautiful Shrewsbury countryside. Set among 88 acres of land, there's plenty of opportunity for country rambles and trying activities like Forest Bathing, which involved a mindful walk through the woods, nearby, with sightings of llamas and donkeys along the way.
A sustainable approach is at the heart of the Grade 1-listed Manor's restaurant, The Saloon, where chefs source ingredients from the Kitchen Garden to ensure that the dishes served are as fresh and in season. Another highlight is the grand Dining Hall, with impressive views over the grounds and a cocktail menu inspired by literary greats.
WHAT'S INCLUDED: There are 37 bedrooms to choose from at Hawkstone Hall, each with its own individual styling, and most with scenic views out over the grounds. In the bathrooms, you'll find either a walk-in shower or a roll-top bath, and both in the suites. The hotel's premier rooms, the Luxury Suites, boast super-king-sized beds with cast-iron bathtubs. Breakfast is included, and served in the ornate Saloon Bar, complete with white tablecloths and a generous buffet.
Guests are also given access to Hawkstone Hall's newly-opened gym, kitted out with Peloton bikes and an on-site personal trainer, should you want a more tailored approach.
4. Maryculter House, Aberdeen
Image 1 of 3
Price per night: from £79
Google rating: 4.6/5
As one of Scotland's oldest hotels, Maryculter House has been welcoming guests since the 13th century with warm Scottish hospitality and is one of the best country house hotels for a historic getaway. The property has retained many of its original features, including its ancient Great Hall and original artworks that adorn the wall depicting the surrounding nature. There's no spa in the house, but some of the best spa hotels in Scotland - such as the famous Gleneagles Hotel spa - are about a few hours' drive away.
This grand country house hotel sits on the banks of the River Dee, making it a great destination for fishing. Fishing excursions can be organized by the hotel, as well as the chance to experience special packages that revolve around the history of Maryculter House, including the Cosy Knight In, Clan Gordon Exclusive Tour, and Stories in Stone- Deeside's Da Vinci Code.
WHAT'S INCLUDED: There are seven different types of bedrooms to choose from - the Classic, Classic Riverview, Classic Terrace, Heritage Double Heritage, Riverview Junior Suite, and Four-Poster - all with varying price points, but the same comfy beds and cozy decor.
The hotel will also provide plush robes and slippers for a comfortable stay and luxurious Molten Brown toiletries. In the morning, enjoy a full Scottish breakfast in Poachers Brasserie that will set you up for a day's exploring.
5. Heckfield Place, Hampshire
Image 1 of 3
Price per night: from £450
Google rating: 4.7/5
Heckfield Place is a country house hotel, reimagined. A property that fuses its 18th-century origins with modern designs and concepts, like the hotel's own biodynamic farm, which provides fruit and vegetables, honey and flowers to the kitchen, this is one of the most innovative and luxurious country house hotels on our list - with the price tag to match. The service here reflects that higher price point, with attentive knowledgeable staff who are passionate about the interiors, surroundings, and products created at Heckfield Place.
One of the many highlights during a stay at Heckfield is the hotel's premier restaurant, Marle, providing locally-sourced, seasonal dishes with the signature flair of Skye Gyngell, who is known for winning Petersham Nurseries Café its Michelin star, as well as her own acclaimed restaurant Spring at Somerset House. There's also the hotel's more pared-back restaurant and relaxed, Hearth, and the magical Moon Bar to explore.
WHAT'S INCLUDED: Rooms at Heckfield place range from £450 to £1,400, but all feature the hotel's incredible attention to detail. Take, for example, the tea and coffee facilities, which are an event in themselves, with a Japanese-style kettle and selection of beautifully-crafted implements in a soft leather pouch, or the charming pantry in each room, which comes fully stocked with still and sparkling water, homemade cordial, and freshly baked goods. Bathrooms are light and spacious, most with freestanding tubs, and stocked with Wildsmith Skin toiletries.
Breakfast, which is included in the room price, is a similarly creative affair, with a selection of courses so you can sample the chef's many delights, from organic, locally-sourced scrambled eggs to pancakes with seasonal fresh fruits.
6. The Bradley Hare
Image 1 of 3
Price per night: from £135
Google hotel rating: 4.6/5

For a boutique staycation, The Bradley House offers one of the best country house hotel options for stunning interiors. It's no surprise with James Thurstan Waterworth, ex-European design director for Soho House, at the helm, that each one of the twelve bedrooms has its own distinctive and stylish character, tapping into some of the top bedroom trends for 2023. This smaller country house hotel has a more homely feel, with an intimate restaurant - called The Inn - offering all-year-round al-fresco dining in its picturesque private gardens, with produce supplied by surrounding fresh fruit and vegetable patches.
The main house is a historic property, set within the historic grounds of the Duchy of Somerset estate and within easy reach of bustling towns and villages, should you want to leave the confines of this cozy property. The Bradley Hare is a short distance from Bruton, Frome, and Bath, as well as attractions such as Hauser & Wirth, King Alfred's Tower, Longleat, and Stourhead.
WHAT'S INCLUDED: Each room at The Bradley Hare is hand-crafted, so you can expect a unique experience every time you visit. The bedrooms in the Main House feature traditional English wallpaper and rustic furniture, while the five bedrooms in the Coach House feature slightly larger bedrooms with a more pared-back feel. All bedrooms come with smart televisions, minibars, and tea and coffee-making facilities. The hotel also provides silk eye masks for a better night's sleep.
Guests also have access to the Potting Shed, a secluded beauty studio hidden within the grounds of Bradley Park, if they desire a little pampering.
7. Crug-Glas, St David
Image 1 of 3
Price per room: from £115
Google rating: 4.7/5
Crug-Glas offers an unfussy approach to country house living, with a home-cooking-style restaurant that has visitors traveling from far and wide. The Main House stands on a 600-acre beef cattle and arable farm, with dining as Crug-Glas a true farm-to-table experience. It's well and truly away from the hustle and bustle, with acres of unspoiled land to discover on brisk country walks. Crug-Glas doesn't have a spa, but you could add on a visit to one of the best spa hotels in Wales for a little R&R to end your trip to the Welsh countryside.
This is very much still a living and breathing family home with rooms for guests, which only adds to its charm. The communal living spaces are decorated with the owners' own furniture, antiques, and relics of the past, with generations of family photographs on the walls. Dinner is served by the house owner, Janet, and it's more comfort food than fine dining, but for many guests, that's exactly what fits the setting. Crug-Glas' restaurant boasts hundreds of glowing reviews online, with guests praising the "absolutely delicious food" and "warm and friendly" setting.
WHAT'S INCLUDED: For a very reasonable price, you'll enjoy a cozy stay in one of the hotel's renovated guest rooms and suites, with a welcome pack of tea and coffee, as well as light snacks. Many of the rooms situated in the 12th-century farmhouse feature four-poster beds and stunning copper baths that amp up the luxe factor in this family-run hotel. A hearty, home-cooked breakfast is included in the price.
8. Dormy House, Cotswolds
Image 1 of 3
Price per night: from £319
Google rating: 4.7/5
If you're looking for a quintessential countryside escape in the Cotswolds, look no further than one of the area's best country house hotels, Dormy House. The main house is part of the sprawling Farncombe Estate, nestled in the chocolate box village of Broadway with all the hallmarks one would expect from the Cotswolds; thatched-roofed cottages, cozy cafes, and winding cobbled streets waiting to be explored. Any stay in a Cotswold hotel makes for one of the best UK walking holidays, with treks through rolling hills and forest trails within easy reach - make sure you pack your best walking boots.
This atmospheric property began life as a working farmhouse in the 17th century. Today it consists of 39 beautifully-designed bedrooms and suites, three restaurants, and a world-renowned spa, fusing simplistic Scandinavian design with country house flourishes, curated by internationally-renowned interior design company Todhunter Earle. The Nordic origins of the Sorensen family owners are quickly apparent, with a muted color pallet and light, uncluttered spaces. Yet, the property's farmhouse origins are honored beautifully, with huge stone fireplaces, exposed beams, and flagstone floors.
The House Spa is a highlight of the hotel, open to overnight guests and day-spa guests, with a serene pool, outdoor hot tub, and Scandi-style thermal suite, as well as a mud room. Dormy House has one of the most highly-rated spas on our list, boasting hundreds of glowing reviews on Trip Advisor, with some praising the "attention to detail" of this "luxurious spa".
WHAT'S INCLUDED: Guests can relax and unwind in the Dormy House's well-equipped rooms, where king-sized hotel beds come as standard, as well as Nespresso machines and iPod docks. Each room also has a tablet where guests can order treats from the room service menu, extra milk or toiletries, or find out more about attractions in the local area.
There are also complimentary Temple Spa toiletries to extend the pampering after a session in Dormy House's luxe spa. Breakfast is included, served in the hotel's tranquil Back Garden restaurant.
9. Lucknam Park, Wiltshire
Image 1 of 3
Price per night: from £375
Google rating: 4.7/5

Lucknam Park is countryside living at its finest - and is one of the best country house hotels for fine dining. The hotel's Michelin-star restaurant is headed up by and named after the acclaimed Chef Hywel Jones, and offers fine dining, tasting menus, wine pairings - and a strict dress code. For a more relaxed affair, hotel guests can head to the Brasserie in the same building as the hotel's homely spa, which still offers delicious dishes and an excellent Sunday lunch menu, with open fires and plush seating amping up the cozy factor.
There are plenty of other facilities to enjoy on-site as well, with two pools, a five-a-side football pitch, tennis courts, and a croquet lawn as well as bicycles to hire to explore the Wiltshire countryside. With its close proximity to quaint Cotswolds villages like Castle Combe and smaller-still hamlet Ford, there is no shortage of traditional country pubs in the area to stop off at for some respite.
WHAT'S INCLUDED: In the room, you'll find a DAB Bluetooth Digital Radio, a Nespresso machine, as well as tea and biscuits, and bottled water. Rooms vary in size, with some boasting a sumptuous four-poster bed - so it's worth enquiring for special occasions. The room rate doesn't include breakfast, but guests are welcome to add on their morning meal, which is served in the more relaxed Brasserie restaurant.
Guests are also granted access to Lucknam Park's stunning spa, which is set within the estate's 500 acres of parkland and boasts eight themed treatment rooms, as well as thermal cabins including a Japanese salt and Amethyst room. The treatment rooms blend indoors and outdoors seamlessly, ramping up the relaxation factor during beauty treatments.
10. The Newt in Somerset, Somerset
Image 1 of 3
Price per night: from £383
Google rating: 4.7/5
For a grandiose stay in one of the most beautiful country houses in the UK, head to The Newt in Somerset, nestled in the majestic Hadspen House, a Palladian-fronted 17th-century manor house, lovingly restored into a super-luxe hotel. Every detail of this property and its majestic surroundings is executed perfectly, from the exquisite gardens previously designed by Penelope Hobhouse and Nori and Sandra Pope, reimagined by world-renowned gardener Patrice Taravella, to the wholesome farm shop, working Cyder barn, thatched-roofed ice cream parlor and wild swimming ponds (perfect if you're in the know about the numerous benefits of cold water swimming). This really is a countryside idyll in the depths of rural Somerset.
Inside, the attention to detail continues, with a blend of old-world luxury with modern Scandi details for modern country charm - one of the top interior design trends of 2022. These immaculate spaces are no surprise, given that the former editor of Elle Decoration South Africa, Karen Roos, is responsible for the hotel's interiors. Then there's the spa, paying homage to the Newt's natural surroundings with exposed materials and facilities that move between indoors and outdoors seamlessly. A higher price point than some of the best country house hotels on our list - but with such incredible interiors and on-site activities to explore, we'd say it's worth splashing out for a special occasion.
WHAT'S INCLUDED: Bed and breakfast in the sumptuous The Newt in Somerset means nestling down into soft, silky sheets before enjoying breakfast in the Garden Room, offering culinary delights such as sourdough toast served with heritage tomatoes and sourdough crumpets with seasonal jam.
The most affordable rooms at The Newt are the Loft rooms, situated in the attic of Hadspen House and initially intended for servants, lovingly restored with all the luxurious extras of the other rooms in the house, in a cozy, compact space.
11. The Eastbury Hotel, Dorset
Image 1 of 2
Price per night: from £290
Google rating: 4.4/5
The Eastbury Hotel in charming Dorest dates back to 1920, its Georgian Townhouse appearance barely changed from how it would have been at the beginning of the 20th century. The property boasts a vast garden, with colorful shrubs and towering trees that will transport you to the depths of rural Dorset instantly. Guests can enjoy cocktails on the lawn or afternoon tea in the most idyllic of settings.
The boutique spa is nestled at the bottom of the property's walled garden and accessible to guests staying in both the hotel and Eastbury Cottage. The Eastbury's newly-renovated stone-period cottage is a great option for a special mini-break, with a hot tub, a pretty garden, three bedrooms, and a standalone bath for the ultimate group escape. One of the best country house hotel options for celebrating a milestone birthday or hen party.
One of the draws of this luxurious hotel is the themed packages it runs throughout the year. The Eastbury Wellness Getaway is new for winter 2022, launching in celebration of the brand's new GAIA treatment menu, combining elements from the natural surroundings with a holistic approach to wellbeing.
WHAT'S INCLUDED: Rooms at The Eastbury fall into two camps, Modern or Classic Georgian, so it's worth checking in on the style you've booked if you do have a preference for your stay. Ample-sized beds are covered with soft sheets for a restful night's sleep and all rooms come with tea and coffee-making facilities, along with homemade snacks for a homely touch. Breakfast is also included in the room rate, served in the hotel's restaurant with Chef Matt Street at the helm. Expect innovative twists on classic options.
12. Ockenden Manor, Sussex
Image 1 of 3
Price per night:
Google hotel rating: 4.4/5
Situated in the rolling hills of the South Downs, Ockenden Manor makes the perfect base for exploring its neighboring UK vineyards, such as the award-winning Bolney Estate. But that's not all this luxurious country house hotel has to offer, with a serene spa that winds in and out of the purpose-built wellness center situated next to the main house, built inside the estate's original walled garden. The Elizabethan manor house houses 28 rooms and suites that page homage to the building's history, with exposed beams, antiques, original artwork, and furniture.
Naturally, the hotel's restaurant has an extensive wine list that champions local wines with over 50 on the menu and a rotation of carefully-selected house wines from local vineyards - making it one of the best country house hotels for wine-tasting.
WHAT'S INCLUDED: Rooms range from the Cozy Rooms to the Featured Rooms, varying in size and decor. Featured Rooms are the most ornate, with Tudor oak paneling and roll-top baths. There's also the opportunity to book one of the purpose-built spacious spa suites, which look out onto the spa's outdoor pools - these have much more modern interiors. Rooms all come with the same comfortable beds. Breakfast is included and a rather formal affair, with locally-sourced produce, served on hand-painted china with silver cutlery.
13. Culloden Estate & Spa, Holywood
Image 1 of 3
Price per night: from £300
Google hotel rating: 4.5/5
Another historic country house hotel, the five-star Culloden Estate & Spa is nestled in the Holywood hills, with views over the County Antrim coastline. Its prime location is a draw for visitors who want to experience Northern Ireland's rugged natural beauty, but step inside and there's plenty more to admire about this charming and luxurious country house hotel.
The only member of the Small Luxury Hotels of the World in Northern Ireland, Culloden Estate & Spa puts a real emphasis on offering high-quality service at all times. This is combined with opulent interiors that are steeped in history. The property was initially built in 1876 as a palace for the Bishops of Down and still hosts the rich and famous, welcoming movie stars, sporting heroes, and world leaders through its grand entrance. It's not all pomp and ceremony though, with guests able to wind down and enjoy a cozy country dinner at the hotel's own pub, Cultra Inn.
WHAT'S INCLUDED: There are a huge 98 bedrooms to choose from, ranging from smaller rooms to spacious suites. All rooms come equipped with the same comfortable king-sized King Koil beds and a rainfall shower, while larger rooms come with a bath. Breakfast is included and uses local Irish produce - including eggs, meat, and cheese - and even the restaurant's muesli and granola.
14. The Pig at Combe, Devon
Image 1 of 3
Price per night: from £225
Google hotel rating: 4.6/5
All of the Pig Hotels - with locations in the New Forest, Cornwall, and Kent to name just a few - are worth a visit to discover their unique characters, but our favorite has to be the highly-rated Pig Hotel at Combe in Devon. With its proximity close to nearby towns of Exeter and Bristol, this countryside retreat is also only eight miles from the coast, making it an ideal place to enjoy fresh seafood in its restaurant, which promises a 25-mile menu of locally-sourced produce.
There's also a small - but perfectly formed - on-site spa, with two Potting Shed treatment rooms in the Kitchen Garden, offering Bamford massages and facials during your stay.
WHAT'S INCLUDED: There are 30 rooms varying in size, ranging from the Snug Rooms to the charming Curlditch Cottage; three adjoining cottages that guests can book individually, or as a group. Many of the bedrooms have retained their original features, and partitions, as well as flooring and tiling. Whether large or small, rooms are tastefully decorated in a country chic style and come complete with robes, slippers, and nice-to-have extras like a fully-stocked Nespresso machine and Bramley bath products.
Breakfast at The Pig at Combe is a glorious way to start the day, with the hotel's commitment to homegrown and local produce ensuring dishes are fresh and seasonal, with much of the ingredients sourced from the hotel's Kitchen Gardens.
15. Talbooth House & Spa, Dedham
Image 1 of 2
Price per night: from £300
Google rating: 4.6/5
This charming country house hotel is located in the heart of Constable Country, which is within walking distance from the village of Dedham, an artist's hub in the countryside idyll Dedham Vale. The scenic views extend out across to the river Stour, with plenty of opportunity for fresh, winter walks by the water.
Dinner at Talbooth is a whole event, with guests picked up from their rooms in the hotel's Range Rover and driven to the hotel's stunning restaurant, Le Talbooth. Le Talbooth is housed within a lovingly-restored beamed old tollhouse on the tranquil River Stour. The restaurant is undoubtedly fine dining, but the portions are sizable. Le Talbooth also offers a top-rated Sunday Lunch for £45 per person if you want to try the restaurant at a more affordable price.
WHAT'S INCLUDED: Another hotel where less is more when it comes to bedrooms, Talbooth House has just twelve ample rooms, with a range of sizes ranging from Standard to Principal. The largest of the rooms, the Principle, offers guests a walk-in shower, romantic roll-top bath, and views over Dedham Vale. Tea and coffee-making facilities, as well as complimentary water and soft drinks, come as standard, along with a Bose sound system and aromatherapy toiletries.
Breakfast is included, and served in the Garden Room, offering a buffet of cereals, fruit, yogurt, pastries, and juices, as well as hot breakfast options. Guests can also take advantage of the hotel's spa, with a large outdoor heated pool as its focal point, a hot tub, tennis court, and treatment rooms nestled within the Essex countryside.
16. Tudor Farmhouse, Forest of Dean