The best champagne, cava and crémant you can buy for under £40 this Easter
Celebrate Easter 2022 in style with a bottle of the best champagne; because having the family together again is reason enough to celebrate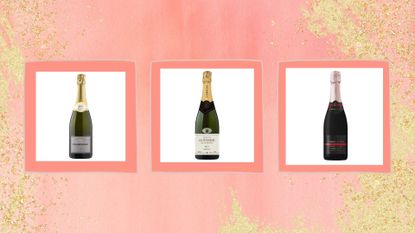 (Image credit: Future)
Our team of food and wine writers have sipped, swilled and assessed the best champagne, cava, crémant, English Sparkling Brut and sparkling rosé on the supermarket shelves at the moment to bring you a definitive list of the very best champagne and sparkling wine you can buy for under £40 this Easter.
The food and drink experts on our judging panel this year includes wine writer Melanie Leyshon, and the team put all of the sparkling wines available in the shops at the moment through rigorous testing.
Melanie has been studying wine at the Wine and Spirit Education Trust in London and has passed her WSET Level 3 Theory with distinction. As part of her wine studies, she loves to travel and explore wine regions around the world and meet producers who are creating more sustainable products and experimenting with lesser-known indigenous grapes.
For fairness, each product was assessed on flavour, aroma and appearance without the judges knowing the brand or origin of the wine. Judges then gave each bottle a score from one to five for every category, and then calculated the average to determine this year's winners.
As well as an overall winner in each category, we've also shared our two 'highly commended' picks, many of which are currently on offer. See our guide to the best prosecco and champagne deals to discover where to get the most money off at the moment.
The best champagne to buy for Easter 2022
Monsigny Champagne 2015 Vintage
Best champagne overall
Specifications
ABV: 12.5%
Stockist: Aldi
Price: £21.99
Tasting notes: Red apple flavour, biscuity richness
Country of origin: France
The best Champagne doesn't always mean the biggest price tag or brand, as this bottle of Vintage Champagne from Aldi proves. As with any wine, individual preferences will play an important role in deciding what the best Champagne is for you and your loved ones this Easter, but this bargain vintage champagne consistently out sparkles leading brands in our opinion.
Our team rated the champagne's ripe red apple flavour, biscuity richness, full body and long finish and with high scores across the judging panel, this bottle was a clear winner.
Highly commended:
Great all-rounder
(opens in new tab)
Tesco Finest Premier Cru Champagne
RRP: UK £21 | 12.5% ABV | Zesty and creamy with extra layers of brioche and nuts make for a lovely all-rounder – works well on its own, with canapes or fish courses.
Great budget buy
Les Ponniers Non Vintage Champagne, Co-op
RRP: UK £19 | 12% ABV | A perennial favourite that brings together refreshing green apple and lemon with brioche and biscuity richness. No surprise that it's made by leading champagne house Piper Heidsieck.
Best crémant to buy in 2022
Bouvet Saphir Saumur Brut Vintage 2018
Best crémant overall
Specifications
ABV: 12.5%
Stockist: Majestic
Price: £16.99 per bottle or £14.99 when you mix six
Tasting notes: Citrusy and rich
Country of origin: France
Crémant is sometimes overlooked, but actually this fizz can be just as good (and some might argue better) as champagne, it just doesn't have its origins in the Champagne region of France, so can't claim the name.
This champagne-style fizz from the Loire is made mainly from chenin blanc and a little chardonnay. Together they create magic: our judging panel were impressed by the citrusy and rich taste and found the fizz to have a good body and finish. Plus, Majestic is a reliable retailer for wine and this crémant is a great price from such an established seller.
Highly commended:
Best champagne alternative
(opens in new tab)
Cuvée Royale Brut, Crémant de Limoux
RRP: UK £12.75 | 12.5% ABV | Another wine that gives champagne a run for its money. Delicate bubbles, with lemon, green apple and biscuity make this a good match for seafood or canapes.
Best budget Cremant
Maison du Vin Crémant de Loire
RRP: UK £12 | 11% ABV | An elegant, refreshing all chenin blanc bottle that lives up to its elegant label. Lighter in alcohol, it's a good party opener or one to serve at the buffet table.
Best Cava
Cava Brut Reserva NV Savia Viva
Best Cava overall
Specifications
ABV: 11.5%
Stockist: Davy's Wine Merchants
Price: £17.95
Tasting notes: Citrus and peach flavours
Country of origin: Catalonia
This delicious cava has been made using the traditional champagne method and the use of Cava grapes macabeo, xarel-lo and parellada creates something quite special.
The judges enjoyed the richness, plus the citrus and peach flavours of this spring fizz, and suggest that this cava would make the perfect pairing for a prawn cocktail or seafood salads.
Highly commended:
Best budget Cava
RRP: UK £5.29 | 11.5% ABV | An easy-drinking party sparkler. What it lacks in complexity it makes up for with its bright citrus and creaminess. Stock up for big gatherings.
Best supermarket Cava
(opens in new tab)
No 1 Cava Castillo Perelada
RRP: UK £10.79 | 11.5% ABV | If you're looking for an elegant fizz to serve with fish, look no further. Its rich nuttiness and fresh lemon make it a great match for smoked salmon or salmon en croute.
Best English Sparkling Brut