21 unique wedding gift ideas for couples of all stripes
Here are the top wedding gift ideas to buy for couples who seemingly have everything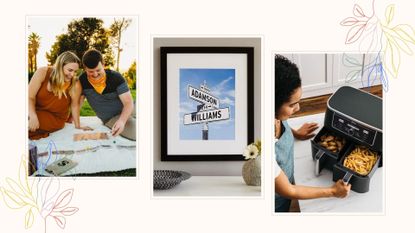 (Image credit: Future)
The best wedding gift ideas aren't always the most obvious. You may be racking your brain trying to find the perfect present for the couple who appears to have everything.
But there's no need to stress. Our roundup of the 21 best wedding gifts features a mix of products that'll appeal to all types of couples across a range of price points. It includes twists on traditional suggestions—think blenders and serving boards—along with ideas that, while less common, are sure to be a massive hit (how does a virtual sushi-making class for two streamed live from Japan sound?)
We've also asked several wedding gift experts for their thoughts on finding the right present. And if you're curious to know just how much you should spend, our experts shed some light on that, as well. Note that the items on our list aren't exclusively for newlyweds—they'll make fine anniversary gifts, too. They're also some of the best gifts for couples you can pick up for any occasion, whether it's a major holiday or even "just because".
Where to find the best wedding gifts
If you simply want to know where to find the most unique wedding gift ideas, we've compiled a short list of vendors worth checking out...
Unique wedding gift ideas for couples in 2022
What are the most popular wedding gift ideas in the US?
BeverlyO, wedding stylist and founder of PB Style Weddings, says that classic wedding gift ideas are still quite popular: "beautiful glassware, silverware or china that really adds value to a couple's home."
For those who want to be more creative in their gift-giving, BeverlyO recommends personalized robes, monogram coasters or a customized cutting board. (They're also considered "very traditional," she adds.)
Millennial and Gen-Z newlyweds, meanwhile, won't totally eschew material goods, but an experience gift like tickets to a Broadway show or an online cooking class will really make them happy. "For a younger couple, giving the gift of an experience is not just unique but [also] very memorable," says BeverlyO.
Crowdfunding has become another popular wedding gift idea in recent years. Sites like Honeyfund (opens in new tab) and The Knot Cash Funds (opens in new tab) make it possible for guests to contribute money toward substantial purchases such as a honeymoon or a down payment for a home.
How much money should you spend on a wedding gift?
Hannah Nowack, Editor at The Knot (opens in new tab), says the amount of money guests should spend on a wedding gift is based on several factors, "personal relationship with the couple, budget, and the type of wedding [you're attending]."
As for an actual monetary amount, findings from The Knot 2021 Real Weddings Study (opens in new tab) show that on average, guests spent $160 on a wedding gift in 2021 – up from $120 in 2019. "Guests are looking forward to weddings more than ever as we return to socializing, and are eager to shower their loved ones with gifts of appreciation as they finally have a welcomed reason to dress up and celebrate," says Nowack.
One thing to keep in mind, according to Nowack, is that wedding gifts for the couple are "customary, although not technically required." If you're not particularly close to the newlyweds or you're not attending the actual event, you're under no obligation to give anything.
Freelance writer and editor
Alison Barretta is a freelance writer and editor from Philadelphia, USA who specializes in home and lifestyle, skincare, and tech. For the last 15 years, she has been sharing buying advice and product reviews with curious, cost-conscious shoppers from around the world. Alison's work has been featured in Forbes, Business Insider, Tom's Guide, TechRadar, and Creative Bloq.
When she's not reviewing mattresses or waxing poetic about her favorite face cleansers, Alison can be found teaching/training in martial arts, streaming underrated TV series, trying new recipes, and singing karaoke until her throat is hoarse.