Hobbies for women that will spark creativity and help you discover a new passion
Try one of these exciting hobbies for women and reap the benefits for both body and mind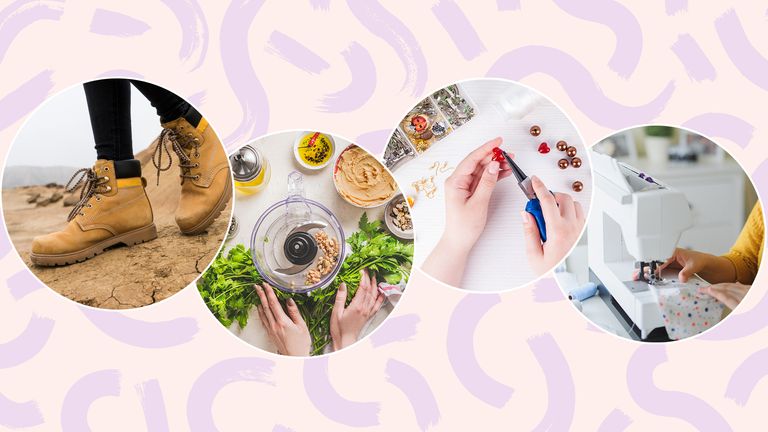 (Image credit: Future/Getty Images)
Taking up one of these hobbies for women will not only help you develop a new skill, but could also improve your overall health and wellbeing significantly. Taking some time to disconnect from the daily grind isn't just beneficial, it's essential. Burnout is all too often a symptom of hectic modern life, so it's important to carve out time to unwind. Many of us reach for the remote—but, while we're not judging anyone's preferred method of R&R, engaging with new hobbies and interests brings some additional benefits for your mental wellbeing. 
Hobbies can be a lifeline when it comes to dealing with stress. Family psychotherapist Jay Perkins explains, "Hobbies are a way to detach ourselves from the anxieties of everyday life. People with hobbies are less likely to struggle with depression, stress, and low moods." Poonam Dhuffer, a meditation practitioner, told us hobbies are a great way to practice mindfulness. "Crafting calms our nervous systems, as we're using our hands and brains together, being fully aware of where we are and conscious of what we're doing. When we engage with craft, DIY, or learn a skill, we create a balm to heal us and bring us back to ourselves."
Plus, our hobbies can reconnect us to things we truly enjoy doing—they don't need to be productive, or earn us money. The important thing is that they fulfill us—and provide some fun! The case for hobbies for women is clear, but how do you pick the right one from a long list of hobbies and interests? The last thing we all need is another thing to add to the to-do list, so we've weighed up the most popular hobbies for women and what you need to get started.
Our favorite hobbies for women 
Fitness
1. Practice yoga
Start up costs: $$ | Start up kit: Yoga mat, blocks and online classes | Indoor or outdoor: Both  | Group activity: Optional | Skill level: Class dependent
---
Yoga is about so much more than simply rolling out your best yoga mat and honing your technique—it's a whole lifestyle and the more you learn about yoga and its ancient principles, the more it will benefit you off the mat. 
"Yoga isn't just about the postures themselves, the practice takes us on a journey of self-discovery," Lauren Brady, yoga teacher and founder of Lauren Brady Yoga told w&h. "Firstly connecting us to our bodies and breath, and then taking us deeper. We learn to see ourselves more clearly on and off the mat, to witness our thoughts and reactions, and ultimately it guides us to see that we are part of something greater than ourselves, connecting us to our spirituality." 
Yoga is one of the most popular exercise forms in the world, as well as being one of the most popular hobbies for women. Last year the Yoga Alliance reported that around 36 million people were regularly practicing yoga in America alone and 56% of those were classed as beginners. With so many tutorials online, yoga is a hobby that you can get started with very easily. The benefits of yoga are clear; not only will you feel stronger and fitter, but yoga can also help reduce stress, increase happiness and improve memory function. 
Reasons for:
- Will improve fitness levels
- Boosts mental wellbeing 
- Increased flexibility
- Teaches valuable life lessons
Reasons against:
- Can be difficult to master at first
- Classes can be expensive
All you need to begin practicing yoga is a mat, which you can use in the house or garden, and some workout clothes. Comfort is key, so make sure you choose activewear that fits well and feels great. If sore joints are an issue, you could try one of the best thick yoga mats, too. 
---
2. Nordic Walking
Start up costs: $$$ | Start up kit: Walking poles, walking shoes | Indoor or outdoor: Outdoor | Group activity: Optional | Skill level: Medium
---
Reasons for:
- Will improve fitness and muscle strength
- Aids weight loss
- Promotes eco-therapy
- Great way to explore surroundings
Nordic Walking uses poles that propel you forward. This means you engage your upper body more than when rambling or trekking. It's also great for those with joint problems, as the poles mean you're applying less pressure when walking. "Public Health England and the Centre for Aging Better recently said it's one of the best activities for strengthening muscles and balance," Dr Melanie Wynne-Jones told w&h. "Which is essential, as this tends to deteriorate as we age, making us more prone to falls."
It's no secret that walking in nature is good for body and soul, with the benefits of forest bathing earning it a huge following across the world. Whether you live near the ocean, forest or want to take in the sights of your hometown, walking gives us space to think, gets our joints moving, and allows us to breathe in some fresh air. Nordic walking poles cost around £30 and you will also need a good pair of walking shoes (check out our guide to the best women's walking shoes if you're in the market for a new pair). Then it's worth getting in touch with a Nordic Walking instructor to find out about walking routes near you. You can find out more at Nordic Walking UK.
Crafting
3. Try your hand at jewelry making
Start up costs: $$ | Start up kit: A jewelry making kit | Indoor or outdoor: Indoor | Group activity: No | Skill level: Medium 
---
Reasons for:
- You're left with a unique finished product 
- Can generate great gifts 
- Encourages mindfulness 
- Provides a creative outlet 
Reasons against:
- Can be expensive
- Patience is a must
- Labour intensive 
The best jewelry-making kits will include everything you need to take up this rewarding hobby, including any necessary tools and detailed instructions. Kits usually come with wire, string, needles, hooks, lobster claws, and clasps. And if you're still not sure, there are so many online jewelry-making classes that will help you perfect your craft—it's never been easier to learn how to make jewelry at home. 
Crafting your own jewelry has long been considered a therapeutic creative outlet—it's time-consuming, but produces a beautiful result. You could start with something really simple, such as learning how to make a bead bracelet and then work your way up to intricate, one-of-a-kind statement pieces. Learning how to make earrings is also a good first step, as a simple style can still look really effective.
Jewelry-making is one of the most popular hobbies for women. Make unique pieces to update your look, or create homemade gifts for loved ones. Before you know it you could have a covetable collection, whether you want to set up a store on Etsy or keep your creations for yourself. 
---
4. Embroidery, tapestry or knitting
Start up costs: $ | Start up kit: Knitting/embro needles, fabric and thread or yarn | Indoor or outdoor: Indoor | Group activity: No | Skill level: Difficult - at first!
---
Reasons for:
- Mindful activity 
- Beautiful finished product
- Will leave you feeling accomplished
- Great new skill to learn
Reasons against:
- Can be difficult to master
- Time-consuming
- Can be expensive
Taking up embroidery, knitting or tapestry can be as simple or complicated as you like. If you want to try basic embroidery, all you need is some fabric (like cotton or calico), an embroidery hoop, embroidery needles, and thread. You can order all you need online from a craft store such as Hobbycraft—just look for the section on basic stitches. 
If you want to hone your craft further, you could teach yourself how to stitch with one of the best sewing machines via online tutorials, to create beautiful textiles at a quicker pace (our guide on easy sewing machine projects is also a great place to start!) This being said, there's something to be said for the slow and mindful pace of embroidering or knitting, methodically working towards a finished product. It's meticulous work, but deeply satisfying when you're left with the finished item.  
You might like to start with embroidering a name, simple pattern, or a floral design. To begin, simply draw on your cloth with a pencil and stitch on top—adding buttons and sequins is an easy win. And if you're a confident artist, try recreating a portrait in stitch. There are plenty of online tutorials to get you started, like this video that walks you through seven basic embroidery stitches, or this knitting video that will teach you the basics. It's one of the easier hobbies for women to pick up without much prep at all.
---
5. Learn how to make Macrame
Start up costs: $$ | Start up kit: String or cord, online tutorial | Indoor or outdoor: Indoor | Group activity: No | Skill level: Difficult - at first!
---
Reasons for:
- So in vogue right now 
- Suitable for a range of abilities 
- Beautiful finished product
Reasons against:
- Time consuming
- Fiddly with plenty of room for error
Macrame was all the rage in the '70s. Now—along with houseplants—it's back in vogue. Making a macrame plant pot holder is one of the easiest ways to try out this skill and you can then move on to more advanced patterns. It's a low-cost hobby, too. All you need is string/cord and a little patience—and pot holders make lovely gifts, making it one of the more lucrative hobbies for women.
There are good things and bad things about taking up macrame and if you're not one who possesses much patience, then it's probably not for you, as this is one hobby that takes a little time to develop the skill. However, once you master it, it's a great creative skill to have as you can make a whole range of beautiful products. You can make home accessories like placemats and coats, make a lovely light spring jumper or you could even pair it with some feathers and come up with a magical dream catcher.
Cooking
6. Have a go at fermenting
Start up costs: $ | Start up kit: A fermenting starter pack, jam jars, veg | Indoor or outdoor: Indoor | Group activity: Optional | Skill level: Medium
---
Reasons for:
- The finished product is tasty and edible
- Health-boosting
- Can be as time-consuming as you like
Reasons against:
- A little messy
- An unsightly scoby is not for the squeamish
Gut health has placed itself firmly at the forefront of our health agenda, with the benefits of eating fermented foods obvious, from clearer skin to better organ function, as well as having a significant impact on our mental health. They don't call the gut the 'second brain' —a term coined by medical experts to explain the importance of what's happening in our guts - for nothing. Thanks to our newfound respect for gut-loving foods, fermentation has become a popular hobby, with many heading to the kitchen to cook up kefir, miso paste, sauerkraut, kimchi, and kombucha. 
Kombucha in particular is having a health-food moment, with sales skyrocketing in recent years. "At LoBros we sold more than 2million bottles in 2020, with online sales growing 127%," Natalie Stanton, head of sales at Soulfresh UK told w&h. "Brewing your own kombucha has also seen a resurgence, with sites like Happy Kombucha selling everything you need for a homebrew kit. It's a fun hobby with a delicious outcome." Kombucha is easy to brew at home if you have the correct tools; sugar, tea, and a living bacteria culture called a scoby. 
Fermented foods such as sauerkraut and kimchi are also easy enough to whizz up in a blender or food processor. To rustle up some kimchi, all you need is a diced crunchy vegetable, salt, and a jar with a well-fitting lid—so it's a great one to start with. Dr Clare Bailey, the wife of Dr Michael Mosley, who is famous for his No Sugar Diet, is a big fan of fermented food kimchi. She has incorporated it into their Fast 800 intermittent fasting plan and the couple praise gut-friendly foods as a whole in their book, The Clever Guts Diet. If you want a hobby that will boost your health from the inside, it looks like fermenting is the way to go. 
---
7. Build up your recipe collection
Start up costs: $ | Start up kit: Ingredients and kitchen utensils  | Indoor or outdoor: Indoor | Group activity: Optional | Skill level: Easy
---
Reasons for:
- A skill that will come in useful time and time again
- The opportunities are endless
- The results are edible (and hopefully delicious!)
Reasons against:
- It can take time to get it right 
- Potentially hazardous
Trying out the best recipe boxes can be a great way to experiment in the kitchen, with top chefs and foodie brands sharing their insider secrets when it comes to rustling up tasty dishes. Before you know it, your culinary skills have much improved thanks to the nifty tips and tricks picked up along the way, all while following fool-proof recipe cards. Cooking isn't only a wonderful treat for your friends and family, it has the ability to quiet our minds and encourage us to concentrate on the task at hand. For many it's therapeutic.  
Baking is far more precise by nature, perhaps one for the scientists and mathematicians among us, while cooking allows you to bend the rules. When planning new recipes, it could be interesting to try cooking a cuisine that is new to you—such as vegan food. We love this BOSH! Green shakshuka for a tasty vegan brunch, as well classic collections like our one-pot dinner recipes if you want to start with the basics. 
It can be deeply satisfying to store your recipes on beautiful recipe cards; a joy for all the stationary fans out there. Or, simply jot recipes down in a notebook, or save them within your bookmarks online. However you store them, you'll be thankful you built up your repertoire come future dinner parties. 
---
8. Try your hand at mixology
Start up costs: $$ | Start up kit: Ingredients, glasses and bar utensils | Indoor or outdoor: Both | Group activity: Optional | Skill level: Easy
---
Reasons for:
- A skill that will come in useful and impress your guests
- You can learn to make what enjoy drinking
- It's a fun activity
- The results are delicious
Reasons against:
- It can be messy
- Ingredients and kit can become expensive
Who needs to head to an expensive bar for cocktails when you've got your very own mixology expert at home? As opposed to how it may seem when you glance over at your bartender pouring and mixing behind the bar, cocktail making isn't as simple as chucking a few ingredients in a shaker and hoping for the best. Of course, that is a tactic many of us have tried after a few tipples—and it hasn't always turned out badly...But if you want to recreate your all-time favorites at home, then there is an art to it.
To get started, you'll need to invest in a cocktail shaker kit. These come in all shapes and sizes and at a variety of price points depending on where you buy it from, how many pieces are included and what material you choose—they generally come in stainless steel but there are a few fancy gold or copper ones around. Make sure your set includes at least: a shaker, a jigger (or measure), strainer, spoon and a pestle (or tamper). A corkscrew and pourers can also be helpful depending on what type of cocktails you plan on making, what tools you already have at home and if you want to make an impression on your guests with a spirit pouring display. Some also come with ice tongs that are a cool but somewhat unnecessary addition. If you plan on making frozen cocktails, it also helps to have one of the best blenders on hand.
After you're stocked up on tools, ingredients are the next must. It's helpful to have the basics in—mainstream spirits like vodka, gin, rum, whiskey and tequila. Citruses are also helpful to have on hand as well as essentials like sugar and salt. Next think about liqueurs and flavorings like Angostura bitters, syrups, triple sec, amaretto and any other bits that you usually like in your drinks. And of course, mixers like juices, soda water and ginger ale come in handy. We'd suggest getting hold of a cocktail-making book or scouring the net and making a list of your favorite cocktail recipes. The last thing to think about—glassware. Obviously you can serve your cocktails in any old glass, but it really does add something to the experience to have the right glassware for each drink. Build up a collection of coupes, tumblers, hiballs and of course, a trusty martini glass.
Hortology
9. Get into gardening
Start up costs: $ | Start up kit: Seeds, bulbs and tools | Indoor or outdoor: Outdoor | Group activity: Potentially | Skill level: Easy
---
Reasons for:
- You'll enjoy the end result time after time
- Will help you spend more time outside
- Stress-busting
- Can help you save money by growing your own fruit, veg and herbs
Reasons against:
- Results aren't instant
- Can be weather dependent
Gardening, perhaps one of our favorite hobbies for women, comes with a huge list of benefits, both physical and mental. Planting bulbs, pulling weeds, and tending to an allotment offer the perfect antidote to a day spent glued to a screen indoors, and can even alleviate depression and ease anxiety. With plenty of places to buy plants online, getting everything you need to try out this hobby couldn't be easier. Head to your local DIY or garden shop to pick up the essentials or shop online, either with your local garden center, or a retailer like Amazon.
If you're new to gardening, a good place to start would be with a small herb garden or wildflower garden. You will need a garden rake to clear the space of stones and debris, some canes to lay on the earth to make sure the seed is spreading evenly, and some herb or wildflower seeds. A particularly joyful pastime is planting sunflowers with the family, competing over whose climbs the highest come the summer months. 
---
10. Learn the art of flower arranging
Start up costs: $$ | Start up kit: Blooms of choice, a vase, trimmer | Indoor or outdoor: Indoor | Group activity: No | Skill level: Medium
---
Reasons for:
- Very creative
- Will brighten up interiors
- Good for beginners
For anyone who appreciates a beautiful assortment of blooms, this is a relaxing and creative way to spend an hour or two, with a beautiful finished product that will enhance your living spaces. What makes this hobby so popular is how accessible it is—anyone can have a go and the finished result is unlikely to be anything but beautiful. Plus, whether you opt to pick wildflowers from the garden, or pick up some affordable blooms in your local grocery store, everything you need is readily available. 
Long gone are the days when flower arranging meant sticking to traditional arrangements, with much more scope for creativity. A quick scout around on Pinterest or Instagram should give you all the inspiration you need to try flower arranging, but if you want something more prescriptive, there are plenty of in-depth tutorials online to help you learn the basics before you find your own flair, like this flower arranging step-by-step guide from Celebrity Florist Carly Cylinder.
Art & Photography
11. Up your photography game
Start up costs: $$$ | Start up kit: Camera, optional editing softwear | Indoor or outdoor: Both | Group activity: No | Skill level: All levels
---
Reasons for:
- A skill you can use anywhere
- Creative, and encourages mindfulness
- Documents significant moments
Reasons against:
- Equipment can be expensive
- Editing can be time-consuming
Photography is one of the best hobbies for women because if you want to start with the basics, you don't need to buy anything extra. Sure, you could splash out hundreds—even thousands—on an expensive camera, but thanks to the latest smartphones, every woman and her iPhone has the potential to be a great photographer. 
Whether you're amassing an enviable Instagram-ready photo album or looking to get published in a magazine, photography offers the opportunity to capture memories, improve your eye for detail and relieve anxiety, as you spend much of your time focusing on your surroundings and living in the moment. 
While anyone can take a picture, it takes a certain finesse and the right techniques to really capture the right angles. Take a photography course online before you get started and make sure you read up on which camera is best for you. A DSLR camera, for example, is ideal for a beginner—easy to use and starting price points are accessible. 
---
12. Experiment with photo collage
Start up costs: $ | Start up kit: Photographs, craft materials | Indoor or outdoor: Outdoor | Group activity: No | Skill level: Easy
---
Reasons for:
- A fun way to store your memories
- Inexpensive
- Collages make great gifts
Reasons against:
- Can be messy
- Time-consuming
Is there anything more joyful than looking through old photograph albums, recalling happy pastimes? The more candid the shots the better, if you ask us. And after you've brushed up on your photography skills, why not learn how to showcase your photographs in a unique and beautiful way? 
This goes the same for old (particularly black and white!) photographs too. Dig out those old albums that have been gathering dust in a cupboard somewhere for years and bring the memories back to life with some crafty presentation. Collages can be displayed in your home in frames in meaningful shapes or patterns such as a map or a heart, or strung up with string or wire to make personalized bunting. 
If you favor the vintage look, reprint old photographs onto polaroids for a retro starting point. And, on that note, if you don't own an expensive digital camera, there's something wonderfully nostalgic about snapshots captured with a good old-fashioned disposable camera, which you can pick up for around $5 online. Your local Costco or Walgreens should offer disposable camera development services. One of the most affordable hobbies for women on our list! 
---
Discover a new passion and find some time for yourself with our list of hobbies for women.